West Virginia Football: Ranking the Mountaineers' Best Offensive Weapons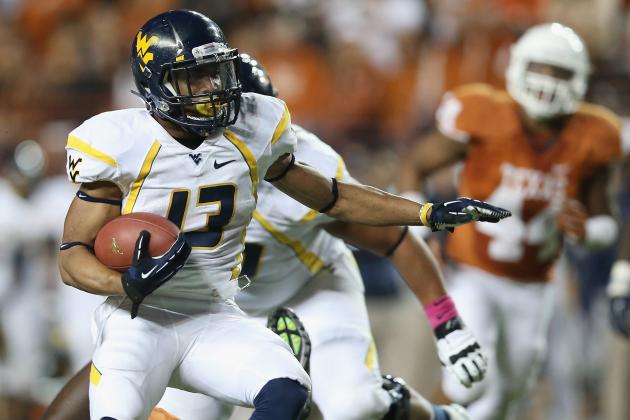 Ronald Martinez/Getty Images

In 2012, it was easy to identify the top offensive playmakers on the West Virginia football team. Receivers Tavon Austin and Stedman Bailey were both locks to post 1,000-plus yards and of course quarterback Geno Smith could be considered a top playmaker, as well.
But in 2013, that isn't the case. The Mountaineers still have no idea who will be taking their snaps this season or even whom that signal-caller will be targeting.
WVU returns the most experience at running back, where a pair of runners each with starting experience will be joined by a physically imposing junior college transfer to form a formidable ground attack.
However, it remains to be seen which of those three will earn the most carries this fall.
With all the uncertainty, this list will serve as more of a prediction for which players will end up as the go-to weapons in this 2013 Mountaineer offense, rather than a ranking based on past performance.
So, let's take a look at who will be making the most plays and producing the most points on the WVU offense in 2013.
Begin Slideshow

»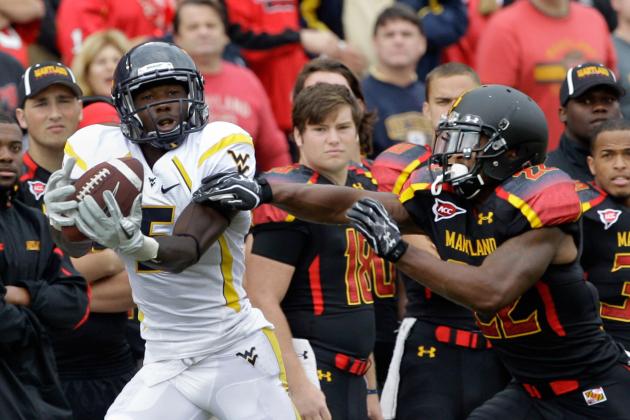 Rob Carr/Getty Images

Today on College Football Is Weird: Former West Virginia receiver Ivan McCartney may be joining the Mountaineers once again.
This one was filed under "tweets I never thought I'd read, except on April Fools' Day," but on Friday, May 17, @MiramarSports tweeted that McCartney would be returning to WVU for his senior season.
Later in the day, McCartney himself confirmed the report in a roundabout way, as he tweeted "Once a Mountaineer..... Always a Mountaineer!!"
There hasn't been any official confirmation from WVU to this point, so until that happens, I'm going to be cautious with my ranking of "I-Mac."
Even if he does end up returning, he'll still likely have to prove to the coaching staff that he has grown since leaving the team last season for personal reasons (Via WVUSports.com).
Having said that, if he does return, he'll be the most experienced player in the West Virginia receiving corps. A lot was expected of McCartney when he came to Morgantown, and though he hasn't quite lived up to those lofty expectations yet, he has shown the potential to do so.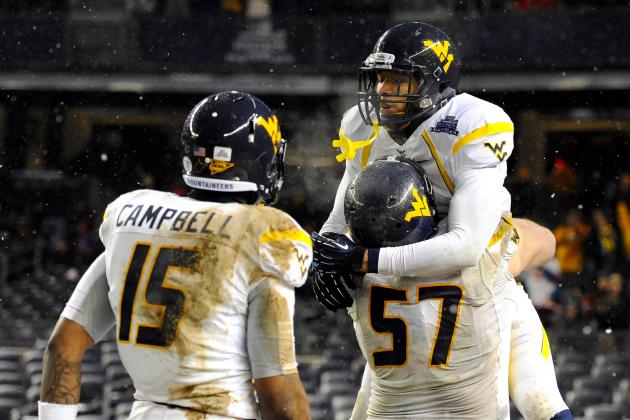 Rich Barnes-USA TODAY Sports

West Virginia has a number of returning receivers who could end up making a huge on-field impact in 2013, including Connor Arlia, Jordan Thompson, Dante Campbell, K.J. Myers and others.
Arlia has been arguably the most reliable receiver on the WVU roster and will almost undoubtedly earn some time and catches this season. However, though he is Mr. Reliable, the junior doesn't quite have the athleticism and size that some of the others bring, as he is listed at just 5'9", 181 pounds.
Speaking of lack of size, let's talk about Thompson, whom head coach Dana Holgorsen rightfully called the "greatest spring-game player of all-time" after hauling in three touchdowns in the Gold-Blue Game (Via Tony Dobies, BlueGoldNews.com).
Thompson, dubbed "Squirt" by his teammates, had a huge spring game in 2012 as well. That earned him a starting slot and some playing time, but he was a non-factor early in the season before he slid off the depth chart completely.
Like last season, Thompson needs to show that he can translate that kind of performance to the regular season—and until he does so, I can't buy him as a legitimate option.
Now, we'll move on to redshirt sophomores Dante Campbell and K.J. Myers. Both Campbell and Myers have the size and ability to become go-to receivers this season, but neither have been able to step up and claim a lead role as of yet.
In all, Arlia, Thompson, Campbell, Myers—and a few other dark horse returners—could assume a major role in the offense, but they haven't provided enough proof that they will.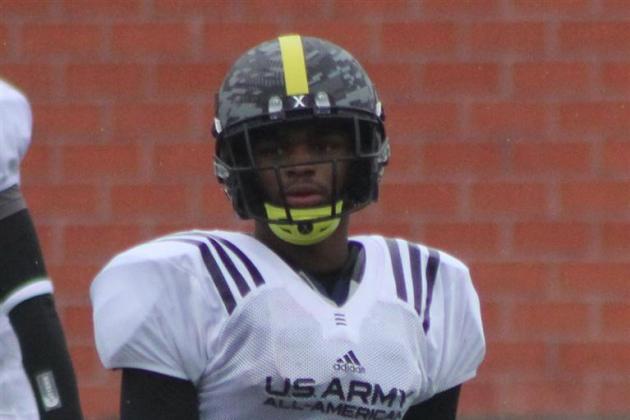 Photo Credit: 247 Sports
Two extremely talented newcomers will be joining the battle for catches on the outside at West Virginia this summer: freshman Shelton Gibson and junior college transfer Mario Alford.
They are two of the most highly-touted receivers to ever choose WVU. Gibson came in as the the No. 18 receiver in the nation and one of the top 150 players in the country at any position, according to 247 Sports' composite rankings.
Alford was the No. 2 JUCO athlete and the No. 24 JUCO prospect in those same composite rankings, and was also the No. 1 JUCO athlete according to 247 Sports.
They could be the two most talented receivers right when they step on campus and their earning playing time could only come down to a matter of learning the playbook.
Both Gibson and Alford have the potential to be go-to options in an offense that will provide them plenty of opportunities to make plays.
Like the returners, they'll have a lot to actually prove once they arrive on campus, but judging on their potential, they could be a huge hit this fall.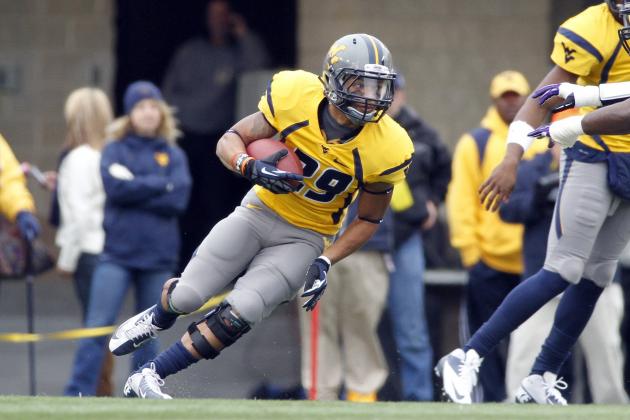 Justin K. Aller/Getty Images

Much like the receiving corps, the production map of the running back group is still mostly uncharted.
However, unlike the receiving corps, this is actually a good thing.
In the backfield, three runners are sure to make an impact this season: returners Andrew Buie and Dustin Garrison and newcomer Dreamius Smith.
Last year's starter, Buie, sat out the spring game, but could still end up as the primary option at running back. Buie has proven that he has the potential to be an extremely effective back—see 2012's game at Texas. But we also know that he doesn't have the durability to take on too many carries.
Luckily, WVU has options.
Garrison, the starter in 2011, has also had his share of issues, as he was very limited last year after injuring his knee before the Orange Bowl at the conclusion of the 2011-12 season. However, he looked excellent in the spring game, where he showed more speed, quickness and explosion than he ever has in his career.
Joining these two is Smith, a junior college transfer. At 5'11" and a bruising 217 pounds, he came to West Virginia with high expectations and so far has lived up to them. He looked every bit as strong and fast as expected in the spring game.
Smith brings the best blend of size and speed of any of the Mountaineer backs and, as he becomes more accustomed to the offense, could emerge as the No. 1 option in the backfield.
However, regardless of who is the "No. 1 guy" in the backfield, all three will share carries, and all three will have their share of the success.
Also, don't forget about fullback Cody Clay. He can play, too.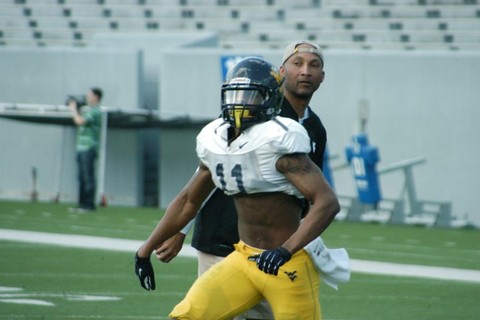 Photo Credit: 247 Sports
Even considering a three-touchdown performance from Jordan Thompson, junior college transfer Kevin White had the most impressive performance at the Gold-Blue Game.
At 6'3", 211 pounds, White showed all through spring practice that he is the most physically impressive receiver on the roster.
Then, in the spring game, he made his first case in locking down a starting job on the outside.
In what was the best play of the whole day, White came down with a short pass and shook off half of the WVU defense, as he turned an ugly play into an incredible touchdown.
In a wide-open receiver race, White made an emphatic statement, using his play to say, "I will be the go-to guy in this offense."
I was listening. Were you?