Preakness Horses 2013: Pedigree, Race Records for Each Horse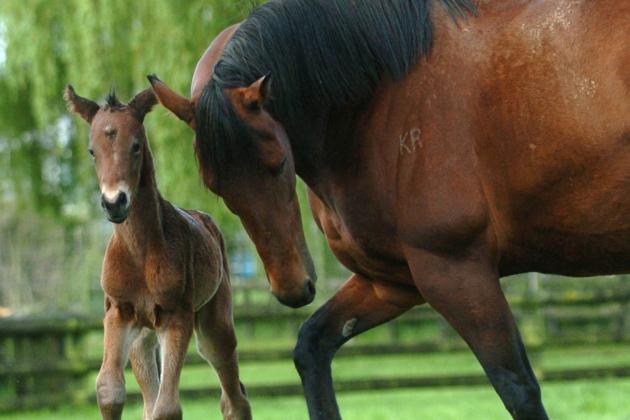 Ross Land/Getty Images
A horse's path to success can start early
In horse racing, a horse's pedigree can bear significant weight and influence on what kind of success he or she may or may not have on the racetrack.
Pedigree can dictate a horse's preferred surface, ideal distance and even temperament. All of these factors can combine to determine how good a horse can turn out to be. Of course, there are always horses that outrun their pedigree and exceed even beyond humble beginnings, but starting out with the deck stacked in your favor with a good pedigree never hurts.
This year's Preakness field represents some of the best breeding horse racing has to offer. Here is a look at the pedigrees of the contenders heading into Saturday's 138th Preakness Stakes. Let's find out who has exceeded expectations and who has fallen short.
The horses are listed in post position order.

Begin Slideshow

»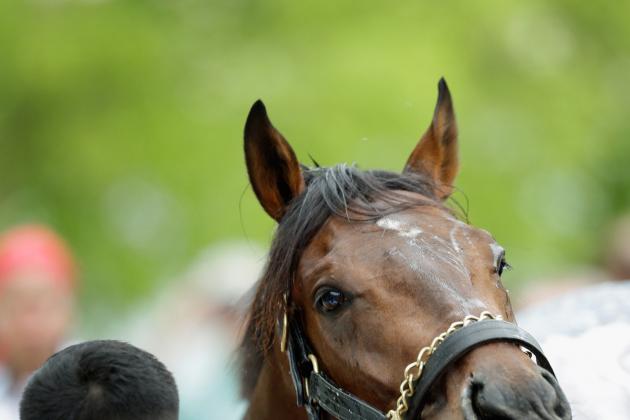 Rob Carr/Getty Images
Kentucky Derby winner Orb
You would be hard pressed to find a horse with a more classic pedigree than Kentucky Derby champion Orb. A homebred for Stuart Janney III and Phipps Stable, his female family reads as a who's-who among their respective family's legendary influence on horse racing.
His female family traces all the way back to a mare named Laughter who was produced by their champion stallion Bold Ruler and their mare Shenanigans. Laughter's half-sister was the ill-fated filly Ruffian, regarded as one of the all-time greats.
Orb is not lacking on his sire's side of the equation, either. His father, Malibu Moon, may not have been much on the racetrack (he retired after suffering an injury following his maiden victory), but he has made a huge impact in a short time in the breeding shed. His offspring are talented and fast and have ample stamina.
Orb has lived up to his lofty billing on the racetrack. While he was slow to develop as a juvenile, he has come into his own this spring and is undefeated this year. Besides of course winning the Kentucky Derby, he has two other stakes wins to his credit and will try to add a fourth to his resume on Saturday.
Career Win-Place-Show: 5-0-1 (eight starts)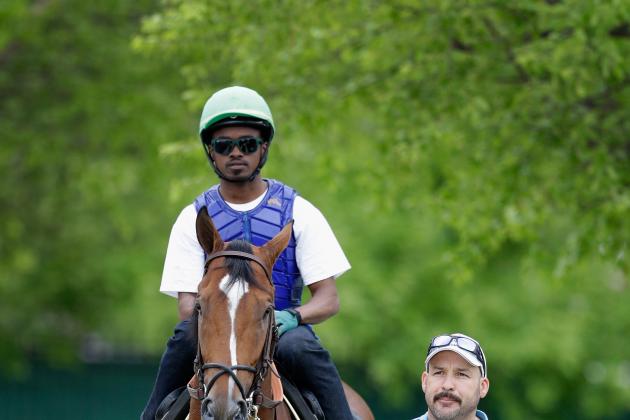 Rob Carr/Getty Images
Goldencents
Goldencents is a horse who has, to some degree, outrun his pedigree.
His female family is unimpressive and the majority of the influence there is of the sprinter variety. His ability to get a mile and a quarter in the Kentucky Derby was highly suspect because of the lack of depth on his dam side.
On his sire's side, there is not much more by the way of stamina. His sire, Into Mischief, was a precocious juvenile who wound up getting injured prior to his chance at the Kentucky Derby after winning an early prep. He was able to win going past a mile but really seemed to excel at shorter distances. He was not met with much attention when he retired to stud and Goldencents, along with Derby also-ran Vyjack, both are from his first crop.
On the racetrack, Goldencents has been able to win authoritatively past a mile but needs to control the pace to do so. He is difficult to hold back and rate and that works against his already dubious distance pedigree.
Career Win-Place-Show: 4-1-0 (seven starts)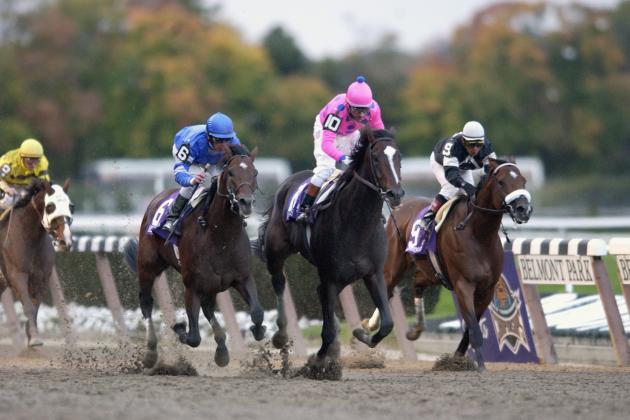 M. David Leeds/Getty Images
Tiznow, two-time winner of the Breeders' Cup Classic and sire of Titletown Five
Though Titletown Five has been an underachiever on the racetrack, this colt has a strong pedigree and came at a lofty price tag. As a yearling, he commanded $250,000 in the sales ring and thus far into his career has only managed to earn back $87,398.
His sire, the legendary Tiznow, is a dual Breeders' Cup Classic winner who had the stamina to run for days. His dam was Group 1 winner in Puerto Rico and a stakes winner in the United States. Her best efforts came sprinting and as it seems, Titletown Five has taken after his mother, not his father.
Aside from the glaring fact that this colt might just not be good, he has not proven at all that he can be competitive around two turns. His better efforts to date have come sprinting and the distance of the Preakness may be too far for him.
Career Win-Place-Show: 1-2-1 (seven starts)
Just like Orb's pedigree is a testament to decades of thoughtful breeding by the Janney and Phipps families, Departing is another colt with classic breeding.
A home-bred for the iconic Claiborne Farm and Adele Dilschneider, Departing is another in a long line of horses that have been born and raised in the Kentucky bluegrass at one of the most famous farms in racing history.
His sire, War Front, stands at Claiborne and while his success on the track came predominantly sprinting, he actually has a ton of depth and stamina in his own pedigree and seems to be passing that on. One of his top offspring actually bears the familiar white and red silks of Stuart Janney III, the turf star Data Link.
On his female family, he is represents a lifetime of Claiborne Farm breeding and can be traced back to Forty Niner, who famously dueled with the Phipps home-bred Seeking the Gold in the Haskell 25 years ago. These renowned racing families are no strangers to a rivalry. Perhaps Departing and Orb will start one for a new generation.
On the racetrack, Departing has been allowed to develop at his own pace. He has four wins from five starts with his lone defeat coming in the Louisiana Derby. He has passed each class test with flying colors and will face a stiff one on Saturday.
Career Win-Place-Show: 4-1-0 (five starts)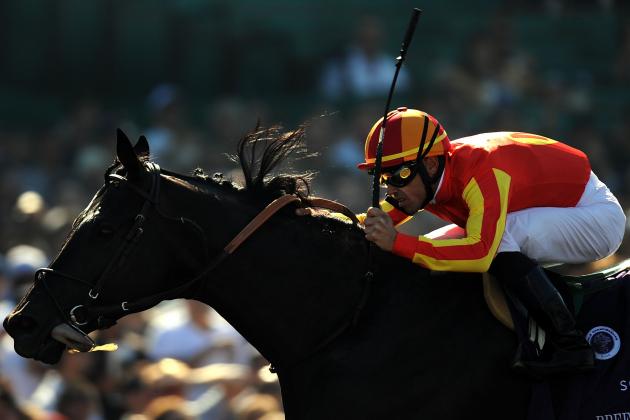 Harry How/Getty Images
Mylute winning the Breeders' Cup Sprint
Mylute is from the first crop of the promising young stallion Midnight Lute, a thrilling two-time winner of the Breeders' Cup Sprint. Though Mylute's pedigree is dominated by sprint influence, he has been a surprise in that he has been competitive at extended distances.
Midnight Lute generated a great deal of attention on the racetrack. He was freakishly fast and his come-from-behind style kept fans on the edge of their seats. In his first crop of racehorses to hit the track, he has been well-received and his offspring have shown real talent. Though they may not be Belmont Stakes-type horses, they seem to be strong milers and some seem to be able to excel beyond that.
In Mylute's female family, he is out of a multiple minor-stakes-winning mare who did her best running as a sprinter. Eventually, Mylute's pedigree will have to have an impact on him, but for now he seems like he has some stamina.
On the racetrack, he has been incredibly inconsistent and has gone winless from three starts so far this year. He has had several consecutive competitive efforts and will try for a breakthrough win.
Career Win-Place-Show: 2-3-2 (10 starts)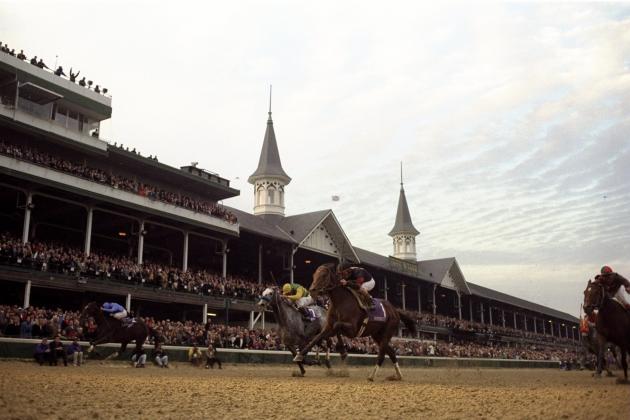 Eliot J. Schechter/Getty Images
Awesome Again winning the Breeders' Cup Classic in 1998
Oxbow has one of the strongest, deepest pedigrees of the entire field. At a year old, he fetched a quarter of a million dollars at auction and has been successful so far on the racetrack, earning over $380,000.
His sire, Awesome Again, won the Breeders' Cup Classic in 1998 and while he was a great success on track, his real triumphs have come in the breeding shed. He commands a stud fee of $75,000 and his offspring have gone on to be superstars. Some of his more famous offspring include champions Ginger Punch and Horse of the Year Ghostzapper. The Awesome Again babies are known for being tenacious, durable and endowed with great stamina.
Oxbow's pedigree doesn't lose any appeal in the female family, either. His dam, Tizamazing, is a full sister to Horse of the Year Tiznow, who now is one of the most in-demand stallions in the country. From three foals of hers to race, all three have won and two, including Oxbow, have been stakes winners.
Oxbow has proven to be resilient and tough as nails on the racetrack. He turned in a game performance to finish sixth in the Kentucky Derby and was the only speed horse to have anything left at the end. He has not had great racing luck, but has shown he has real heart.
Career Win-Place-Show: 2-1-1 (10 starts)
Will Take Charge has the distinction of being the most expensive horse in the field, with a hefty price tag of $425,000 as a yearling. His tremendous pedigree justified that big price tag.
His sire, Unbridled's Song, is one of the most commercially successful stallions of recent years. His offspring are precocious, versatile and talented. They often are quite delicate, as well. He does not have a reputation for producing durable horses and most physically resemble him quite a bit. Will Take Charge is no exception. While he does not have his sire's gray coloring, he has his build. He is a monstrous, tall colt but is not exceptionally big-bodied. The Unbridled's Song's offspring have a tendency to be very tall, narrow individuals and Will Take Charge is his father's son.
His dam, on the other hand, was a powerhouse stakes mare who won half of her 22 lifetime starts against top competition. She has turned out to be a promising young broodmare and her most notable offspring is Take Charge Indy, a talented colt who is turning out to be a top older horse after getting sidelined with a minor injury in the 2012 Kentucky Derby.
Will Take Charge has been inconsistent on the racetrack but has shown glimmers of real talent. His winning effort in the Rebel over stablemate Oxbow was a sharp performance and with his massive size, he may continue to improve as he grows into himself.
Career Win-Place-Show: 3-1-0 (eight starts)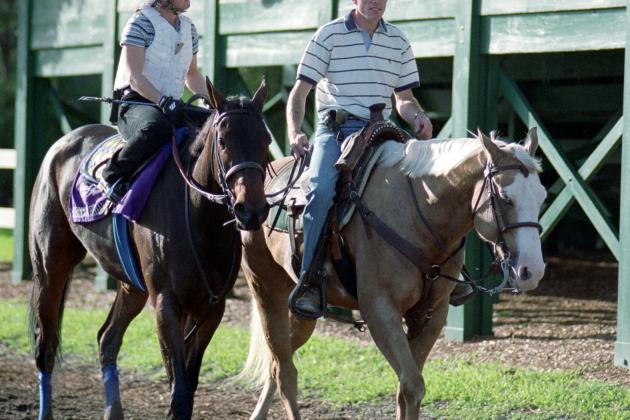 Matthew Stockman/Getty Images
Silverbulletday, the granddam of Govenor Charlie
When you look through Govenor Charlie's pedigree, it reads as a tribute to some of the greatest successes trainer Bob Baffert and Mike Pegram have had along their stellar careers in racing.
To start, Govenor Charlie is by Midnight Lute, whom Baffert campaigned to two Breeders' Cup Sprint triumphs. That colt clearly holds a special place in Baffert's heart—his Twitter handle is @MidnightLute. Midnight Lute was sired by Real Quiet, who fell a nose short of the Triple Crown in 1998 after giving Baffert and Pegram the ride of their lives in the Derby and Preakness.
On his female family, he is out of a mare named Silverbulletway. Though she never made it to the racetrack, her mother was multiple champion Silverbulletday, one of the fastest and most highly regarded fillies of the 1990s.
Govenor Charlie is so lightly raced at this point there is no telling how good he is. He has two wins from three starts. The best horse he has faced so far is a horse named Let Em Shine who defeated him in his debut. That colt is turning out to be a serious sprinter to watch.
With his pedigree full of superstars, he still has a chance to make a name for himself alongside them and will get a real test on Saturday.
Career Win-Place-Show: 2-1-0 (three starts)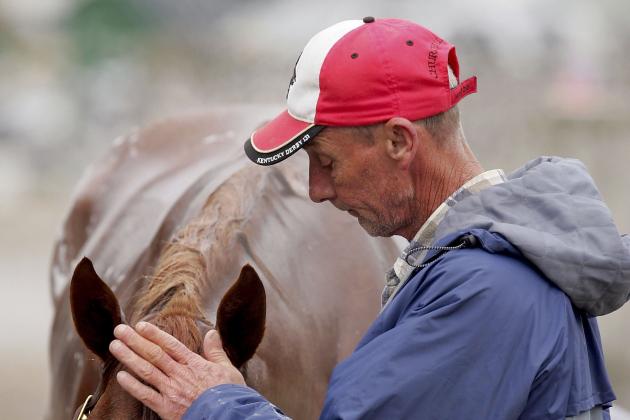 Matthew Stockman/Getty Images
Lawyer Ron, Itsmyluckyday's sire
Itsmyluckyday represents the final crop of the multiple Grade 1 winner Lawyer Ron. Unfortunately, his promising stallion career was cut short in 2009 after complications following colic surgery.
Lawyer Ron was a hard-trying, tough racehorse and seems to have passed on that resiliency to his offspring. He was a stakes winner at two, three and four and has produced offspring that are precocious but also are competitive as they get older. Itsmyluckyday inherited his stamina from his stallion's side.
His female family is somewhat softer and with the exception of him, his dam has not produced anything noteworthy. He has primarily sprint influence in his female family which may explain why he is not improving as the distances progress.
With 11 career starts, Itsmyluckyday is the most experienced horse in this group. Though his form has been declining in recent starts, he still has five wins to his credit and is capable of turning in a very sharp effort as evidenced in his Holy Bull Stakes win in January.
Career Win-Place-Show: 5-2-1 (11 starts)