Funniest International Sports Videos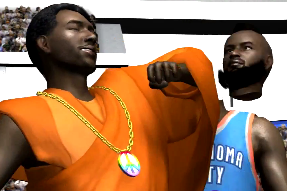 Source: withleather.uproxx.com
Ready to take a little tour around the world and see what some of Earth's 196 countries have to offer up in the way of sports humor?
The following slides are flubs, gaffes, spaz-outs, pranks, epic fails or just straight up acts of silliness from lands both near and far off.
And they say humor doesn't translate!
Click on and let the zaniness begin.
Begin Slideshow

»
According to the video uploader, this "hit and run" occurred during a football match in Brazil. Watch for the particularly delightful flying kicks at 1:10 and 1:15.
In Indonesia, among other places, laughing is a sport. Hopefully this slide show is giving you plenty of game time.
Here our friends over in Taiwan pack in the violence to satire Metta World Peace's failure to live up to his name.
Amusing to know that even South Korea has its share of T.O.-esque buffoons.
Oh Manny. If you were a President, you'd be Ford.
If you were an actress, you'd be Jennifer Lawrence.
If you were a boxer, you'd be this guy.
But really, we're just glad you're still Manny being Manny over there in Taiwan.
Hertha Berlin defender Peter Niemeyer claims that this tender swipe of referee Bibiana Steinhaus' boobie was meant to be a pat on the back.
The incident earned Niemeyer the apt nickname "Breast Wiper."
Creepy Cricket Fan rivals Star Wars Kid for greatest unintentional YouTube star. Little is known about him: his existence began when he stepped in front of the lens of a Sky Sports camera at a cricket match between Bangladesh and the West Indies.
So many versions of his 27 seconds of fame are out there, it's impossible to say how many people around the world have clicked a mouse and invited his mustache-twitching hilarity into their homes.
Here's what really happened as best as I can piece it together: This was a celebrity-studded charity game in South Korea. It involved more vaudeville antics than real game play. The weird battle here is a "chicken fight"—a traditional children's game in which players hop on one leg and try to knock each other down.
What's funnier than this video itself is the legend built up around it. Once upon a time, someone posted this out-of-context clip on YouTube claiming it was a real baseball fight—Asian style. It was plastered all over the net with thousands of westerners marveling at the odd expression of violence.
Put two obese dudes on a raised platform surrounded by spectators and have them grapple. Hilarity (or tragedy) is just bound to ensue.
Don't worry, folks, reliable sources told me they were able to re-inflate that gyōji with a bicycle pump they keep handy for just such emergencies.
Perhaps it was because Mallorca had just scored three unanswered goals in this Copa del Rey match that Real Sociedad goalkeeper Enaut Zubikarai did the slow stroll. He needed a moment to regain his swagger. To let his team regroup. To take control of this match once again.
Yeah, that didn't happen. After the humiliation seen here in the video, Mallorca scored twice more. Final score 6-1. Real Sociedad was knocked out of the tournament.
If Jim Courier and Jim Carrey were to meld into a single being, the result would be Mansour Bahrami. The Iranian-born French tennis star loves putting on a show with his game. This pantomime is one of his many, many gags.
The Petro-Canada Teddy Bear Toss—a minor league tradition. Just one step: fling a teddy bear on the ice when the home team put its first point on the board.
The toys are swept up and given to an area children's hospital.
The fuzzy deluge in this video depicts the result of a 2010 Calgary Hitmen goal. The final loot count: 23,096. Not too shabby seeing as only 16,000 people were in attendance.
.
Note Rabat goalkeeper Khalid Askri's confidence in this Moroccan Cup game spotkick scenario. Note his hey-punk-shoot-it-right-here-for-me taunt.
Askri knows how wet behind the ears this young Fes striker is. He knows he has this save.
When it's done, he slaps his chest and kisses the team badge.
And then a little backspin ruins him. Forever.
In some sort of band-promo gone wrong, this German-speaking would-be athlete attempts to shatter a layer of ice with nothing but Speedos and hubris.
Here you witness the end of the 216.9 kilometer Tokyo-Hakone relay marathon. College freshman Natsuki Terada is about to win the final stage for his team.
But then decides staying camera center is more important than winning.
Listen as someone repeatedly plunges a dagger into the commentator's chest during a live broadcast. His burbling shrieks—one with each stab—are chilling.
Icelandic soccer doesn't usually command world attention. But Stajarnan Football Club had become widely known for the elaborate goal celebrations.
While the team plays on a middle school field for a crowd of about 50, thanks to YouTube, millions have seen their post-goal antics.
Aussies Rules Football, Rule #219b: Literally running up an opposing teammate's body and crushing his head and shoulders (not mention his ego) with your knees to make a catch is permitted.
And lauded.
(As demonstrated here by Andrew Walker Mark of the Carlton Football Club)
Yeah, that's anime Tiger getting smacked by anime Elin fuming about non-anime Rachel Uchitel. It's the Tiger scandal—Taiwan style.
Unlike the Metta World Peace video at the start of this slideshow, this one seemingly strives to be a serious recreation of events.
(Apparently Taiwanese animators are very, very, very bored.)
Usman "Uzzy" Ahmed is a super flyweight boxer with a mediocre record (8-6-1), but spectacular entrance routines.
He became a viral hit when someone spliced together footage of the crazy entrance seen here with footage of him getting knocked out in the first round (from a different fight).
Click here to see the fused footage.