5 Bold Predictions for the Remainder of the Mets' Season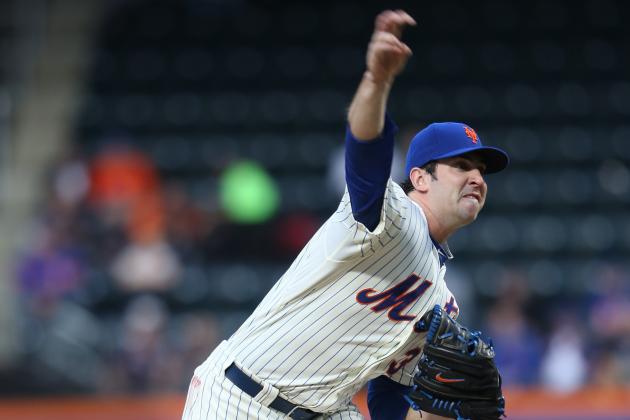 Nick Laham/Getty Images

At 15-23 and in fourth place in the NL East, the New York Mets' 2013 season so far has been inconsistent. At times, the starting pitching has been great, but in other games, it has been ineffective. Offensively, the Mets have gotten big home runs in some games but have also had a lot of trouble hitting in other games.
A lot of baseball is still to be played this year, but if the Mets continue playing the way they have so far, they have little to no chance of reaching the postseason. That being said, here are five bold predictions for the rest of the Mets' 2013 season.
Begin Slideshow

»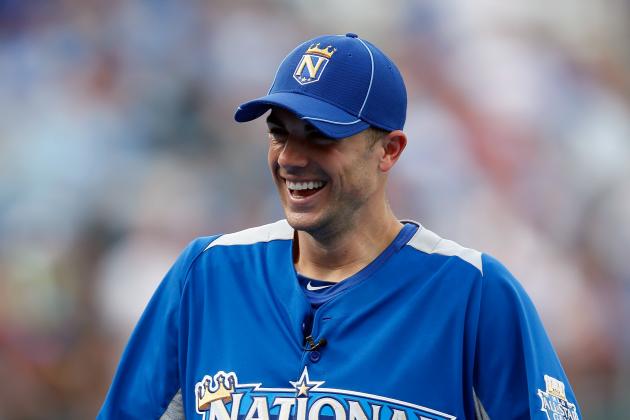 Jamie Squire/Getty Images

The Mets will have the honor of hosting the 2013 MLB All-Star Game this summer and should have at least three representatives.
The first will be third baseman David Wright, who has been a mainstay in All-Star games since 2006. Wright is currently batting .295 with five home runs and 24 RBI. He has started at third base for the National League in four of his six All-Star appearances, and the likelihood of him starting at third base once again is high.
Catcher John Buck should also be able to find his way to the All-Star Game, especially after having a torrid April, when he he batted .241 with nine home runs and 25 RBI.
Buck carried the Mets offense throughout the month, and if he keeps hitting at a reasonable level, he should be able to get a spot as a backup catcher. The voting for catchers could be competitive, with Buster Posey, Russell Martin and Wilin Rosario being Buck's main competition.
Finally, Matt Harvey looks like a shoe-in to be an All-Star in his first full season. In his first eight starts of the year, Harvey is 4-0 with a 1.44 ERA, 62 strikeouts and a remarkable 0.728 WHIP. Assuming he stays healthy and does not pitch badly in June, Harvey should be an easy All-Star selection.
Closer Bobby Parnell also has a chance to be an All-Star, with a 1.04 ERA in 17 appearances. However, he only has four saves and is far from being the league leader in that category. Unless Parnell racks up a lot of saves in the next two months, he could be on the outside looking in during the All-Star break.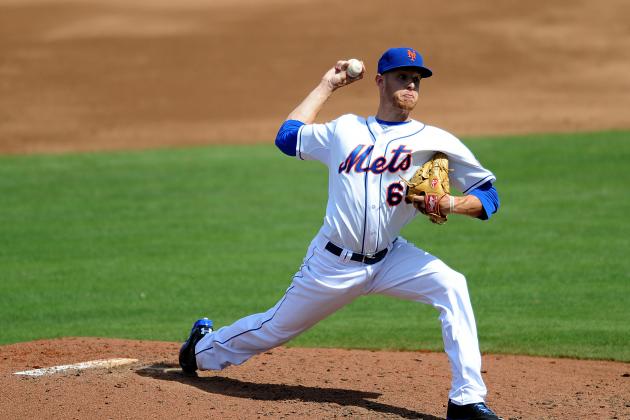 Steve Mitchell-USA TODAY Sports

The Mets' future has started coming together ever since Matt Harvey made his major league debut in late July of 2012. The next big piece could arrive by June.
The Mets' top prospect Zack Wheeler has been in Triple-A Las Vegas fine-tuning his pitching before his eventual major league debut. According to Adam Rubin of ESPN, the Mets have been reluctant to promote Wheeler to the major league roster due to the Super Two cutoff, which is on June 15.
By waiting until this date, the Mets will be able to control Wheeler for another season instead of having his free agency begin earlier. The Mets have made it known that the Super Two cutoff has played a role in Wheeler's timing regarding his major league debut. The Mets also seem to be trying to delay Wheeler's arbitration for payroll concerns.
Wheeler's pitching is not much of an issue. He is 2-1 with a 3.74 ERA in the minor leagues and has been pitching well recently.
When Wheeler makes his major league debut, the Mets will be closer to reaching their full potential.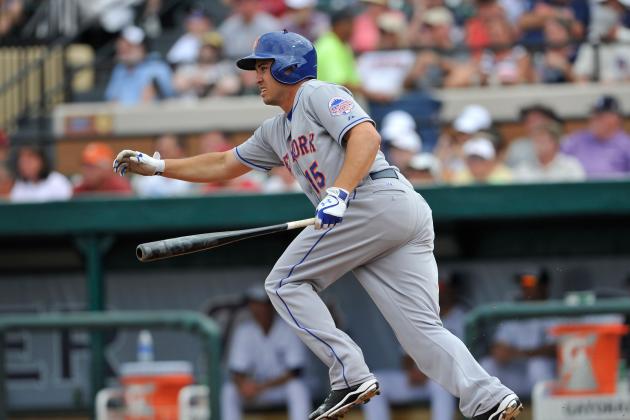 Jerome Miron-USA TODAY Sports

Thanks to a foot injury that will sideline him for quite some time, Travis d'Arnaud's major league debut will most likely come late this season at the earliest.
He could have been called up in the middle of June with Wheeler after the Super Two cutoff, but his injury will be a setback for his development. As a result, d'Arnaud will more than likely need more time in the minor leagues to recover from the injury and prove himself ready for the MLB.
The other part is that John Buck has been hitting well for the Mets this year, and it would not make sense to have Buck on the bench while his bat is hot. The fact that Buck is hitting well definitely makes keeping d'Arnaud in the minor leagues easier for the Mets over the course of the season.
If the Mets find a way to trade Buck before the trade deadline in late July, d'Arnaud could get called up by then, but there's a better chance that d'Arnaud will be one of the Mets' September call-ups. If d'Arnaud gets promoted by then, he will not have many at-bats and would still be eligible for rookie status in 2014. At this point, waiting until September to call up d'Arnaud would be the smartest choice.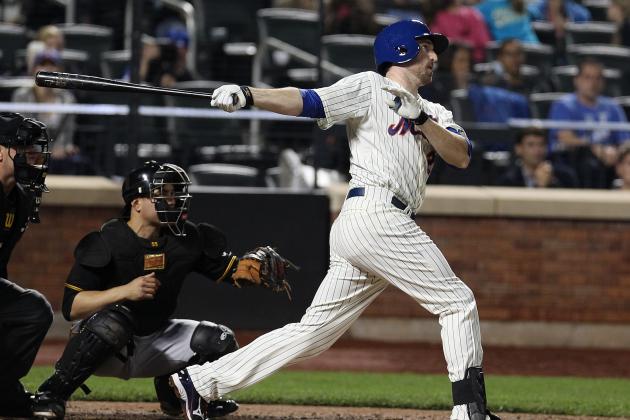 Mike Stobe/Getty Images

Like 2012, Ike Davis' 2013 season has gotten off to a poor start. In his first 36 games, Davis is batting just .164 with four home runs, nine RBI and a .532 OPS.
A year ago, after his first 36 games, Davis was batting .167 with five home runs and 14 RBI. Davis then proceeded to hit .254 from June through the end of the 2012 season, adding 27 home runs and 69 RBI. Davis should be able to duplicate the second half success he had in 2012 in 2013.
Hopefully, Davis' slump can end sooner than it did a year ago so that he can help carry the Mets offense.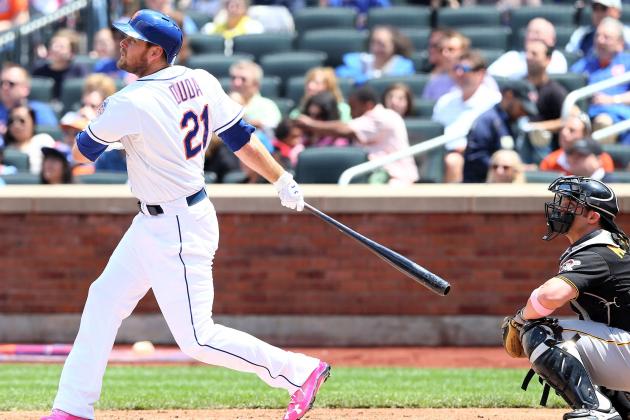 Elsa/Getty Images

In 2012, Lucas Duda got off to a good start and was batting .255 with 11 home runs and 43 RBI by July. However, in July, Duda's hitting fell off significantly. He had a .140 average, one home run and one RBI for the month before getting demoted to the minor leagues.
Duda's 2012 season was inconsistent, but despite batting .205, Duda has eight home runs, 13 RBI and 23 walks in 137 plate appearances in 2013. In fact, Duda currently has just as many walks as hits, which shows his patience at the plate.
With another year of major league experience under his belt, Duda should be able to overcome his second-half struggles of 2012 and have a smoother 2013 season.
If Duda can keep hitting and getting on base during the summer and can drive in more than 80 RBI while hitting more than 20 home runs, the Mets would benefit. Furthermore, such a performance would lift Duda's career to a whole new level.
Duda already has the potential to be one of baseball's premier sluggers. Once he and Ike Davis become more consistent hitters, they will turn into one of the most feared slugging duos in baseball.