Michigan Football: 10 Greatest QB/WR Connections in Wolverines' History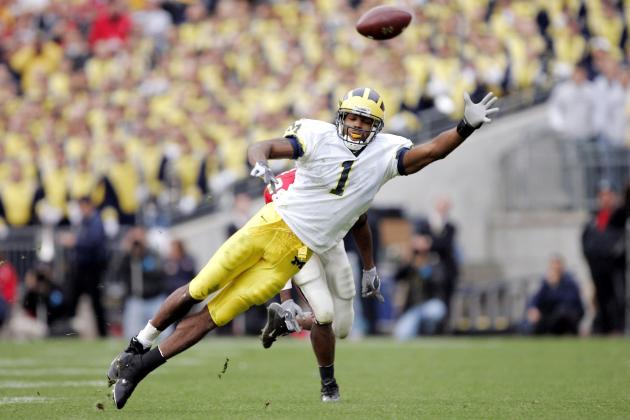 Brian Bahr/Getty Images
Where does Braylon Edwards stack up among the greatest wide receiver and quarterback combinations in Michigan history?
For several decades, the Michigan football program has been known for churning out some of the best quarterbacks and wide receivers at the college level. Some of those greats even had the privilege of playing alongside one another. Those connections will not be forgotten anytime soon.
There are four main criteria for ranking the top 10 greatest quarterback-wide receiver connections.
Statistical numbers are taken into account, but their is also a certain amount of value attached to the era in which they were recorded. The forward pass was not exactly a big deal in the late 1940s and during Bo Schembechler's 21 seasons as head coach. A receiver has to make up a high percentage of the quarterback's passing yards as well. Great connections must have happened frequently.
Second, beating rivals raises the score of a legendary connection. All rivals are not weighted the same, though. For instance, beating Ohio State is much more valuable than wins over Michigan State and Notre Dame.
The final criteria are championships and winning in general. These two are more important than just about anything else. Winning bowl games, especially the Rose Bowl, are bonuses.
Begin Slideshow

»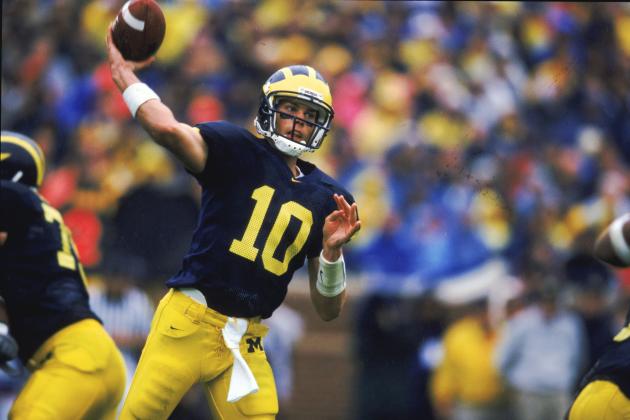 Harry How/Getty Images
All that is missing from Tom Brady's and David Terrell's 1999 resume was a Big Ten title.
The fact that former Michigan Wolverine greats Tom Brady and David Terrell check in this low on the list is by no means an attempt to discount how great of a connection this was. In fact, the two managed to accomplish some pretty impressive feats in 1999.
Terrell, a two-time All-Big Ten selection, became just the fourth wide receiver in school history to rack up over 1,000 yards.
Meanwhile, Brady held off sophomore sensation Drew Henson to throw for 2,586 yards and 20 touchdowns. Exactly 1,038 of Brady's passing yards were to Terrell. The pair connected for seven scoring plays as well.
Behind the offensive output of Brady and Terrell, Michigan finished the season with a 10-2 record. The Wolverines were second in the Big Ten, which sent them to the Orange Bowl. On this stage, the dynamic duo shined brighter than ever. Brady completed 34-of-46 passes for 369 yards and four touchdowns, three of which were to Terrell. The latter piled up 150 receiving yards on 10 receptions.
Had Brady and Terrell managed to beat the Ohio State Buckeyes, or win a conference title, this connection would have been ranked much higher.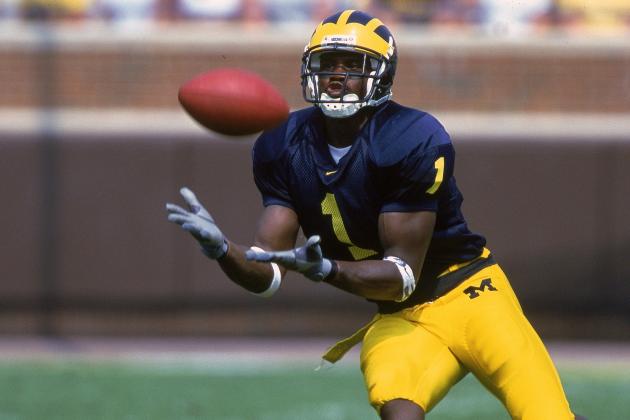 Jonathan Daniel/Getty Images
David Terrell helped more than one quarterback crack this list.
With the help of Drew Henson in 2000, David Terrell became the first wide receiver in school history to record back-to-back 1,000 yard seasons. To say Terrell was a huge reason for Henson's success would be an understatement.
Terrell hauled in 67 passes for 1,130 receiving yards, which accounted for more than half of the 2,146 passing yards Henson racked up as a junior.
These two were able to topple bitter rivals Michigan State and Ohio State, which helped bolster their case to crack the top 10. Losses to Purdue and Northwestern kept Henson and Terrell from heading to the Rose Bowl. Instead, the duo settled for a share of the Big Ten title and a 31-28 win over the Auburn Tigers in the Outback Bowl.
Missing out on a trip to Pasadena caused Terrell and Henson to slide near the back end of the top quarterback-wideout connections in school history.
It is easy to forget Chad Henne was just a true freshman when he helped guide the Michigan Wolverines to a share of the Big Ten title in 2004. Henne's inaugural campaign would have been a struggle, though, had it not been for Braylon Edwards.
The future first-round draft pick broke numerous school receiving records with Henne running the offense. Edwards finished the year with 97 receptions and 1,330 yards. To this day, no Michigan receiver has bested those marks. Out of the school-record 25 touchdown passes Henne threw as a freshman, 15 of them were to Edwards.
Henne connected with several other receivers as well en route to a 2,743 yard season.
However, neither of the two got to enjoy many wins over Michigan's rivals together. The Wolverines were beaten by both Notre Dame and Ohio State during Edwards' final season in Ann Arbor. On the other hand, Michigan State did not get off so easy. Edwards hauled in two fourth quarter touchdowns and another in a third overtime to help Michigan top the Spartans 45-37.
After earning a share of the Big Ten crown, the Wolverines made a second straight appearance in the Rose Bowl, where Michigan fell to Vince Young and the Texas Longhorns despite three touchdown receptions by Edwards.
Breaking records and being named league co-champions helped Henne and Edwards get on the list, but a loss to Ohio State held them back.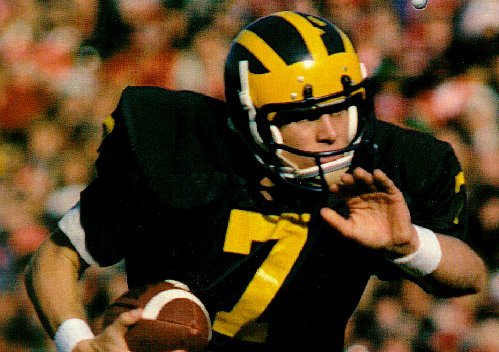 Rick Leach had plenty of help during his first two seasons as Michigan's starting quarterback. Photo courtesy of MGoBlue.com.
Had Rick Leach and Jim Smith played in the modern era of college football, their respective statistics would have been much higher. Still, there is no denying Smith was Leach's favorite target during the 1975 and 1976 seasons.
Leach threw for 1,653 yards and 16 touchdowns as an underclassman. Over the course of those two years, Smith racked up 1,267 receiving yards and found the endzone 10 times.
Both helped the Michigan Wolverines win plenty of games, too. The Maize and Blue went 18-4-2, with Leach and Smith connecting time after time. Those records allowed Michigan to finish second in the Big Ten race ('75) and clinch a share of the title ('76). Additionally, two wins over Michigan State are on the pair's resume.
A head-to-head victory over Ohio State during Smith's senior campaign enabled the Wolverines to take a trip to Pasadena. Michigan eventually fell to the USC Trojans 14-7 in the 1977 Rose Bowl.
There is no denying Leach and Smith belong near the top half of the school's best quarterback-wide receiver duos.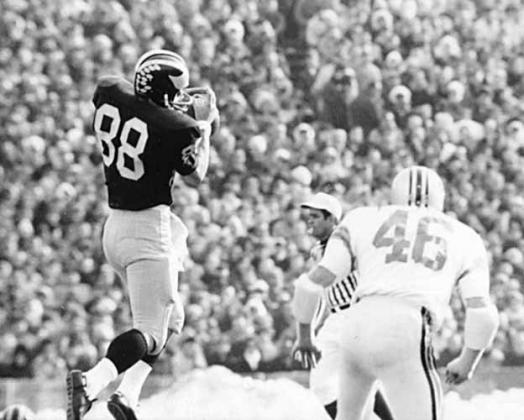 Don Moorhead and Jim Mandich helped the Wolverines topple the mighty Ohio State Buckeyes in 1969. Photo courtesy of Bentley.umich.edu.
Once again, had this connection existed in today's pass-heavy offenses, their numbers would be much more impressive. Even without the stat boost, Don Moorhead and Jim Mandich were an intricate part in getting the Michigan Wolverines' program to where it is today.
Mandich, an All-American tight end, totaled 662 receiving yards during his final year in Ann Arbor. Out of the 103 passes Moorhead completed during the 1969 campaign, Mandich nabbed 50 of them.
This old school tandem helped Michigan pull off one of the greatest upsets in the history of college football, as both played a major role in the Wolverines' improbable 24-12 victory over Ohio State 44 years ago. The win earned the Maize and Blue a share of the Big Ten title and ended a four-year Rose Bowl drought.
A loss to Michigan State hurts Moorhead's and Mandich's cause a bit. However, winning The Game more than makes up for the early-season letdown. Gaudy statistics do not always make for a great tandem. Coming up with big wins is what will be remembered several years from now. Moorhead and Mandich will still be talked about for decades to come.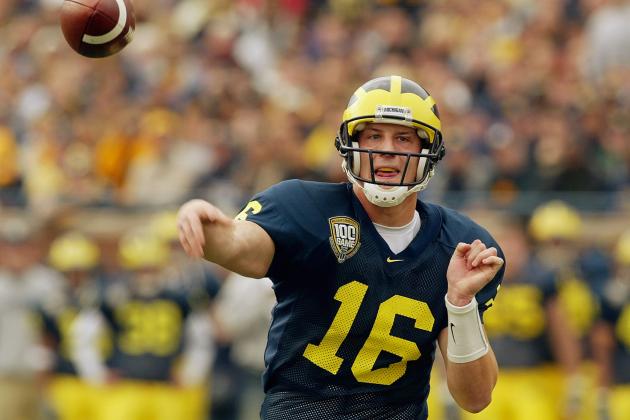 Danny Moloshok/Getty Images
John Navarre and Braylon Edwards helped Michigan pile up a large two-year win total.
Winning has a lot to do with ranking great quarterback and wide receiver tandems, and John Navarre and Braylon Edwards did plenty of it during their two seasons together with the Michigan Wolverines.
Both managed to pile up some impressive numbers along the way as well. Navarre set single-season school records for passing attempts (456), completions (270) and passing yards (3,331). Those numbers helped Edwards amass 1,000 receiving yards for two straight seasons. Edwards went on to become the only wideout in Big Ten history to record 1,000-plus yards in three consecutive campaigns.
At the end of the 2002 and 2003 campaigns, Navarre had thrown 45 touchdown passes. More than half of those scoring plays, 24 to be exact, were tosses to Edwards.
Those statistics were the driving force behind back-to-back 10-win seasons. Two victories over Michigan State, a win over Ohio State in the 100th all-time meeting and a 38-0 rout of Notre Dame are also on Navarre's and Edwards' list of accolades.
The lone win over the Buckeyes in 2003 allowed Michigan to win the Big Ten title outright.
Everybody loves a winner, and these two made sure the Wolverines took down their opponent more often than not.
It is safe to assume Notre Dame fans remember the names Elvis Grbac and Desmond Howard just as much as the Maize and Blue faithful. Check out the video above to find out why. There are plenty of other great feats to two Michigan Wolverines accomplished outside of this moment, though.
Grbac threw for 3,996 yards and 46 touchdowns during his sophomore and junior seasons. During those same campaigns, Howard hauled in 125 passes for 2,010 receiving yards and 30 touchdowns.
In his third and final season at Michigan, Howard captured the Heisman Trophy. Howard did not break the 1,000-yard mark, but he did nab 19 receiving touchdowns. No Wolverine has broken the school record Howard set in 1991.
The heroics of both Grbac and Howard led Michigan to a share of the Big Ten title in 1990 and an outright championship the following season. A pair of victories over Ohio State helped the duo rise up the list. Wins over Michigan State and Notre Dame in 1991 were high points, too.
Overall, Grbac and Howard posted a 19-5 record during the two seasons they started together.
There is one thing separating John Wangler and Anthony Carter from most of the other duos on this list. A victory in the Rose Bowl.
During Wangler's two seasons as the starting quarterback, Carter was one of his most reliable targets. Wangler threw for 1,522 yards, while Carter reeled in 818 of those yards. The two also teamed up for a 45-yard game-winning touchdown against the Indiana Hoosiers in 1979.
Along with the individual accolades Carter and Wangler accumulated, both led the Michigan Wolverines to some important victories. Michigan finished with a 10-2 record in 1980, which earned it an outright Big Ten title and a fourth Rose Bowl appearance in five seasons.
Carter also teamed up Grbac to help the Wolverines topple Washington 23-6 in the 1981 Rose Bowl. Beating Ohio State in 1980 and Michigan State during both of Steve Smith's seasons as the starting quarterback only add to the legacy both of these former greats left behind.
Chuck Ortman helped Michigan win the 1948 national title. Photo courtesy of Isportsweb.com.
Considering the era and limited amount of games played in the late 1940s, Chuck Ortman and Dick Rifenburg put up some massive numbers en route to the Michigan Wolverines' second straight national title.
After watching Bob Chappuis capture the 1947 national championship, Ortman took over the following season and wasted no time establishing a repertoire with Rifenburg. In just nine games, Ortman threw for 856 yards and nine touchdowns. Rifenburg was responsible for 508 of those yards.
Nobody had an answer for Ortman and Rifenburg. Michigan faced four nationally ranked opponents in 1948 and beat them by an average of 22.8 points. The Wolverines also scored at least 27 points in six games during their 9-0 run.
The dominance Michigan put on display helped it capture the 1948 national championship. Ortman and Rifenburg may have only started together for one season, but they certainly made the most of it.
Winning defines the legacy of Greg McMurtry (pictured) and Michael Taylor. Photo courtesy of Fanbase.com.
No wide receiver and quarterback combination in the history of Michigan football can top Michael Taylor to Greg McMurtry. All the two did was win championships.
The 1988 and 1989 seasons were Bo Schembechler's last as head coach of the Wolverines, and this connection made sure he went out a winner. Taylor and McMurtry combined for 2,038 passing yards and 1,181 receiving yards, respectively, over the course of those two years.
Michigan won the Big Ten title outright at the end of both seasons. The Wolverines were 15-0-1 in league play and 19-4-1 overall during this time. The lone tie did not come against any of Michigan's rivals either. Taylor and McMurtry boasted a 4-0 record in games with Ohio State and Michigan State. Notre Dame did manage to get the better of them on two occasions, though.
More importantly, however, Michigan took down USC 22-14 in the 1989 Rose Bowl. The Trojans would have their revenge the following year in what would be Schembechler's final game on the sidelines.
Based on the criteria established in the introduction slide, no one accomplished more than McMurtry and Taylor.