The post positions of the Preakness Stakes will go a long way in deciding which horse enters the winner's circle.
Every competitor has different styles, which leads some to prefer starting in the inside or on the outside. However, history tells us that some spots are better than others to win this prestigious race.
While getting a good post will not necessarily clinch a victory, it is almost certain to make an impact. Here is a full look at the post positions for each contender with how they will affect the top horses.
Post
Horse
Jockey
Trainer
Odds
1
Orb
Joel Rosario


Shug

McGaughey



1/1
2

Goldencents



Kevin

Krigger



Doug O'Neill

8/1
3

Titletown

Five
Julien

Leparoux

D. Wayne Lukas
30/1
4
Departing
Brian Hernandez Jr
Albert M. Stall, Jr
6/1
5

Mylute

Rosie

Napravnik

Tom

Amoss

5/1
6
Oxbow
Gary Stevens
D. Wayne Lukas
15/1
7
Will Take Charge
Mike Smith
D. Wayne Lukas
12/1
8

Govenor

Charlie
Martin Garcia
Bob

Baffert

12/1
9

Itsmyluckyday

John Velazquez
Eddie

Plesa

Jr.
10/1
*Morning line via KY Derby Contenders Twitter feed.
No. 1 Orb
Rob Carr/Getty Images
The Kentucky Derby winner is the favorite to also take first place at the Preakness. However, the draw did not do Orb any favors.
By starting with the No. 1 post, the horse has to get out to a good start to avoid getting pinched in at the rail. Unfortunately, this is not his style.
At Churchill Downs, Orb barely even tried to get good position out of the gate and was more than satisfied sitting behind the pack. Eventually, jockey Joel Rosario lead his mount wide around the final turn to put the horse in position to win late.
He might not be able to utilize that strategy at Pimlico with the inside track, making a repeat win much less likely.
No. 2 Goldencents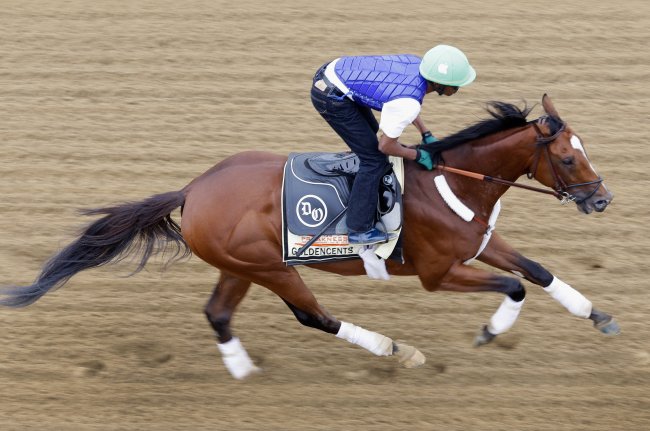 Rob Carr/Getty Images
While the No. 8 post at the Kentucky Derby was not the worst thing for the fast starter, Goldencents struggled mightily in the mud.
This should not be an issue on Saturday, and the talented thoroughbred should get back to his true form.
The Santa Anita Derby winner has shown an ability in past races to get out in front and control the pace of the field. From the No. 2 spot, he should be able to do that at the Preakness.
Even with Orb just one spot over, Goldencents should get to the rail early and be able to run a good race.
No. 5 Mylute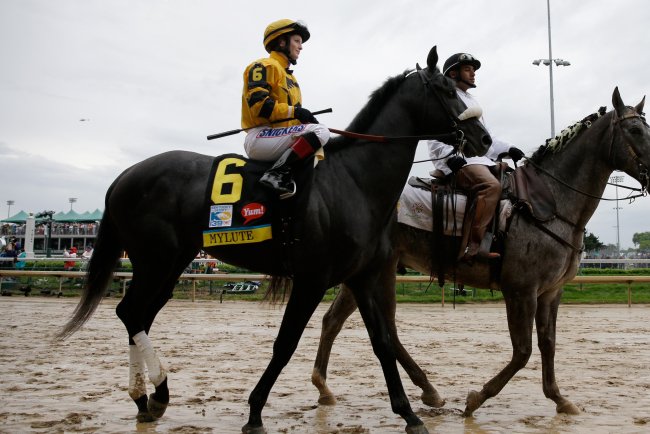 Rob Carr/Getty Images
Rosie Napravnik continues to break down barriers as a female jockey. Although she did not become the first woman to win the Kentucky Derby, her fifth-place finish was the best ever.
Now she is looking to become the first female to win the Preakness, and her horse gives her a good chance of accomplishing that feat.
Mylute got off to a terrible start at the Kentucky Derby but showed its determination by climbing from 18th place to fifth place at the finish line.
At the No. 5 post, Napravnik can do a better job of controlling the start and in turn be in a stronger position by the final stretch. In a smaller field, Mylute has what it takes to overcome the odds and win it all.