Texas Football: 5 Reasons Why the Longhorns Can Win the Big 12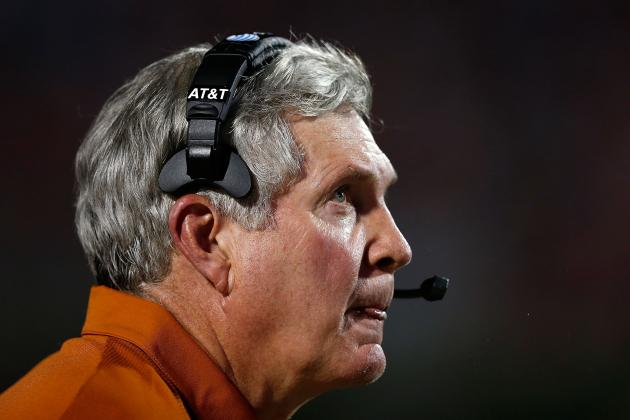 Scott Halleran/Getty Images

There is some light at the end of the tunnel.
After falling into a pit of absolute tragedy in 2010, the Longhorns have slowly been climbing back to the surface.
From 5-7, the "Horns followed with subsequent 8-5 and 9-4 seasons, marked progress if there ever was any.
But 2013 could provide just the right set of circumstances to have a still non-elite Texas team lay claim to a Big 12 title, a crown it has not worn since its BCS National Championship Game run in the 2009 season.
Nineteen returning starters, a schedule that is not as menacing as some may think and some choice moves has provided a promising foundation for what could be a special season.
What else could factor in?
Begin Slideshow

»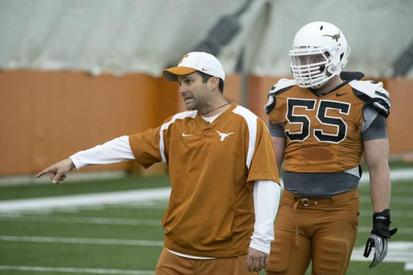 mackbrown-texasfootball.com
One of the most intriguing factors that could provide serious leverage for a Big 12 title is the Longhorns' schedule, helped out by a relatively weak conference make-up.
Texas' highlight matchups in the Big 12 are at TCU (Oct. 5), Oklahoma in Dallas (Oct. 12) and home against Oklahoma State (Nov. 16). Those are three prickly games that could be big thorns in the side of Texas' Big 12 Championship hopes.
Drawing Kansas State, Oklahoma State and Texas Tech all at home plays largely in favor of the Longhorns, but then again there are never any gimmes against Big 12 offenses.
At the end of the day, on paper (where everything is ultimately decided, of course), Texas figures to be the favorite in most of its games.
A team with two conference losses has not won the Big 12 since 2010, the same year that the 'Horns went 2-6 in conference play. For a Big 12 that has no runaway favorite or truly-dominant team, a two-win champion is easily in play.
Those prickly games will be huge.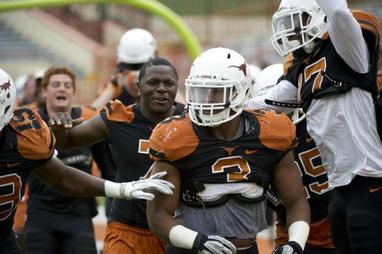 mackbrown-texasfootball.com
Texas returns 19 starters and suddenly becomes one of the most experienced teams in college football.
Offensively, the Longhorns will have some of the most firepower in the Big 12, but in the first year of a new spread offense, will they be able to execute when it matters most?
David Ash leads the charge at quarterback, but he is surrounded by experience and quality. His entire offensive line returns, in addition to a JUCO newcomer that will add depth up front. Moreover, the talent at the skill positions will be the true pillars of the Texas offense.
Defensively, Texas gets back eight of its starters, losing DT Brandon Moore, DE Alex Okafor and S Kenny Vaccaro, big-time quality for a unit that had its worst season statistically in the history of the program.
Linebacker Jordan Hicks will have to return healthy and productive, as will Jackson Jeffcoat, who will be coming off surgery for the second straight offseason.
The talent and numbers are there for the defense to have a much better season; it is just a matter of getting the right pieces clicking at the same time.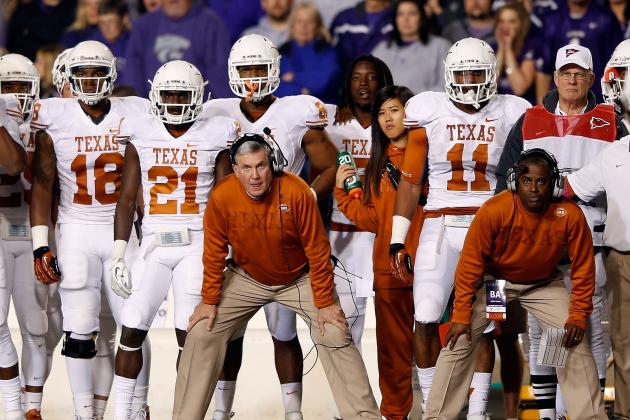 Jamie Squire/Getty Images

Perhaps a perfect storm of sorts is what the Longhorns will need to claim a Big 12 title. After all, it was another perfect storm that saw Texas drop to 5-7 back in 2010.
With Texas going into the season on a much higher note than most, an in-rhythm Longhorns offense may be a sufficient step-up to breeze past the competition.
Speaking of that competition, every Big 12 team, save for Texas, Oklahoma State and TCU, will be looking at new starting quarterbacks, a transition that could make for a wildly unpredictable season.
So while the Longhorns sit relatively comfortably with their junior quarterback in David Ash, even with the installation of a spread offense—one that could become great by year's end—then much of the Big 12 will be going through some significant changes on either side of the football.
As it stands, the 'Horns, Cowboys and Horned Frogs should easily project to finish near the top of the Big 12.
If Texas' defense can revert closer to its 2011 self, it could be enough for a legitimate shot at a conference championship.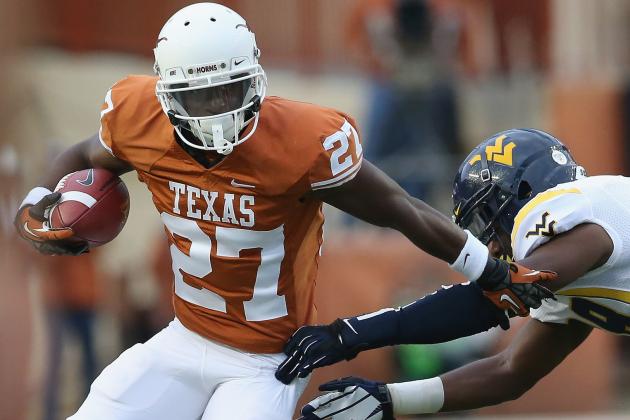 Ronald Martinez/Getty Images

So the Bryan Harsin experiment was just a bit "ehh," but it was not without its high points, of course. But that is ancient history now that the Longhorns have moved back to the spread offense with Major Applewhite and Darrell Wyatt sharing the offensive coordinator position.
On the bright side, the Longhorns may still look to run a variety of formations. But there is little doubt that Texas is very well-equipped in the speed department to make some big waves in the Big 12.
While the spotlight will be on the defense and its ability to rebound from a historically bad year in 2012, the watchful eyes of the Texas faithful will be examining the offense closely.
Quality and speed is littered across the offensive depth chart, notably Johnathan Gray in the backfield and Mike Davis and Jaxon Shipley at receiver. But when Daje Johnson enters the fold, the offense may transform entirely. Throw in a sleeper candidate like Kendall Sanders, a budding receiver looking to follow Marquise Goodwin's influence, and the Longhorns will have plenty of weapons getting touches.
The most important component, however, will be David Ash, who reportedly has looked more comfortable in the spread. If Ash can tune in mentally and make the correct reads, he is surrounded by more than enough gunpowder for some big fireworks.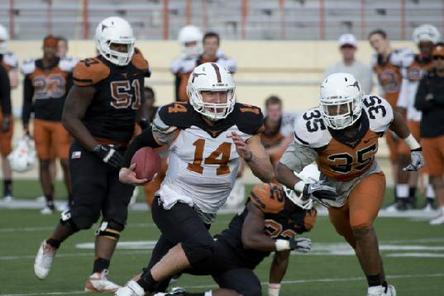 mackbrown-texasfootball.com
As cliché as it is, a nice chip on the shoulder is exactly what some athletes need to take the next step as competitors.
Texas has lost its reputation as an elite football program, and this is the year to make the biggest move back to that kind of praise. The depths of the 5-7 season were dark, but after the gradual climb over two additional years, there is finally some light at the end of the tunnel.
While they need to set their goals high and develop a different attitude about attaining those objectives, the Longhorns will continue to get little credit and lose the media spotlight until they win.
In sports, it is the one cure-all.
Can Texas bring that sharp focus that it has been missing and really play with something to prove?