Dusty Hernandez-Harrison vs. Eddie Soto: Preview and Predictions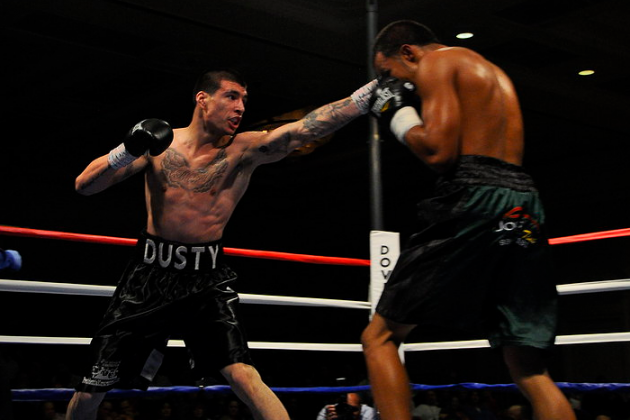 Courtesy of DustyHarrison.com
On Saturday, May 18, rising welterweight prospect Dusty Hernandez-Harrison (14-0, 8 KO) will face his toughest professional challenge in veteran Eddie Soto (12-6, 4 KO). The bout is scheduled for eight rounds and is being held at the University of the District of Columbia Sports Complex in Washington, D.C.
The fight—which is being sponsored by Epix Sports and Jordan Brand Apparel—is a coming-out party for the 18-year-old Hernandez-Harrison, who will be starting classes at UDC in June, according to The Washington Post.
Hernandez-Harrison, who is coming off a six-round unanimous-decision win over Jonathan Garcia, has earned praise for his poise inside and outside of the ring. As Hernandez-Harrison told The Washington Post, he "wants it all" in boxing, but he's not rushing to try and achieve championship status just yet.
In Soto, Hernandez-Harrison will be facing an opponent who has fought tough competition but has lost against his best foes. He is probably best known for his blistering knockout loss at the hands of Jose Gonzalez, who recently came close to defeating Ricky Burns for the WBO lightweight title.
Can Soto turn in a career-defining performance and derail the young superstar in waiting?
Read on for my preview and prediction of Hernandez-Harrison vs. Soto.
Begin Slideshow

»
Courtesy of DustyHarrison.com
| | | |
| --- | --- | --- |
| Tale of the Tape: | Dusty Hernandez-Harrison | Eddie Soto |
| Height: | 6'0" | 5'9" |
| Division: | Welterweight | Light Welterweight |
| Age: | 18 | 36 |
| Record: | 14-0, 8 KOs | 12-6, 4 KOs |
| Alias: | N/A | N/A |
| Stance: | Orthodox | Orthodox |
After a successful amateur career that included more than 200 fights, Dusty Hernandez-Harrison decided to forgo the Olympics and turn pro at 16 years old (per
Mike Walters
of Bleacher Report).
His professional career is just getting started, but he's already showed the composure of a veteran in the ring.
Instead of strictly looking for the crowd-pleasing knockout, Hernandez-Harrison is patient and smart enough to work his plan and let the fight unfold, though to his credit he has knocked out four of his last six opponents (per BoxRec.com).
Hernandez-Harrison told Gene Wang of The Washington Post that "if an opportunity for a knockout presents itself, I'll try to get it."
If Eddie Soto isn't disciplined in his attack, those opportunities may open up early on in the fight.
At 36 years old, Soto is double Hernandez-Harrison's age and more experienced in the ring. He'll need to use that experience to try and upset the hometown fighter.
All Statistics Courtesy of BoxRec.com
Dusty Hernandez-Harrison is not in a rush to reach the top of the welterweight division. Although he's already gotten great exposure and experience—such as sparring with Danny Garcia (per The Ring)—his level of competition has only slowly gotten better.
From an outsider's perspective, one can deduce that the young boxer's team is aware of the fact that Hernandez-Harrison has a long time to grow into a world champion. Even with such an impressive skill set, a measured and intelligent rise up the ranks seems the best way to go for Hernandez-Harrison.
But, with a recent co-sign from super middleweight champ Andre Ward (per EastsideBoxing.com) and big-time promotional involvement from Epix Sports and Jordan Brand Apparel, the bout against Eddie Soto has an added level of pressure.
The question is, can a kid like Hernandez-Harrison perform well under the bright lights and become the star that many people think he can be? This fight should begin to answer that question.
Soto always comes in shape and has a good enough skill set to be competitive against most opponents. What he hasn't showed in the past is discipline and the willingness to stick to a game plan.
After starting his career 12-0, Soto has dropped six consecutive bouts. It's clear that Soto was chosen as an opponent because he is battle tested against legitimate competition but doesn't seem to pose a tremendous threat.
At the end of the day, this is Hernandez-Harrison's showcase. For Soto to play spoiler and break his six-fight losing streak, he must stick to his strategy and push the hometown fighter to go the full eight-round distance.
Eddie Soto. AP Photo
Many people are high on Dusty Hernandez-Harrison because he seems to have the total package. He is tall and athletic and has very good technique.
A good asset that Hernandez-Harrison has developed is the ability to switch from orthodox to southpaw with ease. And although his body can definitely still fill out, he carries good power in his punches.
One of his best characteristics is an intangible that can't easily be measured—the ability to handle the pressure that comes with being a hot prospect.
As Hernandez-Harrison starts to gain more fame, he will have to rely on his calm manner to handle the endless media blitz.
One of Eddie Soto's greatest strengths is the fact that he's stepped in the ring with good competition. While he may be outmatched in terms of skill versus Hernandez-Harrison, he won't be overwhelmed by the stage and setting.
In the press release promoting the fight, it was stated that the combined record of Soto's last five opponents is an impressive 81-9-1. Soto needs to translate that experience into a solid game plan that involves throwing combinations on the inside and then stepping around and out of Hernandez-Harrison's range.
Soto was able to stick and move effectively in spots against Jason Pires. To beat Hernandez-Harrison, Soto will have to build off that style.
As is the case with many talented, young fighters, glaring deficiencies haven't surfaced so far in Dusty Hernandez-Harrison's career.
There are subtle things that Hernandez-Harrison can improve on, such as not pulling straight back and establishing distance with his jab, but that will most likely come with more experience.
It's hard to call it a weakness, but as of right now, Hernandez-Harrison is most lacking in the experience department. By facing Soto, he is putting himself on the right path to boosting his opposition level.
If Soto is able to take Hernandez-Harrison into new waters, we may get a better idea of what the young D.C. fighter's weaknesses truly are.
In fights against Jose Gonzalez and Danny O'Connor, Soto overexerted himself with bobbing and weaving and then lunged into his opponents. This, coupled with a suspect chin, is one of Soto's most glaring weaknesses.
He needs to move more efficiently and try to show Hernandez-Harrison different angles. Against Gonzalez, Soto came straight forward while dropping his right hand, which allowed his opponent to knock him out with a crisp left hook.
Soto needs to work intelligently and enter into striking distance with his guard up. He shouldn't turn the fight into a home-run derby in hopes of knocking Hernandez-Harrison out with one punch.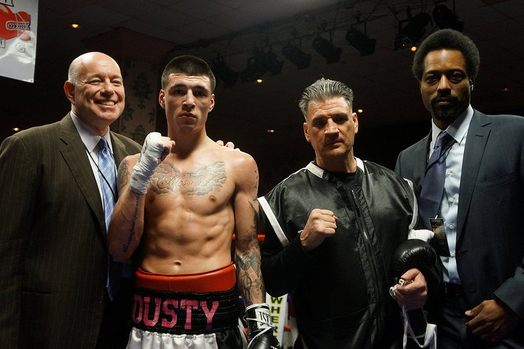 Courtesy of DustyHarrison.com
If Dusty Hernandez-Harrison can maintain the calm, cool and collected demeanor he has exuded throughout his career thus far, he will have a successful night.
From a technical standpoint, Hernandez-Harrison will make things easier for himself if he works behind his jab all night. Taking advantage of his height advantage and his quickness should allow him to find openings and keep Soto off guard.
If Hernandez-Harrison is able to establish the jab early, expect Soto to revert to jumping in in an attempt to land one big punch. At that point, Hernandez-Harrison may be able to take advantage of an opening and produce a crowd-pleasing knockout.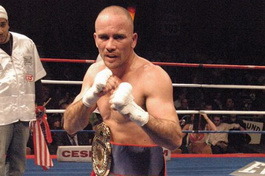 Courtesy of EastSideBoxing.com
Eddie Soto needs a combination of things to happen to have a fighter's chance in this bout.
First, he needs to hope that Hernandez-Harrison is somewhat rattled or nervous with the atmosphere and grand promotion. Although this is out of his control, it may help Soto more than any other factor.
Second, Soto needs to employ an intelligent game plan, which includes picking spaces to throw his combinations and then moving out of his opponent's long range.
At 36 years of age, Soto must make sure his stamina is prepared and must be ready to take Hernandez-Harrison the full eight rounds.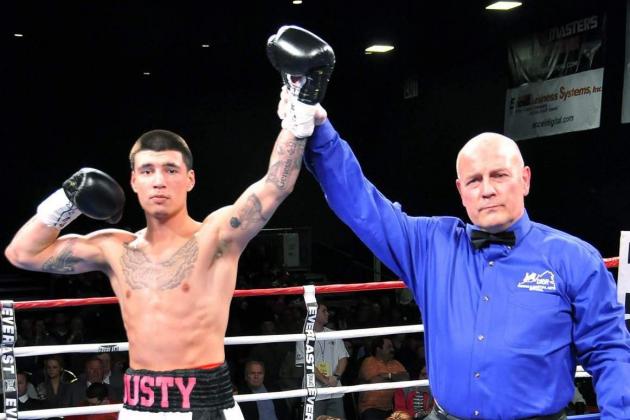 Courtesy of SoMDnews.com
Rock Newman—who managed one-time heavyweight champion Riddick Bowe—told The Washington Post that Dusty Hernandez-Harrison "is a natural."
At this point in his career, it's hard to imagine a naturally gifted boxer like Hernandez-Harrison losing to Eddie Soto. Although Soto does represent a legitimate step up in competition, Hernandez-Harrison seems to have the tools to handle him with relative ease.
Expect a feeling-out process early on until Hernandez-Harrison gets into a groove and measures the proper distance to hit Soto consistently when he comes in trying to get off his own offense.
Prediction: Hernandez by KO in Round 4.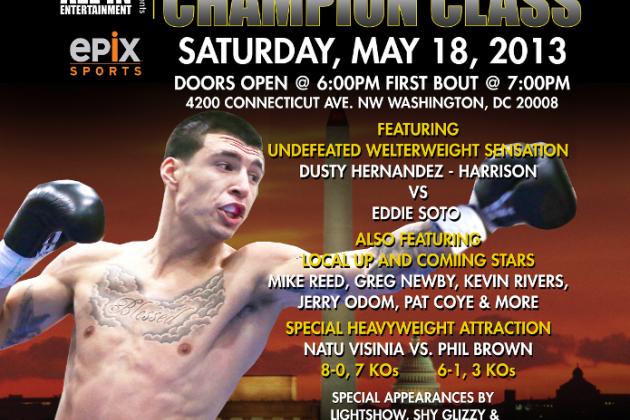 Courtesy of All-In-Entertainment
Main Event: Dusty Hernandez-Harrison vs. Eddie Soto
When: May 18, 2013
Where: UDC Sports Complex, Washington, D.C.
Live Stream: Go Fight Live - www.gfl.tv
Follow Me on Twitter