Will Corey Crawford Stay Hot in Chicago Blackhawks' 2nd-Round Playoff Series?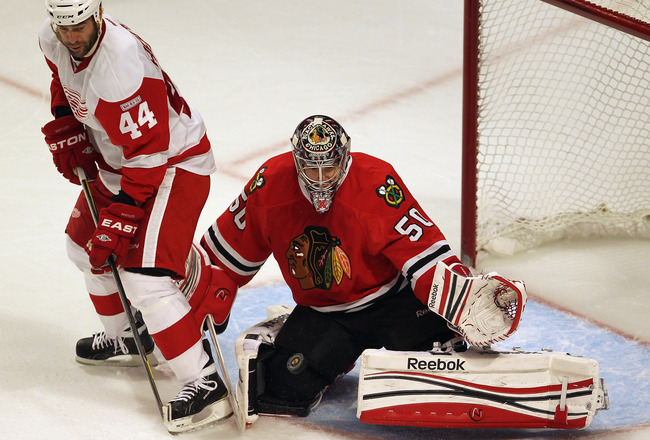 Corey Crawford's play has been the backbone of the Blackhawks during the playoffs.
Jonathan Daniel/Getty Images
Corey Crawford's 2012 playoff performance left Chicago Blackhawks fans booing. But only cheering for Crawford coming up huge in net is heard at the United Center these days.
Crawford spoke of his confidence in net to Chris Kuc of the Chicago Tribune:
"I've always believed in what I can do," Crawford said. "I never want to get too high or start criticizing myself and getting on myself too much. It's just that even keel. I've always been confident.
The 2013 playoffs have been great for the Montreal native—and great is an understatement.
Crawford sports a .950 save percentage and a 1.27 goals-against average in six games played.
Last year, Corey Crawford's 2.48 goals-against average and 0.893 save percentage left Hawks fans wondering about his future with the team. No one is questioning Crawford's dominance in net this year.
The only question left to answer is whether Will Crawford can keep his form in the rest of the series against the Detroit Red Wings?
Here are three reasons why I have no doubt that he will.
3. He's Loved in Chicago Again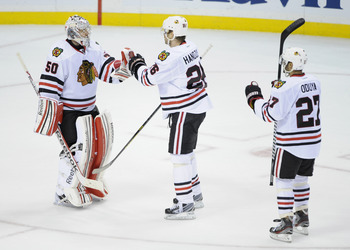 Crawford has renewed his confidence with the support of Blackhawks fans behind him.
Hannah Foslien/Getty Images
It's about time that Blackhawks fans forget and forgive Crawford's performance against the Phoenix Coyotes in last year's playoffs.
During last Thursday night's win against the Minnesota Wild, the fans started to cheer, "Corey, Corey, Corey!"
Sure, this hometown support may be insignificant. But I think the fact that Crawford acknowledges the cheer is something to point out.
After Saturday's practice, Crawford gave his thoughts on the fan support to Chris Kuc of the Chicago Tribune:
"It was pretty cool to hear that," goaltender Corey Crawford said following Saturday's practice. "It's always nice when your fans are behind you."
It's hard to deny Hawks fans are boosting Crawford's confidence.
2. Defense Ready to Help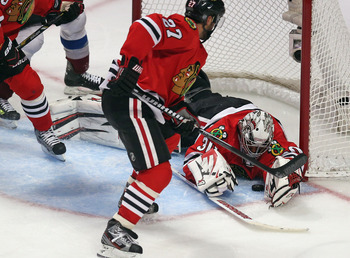 Blackhawks' defensemen have helped Crawford immensely this season.
Jonathan Daniel/Getty Images
The Blackhawks defense continues to help Crawford out in the net. The Hawks blocked 13 of Detroit's shots in the first game of second-round play.
This is a significant number of shots when you consider that Detroit only sent 21 pucks on net during the game.
With Crawford having to glove fewer pucks, he's more likely to stay on his game and own the crease.
Don't forget how Brent Seabrook saved a goal from crossing the line in the game either.
The Blackhawks' active D-men are playing well in the playoffs. As long as their strong play continues, Crawford's hot goaltending will continue.
1. The Stats Don't Lie

Crawford continues to fuel the Detroit Red Wings' frustration.

During the four regular-season games against Detroit, Crawford went 4-0-0. He posted a 1.19 goals-against average and a 0.960 save percentage.
Those are unreal numbers that the Hawks' net-minder has barely faltered from so far in the second-round series.
Corey Crawford can't explain his regular-season performances against the Wings (via Chris Potash of Chicago Sun-Times):
''I don't know. I can't explain it,'' Crawford said. ''[The Wings are] one of those teams I guess that has gone well for me this year. Who knows? We've had some big games against them this year. It's one of those years I guess against a team where you've played well and everything has gone right for you.''
Surely Crawford wants to live up to his regular-season play against the Wings during the second-round. And with the focus he has shown in the playoffs thus far, it's hard to see him struggling to meet those numbers.
Keep Reading

Chicago Blackhawks: Like this team?