WWE Flashbacks: Analyzing a Portrait of CM Punk from Money in the Bank 2011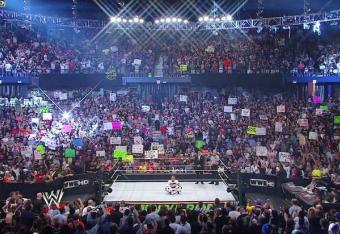 Wrestling—and the history of the WWE—can be told through images.
Pictures tell a thousand words. They don't just chronicle history—they help create and define it.
For Christians, Jesus and his disciples sitting around the table for the Last Supper.
General Washington and his American army trudging through the cold winter on the Delaware River to lead his troops to the victory over the British.
Many stories are told and passed down through history because of the power that images and photos give to the human race.
There are hundreds of iconic pictures in WWE's long history that tell us the tales of Buddy Rogers, Bruno Sammartino, Gorgeous George and many more.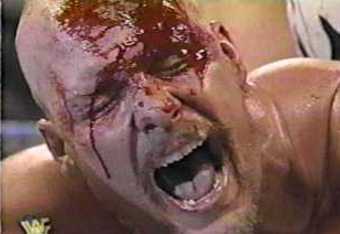 Stone Cold in the Sharpshooter with blood rolling down his face, the Rock and Stone Cold before their epic clash at WrestleMania, Triple H, HBK and Undertaker after WrestleMania 28 and Ric Flair praying above before his last WWE match are all examples of stories told through single images.
Today, I'm going to dive into one image that hasn't been examined by many. CM Punk and John Cena battling through blood, sweat and tears on July 17, 2011 at the Money in the Bank PPV in Rosemont, Illinois.
It was at the Allstate Arena that history was made, and this photo was taken. We are used to seeing Punk blow a kiss to Vince McMahon and run through the crowd, but the featured image of this piece tells a tale worth a thousand moves.
To put a back story to the match, CM Punk's contract was expiring with the WWE, and Vince McMahon decided to run with it and make that the big summer angle.
Punk wanted the belt from Cena, so the two would feud for a month prior to Money in the Bank. Many memorable moments were shared as Punk called Cena the "New York Yankees" and pulled off one of the best promos in wrestling history .
The story was set and these two giants were ready to clash in a match for the ages. A threshold of emotions filled the Allstate Arena just before CM Punk's entrance music hit.
As he made his way down the ramp, anticipation built up. Punk needed to gain credibility for his words and prove that he could beat the best. Cena was the best and proved his mettle time in and time out.
In the end, Punk sat down in the middle of the ring, and this image was taken.
There are instances that take your breath away. The Boston Red Sox took our breath away in 2004. Hulk Hogan's heel turn took our breath away.
It's a beautiful image and it proves to the world why wrestling, like any story, can be good and bad and contain happiness and sadness, as well as beauty and ugliness.
Continuing with the wrestling theme, as you watch WWE or any professional wrestling platform, some things you just need to see or watch.
Undertaker's theme is breathtaking. Druids with torches align the outsides of the ramp while smoke clears the floor outside the curtain. The Phenom embraces his cloak and slowly walks down the ramp surrounded by fire and an ominous feel to the arena.
The gong catches you, and your eyes light up like a child on his birthday.
In this image, CM Punk spoke for the underdogs. We have a perfect example of how important and vital the crowd has to be. Without the crowd going nuts for their favorite WWE superstar, this picture is not as momentous.
Cena was the golden boy of WWE—meanwhile, Punk proved to be the antithesis of that. We know the background of the match, and coming this July, we will have been two years removed from this historic event.
I must bring forward a request of all of you: As you comment on this article, link me with your favorite WWE image.
As fans of a such a genuine sport, we must share our experiences and reminisce of the great times of WWE. On July 17, 2011, the fans of wrestling rejoiced and gathered for a spectacle.
This picture lets us rejoice once again.
"What I like about photographs is that they capture a moment that's gone forever, impossible to reproduce."
― Karl Lagerfeld


This article is
What is the duplicate article?
Why is this article offensive?
Where is this article plagiarized from?
Why is this article poorly edited?