Michigan Basketball: Strengths and Weaknesses of Wolverines' 2013-14 Roster
Tom Pennington/Getty Images
Interior defense may actually be a strength this season for Michigan.
The Michigan basketball program is looking to build off a run to the 2013 national championship game by reloading in 2014. With next season's roster completely assembled, it is time to analyze its strengths and weaknesses.
One of head coach John Beilein's most athletic classes to date will be arriving on campus this summer, which means the Wolverines should be able to run the floor as well as anyone in college basketball.
Michigan's defense cost itself a second straight Big Ten conference title, so will things be shored up this season? There is reason to believe the interior defense will be much-improved, though the same may not be true on the perimeter.
All of these things and more will be evaluated en route to breaking down what the Wolverines will do well and struggle with during the 2013-14 campaign.
Begin Slideshow

»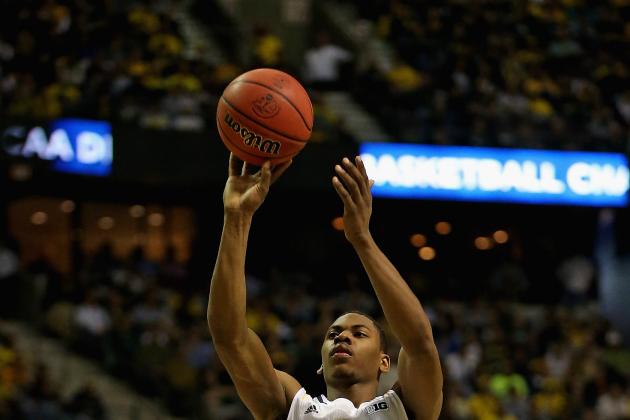 Jonathan Daniel/Getty Images
Shooting inside the arc is going to be one of Michigan's strengths this season.
With two of the Michigan Wolverines' best three-point shooters departing, there is reason to believe a greater emphasis will be placed on knocking down baskets inside the arc. Several players on the 2013-14 roster are more than capable of consistently hitting mid-range jumpers.
Rising sophomore big man Mitch McGary developed a solid jump shot at the end of the 2012-13 campaign, which will benefit him greatly next season. Most of Nik Stauskas' attempts will come from behind the three-point line, but he has the ability to score from anywhere.
The incoming freshman class is loaded with shooters as well. Point guard Derrick Walton and shooting guard Zak Irvin will both show off impressive jumpers. Irvin has the potential to be a dynamic scorer. Opponents are going to have a tough time stopping the 6'6", 185-pounder, especially given his knack for elevating over smaller guards.
A pair of returners who need to improve in this regard are Glenn Robinson III and Caris LeVert. Robinson shot 57 percent from the field last year, though most of those attempts came at the rim.
Developing into a consistent jump shooter is something that will serve Robinson well. LeVert only converted 31 percent of his attempts last season. This number will have to go up in order for LeVert to see more minutes.
Look for Michigan to fill it up from mid-range throughout the upcoming campaign.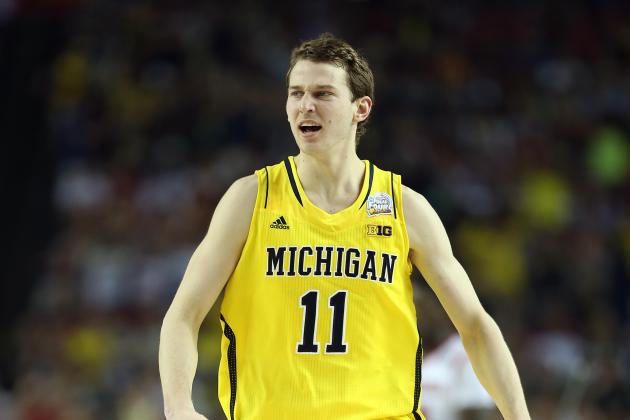 Andy Lyons/Getty Images
Nik Stauskas has a long way to go defensively.
The most glaring weakness opponents managed to expose quite often last season was the Michigan Wolverines' defense. Head coach John Beilein's team ranked No. 109 in the nation in three-point field goal defense a year ago. This could be an issue for the Wolverines once again come 2013-14.
Many of Michigan's problems defending the perimeter in its most recent campaign had to do with struggles defending the paint. Teams were able to score at will inside, which forced the Wolverines to collapse more frequently, leaving the three-point line unguarded.
With a bigger starting lineup likely on the way, interior defense should not be much of an issue. McGary and fifth-year senior Jordan Morgan will limit easy baskets in the paint.
Covering the arc is going to be a struggle for much of the upcoming season, however. Stauskas is still going to be a defensive liability. Spike Albrecht will struggle against quicker guards, while Walton will undoubtedly endure some growing pains at the defensive end. The same goes for Irvin.
The Wolverines will turn to Robinson and LeVert to be their top defenders. Both have the length and quickness to frustrate perimeter shooters.
Unless Robinson and LeVert are on the floor together for extended minutes, though, Michigan is going to have a hard time preventing three-point baskets.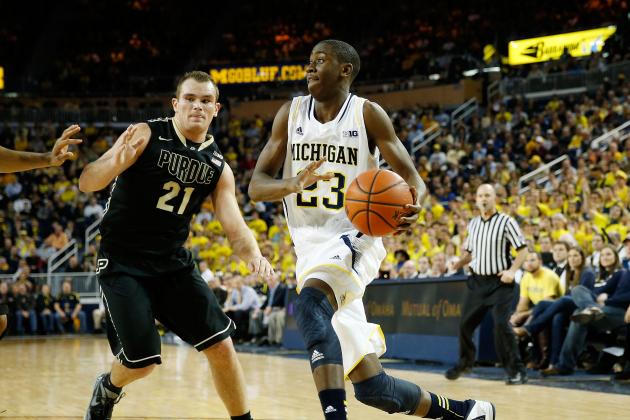 Gregory Shamus/Getty Images
Caris LeVert can play a number of positions for head coach John Beilein.
One thing the Michigan Wolverines will not be short on next season is versatility. Just about everyone on the 2013-14 roster is capable of playing two, or even three different positions.
Robinson is planning on playing the 3, but he has already proven to be a reliable 4 when Beilein wants to put a guard-heavy lineup on the floor.
Meanwhile, Irvin and Stauskas are capable of turning in quality minutes at either the 2 or 3. The same can be said for rising sophomore LeVert. The lanky shooting guard can keep smaller 2s in check, in addition to being able to hang with small forwards.
Reserve point guard Albrecht proved he could be an effective shooting guard alongside Trey Burke. Look for Albrecht to see some time at the 2 when Walton is running the point.
On the interior, there will be a lot of shuffling. McGary, Morgan and Jon Horford are both going to spend plenty of time rotating between the 4 and 5. How much the three rotate will depend on where Beilein chooses to play McGary, who is going to be an intricate part of the offense in the upcoming season.
Beilein is going to come to work with a smile on his face more often than not given the vast amount of different lineups he can draw up.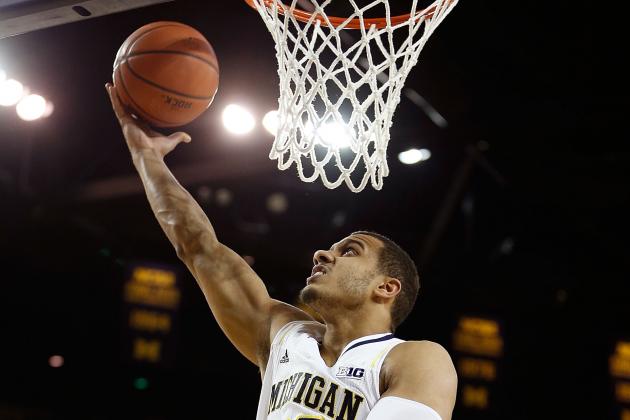 Gregory Shamus/Getty Images
Creating shots will be difficult for the Wolverines in 2013-14.
Departing point guard Burke made everyone around him a better scorer. Burke's ability to create shots for others will be dearly missed by the Michigan Wolverines next season.
At times, Stauskas has been able to get scoring opportunities on his own. Still, there is a lot of work left for Stauskas to do when it comes to freeing himself up from defenders. If Robinson is able to develop a consistent jump shot during the offseason, he will have a full arsenal to attack defenses with on his own.
Much of McGary's production during Michigan's most recent NCAA tournament run came from pick-and-rolls. This was so effective because of the amount of attention Burke drew from opposing defenses. McGary will have to develop some post moves in order to create some offense on his own during the 2013-14 campaign.
Michigan's other big men, Horford and Morgan, are not going to be serious scoring threats outside of the pick-and-roll. Neither is known for creating a whole lot individually at the offensive end.
LeVert and Albrecht will have a tougher time getting clean looks as well. The two will no longer sneak up on opponents, which means it will be more difficult for them to get free on their own.
Unless Walton is able to play at an All-American level as a freshman, the Wolverines are going to need others to get open looks without much help.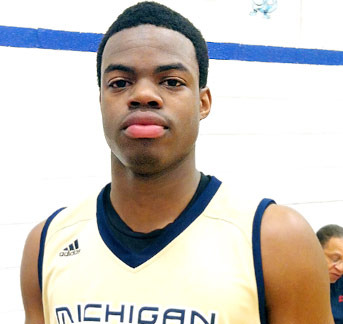 Derrick Walton will help Michigan thrive in transition once again. Photo courtesy of ESPN.com.
When the Michigan Wolverines were able to get out in transition last season, there were only a few teams in the country able to hang with them. For a second straight year, the Maize and Blue will be one of the most dynamic teams on the fast break.
Incoming 4-star prospect Derrick Walton has the same kind of athleticism Burke possessed, so it only makes sense for Michigan to run the floor as much as possible.
This is by no means an attempt to say Walton is the same caliber of player Burke, but the two play a similar style of basketball. Distributing in the open floor is what Walton does best, so expect the Wolverines to play to this strength frequently.
Robinson will be dangerous in transition as well, and a solid shooter like Stauskas on the wing only bolsters Michigan's fast-break offense.
Adding another weapon like Irvin is going to give Walton and Albrecht plenty of options when it comes to dishing out assists on the run.