5 Bold Predictions for the Remainder of the Yankees' Season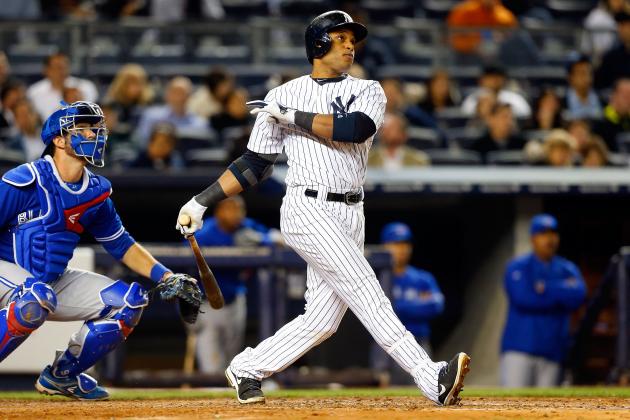 Jim McIsaac/Getty Images

Despite the Yankees' 12-2 loss to the Mariners on Wednesday night, the first quarter of this season in New York has gone better than most probably expected.
The Yankees stand at 25-15, are on pace for 100 wins and sit alone in first in a crowded American League East.
Some of general manager Brian Cashman's offensive acquisitions have played a role in the Yankees' success, like Vernon Wells (10 home runs), Travis Hafner (six home runs) and Lyle Overbay (six home runs), but the team's pitching has been just as important.
Hiroki Kuroda has been the ace with a 2.31 ERA and CC Sabathia has a 3.19 mark. Mariano Rivera has 16 saves.
The Bombers just got Curtis Granderson back from the disabled list and hope to get Derek Jeter, Mark Teixeira, Kevin Youkilis, Alex Rodriguez, Joba Chamberlain and Ivan Nova back in the coming weeks and months.
With one quarter of the season in the books, here are five bold predictions for the rest of the Yankees' season.
Begin Slideshow

»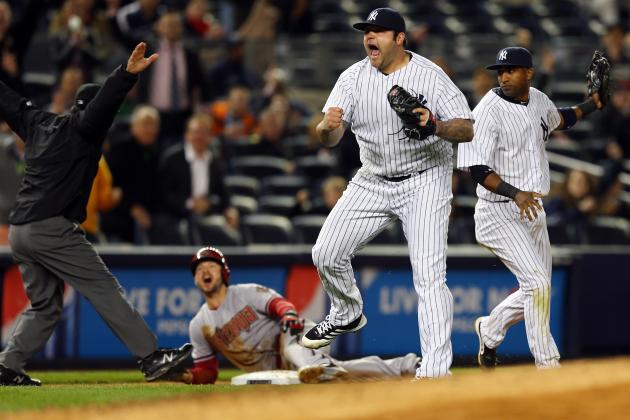 Elsa/Getty Images

Joba Chamberlain has been out of the picture since May 2 when he went on the disabled list with a strained oblique, but he hasn't been out of the headlines.
Chamberlain reportedly had a tense exchange of words with Mariano Rivera before Saturday's game when Rivera asked Chamberlain to keep his volume down while Rivera spoke to reporters and Chamberlain responded, "Don't ever shush me again."
It's not a mystery who will get the support within the organization between the two. Meanwhile, Chamberlain has not lived up to the expectations he arrived with when he came up in 2007. He has been just an above-average reliever and will be a free agent after the season.
Sometime before the trade deadline, Brian Cashman will decide to deal the reliever in return for a quality bat off the bench or a prospect.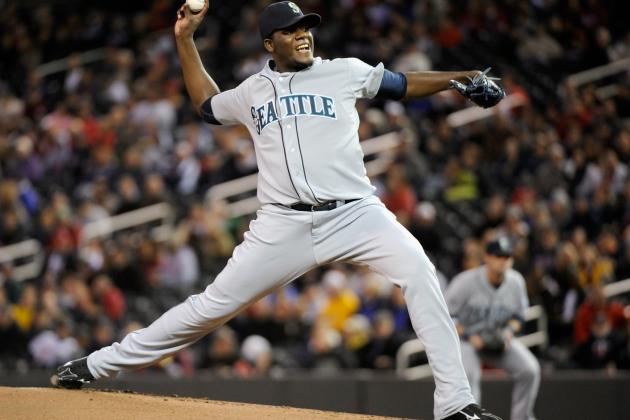 Hannah Foslien/Getty Images

Two weeks ago, Michael Pineda threw 95 miles per hour in extended spring training. If his rehab continues according to schedule, he could join the big league club sometime in June.
While that timeline might be optimistic for the generally conservative Yankees, it's conceivable he could come back by the All-Star break and get 15 starts in the second half of the season.
Pineda had dominant stuff in 2011 for the Mariners and if he's throwing 95 mph, there's every reason to think he could be just as dominant. He could lead the Yankees to the playoffs and be the best acquisition the team gets in July.
A rotation consisting of CC Sabathia, Hiroki Kuroda, Andy Pettitte, Phil Hughes and Pineda might just be the best in the game.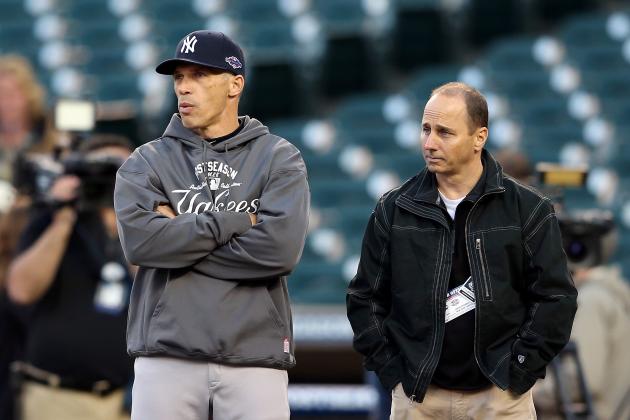 Leon Halip/Getty Images

The Yankees have made it known that they'd like to get their payroll to under $189 million before next season to save a lot of luxury tax dollars, but they're going to abandon that plan before the trade deadline this year.
New York has more than $84 million committed to five players already for 2014 (Alex Rodriguez, Mark Teixeira, CC Sabathia, Vernon Wells and Ichiro Suzuki) and they're not about to pay the major league minimum to the other 20 players. They're going to spend some money to try and re-sign players like Derek Jeter and Hiroki Kuroda and will need to pay arbitration-eligible players.
They're going to realize before the trade deadline that getting their payroll under $189 million while fielding a competitive team is not feasible. They'll do what the Yankees do, which is to spend the money necessary to win.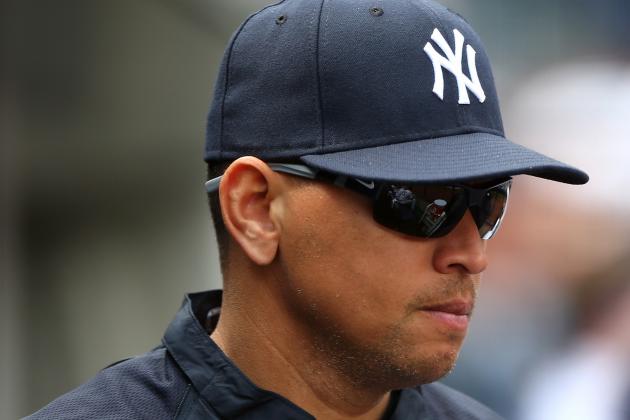 Elsa/Getty Images

Like it or not Yankees fans, Alex Rodriguez is coming back.
He's participating in baseball activities and is working to get back to the majors in mid-July. Once he's ready to come back, the Yankees will have no choice but to play him because he makes too much money to keep on the bench.
Rodriguez probably will not play every day, likely serving as the designated hitter a fair amount, but he'll get at bats and he'll hit well.
Despite A-Rod's embarrassing playoffs last season, he had a pretty good regular season, batting .272 with 18 home runs in just 122 games.
If A-Rod comes back healthy, which is a big "if", he's still capable of getting on a hot streak and forcing manager Joe Girardi to put him in the lineup every day or at least almost every day.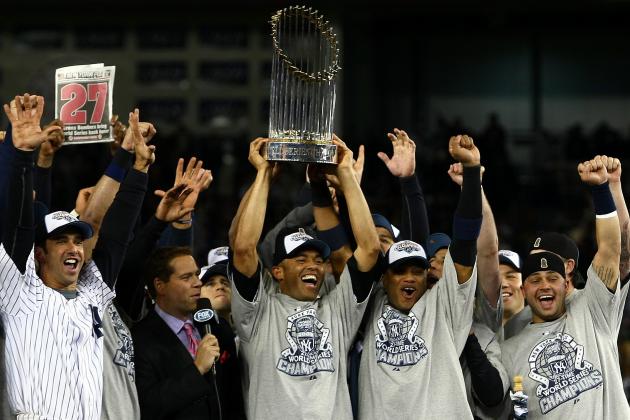 Chris McGrath/Getty Images

It's been a long time since a prediction that the Yankees will win the World Series qualified as a "bold prediction."
However, in 2013, many—if not most—analysts picked the Yankees to finish fourth or fifth in their own division. Well, here they are a quarter of the way through the season and they're in first place on pace to win 100 games.
There's still a lot of baseball to be played, but the Yankees could be a dangerous playoff team.
The rotation is built for the postseason with a quality starter in the top three slots (CC Sabathia, Hiroki Kuroda, Andy Pettitte) with another starter who can be dominant fourth (Phil Hughes). They might be able to replace Hughes with Michael Pineda, too.
The bullpen, which is always important in the playoffs, is also quality with Mariano Rivera and David Robertson surrounded by other solid arms.
The lineup seems capable of manufacturing runs instead of just relying on the home run, which was the Yankees' downfall last season. In the playoffs, teams face solid pitching and need to manufacture runs. Given their current lineup construction, the Yankees are doing just that.
Call me on optimist, but I think this prediction is among my least bold: The Yankees will be a tough out in the 2013 playoffs.