5 Things We Learned About the Cardinals Through the 1st Quarter of the Season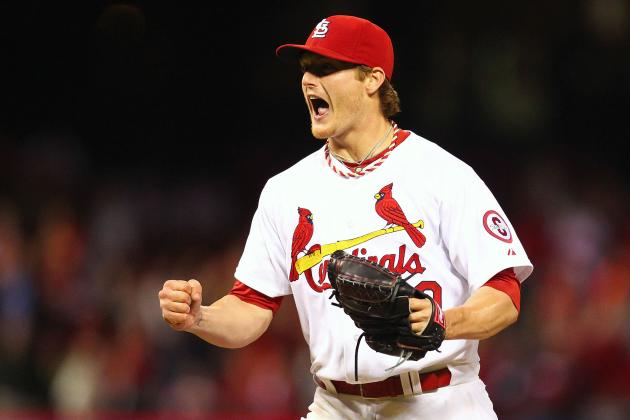 Dilip Vishwanat/Getty Images

It's hard to believe that the Major League Baseball season is nearly one quarter of the way complete.
While it is still early, 40 games is a decent sample size to see what is working, what is not and what needs to be changed.
As has been the case for the last six beginnings of May, the St. Louis Cardinals have found themselves in first place.
There have been many eye-opening experiences for the Redbirds thus far, and here are five things we have learned about the team during this first quarter.
Begin Slideshow

»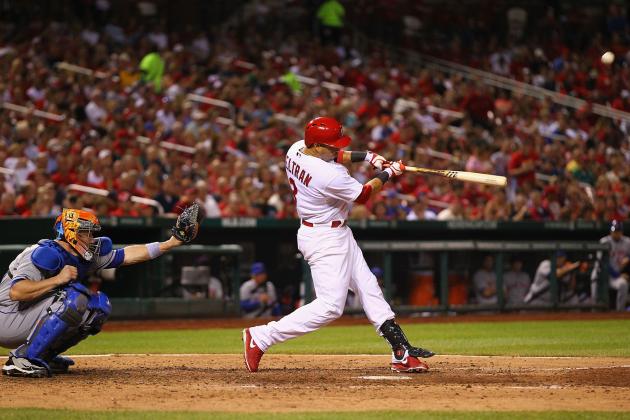 Dilip Vishwanat/Getty Images

As the 2013 campaign began, everyone from Cardinals chairman Bill DeWitt Jr. to the best fanbase in baseball had to be wondering if Carlos Beltran could repeat his 2012 season.
Beltran was limping coming into the season, as he suffered a broken toe during the spring. He didn't hit in his limited spring training with the Cardinals and didn't blow the socks off the World Baseball Classic.
As Beltran turned 36 in April and with his history of injuries, expecting a repeat of 2012 was a wild card.
However, Beltran has not disappointed so far this young season. At time of writing, Beltran was tied for second in the NL with 10 home runs and tied for eighth with 26 RBI. He is also batting over .300 and manning right field with authority.
Certainly Beltran will have his ups and downs this season, but he is well on pace to eclipse his 2012 numbers of 32 home runs and 97 RBI.
On a side note, Beltran was signed in part to replace Albert Pujols in the lineup. To date, here is the line for each player:
| | |
| --- | --- |
| Beltran | Pujols |
| HR: 42 | HR: 36 |
| RBI: 123 | RBI: 127 |
| OPS: .851 | OPS: .835 |
Beltran has exceeded expectations in my mind and is showing perhaps he has another year or two left in him.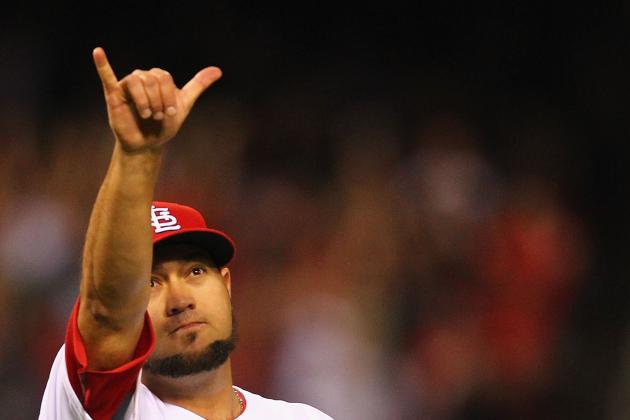 Dilip Vishwanat/Getty Images

The bullpen for the Cardinals has been nothing short of a hot steaming pile of manure for most of this season. Thank the heavens for the likes of Edward Mujica, Seth Maness and for the most part Trevor Rosenthal; otherwise, it would be real ugly thus far.
The Cardinals entered Wednesday night's game with the worst ERA in the NL at a poor 4.99 runs-per-game clip.
Most of that hideous number is courtesy of Mitchell Boggs, Marc Rzepczynski and Joe Kelly. Boggs and Rzepczynski find themselves currently in Memphis trying to figure out their stuff. Kelly hasn't been used much as of late due to his lack of consistency.
The bright spot of the bullpen has been Edward Mujica. He is 10-of-10 in his save opportunities so far in 2013 and has done an excellent job filling in for closer Jason Motte, who is lost for the 2013 season.
Rosenthal has done a nice job of late getting hitters out and keeping some late movement on his fastball. Earlier this season, hitters were timing up Rosenthal's high-90s heater and hitting him hard.
The bullpen has done a nice job of leaving its pitiful performance in April behind it. If the Cardinals are going to make a postseason push in 2013, the bullpen has got to have more consistency and protect the leads given to it.
Dilip Vishwanat/Getty Images

The starting pitching for the Cardinals in 2013 has been nothing short of phenomenal. It seems like every start this year has been a quality start.
Entering Wednesday night, the Cardinal starters lead Major League Baseball with a 2.38 ERA. Just to put some perspective on how impressive that is, the next closest rotation is the Nationals with a 3.18 ERA.
The Cardinals starters also lead MLB in shutouts with four. As a team, the Cardinals have seven shutouts, also tops in MLB.
From Wainwright to Miller, the starters are giving the Cardinals a chance to win almost every ballgame they play in.
Obviously, the starters are all going to run into their share of tough luck as the season rolls on. I don't dare say it's impossible for them to keep up this amazing pitching, but it seems the baseball gods will eventually realize what is going on and humble the Cards a bit.
But until that happens, I, along with every other Cardinals fan, can't wait to see what the starting pitching is going to do every time a starter takes the mound.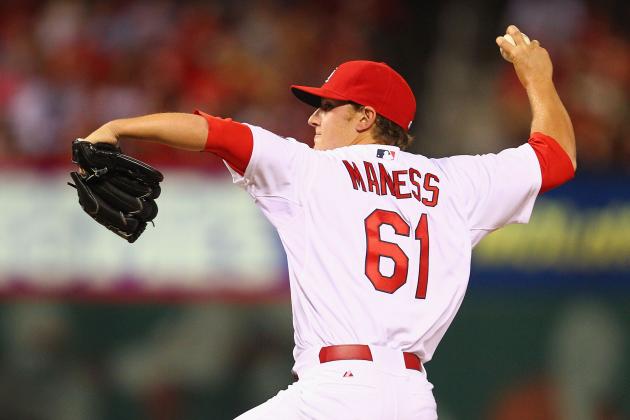 Dilip Vishwanat/Getty Images

Before the season began, ESPN ranked the Cardinals' farm system as the best in baseball.
As the 2013 season has rolled on, the Cardinals have had to use that No. 1 farm system to keep their hot start to the 2013 season rolling.
With the bullpen being a mess to start the season, the Cardinals called rookies Seth Maness and Carlos Martinez to step up and hold leads.
Both have done a nice job, given the circumstances. The Mets have roughed both up during this series, but overall, they have answered the call.
It is a nice luxury to be able to bring up power arms and plug them into the bullpen and have them get outs and hold leads. Neither had been to the Big Show before, but both have just reared back and let the ball fly and have found early success.
The other benefit of the Cardinals' pitching depth is that Mitchell Boggs and Marc Rzepczynski can take some time in Memphis to get themselves right and not have to be rushed back to the big league club.
Additionally, the Cardinals were able to reach into the cupboard and bring up lefty starter John Gast to replace injured starter Jake Westbrook. While he got a ton of run support in his debut, Gast did manage to pitch six innings and get his first major league win in a 10-4 victory against the Mets on Tuesday.
Mike Matheny must rest a little easier knowing he is just a phone call away to fill any hole that may come up this season.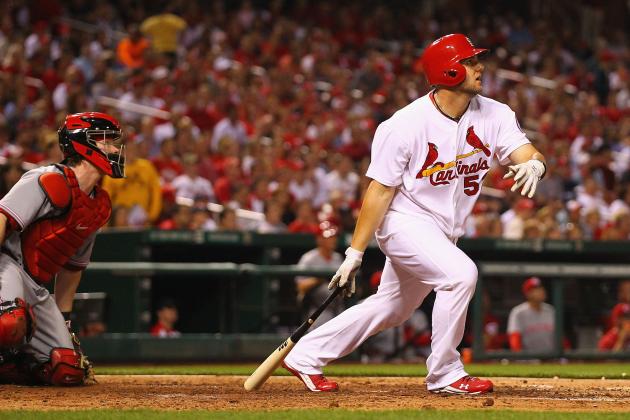 Dilip Vishwanat/Getty Images

Before Matt Adams went on the DL in April, he was hitting .542 with three home runs and eight RBI in 24 at-bats. While he wasn't getting everyday at-bats, he was making the most of his opportunities. Now he is off the DL and is still batting .469, albeit in 32 at-bats.
The guy has shown he can hit at every level, but they don't have an everyday spot for him. The Cardinals have a luxury in Allen Craig in that he can play both corner outfield positions. Craig has got to be in the lineup everyday, as he is an RBI machine.
Cardinals skipper Mike Matheny has put Craig in the outfield a few times this season to get Adams in the lineup, but it is not a long-term solution.
While I admit I don't have an answer to getting Adams more at-bats going forward, giving Adams a start or two at first base each week and allowing Craig to spell Holliday and/or Beltran once a week sure seems feasible.
The bottom line is Adams has big league power and is a great talent sitting on the Cardinals bench. Hopefully Adams' talents will be utilized a bit more going forward in 2013.