Ohio State Basketball: Strengths and Weaknesses of Buckeyes' 2013-14 Roster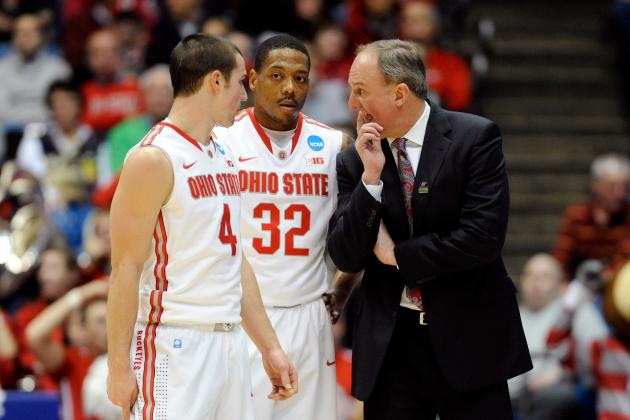 Jason Miller/Getty Images

Deshaun Thomas or no Deshaun Thomas, the goals of the Ohio State basketball team heading into the 2013-14 season remain the same—a Big Ten regular-season championship, a Big Ten tournament title and a run to the Final Four.
As with any team, the Buckeyes will need to utilize their strengths and hide or overcome their weaknesses if they hope to achieve those goals. Read on to see what exactly those strong points and areas of concern are for Thad Matta heading into next season.
Begin Slideshow

»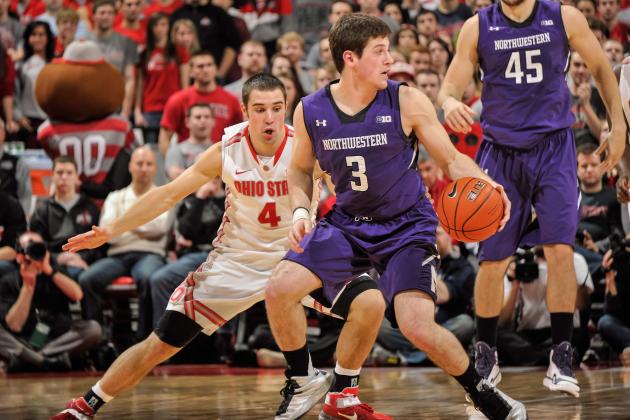 Jamie Sabau/Getty Images

Ohio State's 2012-13 season took a turn for the better when it recommitted to defense and spread the minutes accordingly.
Suddenly, defensive weapons such as Shannon Scott, who didn't see much action in the first half of the campaign, were on the court for the majority of games, and the Buckeyes were shutting down some of the best offenses in the conference. Every key defender outside of Evan Ravenel returns this year in what should be an even better defense.
Aaron Craft is clearly the engine that drives the effort to stop the opposition, and he should be even more tenacious as a senior. By now he knows almost every angle to take in every on-ball situation, and he has to be considered the favorite for the Big Ten Defensive Player of the Year Award.
His running mate Scott, along with quality defenders Lenzelle Smith Jr. and Sam Thompson, is back as well. Throw in the shot-blocking ability of Amir Williams (perhaps the one thing he does well) and the Buckeyes have a complete defense.
Freshman Kameron Williams could contribute to the full-court pressure with his quickness, and Marc Loving should help replace the lost rebounding production of Thomas and Ravenel.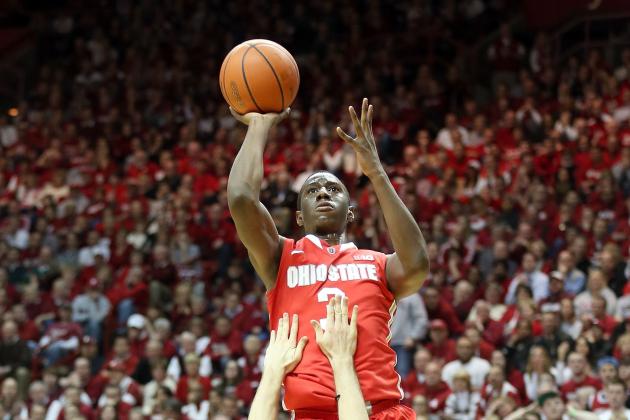 Andy Lyons/Getty Images

This weakness comes with a caveat because there is enough perimeter talent on this Ohio State team that is capable of knocking down outside shots that it can become a productive shooting group.
That being said, nobody on the roster outside of maybe Sam Thompson has consistently proved he can knock down three-point shots. That includes LaQuinton Ross, who many expect will make the jump to premier scorer as a junior.
Only Thompson shot better than 40 percent from behind the arc last year, and he ended up at 40.4. Aaron Craft, the primary ball-handler for the Buckeyes and the emotional leader on the floor, shot a dismal 30 percent, which was last on the team among those that actually made a three.
Ohio State's lack of perimeter shooting came back to bite it against Wichita State in the Elite Eight. If the current players tap into their potential and incoming freshman Kameron Williams is as good of a shooter as advertised, perhaps that will not be the case in 2013-14. But for now it has to be considered a weakness until proved otherwise.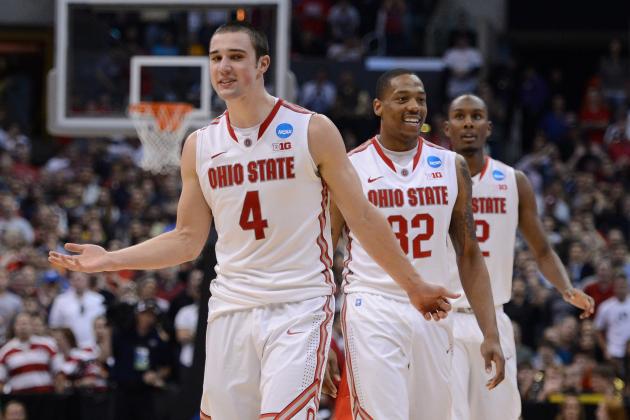 Harry How/Getty Images

In today's one-and-done age of college basketball, a productive senior is hard to come across. Sure, there may be a senior or two that contributes for stretches of a game, but a bona fide senior leader is an endangered species.
Ohio State will have the benefit of playing with arguably the best senior leadership in the country next season. Aaron Craft, who has already served as an on-court extension of Thad Matta for at least the past two years, will be a senior in 2013-14, as will his backcourt mate Lenzelle Smith Jr.
From a leadership standpoint, it doesn't get much better than Craft. He is an excellent player who brings more intangibles to the floor than any coach could dream of and has been in about every college basketball situation possible.
From the film room to the heated moments of a contest in East Lansing or Bloomington, the Buckeyes will have the steady hand of Craft (as well as Smith) to lead the way.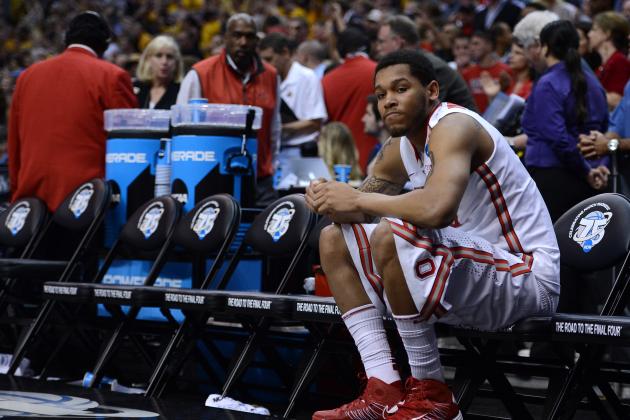 Harry How/Getty Images

No red flag is redder than the lack of post production when it comes to the Ohio State basketball team right now.
Evan Ravenel was a productive big man who saved his best games for the biggest moments, but even he wasn't the type of center that can lead a squad to a Final Four. And he's gone now.
Left in his place is Amir Williams and the very real possibility that he is turning into one of the biggest busts of the Thad Matta era. Williams came to Columbus as the heir to Jared Sullinger's vacated post spot, but the McDonald's All-American has become a constant source of frustration and disappointment among Buckeye Nation.
After Williams, Ohio State has the inexperienced Trey McDonald. If neither Williams nor McDonald is able to give Matta the type of post production that is necessary in the physically-demanding Big Ten, he may have to turn to a small-ball lineup that features incoming freshman Marc Loving as an undersized big.
Gone are the days of Greg Oden or Sullinger dominating on the post for the Buckeyes. Perhaps the much-hyped 2014 recruiting class will take care of that in the future.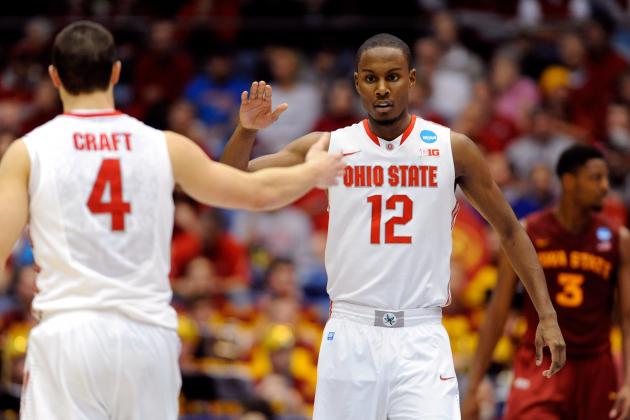 Jason Miller/Getty Images

Ohio State may be weak in the post, but it will atone for that by being strong on the perimeter with a number of athletic players that will speed up the game to an uncomfortable level for the opposition.
Aaron Craft, Shannon Scott, Sam Thompson, LaQuinton Ross, Lenzelle Smith Jr. and even incoming freshmen Kameron Williams and Marc Loving all have the ability to get out in transition and finish on the break. Considering the hounding defense that Thad Matta will throw at his foes with Craft and Scott, there should be plenty of turnovers that lead to these opportunities.
If Matta rotates these perimeter-oriented players effectively, opposing teams will likely wear down by the last few minutes of closely-fought games. Continuous pressure will eventually break the will of plenty of basketball teams, and the Buckeyes will be well served to adopt this style of play.
The Big Ten may not be known as an up-and-down league, but Ohio State will do its part to change that stereotype in 2013-14.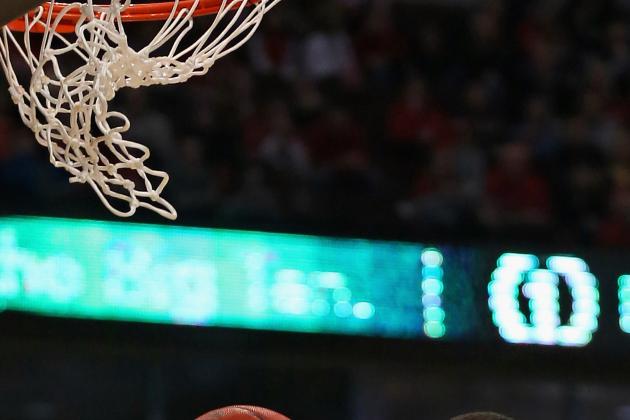 Jonathan Daniel/Getty Images

The concern about a lack of post production on offense for the Ohio State basketball team extends to issues on the glass. In fact, the best rebounder on the team may very well be the starting shooting guard, which could be a problem in the grind that is the Big Ten.
Deshaun Thomas and Evan Ravenel were two of the top three rebounders on last year's Buckeyes, and both are no longer on campus. That leaves Lenzelle Smith Jr. as the only remaining player that averaged better than four boards a night.
Amir Williams will be the key for Ohio State on the glass. He is nearly 7'0" tall, which means rebounding really shouldn't be the struggle that it is for him. He will get more minutes by default this season with no more Ravenel, so Williams will ideally improve on his 3.9 rebounds a game.
Marc Loving could also help with the rebounding. He is nearly the same height as Thomas and plays a similar game, and depending on his playing time could give the Buckeyes the boost they need on the boards.