Michigan State Basketball: Strengths and Weaknesses of Spartans' 2013-14 Roster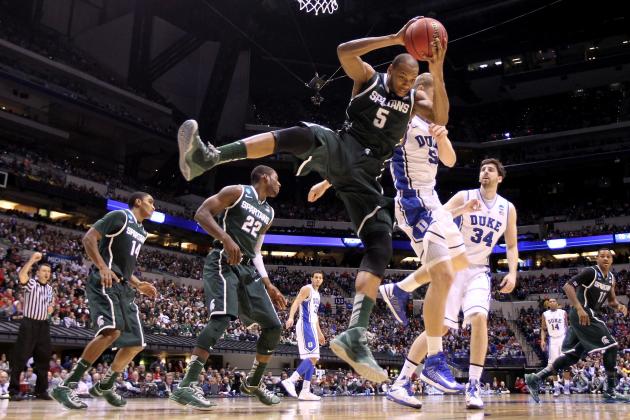 Andy Lyons/Getty Images
At 6'10", Adreian Payne is a tall order to handle.
No matter what, anytime the Michigan State Spartans' 2013-14 season potential is analyzed, two names will be mentioned: Derrick Nix and Adreian Payne.
Of course, Nix is no longer with the Tom Izzo-led Spartans; he's graduated and is in the process of moving on to the next phase of his life and basketball career.
In Michigan State's case, it's not so much about what it did with Nix, it's about what it'll do without him.
Not having Nix is a weakness.
Payne is a legitimate Player of the Year candidate. Having him, obviously, is a strength.
There are other factors that will dictate the Spartans' fortunes during this upcoming season, and we'll take a look at them in this handy slideshow.
Begin Slideshow

»
Adreian Payne has, simply put, developed into a star.
After waiting for three years for him to live up to his 5-star status, Spartans fans are now treated to watching one of the elite big men during Izzo's reign in East Lansing.
A 10-and-10 night should be a thing of the past for Payne, who has the ability to pour 20 points and at least 10 boards onto his nightly stat sheet.
He's a threat, now more than ever, from anywhere on the floor—within reason, of course. He probably won't hit nearly half-court three-pointers like Michigan's Spike Albrecht and Trey Burke did during a national championship loss to Louisville back in April.
Minus the mile-long daggers, Payne's arsenal is as complete as any comparable forward/center in the college game to day. Leaps and bounds, rung after rung, Payne is climbing the ladder of success and stands to be the No. 1 asset for Michigan State in 2013-14.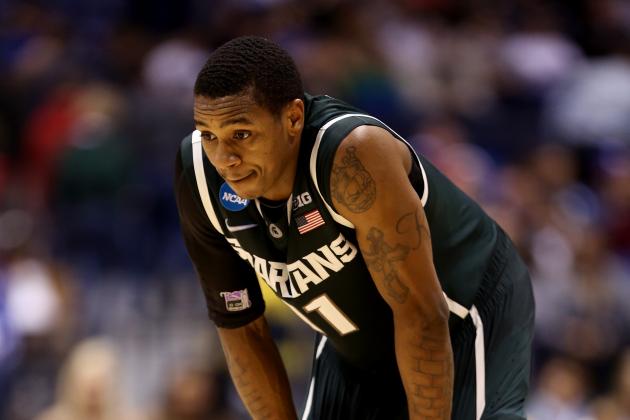 Andy Lyons/Getty Images
Michigan State's Keith Appling has to lead as a senior.
Keith Appling may have taken a small step back as a junior, but the former Detroit Pershing High baller with an MHSAA single-game record of 49 points can absolutely tear up the Big Ten as a senior this year.
Appling is a slasher; he's most effective when knifing through the lane and evading defenders on his way to the rack. Most of the time, Appling is a capable finisher. However, in 2012-13, he had a difficult time establishing a steady scoring pace.
Spartans coach Tom Izzo knows how to get his seniors to perform. Look at what Draymond Green did. Look at what Drew Neitzel did. Look at how Travis Walton ended career at Michigan State. Seniors are under a lot of pressure at Michigan State—an elite program that has the luxury of actually having one or two each year—and are generally expected to go out with a bang.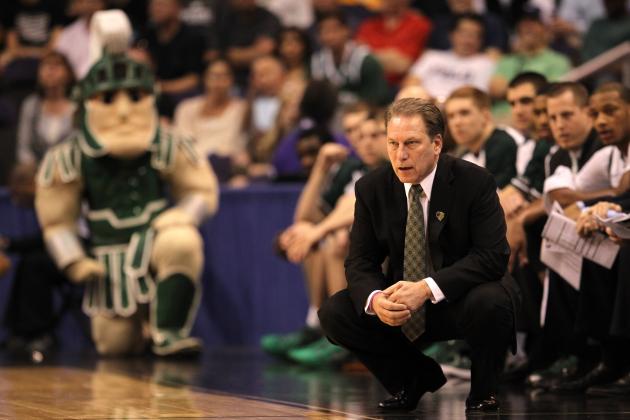 Jamie Squire/Getty Images
Tom Izzo knows how to manage talent and has a top-five talent entering 2013-14.
Tom Izzo's resume of six Final Fours should be enough for fans to expect something special each season.
Prior to those Final Fours, the Spartans have typically entered the year with a target on their back—everyone in the country wants to pound them into the ground for some reason. Strong Izzo teams are always targets.
This year, Michigan State is considered a top-five program. Some say it's No. 3, while others say No.5—ESPN's Dick Vitale says the 2013-14 Spartans may be the best version ever.
Waltzing into the year as a highly-ranked juggernaut bodes well for Izzo and gives his players strength and confidence.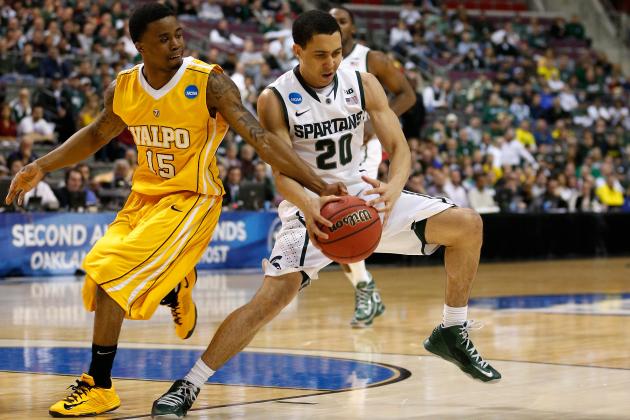 Gregory Shamus/Getty Images
Travis Trice hustles harder.
He's had time to shake out the cobwebs from concussions, and it couldn't have been any sooner for will-be junior guard Travis Trice, who just wasn't himself during 2012-13.
Trice is a key piece of the Spartans backcourt. Without him, Michigan State lacks energy and a certain type of hustle—hustle that only Trice can provide.
Diving and darting for loose balls is one of Trice's strengths. Having him back with a clear head and hunger to perform as a third-year go-to guard is a strength for Michigan State.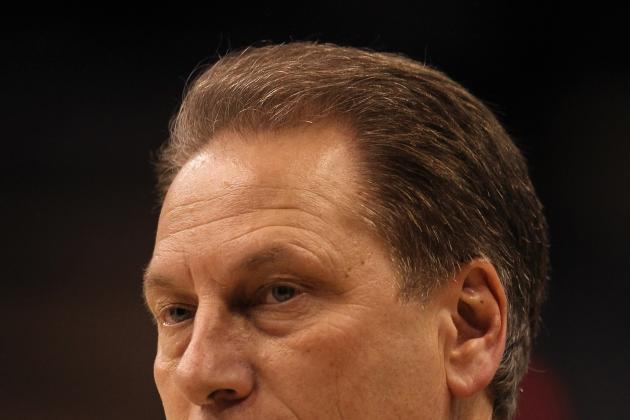 Jamie Squire/Getty Images
Tom Izzo is probably licking his lips at this moment, planning a way to make it to his seventh Final Four.
The Spartans have bowed out earlier than they wanted each year since 2010—the last time they made it to the Final Four.
For the past two years, Michigan State has dropped out of the tournament during the Sweet 16. Typically, that's when the Spartans are just getting warmed up and powering their way through the field of competitors.
If history has shown us anything, it's that keeping the Spartans away from the Promised Land for any extended period of time during the Izzo era is incredibly difficult. The Spartans have waited no more than three years between Final Four appearances (2005-2009; 2010-present) while Iron Mountain's finest leads the way.
Michigan State is due.
Depth in the frontcourt—that'll help.
After redshirting as a freshman, Kenny Kaminski is slated to return to the Spartans lineup this year. The former 3-star rated prep is 6'7" and about 230 pounds. Spartans followers are waiting to see what he has in store for 2013-14.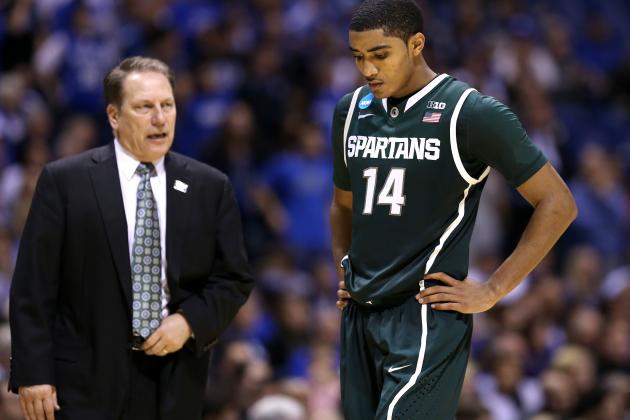 Streeter Lecka/Getty Images
Tom Izzo went through the gauntlet in 2012-13.
Tom Izzo told MLive.com's Mike Griffith that the Spartans had a hellish schedule in 2012-13.
Of course, that's by design—Izzo loves giving his players a dose of reality during pre-Big Ten play. It's not surprising that Michigan State is usually in great from come March Madness—it faces tournament-quality teams from the onset.
Coupled with a high ranking in way-too-early polls, Michigan State should have an added sense of urgency pushing it forward each week come game time. Fighting for a Big Ten title this past year—and falling short—will only make Izzo's athletes want it more in 2013-14.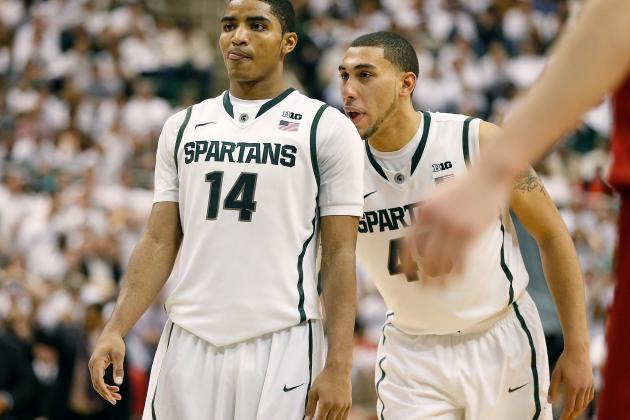 Gregory Shamus/Getty Images
Gary Harris may end up as Big Ten Player of the Year next winter.
Gary Harris will most likely be done with college basketball at the conclusion of this upcoming campaign; he has NBA-level talent and will more than likely opt to take it there.
However, having Harris back as a sophomore has its upside—Izzo has one of the best scorers and pure shooters in the Big Ten to rely upon as Michigan State attempts to cascade its way to the Final Four.
Harris averaged just under 13 points per game as a frosh. At one time, he was the Spartans' leading scorer (when Keith Appling went through a slump).
He's already won Big Ten Freshman of the Year honors, so look for Harris to muscle up his level of play and attitude as a second-year offensive firepower.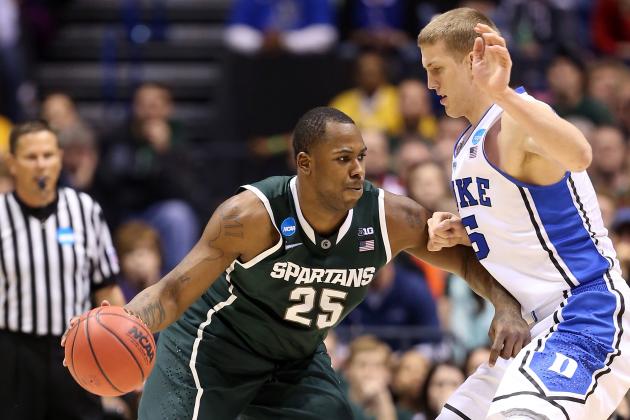 Andy Lyons/Getty Images
Derrick Nix brought a certain level of nasty to Michigan State.
Other than a modestly rated, three-player incoming class (two recruits, one defector), the Spartans don't have too many holes to fill.
Adapting to life after Nix will be the main challenge. Transforming Matt Costello into the next physical Spartans big man will also be difficult—he showed what he could do during the late goings of 2012-13, but he's far from the assertive, contact-welcoming guy like Nix was.
Branden Dawson, who will be a junior, has to step up or risk being labeled as a bust.
The formerly 5-star rated Lew Wallace High (Gary, Ind.) manchild has had an up-and-down college tenure. Of course, an injury derailed his progress, so the onus can't be placed solely upon him.
Dawson sputtered as a sophomore after lighting up opponents as a mean-streaked freshman. His athleticism is second to none. He's easily a top three or four overall athlete in Big Ten basketball—when a guy is 6'6" and about 220 pounds, that can often be the case.
Will he flop, bust or slide further down the ranks? Or will he dunk his way to stardom, a place Izzo said Dawson was bound for?
Follow Bleacher Report's Michigan State Spartans basketball writer Adam Biggers on Twitter: @AdamBiggers81