3 Biggest X-Factors for Detroit Red Wings in 2nd Round of NHL Playoffs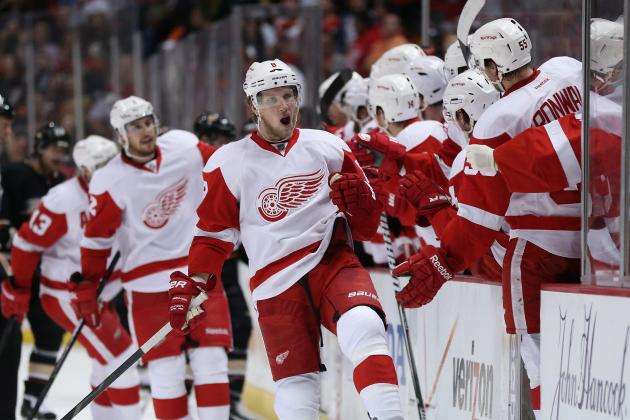 Jeff Gross/Getty Images

There is no doubt that the Detroit Red Wings face a tough challenge in the second round of the playoffs against the Chicago Blackhawks. They are, by far, the underdogs in this series.
The Blackhawks were second in the league in scoring and first in defense. After a slow start, the Red Wings were able to finish fifth in defense but only ranked 20th in goals.
The great thing about sports, though, is that previous stats do not matter and they do not play the games on paper. The Red Wings will be able to play it out on the ice to see if they can pull off the upset.
Of course, team leaders Pavel Datsyuk, Henrik Zetterberg and Jimmy Howard will need to shine in this series. However, for them to win, they will need those second-level players, the "X-factors," to rise up to help the team win.
Begin Slideshow

»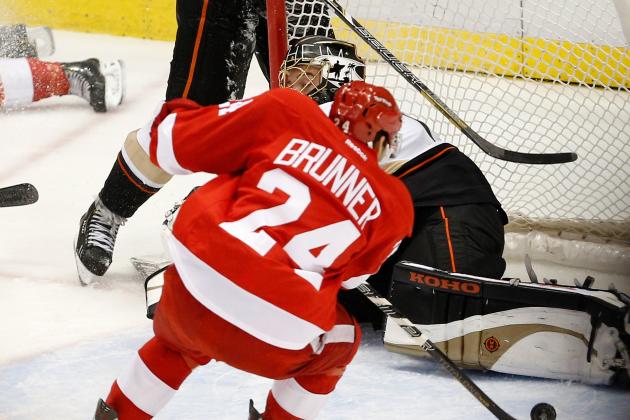 Gregory Shamus/Getty Images

Joakim Andersson, Gustav Nyquist and Damien Brunner now have a playoff series under their belts to go along with the experience of their first season in the NHL.
All had very good moments in the first round. Nyquist and Brunner each had overtime game-winners, while Andersson has become a force on faceoffs.
There have been mistakes as well. Brunner gave up the puck right in front of Howard, which led to an easy goal for Anaheim. These three players will need to not only eliminate the rookie mistakes, but they will also need to become threats on the ice.
Brunner ended the first round with two goals and five points, Nyquist had a goal and an assist and Andersson had two assists.
It is important that they make less mistakes and increase production for the team to win this round.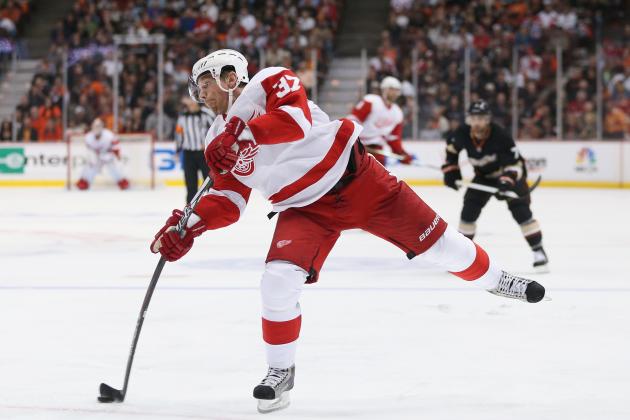 Jeff Gross/Getty Images

Todd Bertuzzi and Mikael Samuelsson have had disappointing seasons. Injuries started their downfall. They combined to only play 11 games in the regular season. They were not able to get going in the games they did play and ended up being healthy scratches by the end of the season.
Bertuzzi scored his only two goals of the season in his first game. Since then, in seven regular-season and five playoff games, he has not been able to score and only has one assist.
Samuelsson only played in four games during the regular season, but they were spread out, which prevented him from ever getting into any kind of rhythm. He played in five playoff games and was able to get a goal and an assist.
They will face a challenge against the younger and quicker Blackhawks. But the team will need these two cagey veterans to rise up and rekindle their earlier years.
They are both capable of being scorers. They do not need to lead the team in scoring, but they need to be consistent threats during the series.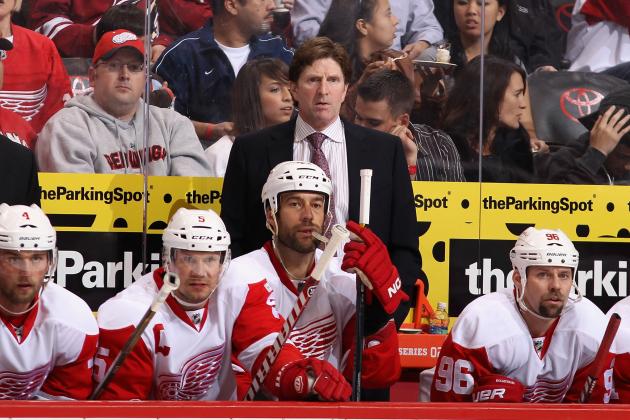 Christian Petersen/Getty Images

After winning Game 6, most would think the lines would remain the same for Game 7. Instead, Babcock switched the lines up and sat Cory Emmerton. He broke up Datsyuk and Zetterberg, with Zetterberg joining Dan Cleary and Valtteri Filppula while Johan Franzen joined Datsyuk and Justin Abdelkader.
Such moves will be important against Chicago. Lines cannot remain constant throughout a series, as teams do adjust. Whether it's sitting players, changing lines or moving defensive pairings, Babcock will need to expertly juggle the roster.
He did it very well in the first round and will need to continue that magic touch in order to pull off the upset.
Now, certainly there are other factors that will determine if the team can win this series, such as will Filppula turn around his season, can Abdelkader keep up his scoring ways and how will the young defense handle the pressure?
But these are the three that will carry the most weight as the team tries to pull off the upset.