Stock Up, Stock Down for Blue Jays' Top 10 Prospects for Week of May 6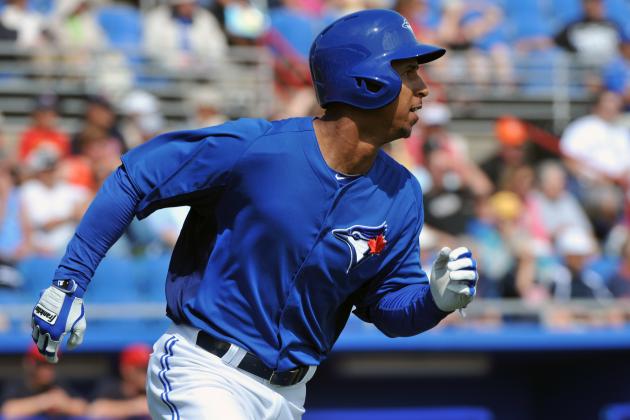 Al Messerschmidt/Getty Images

The Toronto Blue Jays minor league system may not be as strong as it was a year ago, but they still have some premier talent developing throughout the farm system.
In order to acquire a wealth of major league talent for the 2013 season, the Blue Jays were forced to part with some of their more promising prospects such as Travis d'Arnaud, Jake Marisnick, Noah Syndergaard and Justin Nicolino.
The Toronto Blue Jays have not fared as well as they would have liked in the early part of the 2013 season, but let's check in on some of the top prospects from the Dunedin Blue Jays, Lansing Lugnuts, New Hampshire Fisher Cats and Buffalo Bisons.
Statistics courtesy milb.com
Begin Slideshow

»
Stock: Up

Aaron Sanchez was the untouchable trade piece for general manager Alex Anthopoulos this past offseason and has become the team's de facto top prospect.
The 20-year-old starting pitcher has appeared in seven games this season for the single-A Dunedin Blue Jays. He has a 2-1 record and an ERA of 2.60. Opposing batters have hit just .167 off of him, and he has enjoyed some extremely strong outings this season.
His finest performance yet may have come last week against the Bradenton Marauders. Sanchez pitched 5.1 innings and gave up just two hits, one walk and struck out six. The Blue Jays bullpen picked him up to finish the game and Sanchez got his second win of the season.
This week Sanchez lowered his ERA, opponent's batting average and has yet to allow a home run this season. Not a bad week at all.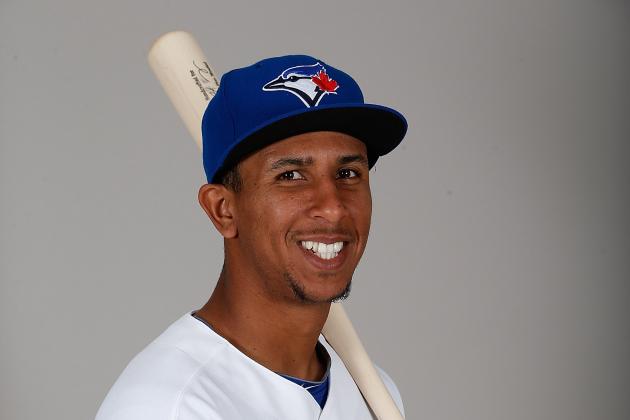 J. Meric/Getty Images

Stock: Even
Anthony Gose saw some time with the Toronto Blue Jays last season after a wrist injury to Jose Bautista, but after an invigoration of major league talent into the lineup in the offseason, he was relegated back to the minors.
Apparently it was for good reason as well, as Gose is still showing the flaws in his hitting game that prevented him from staying with the Jays permanently.
Gose has still struggled to hit left-handed pitching, as he has hit just .167 off them this season and he has struck out 35 times over the course of the year. Those two statistics are problems that have plagued Gose since he was drafted in the second round of the 2008 First-Year Player Draft.
Last week was no better at the plate as he has hit .125 in his last six games.
However, on May 7 he executed a flawless straight steal of home that you have to see to believe.
Stock: Down
It was certainly a week to forget for Daniel Norris. He had his worst start of the season, and surprisingly, the 1.1 innings he pitched on May 8 was his second shortest outing of the season.
Norris had a 9.56 ERA in the month of April, and his May has not been any better. Norris allowed seven hits and eight runs (six of them earned) against the Dayton Dragons on May 8 in just an inning and a third.
In his next start on May 13, Norris rebounded slightly by giving up just one hit over four innings against the Great Lakes Loons.
Norris has been hot and cold all season, but unfortunately, it has been a bit more cold than hot. He currently has an 8.54 ERA and has yet to win a game this season.
Stock: Down
After allowing three earned runs over four innings in his last start, Osuna left the game with elbow discomfort and was placed on the seven-day disabled list.
What appeared to be a minor injury was recently revealed to be a torn ulnar collateral ligament in his throwing arm. And yes, if anyone is keeping track, it is the same ligament that R.A. Dickey is missing in his right elbow.
According to this report, Osuna is being monitored carefully with a strict diet of "rest and rehab" according to general manager Alex Anthopoulos.
If the Blue Jays do not see an improvement in Osuna's injury, he may be forced to undergo surgery that would likely end his season.
Stock: N/A
Marcus Stroman was drafted out of Duke University and was expected to be major league ready in just a few years. He ascended quickly through the Blue Jays minor league system last year from the Single-A Vancouver Canadians to the Double-A New Hampshire Fisher Cats.
Stroman's development was halted on August 28, 2012 when he was suspended 50 games for violating the Minor League Drug Prevention and Treatment Program.
New Hampshire has played 44 games since Stroman was suspended, and he should return to the team soon. How he responds after being away from the game for so long will determine his short-term fate. He may continue his meteoric rise to the big leagues, but do not be surprised to see Stroman take a couple games to find his footing.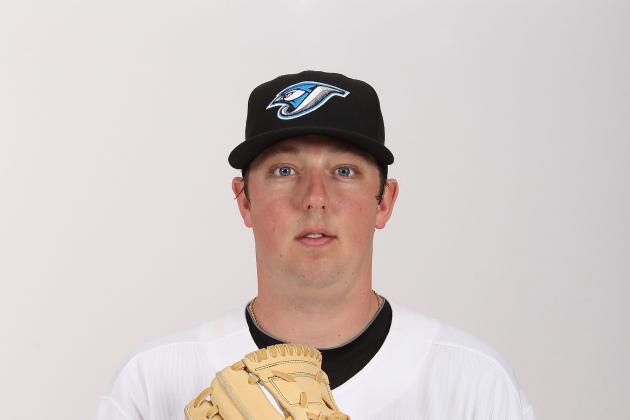 Nick Laham/Getty Images

Stock: Up
Could this be the turning point for Deck McGuire? The once highly touted prospect has stumbled this year in Double-A and has yet to show the Blue Jays the quality of pitching they expected when they drafted him in the first round of the 2011 First-Year Player Draft.
But wait! Last week McGuire struck out six over six innings but was tagged with his second loss of the season. In an effort to build on that strong outing, McGuire threw five strong innings against the Trenton Thunder allowing just two runs and recording his second win of the season.
As I mentioned last week, it is not uncommon for teams to promote players once they have struggled and recovered because teams want to see if their player can handle the adversity.
Although two decent starts means little right now, it is a big step for McGuire who had been struggling mightily this season. Let's keep an eye on him to see what happens next.
Stock: Down
After enjoying an extremely productive week last week, Chris Hawkins has cooled off considerably since.
In four games this week, Hawkins recorded just one hit in 15 at-bats and crossed the plate just once. His average for the season has dropped to .230, strongly influenced by a dismal .184 in May.
There are not many positives from this past week for Hawkins who saw his statistics fall in nearly every major offensive category. His OBP is down to .269, largely because he has only drawn six walks in 30 games this season. He has shown very little power with just five extra-base hits as well.
However, as Blue Jays' fans are tired of hearing by now, it is a long season and Hawkins has plenty of time to recover.
Stock: Up
I can not say enough good things about the way Christian Lopes has been playing this season. The 20-year-old has been an extremely pleasant surprise for the Single-A Lansing Lugnuts after being drafted in the seventh round of the First-Year Player Draft.
Lopes has hit .316 this season with 55 total bases and 25 RBI. He is a right-handed batter, and has absolutely crushed left-handed pitching as evidenced by his .385 average and .414 OBP against them. He has held his own against right-handers as well, hitting an even .300 in 110 at-bats.
If Lopes can continue to hit the ball well, he may be in line for a promotion to Dunedin.
Stock: Up
After returning from Tommy John surgery last week, Jimenez has enjoyed a hot start to the season. He is being gradually worked in to the lineup and has only appeared in six games, but he has been improving steadily.
He is batting .368 with a home run and five RBI this season. He also has a .400 OBP and an OPS of .979.
Jimenez spent all of last year with the Double-A New Hampshire Fisher Cats and may see a promotion back to his old club if he can continue to show he is too good for Single-A baseball.
Jimenez was taken in the ninth round of the 2011 First-Year Player Draft and is 23 years old.
Stock: Up
Whereas last week Dwight Smith's stock was falling, this week he is on the rise. It may only be a slight increase but he has been able to increase his batting average to .283 and his OBP to .367.
Smith has still struggled to cash in runners, however, as he has just two RBI and is hitting .167 with runners in scoring position.
His game is far from complete, but for Smith, baby steps are all that can be expected. The 20-year-old made those steps this week. The highlight of the week for Smith came when he went 3-for-5 on May 9 and finished a home run short of the cycle.