5 Reasons UNC Basketball Is the Team to Beat in the ACC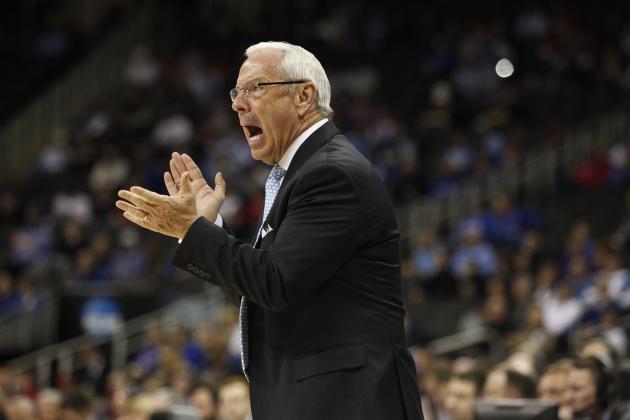 Ed Zurga/Getty Images

The North Carolina Tar Heels are in perfect position to take back their ACC crown in 2013-14.
With a favorable schedule and their main competition losing tons of talent, the five-time national champions are primed to improve upon last season after not living up to early expectations.
While there are certainly other teams that can pose a threat to the Tar Heels, the returning experience that they have will play a huge factor as to why they will return to their rightful place among the ACC elite.
The next few slides will explain why UNC fans should be excited about their Tar Heels this upcoming basketball season.
Begin Slideshow

»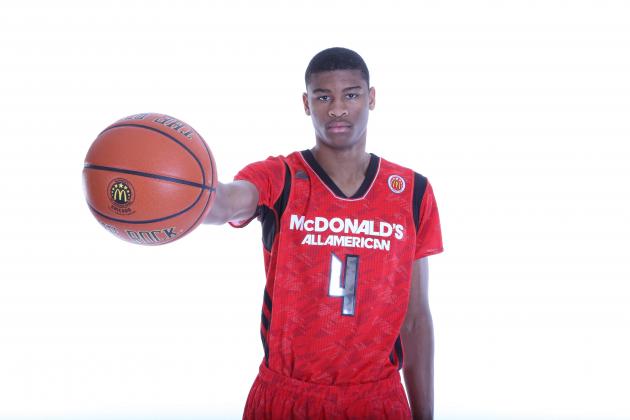 Brian Spurlock-USA TODAY Sports

When the Tar Heels have been at their most dominant this past decade, they seem to have athletic bigs who can control the boards and score in the post.
North Carolina already has James Michael McAdoo set to start at power forward and take most of the minutes as well. But Roy Williams has brought in two recruits who can challenge to be the starting center.
Kennedy Meeks is a wide 6'9" center, and highly recruited Isaiah Hicks is a freakishly athletic 6' 8" forward. Both have an uncanny rebounding sense and are able to dominate the glass when they want to.
Meeks is going to have to shed some weight if he wants to play in Roy Williams' system, and Hicks is going to learn some low-post moves, but both can contribute to the team in more ways than one next season.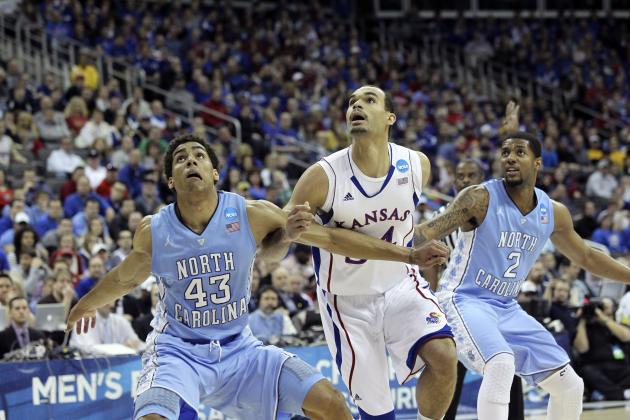 Ed Zurga/Getty Images

With the addition of Hicks and Meeks, North Carolina suddenly went from undermanned down low to having one of the deepest frontcourts in the ACC.
McAdoo is set to start and play quite a bit at power forward, but if he ever needs a break, Roy Williams now has players on the bench he can go to.
Last year, going with a smaller lineup worked well to a point in Chapel Hill, but when the Heels found themselves in the NCAA tournament, Kansas used its size as an advantage and bullied the smaller McAdoo who was out of position all year.
When North Carolina has dominated the ACC in recent years, they have done so with a traditional lineup, having two big men in the post and guards/wing players surrounding them.
When they won the championship in 2009, the Tar Heels had Tyler Hansbrough, Deon Thompson and Ed Davis playing crucial minutes. They were able to use their depth inside to crash the boards and score at will on every opponent they faced in the NCAA tournament.
McAdoo knows exactly how depth down low helps his team's winning ways. When he was a freshman two years ago, McAdoo came off the bench for NBA-bound Tyler Zeller and John Henson. Injuries kept the team from moving past the Elite Eight, but North Carolina has proven that they play better with more size.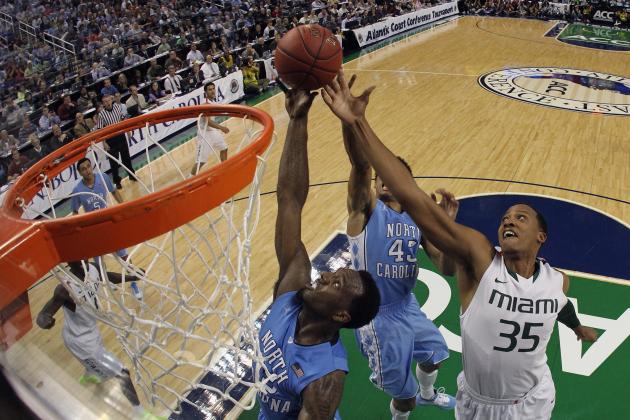 Streeter Lecka/Getty Images

The Tar Heels have a favorable conference schedule this upcoming season.
North Carolina's toughest opponents are going to be Duke (of course), Virginia, Pittsburgh and Syracuse. I say that because these are the toughest defensive teams in the conference, and while UNC is talented offensively, they struggle with defensive-minded teams.
The Tar Heels only have three tough games on the road this upcoming season: Duke, Virginia and Syracuse. N.C. State and Florida State lost their best players this past season, so it should be an easier task for the Heels to pull out road victories against those two teams.
The only game North Carolina can lose at home this season is the game against Duke. Maryland lost its best player and isn't as effective away from College Park, and Pitt will be tired after taking a trip from Pennsylvania all the way to North Carolina.
All in all, I see the Tar Heels losing four to five games in conference next season, better than their 2012-13 campaign.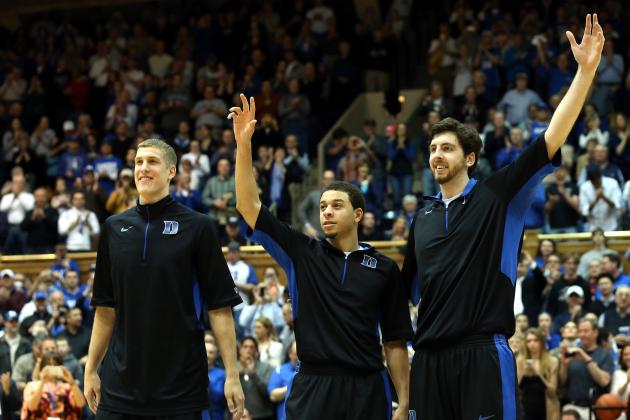 Streeter Lecka/Getty Images

With all the returning talent that North Carolina has, the same can't be said for the other top teams in the ACC next season.
Miami lost its top six scorers to eligibility and the draft. After beating the Heels in every aspect of the game in all three of their meetings last year, Jim Larranaga finds himself in a world of hurt having to replace so much talent.
N.C. State was the preseason conference favorites after boasting so much depth and experience. Now, after losing its four leading scorers, assist leader and best bench player, the Wolfpack suddenly are on the opposite side of the scale.
Duke lost its three leading scorers in Mason Plumlee, Seth Curry and Ryan Kelly in the offseason. Not only that, but Plumlee was the only experienced big on that team and was the only player to average over six rebounds per game.
Jabari Parker is supposed to come in and dominate like he did in high school, but this Duke team now becomes full of inexperienced youth. Only two returning Blue Devils averaged over 10 points per game last year.
This Duke team may be talented, but the players returning haven't proven that they can play extensive minutes at the college level.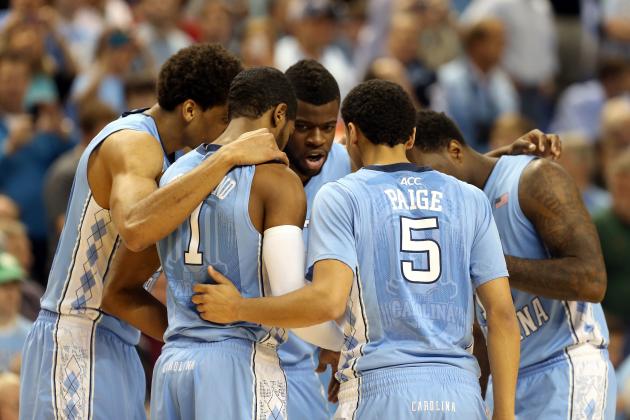 Streeter Lecka/Getty Images

Kentucky head coach John Calipari likes to play freshmen to win championships and send them on their way to live out their NBA dreams. Roy Williams somehow is able to get his players to return year after year, building a team that will be a national championship favorite.
Since Williams began coaching at North Carolina, the one-and-done system has seen freshmen come and go in one swoop of a season for many national powerhouse teams, except Chapel Hill.
After winning in 2005 on the backs of juniors Raymond Felton and Sean May, Williams worked on molding his new players so that one day they would be poised to dominate college basketball again.
That's what happened between 2006 and 2009. We saw Tyler Hansbrough, Danny Green, Deon Thompson, Wayne Ellington and Ty Lawson all continue to stay in school in order to bring another championship to Chapel Hill. Once they left, the process started all over again, and the same happened again last year.
After losing four starters in the 2012 NBA draft, Williams continued molding the players he had left into contenders for the next season. While the system doesn't produce immediate winners, players continuously return to play for Roy.
This upcoming season is no different. The Tar Heels lost only two key players from the year before in Reggie Bullock and Dexter Strickland. However, they do return talent from the bench, along with three of the team's starters in Marcus Paige, McAdoo and P.J. Hairston.
Roy Williams develops his team's talent better then any coach in Division I basketball. It just takes time to form it into what he wants. Patience is a virtue, and if the past has told us anything, fans should expect this team to rise to the top of the ACC next season.