UNC Basketball: Strengths and Weaknesses of Tar Heels' 2013-14 Roster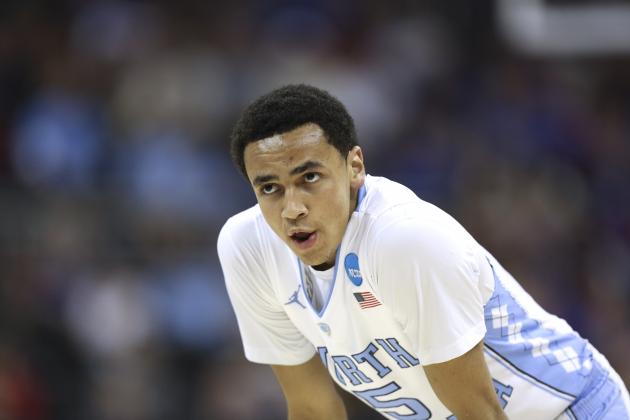 Ed Zurga/Getty Images

Now that the Andrew Wiggins saga is over, we can finally focus on the current strengths and weaknesses of North Carolina's 2013-14 team.
At this point in the offseason, there are a lot of questions floating around UNC about how much some of these players will develop. So it is still a little tough to accurately gauge where this particular group of Tar Heels will stand come November.
Marcus Paige and P.J. Hairston are pretty much locks for improvement. James Michael McAdoo is a little suspect after his lack of development between his freshman and sophomore years. But there is no good reason he shouldn't improve.
The rest of the clan consists of three freshmen that have never seen the collegiate hardwood and a bunch of guys that have played limited minutes in limited roles while at Chapel Hill.
But we have gotten a good enough look at most of those guys to know what they have to offer at this time. And that is how the strengths and weaknesses of this team will be gauged today.
As we grind through these six long months of the offseason, any of these categories are open to change. It will all depend on how much these players can develop.
Begin Slideshow

»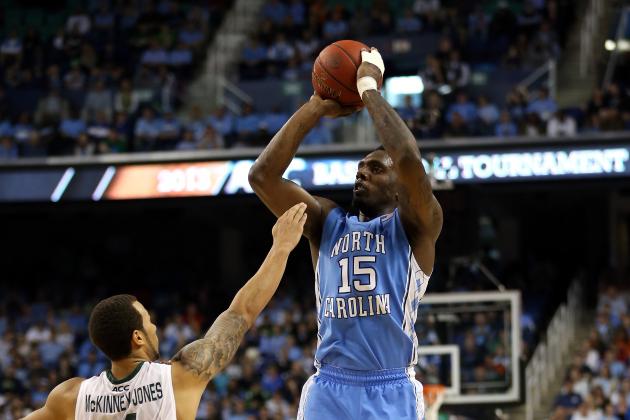 Streeter Lecka/Getty Images

Even after losing Reggie Bullock's 43.6 percent shooting beyond the arc, three-pointers remain a strength for the Tar Heels.
P.J. Hairston finished the season shooting 39.6 percent from downtown. His rapid upswing silenced critics that believed he was merely the 27.3 percent shooter we saw during his freshman campaign.
It's safe to say Hairston isn't that guy anymore.
With his sweet stroke and incredible range, it would be shocking to see his numbers dip again. If anything they will probably go up, just as Bullock's did the following year.
Bullock shot 38.2 percent as a sophomore.
Leslie McDonald was just shy of that mark during his sophomore season, finishing at 38.1 percent. After taking a year off with a torn ACL, McDonald came on strong in 2012-13. He sank 25 of his first 58 threes.
Then the wheels fell off.
After missing six games with a suspension and a tweaked knee, McDonald sputtered the rest of the way, dropping his season percentage to 35.9 by the end of the season. But anyone that has watched McDonald over the years knows he is better than that.
The L-Mac attack will be back. And having a starting role may play the biggest part in his improvement. It's never easy to bury a cold shot.
Then there is Marcus Paige, who did just the opposite of McDonald. Through his first 23 games, Paige was just 25-of-85 from three. Then he exploded through the final stretch in every facet of his game—including treys.
Paige drilled 20 of his 45 attempts through the final 12 games of the season.
That's the Paige you should expect to see more of in 2013-14. And if both Paige and McDonald improve their three-point shooting as expected, they should be able to make up for Bullock's 88 threes.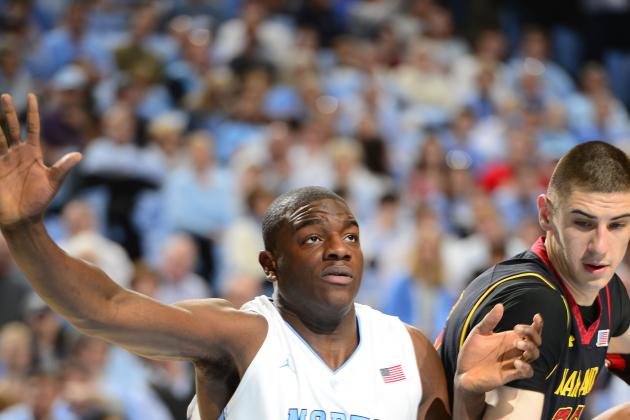 USA TODAY Sports

Last season, post play by the bigs was absolutely abysmal. None of the centers performed particularly well in the low post, forcing Roy Williams to constantly rotate players in and out in hopes to find the missing link.
On top of those struggles, McAdoo was never able to gain traction with his post game. Much of his scoring came off the dribble, in transition or off of rebounds.
Roy's dual-post system doesn't work very well if nobody can post up on the offensive end of the floor. This is why he had to shift to a small lineup to spread the floor and make driving lanes. That was a desperation move on his part, and you know he doesn't want to have to do it again.
That means McAdoo will need to work on his back-to-the-basket game over the summer. He can't just get by on athleticism alone.
Meanwhile, Joel James, Desmond Hubert, Kennedy Meeks, Brice Johnson and Isaiah Hicks will all need to spend some time developing that aspect of their games.
For now, post play has to be considered a weakness for this squad. However, there is strength in numbers.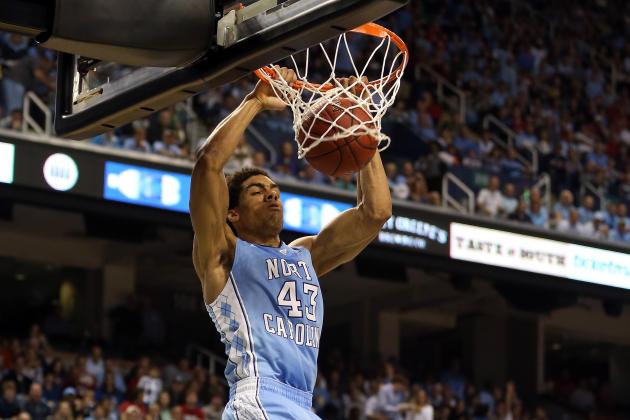 Streeter Lecka/Getty Images

With the addition of Isaiah Hicks and all the returners, UNC was going to be loaded with posts no matter what. But then James Michael McAdoo decided to stay, and that really gave the post depth a boost, considering he will play the bulk of the minutes at the 4.
The only open starting post position is at center, where Joel James, Desmond Hubert and Kennedy Meeks will be battling for playing time. And with James Michael McAdoo's return, that also may put Isaiah Hicks and Brice Johnson in the running for the 5, too.
Don't forget about Jackson Simmons, either. He was excellent every time he hit the floor last season. With all the youthful mistakes being made, he was a reliable guy Coach Williams could insert at any time.
The problem is that he isn't nearly as high profile or dynamic as the other posts on the lot. It will be tough for him to get playing time, but don't be surprised if Roy calls on Ol' Reliable more often than expected.
This is a very young, unproven group of posts with very few back-to-the-basket moves in their repertoires. But the offseason is for development, and the returners all have the potential to be much better than last season.
"Potential" is the operative word, though. This is why I listed post play as a weakness at this time.
But there is power in numbers, and there will be plenty of options for Roy to choose from. Someone is bound to step up their game in this deep bunch.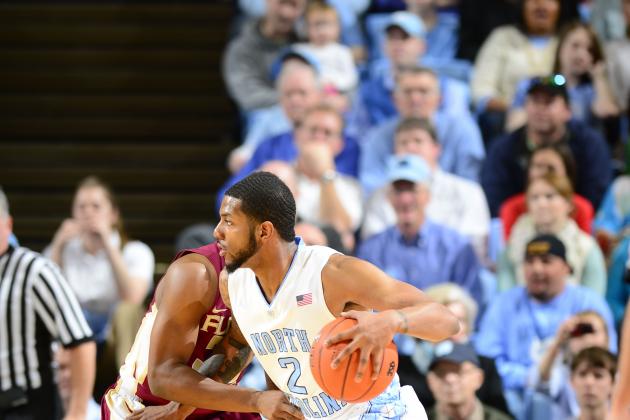 Bob Donnan-USA TODAY Sports

Last season, the Tar Heels were so stacked on the wing, Hairston spent the first half of the season coming off the bench and McDonald was scraping for minutes. Then Reggie Bullock and Dexter Strickland left. Then UNC lost the Andrew Wiggins raffle.
Now when you look at the Tar Heels' roster, there are only three true wings: P.J. Hairston, Leslie McDonald and J.P. Tokoto.
To make matters worse, Tokoto has yet to develop range on his jumper. He was OK from about 15 feet out, but anything beyond that rarely went down. He was just 1-of-11 from three-point range, and eventually gave up on that shot by February.
If he can become more explosive off the dribble, maybe that will give some relief. At the same time, a good jump shot keeps defenders honest. If he isn't knocking down jumpers, they can just back off him and keep him out of the lane.
Beyond those three wings, it will be a makeshift affair if Coach Williams needs more guys to fill in.
Nate Britt may see some playing time at the 2, in a dual-point set with Marcus Paige. Or since Paige is the better shooter, he could be at the 2 while Britt runs point. But then you get into the iffy nature of a freshman running point.
It's kind of a messy situation here.
There is also the possibility of McAdoo or Hicks playing the 3. However, none of them are consistent beyond 15 feet, so you're still running into the same issue as Tokoto at the 3.
As with the center position, development will be key with the possible wing reserves. Otherwise, we may be looking at McDonald and Hairston playing 40 minutes apiece.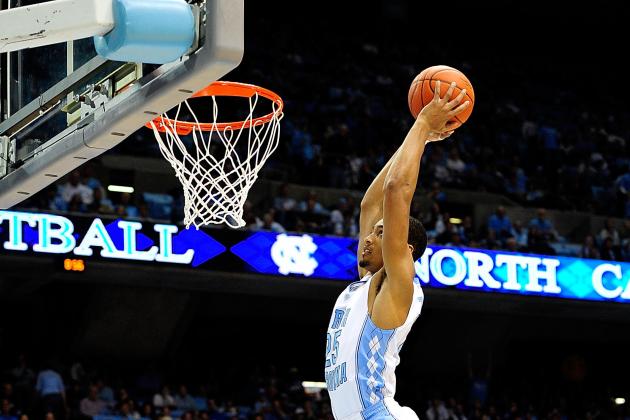 Grant Halverson/Getty Images

As usual, North Carolina is loaded with athletes and pesky defenders, which should make for an excellent transition game. So should the experience of Marcus Paige.
Last season, Paige was a little gun-shy about pushing the ball up the floor. As the season progressed, he seemed to get more comfortable with slinging the rock down the floor.
Kendall Marshall proved you don't have to be a speed demon like Ty Lawson to get the transition game moving. Paige will be working with Marshall this summer, so you can be sure that this will be an area of focus when the two meet up.
But if the ball never touches Paige's hands on a break, McAdoo, Hairston, McDonald, Tokoto, Britt and Hicks are all perfectly capable of leading the way. McAdoo has done it all by himself with a steal and jam on the other end.
In fact, he does it a lot. And we'll probably see every player I mentioned do the same thing at some point during the season. They will certainly have their opportunities.
Carolina's top three ball hawks are still on the roster with Paige, Hairston and McAdoo.
And the transition game won't just be a one-sided affair. I'm on record saying Paige was the best transitional defender on the squad. He was constantly poking the ball loose or taking a charge when it looked to be an easy bucket by the opposition.
Tokoto was also seen flying in one some blocks during his limited play. We should see even more of that with his boost in playing time.
Hairston also did his part in hustling to the other end of the floor and making a stop.
If Coach Williams can get the other guys to run the floor like these three, the Tar Heels will be a dominant force on both sides of the transition game.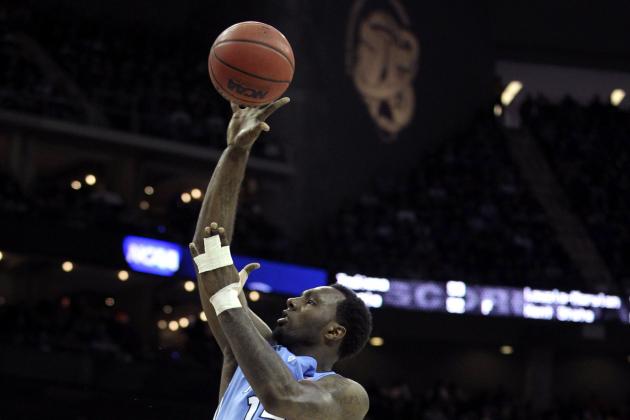 Ed Zurga/Getty Images

Scouts, coaches and fans all agree the area Hairston needs to work on the most is his mid-range game. He is either shooting a three or taking it all the way to the rack.
In fact, 61 percent of his field-goal attempts were threes.
As the clear-cut go-to guy in this offense, Hairston has to be able to pull up for a jumper or a floater if the lane starts to close up. And it's also OK for a shooting guard/small forward to spot up for an easy 17-footer.
Threes are great when they fall. But they will kill a team when they don't. Sometimes it's best to knock down more high-percentage shots.
This is something Paige, McDonald and Britt will all need to work on as guards.
It will also be important for power forwards McAdoo, Johnson and Hicks to become more consistent from mid-range. Having the bigs be able to stretch the defense opens up great driving lanes for the guards, as we saw with the smaller lineup Roy implemented last season.
At this point in the offseason, the Tar Heels' strengths seem to be about even with their weaknesses. However, if the post play and mid-range game improve as they should, this will be a very deadly group in 2013-14.
Depth at the wing could end up its only true weakness. And as long as there are no major injuries, that depth can be masked by outstanding play and big minutes from Hairston and McDonald.