Best-Case, Worst-Case Scenarios for Chicago Bulls 2013 Offseason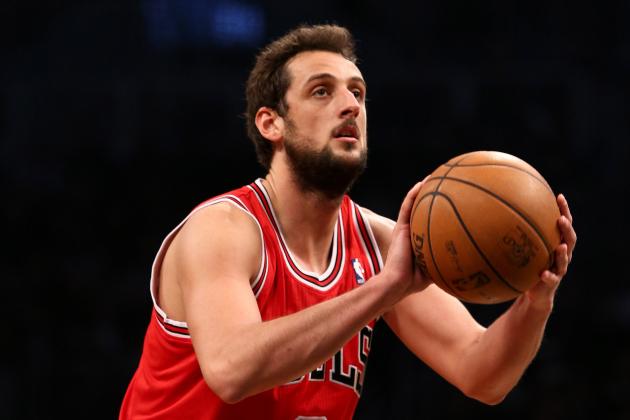 USA TODAY Sports
Will Marco Belinelli be a Bull in 2013-14?
Barring an epic comeback against the reigning champion Miami Heat, the Chicago Bulls will soon be analyzing what constitutes a successful 2013 offseason.
They have a plethora of issues deserving of attention. The manner in which they face these matters will largely impact their chances at contending for a title come the 2013-14 season.
The positive for Chicago is that they have a handful of championship-caliber pieces in place.
Tom Thibodeau is a top-notch coach, Derrick Rose (assuming he returns to full strength) is a true superstar, Luol Deng and Joakim Noah are All-Stars and Carlos Boozer, Jimmy Butler and Taj Gibson are all quality contributors.
These individuals give the Bulls a potent core, but there remain questions going forward. This slideshow details the looming affairs Chicago must handle in the coming months, critiquing best-case and worst-case scenarios.
If the Bulls score an A-plus during the offseason, you can expect a 60-plus win campaign and a 2014 deep playoff push that potentially results in a championship.
Begin Slideshow

»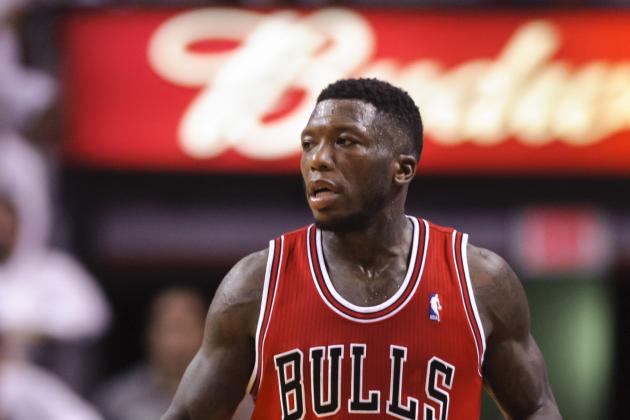 Steve Mitchell-USA TODAY Sports

Best-Case:
A handful of Chicago's second-unit members enter the summer as free agents.
It's in the Bulls' best interest to re-sign Marco Belinelli, whose offensive potency has been invaluable in the playoffs. They should make bringing him back a high priority.
The Bulls should willingly let Nate Robinson walk away (unless Belinelli leaves, then Robinson could remain and play more 2-guard). Nate Rob has raised eyebrows and will likely garner attention across the NBA spectrum.
The Bulls almost surely won't contend with what another team throws at him, nor could they justify giving him a multi-year deal when they already have three point guards under contract (Rose, Kirk Hinrich, Marquis Teague).
Thanks for the fun, Nate. You really did provide excitement during this Rose-less season.
Beyond those two, the Bulls possess much flexibility. Nazr Mohammed and Daequan Cook could be worth re-signing for roles near the end of the bench. No matter what, you can expect the Bulls to bid farewell to Richard Hamilton, as he has a $1 million buyout.
Therefore, a best-case scenario in regards to their current roster is nothing flashy. Keeping Belinelli in Chi-town is the first concern.
Worst-Case:
A troubling scenario would feature Belinelli and Robinson both leaving Chicago for more lucrative offers elsewhere. This would create unfortunate holes in their second unit, particularly at shooting guard.
Beyond that, it wouldn't be catastrophic if other players (Mohammed, Cook) ventured elsewhere. They are easily replaceable.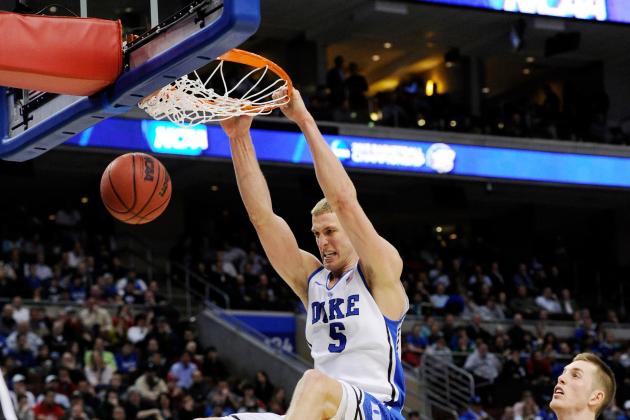 Eileen Blass-USA TODAY Sports

Best-Case:
The Bulls should address one of two positions with their first-round pick: shooting guard or center.
One best-case option would feature 2-guard Kentavious Caldwell-Pope slipping down the draft board into Chicago's hands. His offensive skills would mesh wondrously on a Bulls team in dire need of scoring versatility.
Another ideal situation centers upon a big man landing in the Windy City, namely Mason Plumlee, Gorgui Dieng or Steven Adams. Such sizable figures would help the Bulls adequately replace Omer Asik. Mohammed was serviceable this season, but a long-term backup 5-man is needed. One of these players could fill that gap in due time.
Worst-Case:
The Bulls make a "reach" pick for a player like Allen Crabbe, Archie Goodwin or Tim Hardaway Jr. These prospects would give the Bulls a shooting guard, but they'll also likely remain on the board until the second round. If Chicago makes such a selection, it likely means their targeted picks were all snagged.
Another mistake would be a "draft and stash" choice. They already have such a player in the organization in Nikola Mirotic, so the Bulls should draft for the here and now.
Therefore, players like Dario Saric and Mouhammadou Jaiteh should be avoided.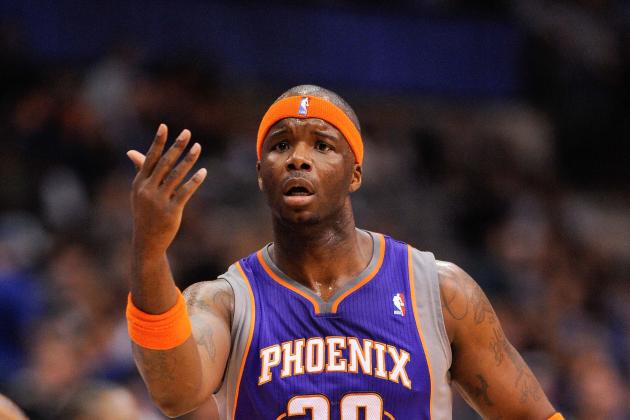 USA TODAY Sports

Best-Case:
This may come as a surprise, but the wisest approach in terms of free agency is a quiet offseason. There are numerous reasons for this.
First of all, the Bulls are limited financially and can only make minor moves.
Secondly, the 2013 free-agency class is limited. Come 2014, the list will be much deeper, so the Bulls can begin prepping for that. Furthermore, they'll have more flexibility then, because Deng's contract comes off the books and Boozer will possibly be amnestied.
Lastly, if they did lure one of the better available players, what's the point? Are guards like J.J. Redick or O.J. Mayo really going to be the final piece to the championship puzzle? I highly doubt it. Plus, such a contract (if it's even possible for the Bulls) would only strain their financial flexibility going forward.
Therefore, the Bulls should only make a few marginal moves. They should boost their depth by signing a few veterans for cheap (like Jermaine O'Neal, Ronnie Brewer and Derek Fisher). Such additions wouldn't hurt their financial outlook while also providing depth and veteran leadership.
Worst-Case:
They make a couple of eye-opening moves that inhibit their financial future while only mildly upgrading their depth chart. Such acquisitions would include Redick, Mayo or even Tyreke Evans.
While such signings would generate some initial buzz, it would honestly be a premature, if bold, move. The Bulls simply don't need it. They have a bright future as is, so there's no urgency to rush things with a maneuver that lacks sense from a basketball and financial standpoint.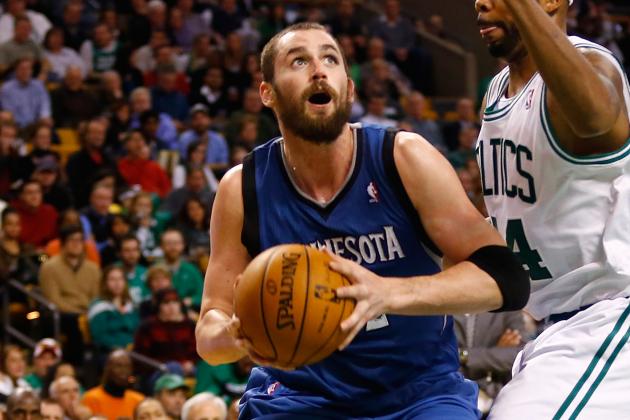 Jared Wickerham/Getty Images

Best-Case:
If the Bulls can land a top-notch player to be "Robin" to D Rose's "Batman," then it's worth considering. A prime option is the Minnesota Timberwolves' Kevin Love, if he's available.
But, if he is attainable, what would his cost be? If it's Deng, Gibson, Mirotic and a future first-round pick, then the Bulls should hang up the phone immediately. Giving up four stellar pieces is far too much, even for a player of Love's caliber.
Now, if Love can be had at a reasonable cost, then the Bulls should pursue such a blockbuster. Let's say the T'Wolves desire Boozer, Mirotic, the future first-round pick from the Charlotte Bobcats (which the Bulls possess) and another first-round pick from Chicago, then the Bulls should pull the trigger.
This would present a perfect opportunity for Chicago to add a true No. 2 next to Rose.
However, the Bulls should approach such talks cautiously. They shouldn't force a deal, especially since Love has a growing track record of injuries.
Worst-Case:
1. The Bulls go "all in" for Love and give up an array of current contributors. This may give Chicago its second superstar, but it would more importantly create some gaping holes elsewhere. This is why the Bulls should exercise strict caution if Minnesota's asking price is too high.
2. The Bulls neglect having trade talks with anybody. This would be downright foolish. Chicago has some of the best trade bait in the league—namely Mirotic and the future Charlotte pick. It's at least worth seeing what's out there. If nothing develops, no harm done.
But they should test the waters. Failing to do so could result in a major missed opportunity.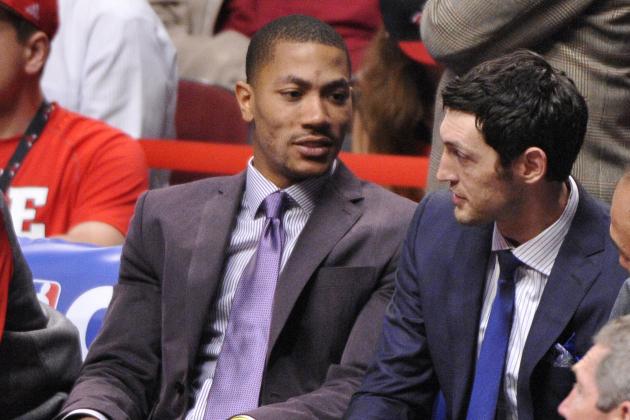 Rob Grabowski-USA TODAY Sports

Best-Case:
They enter training camp next fall at 100-percent. Rose is fully recovered and has his confidence back, Noah's plantar fasciitis is a forgotten issue and all other members arrive at full strength.
This is a must for the Bulls in 2013-14. We can only hope that injuries don't derail their playoff potential for a third straight season.
Worst-Case:
Rose regains his old self extra slowly and has a setback, Noah's plantar fasciitis gets progressively worse, Hinrich seems like he'll never again be healthy and another valuable asset (Boozer, Deng, Butler) picks up an injury.
This would set an unhealthy tone that the Bulls will desperately hope to avoid.