Ronde Barber Retirement: Where He Ranks Among Buccaneer Defenders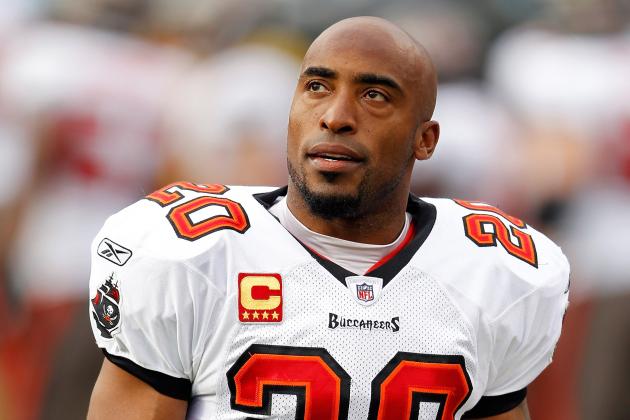 Streeter Lecka/Getty Images

During the course of his career, Ronde Barber went from a player that wasn't sure if he was going to stay in the league to a player that didn't look like he'd ever stop playing at a high level in it.
Finally, he decided that it was time to hang up the cleats, with the Tampa Bay Buccaneers having signed new free agents and his age slowly escalating (he turned 38 last month).
But Barber has certainly made his mark on the team and community throughout his 16 years in Tampa Bay, which saw him go from nearly being cut in his rookie year to the Hall of Fame-worthy player he eventually became.
So where does he rank among all the defensive players in Buccaneer history? There have certainly been quite a few that have shone in their days in Tampa.
Here's a look at where Barber and some of his Super Bowl XXXVII teammates landed in the top 10.
Begin Slideshow

»
A. Messerschmidt/Getty Images

It was hard to decide who to start these rankings with, seeing as there have been quite a few defensive players who have accomplished quite a bit in Tampa Bay.
Donnie Abraham certainly did just that during his time playing opposite Ronde Barber at cornerback for the Buccaneers. He played six seasons in Tampa, from 1996-2001, earning a trip to the Pro Bowl in 2000.
That was the year Abraham led the league with seven interceptions and was one of the team's nine Pro Bowlers who helped lead the Bucs to a 10-win season.
Brian Kelly rose to the occasion with the departure of Abraham and became a solid contributor to the Bucs' Super Bowl-winning defense.
Across from Barber in 2002, Kelly led the league in interceptions with eight. It was just one of the seasons in a decade of strong service to the Tampa Bay organization.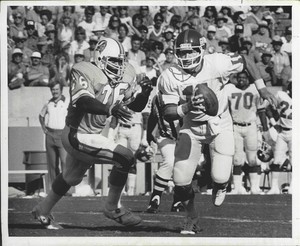 David Logan was one of the more dominating defensive tackles of his time, even if the Buccaneers were anything but dominating at the time.
After being taken in the 12th round of the 1979 draft, Logan and the Bucs made their first trip to the postseason. Logan later became the sidekick of sorts to Lee Roy Selmon on Tampa Bay's defensive line.
Logan played eight years for the Bucs before finishing out his career in Green Bay.
He was nearly chosen twice for the All-Pro team, once in 1983 and again in 1984. In '84, he became the youngest defensive lineman (and only fourth at the time) to ever score four touchdowns.
Logan made his presence known in the booth as well, calling games on the radio with the legendary Gene Deckerhoff.
He died far too young at the age of just 42 from a heart attack, but he certainly made the most of his time when it came to his effect on the Bucs.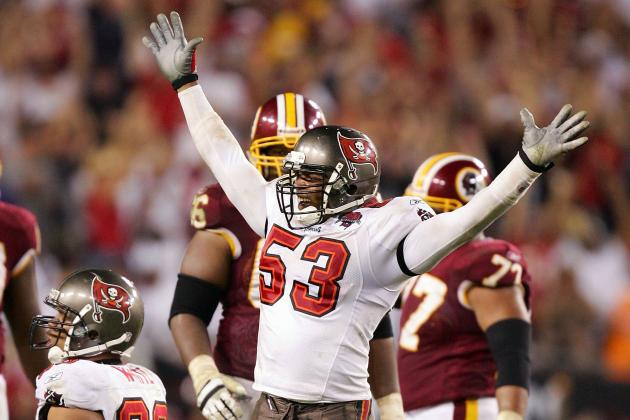 Andy Lyons/Getty Images

In a linebacking corp where Derrick Brooks was the one getting most of the fame (which he earned), Shelton Quarles stayed in the shadows, always remaining productive while playing beside No. 55.
Quarles played a decade in Tampa Bay and during that time made the most of his opportunities after he had gone undrafted and had to start his career in the Canadian Football League.
In 2001, Quarles returned an interception for 98 yards and a touchdown, which is still the longest play in Tampa Bay Buccaneers history. He then became a Pro Bowler and Super Bowl champion in 2002.
On top of his contributions on the field, Quarles has continued his work in the community and remains with the Bucs organization even after his playing days.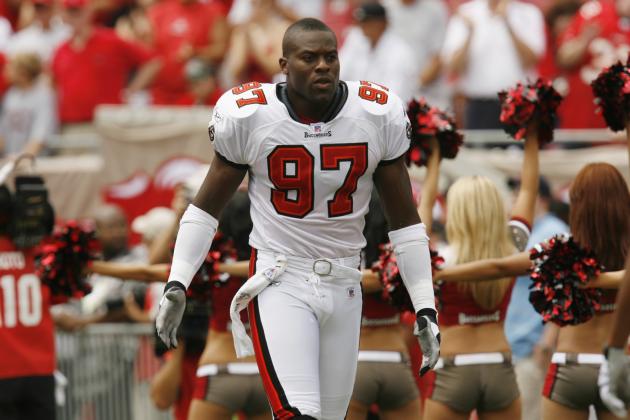 Matt Stroshane/Getty Images

It's hard to believe that Simeon Rice was only in Tampa Bay for six seasons. Judging by his impact on the Bucs, it seemed a lot longer than that.
During Tampa Bay's Super Bowl run, Rice was nothing short of a dominant pass-rusher—just as he was expected to be when he came from the Arizona Cardinals.
It could be said that Rice still never reached his full potential, but a string of 11, 15.5, 15, 12 and 14 sacks in his first five years with the Bucs did plenty to satisfy the franchise.
Rice spent two of his three Pro Bowl seasons in Tampa Bay. The year the Bucs won it all, he made first-team All-Pro while compiling 15.5 sacks.
Rice finished out his career elsewhere, but will be remembered mostly for his time in Tampa Bay, where he produced the majority of his sacks that led him to 13th overall on the all-time list.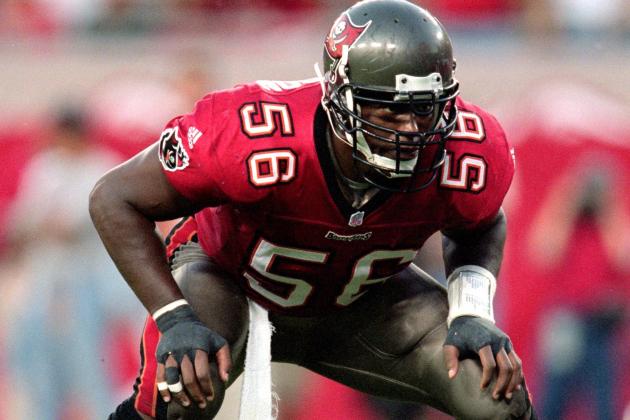 Andy Lyons/Getty Images

After Hardy Nickerson was brought over from Pittsburgh to help revamp the Buccaneers defense, he very well could have been credited with setting the tone for the kind of defense Tampa Bay would carry through its Super Bowl championship.
Nickerson brought fear to his opponents while playing seven of his 16 seasons in Tampa. In that time, he made five Pro Bowls and was selected to multiple first-team All-Pro squads.
But his accolades aren't the only thing Nickerson was valued for. He was the leader of the defense and helped groom Derrick Brooks into a legendary linebacker.
Only Brooks can be considered a better linebacker than Nickerson was for the Buccaneers.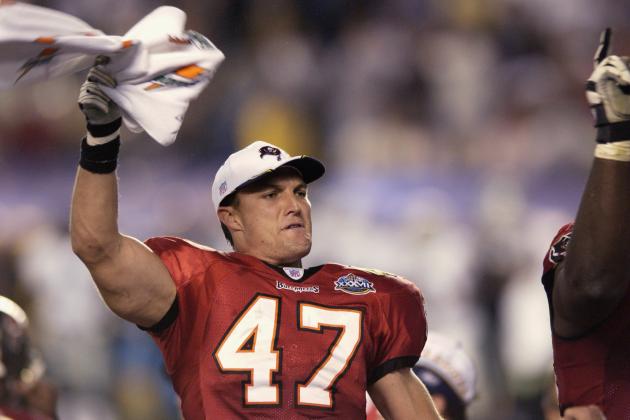 Ezra Shaw/Getty Images

The fact that John Lynch may never be in the Hall of Fame is a crime, but understandable due to the lack of safeties in the Hall.
Nevertheless, Lynch was indeed one of the main reasons that the Bucs defense was so intimidating in the late '90s and early 2000s. His motor was always on high, as he flew around the field and laid bone-crushing hits on his helpless opponents.
Lynch played 11 seasons in Tampa Bay and became a mainstay in Honolulu with nine Pro Bowl trips. He made first-team All-Pro twice and second-team twice.
If he had received his Super Bowl ring and was old enough to play more years than he did in the '90s, he certainly could have made the 90s' All-Decade team over either LeRoy Butler or Steve Atwater.
He is known as one of the hardest hitters to have ever played the game, a true force of nature that was hard to deal with throughout his career and certainly one of the biggest pieces of the puzzle that became the Tampa Bay Buccaneers' Super Bowl-winning team.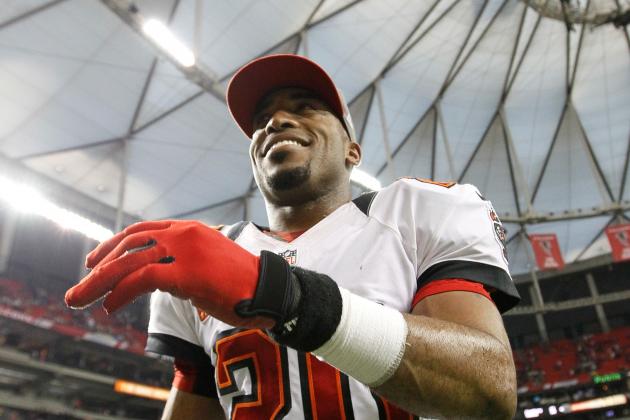 Kevin C. Cox/Getty Images

Ronde Barber's career has finally concluded.
He very well could become the third Buc from the 2002 Super Bowl team to make the Hall of Fame, though it won't be an easy task.
But nothing ever has been for Ronde. He was nearly cut from the Bucs early in his career, only to turn it into an experience that made him form a never-stop-working mentality.
He had his huge moments, none bigger than his interception of Donovan McNabb in the 2003 NFC Championship Game. He had a long run of greatness, making the All-Decade team for the 2000s and three All-Pro teams.
He became the first true slot corner, the only player to have over 40 interceptions and 20 sacks and he was a part of five Pro Bowl teams.
Of course, this was all trumped by the moment he had in February 2003, when his Bucs were finally crowned NFL champions.
Barber was the last player left from the Super Bowl team before he retired and finished with the most consecutive starts by a defensive back, battling through 16 seasons with the Buccaneers.
In that time, he likely put himself on the Bucs' Mount Rushmore and deserves the honor of being a Hall of Fame inductee.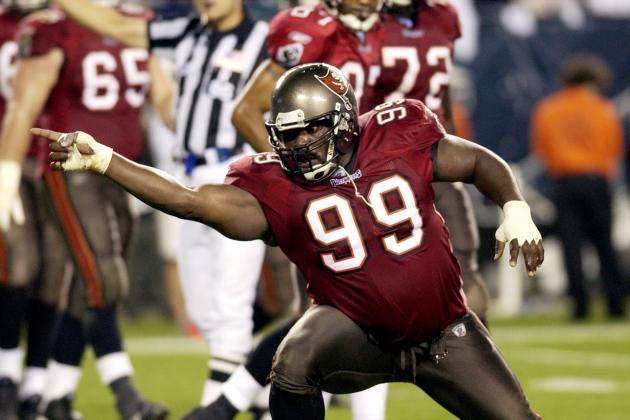 A. Messerschmidt/Getty Images

Warren Sapp brought an attitude, a vocal leadership and a swagger that was unprecedented at the time in Tampa Bay.
And he was also one of the greatest talents Tampa ever saw.
Sapp lived up to his high draft status (12th overall in 1995) and became the top interior lineman of his time. He finished with the second-most sacks in NFL history for a defensive tackle and was the upbeat, passionate leader that led the Buccaneers defense.
Sapp was recently chosen by the Hall of Fame for its class of 2013 and will also have his iconic No. 99 jersey retired by Tampa Bay this season—two honors that are well-deserved for one of the all-time greats.
During his playing days, Sapp was an intimidating presence that few others could match, finishing with seven Pro Bowl appearances, six All-Pro team selections and the accomplishment of making both the 1990s' (second team) and 2000s' (first team) All-Decade teams.
Sapp was easily one of the most beloved players by the Tampa Bay faithful and one of the most hated players by opposing fanbases.
That's the way Sapp wanted it, and he played through his entire career with that same unmatched personality.
On top of that, he will go down as the first player from the championship team of 2002 to make it into the Hall of Fame.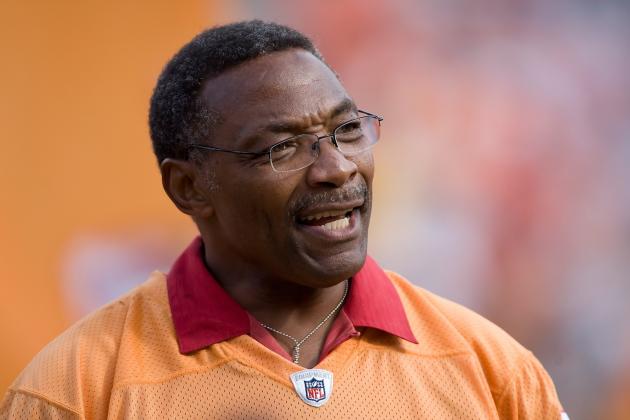 J. Meric/Getty Images

Everything started with this man: the dominant defense, the first playoff run, the introduction of fear in his opponents.
Lee Roy Selmon was the first true Buccaneer defender, paving the route for what would remain a defensive-minded team even decades later.
Selmon was a great leader, an upright man who not only heavily contributed on the field, but also in his community.
The six-time Pro Bowler was also a member of the All-Decade team of the 1980s and made three All-Pro teams. All his talent and hard work fully manifested themselves in 1979, when the Bucs earned their first trip to the NFC Championship Game and Selmon won Defensive Player of the Year.
Selmon made it in more than just football, though, showing a knowledgeable business side and a tender-hearted attitude toward his city away from his hard-hitting nature on the field.
In the end, his career culminated with a bust at the Hall of Fame in Canton and his No. 63 retired by the franchise.
He spent his entire career in Tampa, proved to be one of the best pass-rushers of his time and, as the first overall pick in Bucs history, made the most of his time in a city that will never forget him.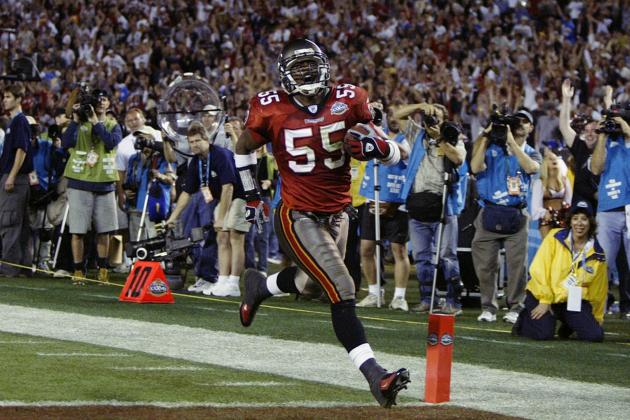 Al Bello/Getty Images

Possibly the best decision ever made by the front office of the Tampa Bay Buccaneers was trading up in the first round of the 1995 draft in order to select Derrick Brooks.
The move would pay dividends that they couldn't have even imagined on the day he was selected.
Brooks was the consummate pro, the strong leader, even the ultimate human being. And he could flat-out play football.
Some said he was too small for the linebacking position, but he did more than make up for his lack of size. Brooks never stopped, playing every game he could over his 14-year career, all of them coming with the same franchise.
He stacked up 11 Pro Bowl nods during his career and was chosen for nine All-Pro teams (five first-team and four second-team selections). The year the Buccaneers won their first and only Super Bowl, Brooks was appropriately named Defensive Player of the Year.
The 2000s were Brooks' playground, a decade when hardly any others at his position could come close to his production. This was justified by his selection to the All-Decade team.
On top of his incredible performances on the field, Brooks became the face of Tampa sports and never once let his city down.
He was always ready and willing to help in his community. There may never be another athlete in the Bay area that has the same impact that Brooks had and still has today.
He may not have been considered big enough for his position, but he made up for it with heart, determination and a will to be extraordinary.
And that's why he is the best player in the history of the Tampa Bay Buccaneers.