The most coveted high school basketball recruit in recent memory, Andrew Wiggins has made his decision, committing to Kansas next season according to Herald-Dispatch sports reporter Grant Traylor:
Andrew Wiggins will be attending Kansas

— Grant Traylor (@GrantTraylor) May 14, 2013
Prior to Tuesday's announcement, Wiggins had narrowed his list of schools down to four: Florida State, Kansas, Kentucky and North Carolina:
Today's the day !!

— andrew wiggins (@22wiggins) May 14, 2013
An 18-year-old small forward out of Toronto, Wiggins played his high school basketball at Huntington Prep in West Virginia, averaging over 23 points and 11 rebounds per game during his senior year in 2012-13.
At 6'8", 195 pounds, Wiggins possesses excellent size, but more importantly tremendous athleticism that allows him to shine with the ball in his hands as well on the defensive end of the floor.
All it takes is a few minutes on YouTube to understand why everyone is talking about Wiggins and his college decision:
Although Wiggins' immense talent has drawn comparisons to some of the game's greats, ESPN college basketball analyst Fran Fraschilla isn't so fond of them:
I'm sorry. I really like Andrew Wiggins but to compare to LeBron and KD is unfair. Not as physical as LeBron was or as skilled as KD was.

— Fran Fraschilla (@franfraschilla) May 14, 2013
That didn't stop Jacob Highfill from making another LeBron James comparison:
Andrew Wiggins is actin all LeBron with this decision. But its acceptable because he is so good at basketball. #TheDecision

— Jacob Highfill (@jacob_highfill) May 14, 2013
Unlike James, though, Wiggins will be forced to play a year of college hoops before taking his talents to the league. Still, you have to appreciate Luke Baker's suggestion, even if the current NBA rules make it impossible:
Andrew Wiggins should just sign with the bobcats now. We all know he'll be there in a year. twitter.com/LBAKES2424/sta…

— Luke Baker (@LBAKES2424) May 14, 2013
You would be hard-pressed to find a basketball expert who doesn't believe Wiggins will be the No. 1 overall pick in the 2014 NBA draft 13 months from now.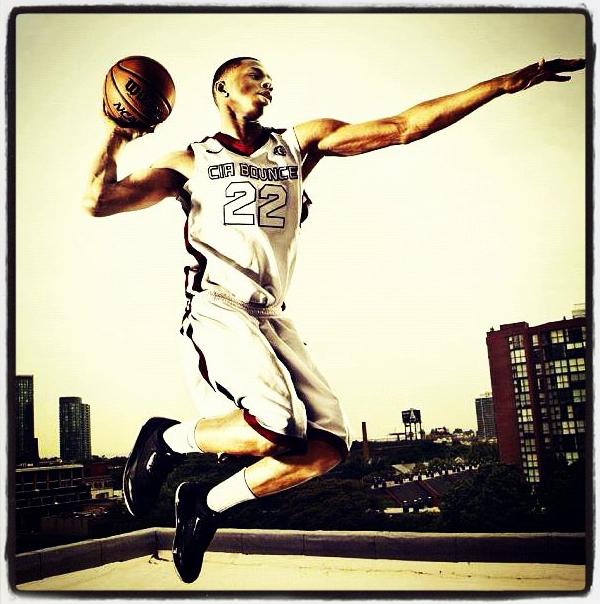 Wiggins announced his decision behind closed doors inside St. Joseph Central Catholic High School according to the Louisville Courier-Journal's Adam Himmelsbach:
Announcement site (that we're not allowed to enter): twitter.com/AdamHimmelsbac…

— Adam Himmelsbach (@AdamHimmelsbach) May 14, 2013
Himmelsbach also noted some other key observations prior to Tuesday's announcement:
Andrew Wiggins' parents have arrived here in Huntington. No, they weren't wearing any school colors.

— Adam Himmelsbach (@AdamHimmelsbach) May 14, 2013
A couple of policemen standing watch outside entrance to St. Joe's. I asked if they'd ever had to guard a college decision before. "Uh, no."

— Adam Himmelsbach (@AdamHimmelsbach) May 14, 2013
The decision, despite being extremely hyped, was very secretive. FOX Sports' Evan Daniels reported that as of Tuesday morning, Wiggins' parents didn't even know which school their son would choose, and neither did Kansas:
As of 10:00 this morning, Andrew Wiggins had not told his parents, according to his coaches.

— Evan Daniels (@EvanDanielsFOX) May 14, 2013
Per a source, Kansas did not know where Andrew Wiggins was headed prior to announcement.

— Evan Daniels (@EvanDanielsFOX) May 14, 2013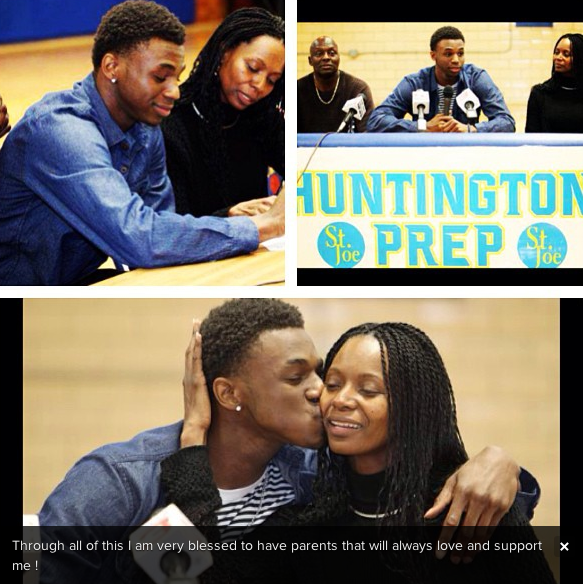 ESPN national recruiting analyst Dave Telep believed that Wiggins knew where he wanted to sign for some time before making his commitment on Tuesday (via the Topeka Capital-Journal's Austin Meek):
Telep suspected that Wiggins has known where he wants to play for "a week or so at least" but hasn't shared the decision with anyone outside of a tight inner circle.

"Andrew has been very private and very close to the vest," Telep said Monday morning. "I don't think right now he's told any of the schools."
The Herald-Dispatch's Grant Traylor posted a photo of Wiggins and his mother moments before he announced his decision:
Wiggins and mother Marita walking into the gym. twitter.com/GrantTraylor/s…

— Grant Traylor (@GrantTraylor) May 14, 2013
Here's a look at the relatively quiet scene at Wiggins' announcement (via Keith Morehouse):
Team Wiggins twitter.com/KeithMorehouse…

— Keith Morehouse (@KeithMorehouse) May 14, 2013
Right after Wiggins' announcement, Sporting News college basketball writer Michael DeCourcy broke down the decision:
Kansas has no returning starters. But it has a championship coach, the nation's best arena and now a potential superstar in Andrew Wiggins.

— Michael DeCourcy (@tsnmike) May 14, 2013
CBS Sports college basketball writer Jeff Goodman thought the move made sense as well:
Andrew Wiggins can be THE GUY at Kansas, will get plenty of exposure, also can learn from one of best coaches in the country. Makes sense.

— Jeff Goodman (@GoodmanCBS) May 14, 2013
Here's ESPN's Seth Greenberg breaking down Wiggins' decision (via Jeremy Crabtree):
Video: @sethonhoops breaks down what it means for #KU to land Andrew Wiggins. es.pn/16b4hX2

— Jeremy Crabtree ESPN (@jeremycrabtree) May 14, 2013
RJ Young points out that family may have played a big role in his decision:
Andrew Wiggins' brother, Nick, is a senior guard at Wichita State. There's nothing like having family close by.

— RJ Young (@RJ_Young) May 14, 2013
The reaction was one of pure joy and excitement in Lawrence on Tuesday, as ESPN noted:
That loud roar you just heard is from Lawrence, Kansas. #1 recruit Andrew Wiggins has chosen to play for Bill Self and the Jayhawks.

— ESPN (@espn) May 14, 2013
Another top-flight Kansas recruit, Wayne Selden Jr. wasted no time welcoming Wiggins to Kansas:
ESPN's Darren Rovell breaks down the financial benefits of Wiggins' decision:
Betting Kansas will get Andrew Wiggins a # in next couple weeks and tell Adidas so jerseys will be in stores by season's start

— darren rovell (@darrenrovell) May 14, 2013
The Toronto Star's Daniel Dale put Tuesday's announcement into proper perspective:
"Andrew Wiggins to Kansas" is the #3 worldwide trend. This stuff will never stop being cool to my Thornhill self.

— Daniel Dale (@ddale8) May 14, 2013
After all, you know you're a big deal when The Iron Sheik is tweeting about you:
The Andrew Wiggins go to the Kansas he go see my friend the Harley Race and maybe one day he become Iron Sheik class

— The Iron Sheik (@the_ironsheik) May 14, 2013
Despite staying out of the spotlight and keeping his college choice a secret, Wiggins' brief announcement dominated the Twitter discussion on Tuesday afternoon.
And while Wiggins' long-awaited decision has finally come, the speculation as to how he and the Jayhawks will fare next season has only begun.
Let the projections begin.
Follow Bleacher Report Featured Columnist Patrick Clarke on Twitter.