Colin Kaepernick vs. Russell Wilson: Which QB Is the Best in the West?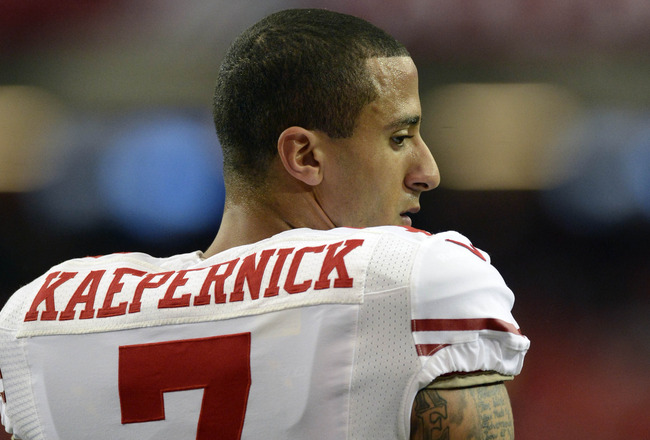 John David Mercer-USA TODAY Sports
The NFC West, once considered a joke among the NFC, is now the new 'black and blue' division. Scratch that, this could be even bigger than the old classic 'black and blue' division that once dominated the headlines.
We all know about the punishing defenses within this division, and even the strong rushing attacks, but what about the quarterbacks? Oh, the days of Kyle Boller and Troy Smith still linger in my mind, but man, what a transformation this division has undertaken in the quarterback department.
Now, Sam Bradford and Carson Palmer don't strike fear in anyone's heart, but at least both quarterbacks are respected players with some history of success, no matter the length. But forget the Arizona Cardinals and St. Louis Rams, for now, at least.
Instead, we should focus on two up-and-coming stars in Colin Kaepernick and Russell Wilson, and their respective teams.
The San Francisco 49ers and Seattle Seahawks both have young quarterbacks and young rosters, which should make this rivalry one of the best in football for at least the next several years.
We're talking about a rivalry that could match or even exceed the Bradshaw-Staubach rivalry. Who knows, we may even see Kaepernick-Wilson exceed the Brady-Manning rivalry.
The 2013 season can't come soon enough. Here is a breakdown comparison of Colin Kaepernick and Russell Wilson. Who's the best in the West?
Stronger Arm
Christian Petersen/Getty Images
Russell Wilson has a very lively arm. It's a bit surprising considering his height (5'10''), but the former Wisconsin quarterback can sling it.
However, I have to give the edge to Colin Kaepernick. The guy can sling it 70 yards with a simple twitch of his wrist. Maybe I'm exaggerating, but the former Nevada quarterback is already considered a gunslinger.
Not surprising, considering one of his favorite quarterbacks growing up was the infamous Brett Favre. Favre, as we all know, was the quintessential gunslinger.
Edge: Colin Kaepernick
Mobility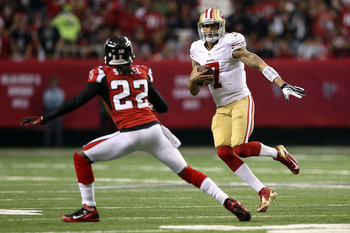 Streeter Lecka/Getty Images
Both Wilson and Kaepernick rely on their legs to make plays, However, both players use their legs for different reasons.
Wilson uses his mobility as a means of escape. The Seahawks didn't really design a ton of run plays for Wilson, unless they were goal line carries. I
On the other hand, Kaepernick does both. You can design run plays for the young quarterback, and he can scramble. His long legs aid him in terms of covering ground, and despite his length and height, Kaepernick is extremely agile.
Kaepernick doesn't have the straight line speed to match up with track players like Michael Vick and RGIII, but he is a far more versatile runner than both quarterbacks.
Edge: Colin Kaepernick
Accuracy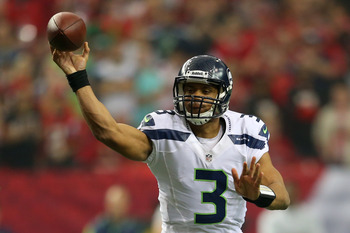 Mike Ehrmann/Getty Images
Colin Kaepernick is still a developing quarterback. Despite his wonderful start last year, the young quarterback is still not a finished product.
Russell Wilson, despite being in the league for only one season, is the more polished quarterback between the two.
For such a young quarterback, Wilson has extraordinary accuracy. His accuracy first caught my eye in the 49ers-Seahawks week 7 matchup in 2012.
Wilson made some pinpoint throws in the Seahawks 13-6 loss to the 49ers. A few them resulted in drops, but you can see the textbook delivery in many of those throws.
Edge: Russell Wilson
Football IQ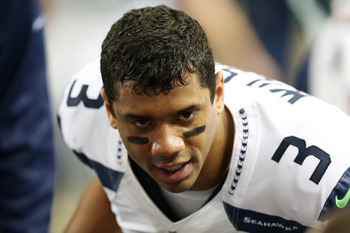 Streeter Lecka/Getty Images
Both players have good heads on their shoulders. I love how both quarterbacks not only have the physical qualifications, but also the mental capacity to understand the complexities of football.
I'm not here to judge who's smarter. However, the prevailing thought is that because Wilson is farther in his development than Kaepernick, it points to superior intelligence.
That couldn't be farther from the truth.
Kaepernick isn't your typical jock. His football IQ is through the roof, which should aid his development over the years.
Edge: Tie
Upside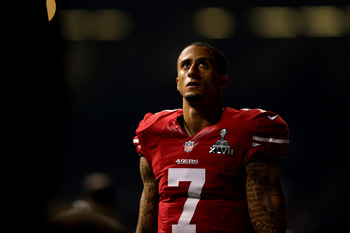 Mike Ehrmann/Getty Images
The more polished quarterback will always suffer in comparison to the raw prospect. We all covet something we haven't seen yet.
That's the situation we face with Colin Kaepernick and his limited starts. Kaepernick has only started 10 games, while Wilson has played an entire season.
This is a weird situation to begin with, considering Kaepernick is heading into his third season, while Wilson is only a one year pro.
Edge: Colin Kaepernick
Overall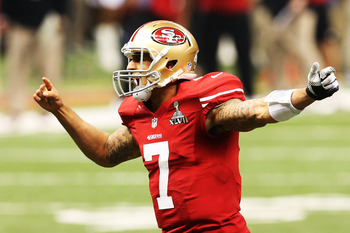 Ronald Martinez/Getty Images
Colin Kaepernick comes out victorious. When you add his raw ability plus his considerable potential/upside, this is a quarterback that could dominate the league for the next decade.
I firmly believe Wilson will be a stud, but if Kaepernick can keep developing, he will be one of the most versatile and explosive players that we have ever seen on a football field.
Kaepernick can truly revolutionize the quarterback position.
Keep Reading

San Francisco 49ers: Like this team?