After Orb took the 2013 Kentucky Derby earlier this month, all eyes are firmly fixed on the second leg of the Triple Crown—the Preakness Stakes at Pimlico Race Course.
Viewed as the easiest leg of the Triple Crown, the Preakness Stakes will provide a great chance for Orb to take a huge step towards clinching the illustrious prize and become the first Triple Crown winner since 1978. However, as strong a chance as it might provide for Orb, it also provides a great opportunity for the other horses in the field to knock off the overwhelming favorite for this event.
Which horses are most likely to take the second leg of the Triple Crown?
Read on for a full breakdown of the top contenders and all the need-to-know information for the big race so that you don't miss a minute of the prestigious event in 2013.
| Date | Start Time | Watch | Live Stream |
| --- | --- | --- | --- |
| Saturday, May 18, 2013 | 6:20 p.m. ET | NBC | NBC Sports |
Pimlico Race Course, Baltimore, Md. ($1 million purse, 1 and 3/16 miles)
2013 Preakness Stakes: Top Contenders to Watch For
Patrick Smith/Getty Images
Departing
Having not run at the Kentucky Derby due to injury, Departing is somewhat of an unknown factor heading into the prestigious race this year. His impressive performances in the Louisiana Derby and the Illinois Derby suggest that he'll definitely be a contender here, but it is still early days.
Departing definitely has the skills and the pedigree required to succeed at the Preakness; the biggest question remains as to whether he can beat the other top horses that will take off this weekend.
He should be suited by the shorter track here.
Orb
Orb dominated the Kentucky Derby—winning by a comfortable margin on a wet track in a come-from-behind victory. And if he can do that, he is seemingly in a great position to be able to win easily again here, with the shorter track and better track conditions likely to help the Derby champion.
Orb has shown that he can win from back in the pack or out in front, and with Joel Rosario on board, he's more than likely to be a real contender again in this one.
He'll be very tough to beat if he gets in front down the straight.
Goldencents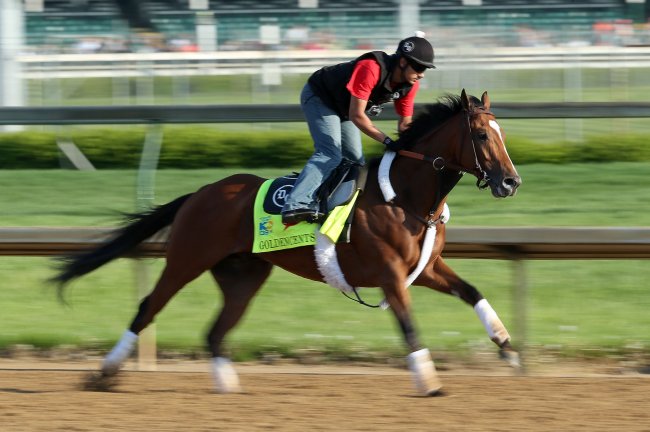 Andy Lyons/Getty Images
Goldencents flopped horribly at Churchill Downs, but there's no doubting he'll be back here. He'll be helped a great deal by the shorter track and some wisdom as to how much stamina he has—something that Kevin Krigger found out first hand in the 2013 Kentucky Derby.
Goldencents has a great turn of speed when needed and, unless the pace is ridiculously fast again, should be able to make a strong down when they turn for home.
His pedigree is incredibly well-suited to sprinting, and it will show here.
Whether he can take down Orb, however, still remains to be seen.
Hit me up on Twitter for more sports goodness: Follow @dantalintyre