Arsenal vs. Wigan: 5 Bold Predictions for the Emirates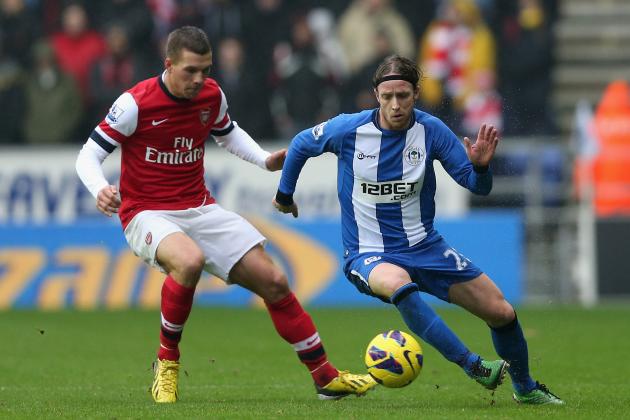 Clive Brunskill/Getty Images

Arsenal and Wigan are set to play a pretty spicy game on Tuesday.
The Gunners need to win the final two games of the season to keep Champions League qualification in their own hands, while Wigan absolutely have to win out to have hope of staying up in the Premier League.
So it's safe to say there will be ample motivation on both sides of the ball.
Without further ado, let's look at five things that will happen when the two sides meet at the Emirates.
Begin Slideshow

»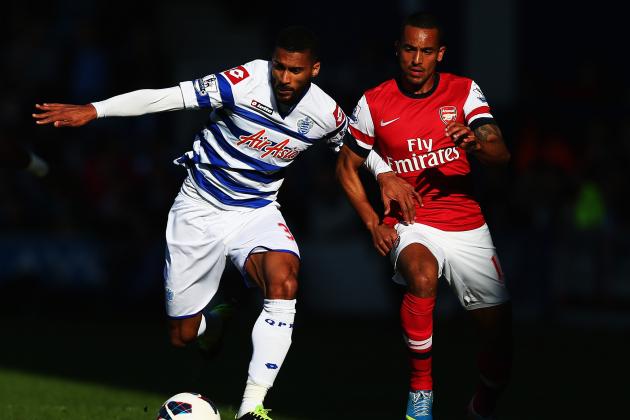 Clive Rose/Getty Images

Arsene Wenger has said that he believes Lukas Podolski is capable of leading the line for Arsenal.
Not in Podolski's current state, though. He said he has needed painkilling injections to get him through recent matches, and his atypically ineffectual performances up front during Arsenal's last two games reflect that.
Enter Theo Walcott.
His ache to play up front is widely known. And he's beginning to find some form, scoring against both Manchester United and QPR in recent weeks.
Why not give him a chance at striker? It will improve his morale and likely get some results at the same time. I'd tell Walcott to get on up there and bag a goal or two.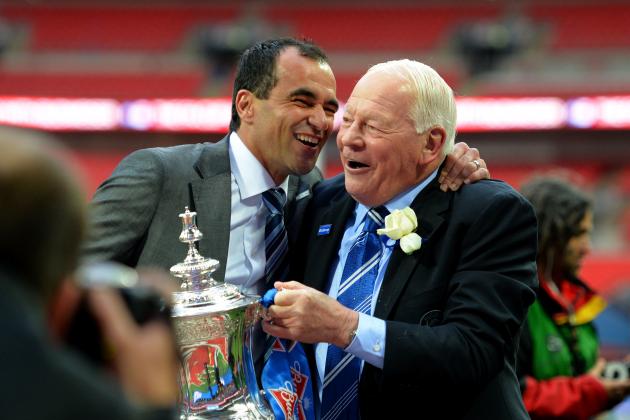 Shaun Botterill/Getty Images

Regardless of whether or not Wigan beat Arsenal to keep their hopes of Premier League survival alive, Roberto Martinez has likely earned himself some job offers ahead of next season.
Everton, in particular, will be very interested in the Spaniard's services.
It just makes too much sense. With David Moyes stepping up to Manchester United, the Toffees will be looking for a manager who has a track record of success with a small budget and encourages quality football.
Martinez fits that bill perfectly. His profile has never been higher than it is right now, and Everton would not have to pay over the odds to get him. It certainly looks to be on the cards.
Shaun Botterill/Getty Images

Both Arsenal and Wigan play a very open, free-flowing, counterattacking style of football.
Neither side will change their natural tendency when goals are vital and each point is invaluable.
Plus, the game is likely to be stretched during the final half-hour; Wigan exerted a tremendous amount of energy in keeping up with Manchester City for an emotionally exhausting 90 minutes on Saturday on Wembley's big pitch. That's not to mention the drain of the lengthy celebrations.
When the adrenaline wears off and the endorphins settle down, it will be difficult for the Latics to keep their defensive shape and run with a very well-rested Arsenal side during the late stages of the game.
However, if the Gunners get too overaggressive, Wigan are liable to pounce. Both goalkeepers will be busy.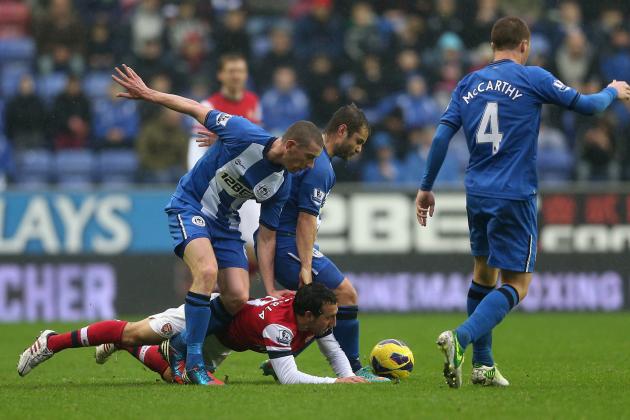 Clive Brunskill/Getty Images

Let's face it: Arsenal and Wigan's respective positions in the League table mean absolutely nothing at the moment.
Both teams have everything to play for and nothing to lose. And this is the Latics' time of year.
The Gunners have made a habit of forcing themselves to come back from unfavorable positions early in games. While their renewed defensive solidity has mitigated the porousness recently, this is a side prone to the occasional leak.
As we saw last weekend, when Wigan are up for the task, they can take the game to any Premier League side, regardless of the quality (or wages) of their players—especially if Callum McManaman is still in scintillating form.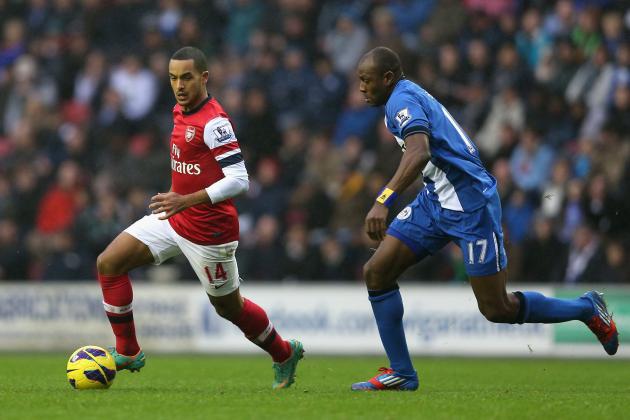 Clive Brunskill/Getty Images

"That's not bold, you're merely stating what all the oddsmakers think!" I get it, have your say in the comments.
The bottom line is that this will be a very difficult game for Arsenal to win. There is not a single person, excluding a mentally warped Wigan season-ticket-holder, who does not believe that the Gunners are the better side. That much is uncontested.
But Wigan will have all the momentum behind them, and while Arsenal will have no trouble getting themselves up for this game, it will be difficult to get past a side that is so fiercely loyal to a manager that looks to be leaving in the summer.
Plus, there's the whole relegation factor.
It was tough for Arsenal to get past the Latics during their first meeting of the season. Only two Mikel Arteta penalties saw them through that game.
While there should be a bit more excitement this time around, expect a one-goal margin of victory, at best, for an Arsenal side that will send its fans to their cardiologists for yet another week.