Dallas Cowboys: 5 Players Poised for a Breakout Campaign in 2013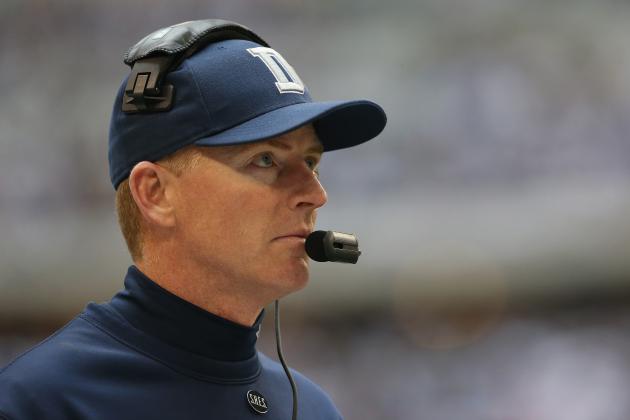 Ronald Martinez/Getty Images

It's always nice to be pleasantly surprised from players who produce unanticipated results. Every season presents itself with new opportunities, and 2013 is no different. One of the hardest things to predict in any sport is when a player is ready to meet the crossroad of hard work and success, but in order for any team to succeed this is a must.
The Dallas Cowboy are no different, and this season, which is a rather crucial one, they will need another group of players to step up their game and produce some definitive results. But just who exactly is ready to enjoy a breakout campaign?
It's easy to identify which players need to produce a breakout season for the benefit of the team, but predicting them is entirely different. Will past performance be enough to predict future success? Or does this go a little deeper?
Both questions are hard to answer but the solution lies somewhere in between. While we've seen glimpses of greatness from one player, we see potential in another and we reasonably expect a logical progression in others.
But this is what makes the dawn of a new season exciting, and it's time to look at which players are in line for breakout seasons.
Begin Slideshow

»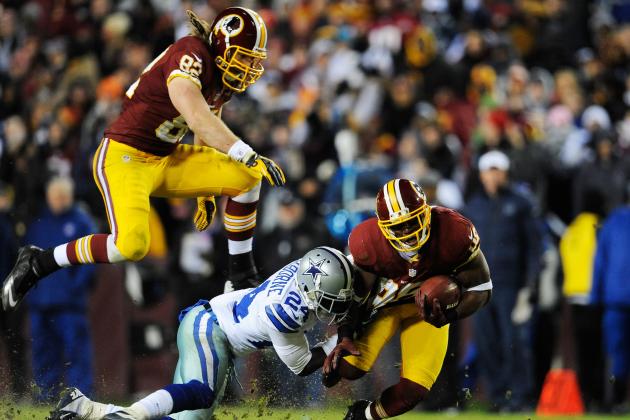 Patrick McDermott/Getty Images

The Cowboys should not regret moving up in the 2012 draft to select Claiborne, but last season proved to be an up-and-down year for this potential shutdown corner. When you reflect on Claiborne's season it's easy to see the greatness he possesses, but he did suffer the growing pains most rookie corners go through.
One image that's a little hard to shake was his battle with Riley Cooper. The Cowboys would go on to win the contest, but Claiborne was flagged multiple times by an inferior player and Cooper gave him absolute fits.
Overall, Claiborne is playing a demanding position in a pass-happy league that requires you to face the best-of-the-best every week. Combine that with the pressure of being the sixth overall pick of the Dallas Cowboys and I think Claiborne held up well.
But the Cowboys will need more than one interception and eight pass deflections. It's time for Claiborne to thrive in the new 4-3 alignment and be that lockdown corner we expect him to be, and I believe that's what lies ahead for him in 2013.
Having another offseason to gain some strength and reflect on his rookie campaign will only make him better, and that's what the Cowboys need from him. The new defense will allow him to be more physical at the line of scrimmage, play more press and not have to think as much as Rob Ryan wanted him to.
Simplicity will make him better and that's why he's primed for a breakout season.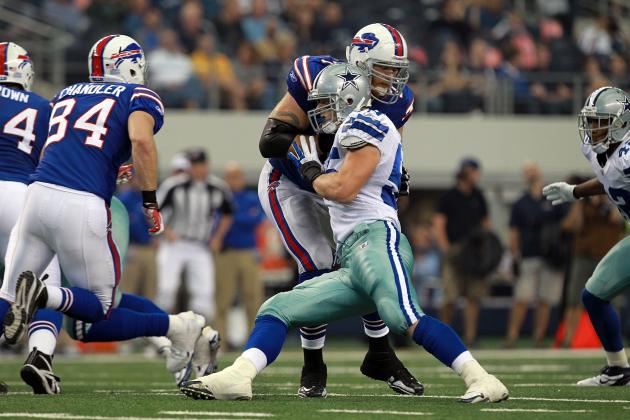 Ronald Martinez/Getty Images

In 2012 Albright showed how his versatility could be an asset for this defense. In 2013 he will show how that versatility will be important for this defense. With the Mike and Will linebacker positions pretty much set with Bruce Carter and Sean Lee, the Sam linebacker position remains very much in play.
I know that Justin Durant was added to the team in the offseason, but if the Cowboys really want to preach competition at all positions then Albright has to be given consideration. Although he is an under-the-radar player, Albright filled in nicely when injuries hit this team hard.
He showed a knack for being around the ball, he's strong, physical and played with a hard-nosed mentality. Albright is valuable simply for the number of positions he can play. He can play defensive end, outside linebacker and even inside as well. His strong suit may not be coverage, but he makes up for it with instinctive play.
Having a 6'5", 260-pound player with versatility is just what Monte Kiffin needs in order to move certain personnel around. It's hard to envision his final role with this team, but if Albright can continue to build off of his 2012 campaign, he might even surpass breakout status.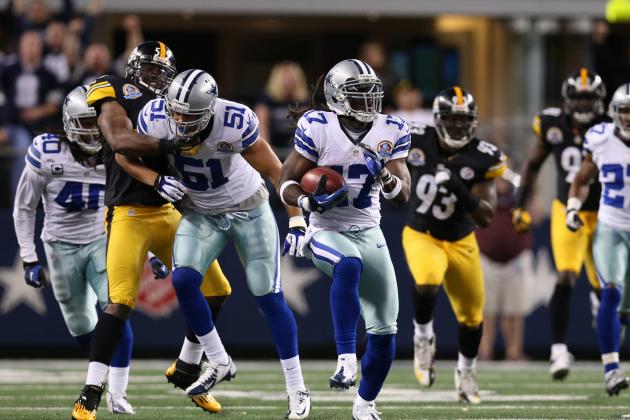 USA TODAY Sports

I wouldn't automatically assume that Terrance Williams is primed for the third receiver role just yet. It's hard enough for a young receiver to make the jump to the NFL ranks and even first-round picks fall into this category.
But in 2012 Dwayne Harris displayed every reason to believe that the sky is the limit for him in 2013. His rise started off with a punt return for a touchdown in Philadelphia and he just seemed to gain more and more momentum until the season ended.
Harris continued to make plays in the return game, but he also started to develop nice chemistry with Tony Romo and becoming a trusted target in the receiving game. Harris could be looking at the addition of Williams for his own personal motivation and I expect that to be the case.
Harris is not only on the brink of becoming a more prominent figure in this offense but he may even push Miles Austin if injuries or inconsistency continue to plague him. Harris should be viewed as a breakout player in 2013 regardless of who is added to the picture. For this team, it's about making plays.
And Harris has demonstrated a propensity for that.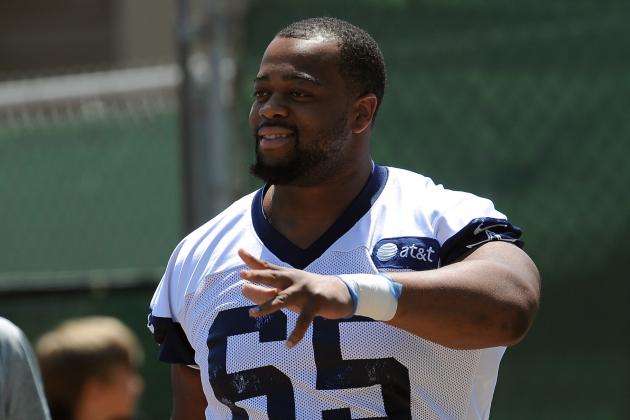 Jayne Kamin-Oncea-USA TODAY Sports

Leary isn't ready to be anointed anything just yet for the Dallas Cowboys, but his presence has to make you wonder if the guard position wasn't addressed because of him. Leary was Jerry Jones' personal undrafted free-agent mission in 2012 and he got his man.
Unfortunately, Leary did not see the field initially, but he was eventually added to the 53-man roster from the practice squad and saw some playing time in 2012. The Cowboys never shied away from his knee concerns coming out of Memphis, and now may be the time for the 6'3", 325-pound Leary to repay them.
Sometimes you have to go out on a limb or have a feeling about a player and his expectations, and Leary is that player in 2013. With Mackenzy Bernadeau coming off another surgery and lingering questions remaining about the offensive line, Leary could make his push right now.
There is a lot to like about his game and his strength and footwork are two of them. Going back and looking at some game footage, you see a player that moves well laterally, he keeps his head on a swivel as he looks for combo blocks and he does a good job at finding linebackers.
And in the process the Cowboys may have solved a problem along the interior offensive line.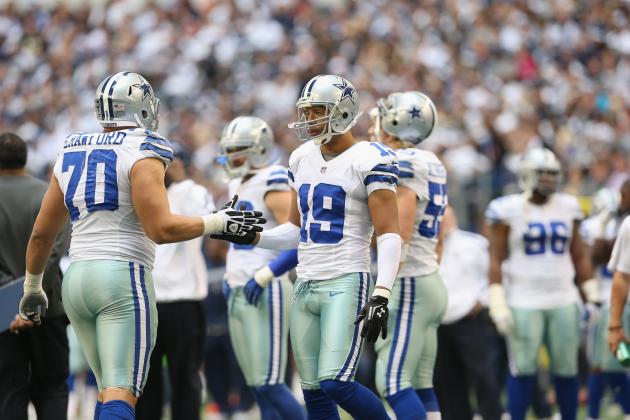 Ronald Martinez/Getty Images

Third-round picks need to start in the NFL and Tyrone Crawford is no exception. The problem is that with the front four pretty much set, where does that leave Crawford? The answer is in his value as a rotational player.
Crawford is an ideal defensive end in Monte Kiffin's 4-3 scheme, and that alone combined with his ability will put him right in the mix at a significant role. Crawford also has the perfect mentor in Rod Marinelli to harness his talent and get the most of his skill set.
For a young player like Crawford, it's the perfect situation. He gets to expand his role in an attacking style of defense and utilize his run containment skills, and he gets coaching from two of the best defensive coaches in the NFL.
The Cowboys will need a lot out of their defensive line in 2013 and Crawford's poised to do just that. Just watch and see.