Stock Up, Stock Down for Mets' Top 10 Prospects for Week 6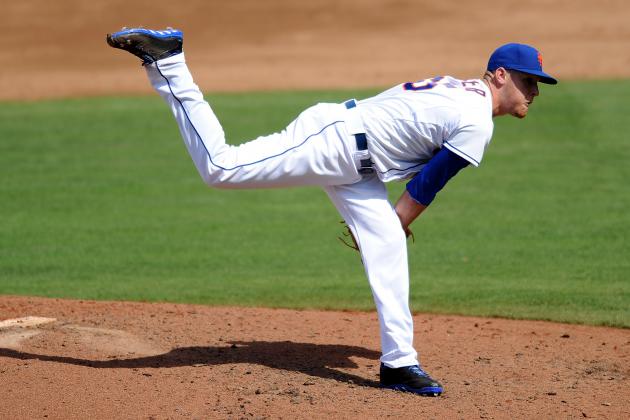 Steve Mitchell-USA TODAY Sports

The Mets' inconsistencies have continued through May as they split a short two-game series with the White Sox before losing three of four to the Pirates. The Mets will now travel to play the Cardinals and Cubs this week.
No one on the Mets, besides Matt Harvey and David Wright, has been particularly consistent, and with John Buck cooling off, the Mets have struggled mightily to score runs.

Down on the farm, the Mets' prospects have kept on progressing, or at least those who are healthy have been doing so. Some of the Mets' other top prospects have battled injuries, which has limited their development.
Here is a look at how the Mets' top prospects have been doing the last week.
All statistics are from baseballreference.com/minors and are current as of May 12.
Begin Slideshow

»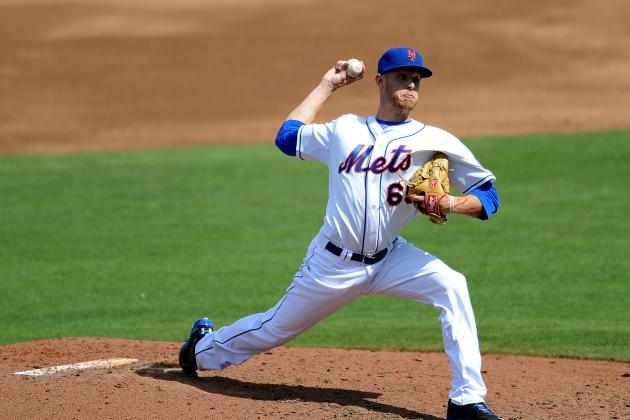 Steve Mitchell-USA TODAY Sports

Stats: 8 GS, 43.1 IP, 40 H, 21 R, 18 ER, 18 BB, 47 K
Stock: Up
Despite a rough patch for Zack Wheeler in the middle of April, he has been pitching much better this month. He has lowered his ERA from 4.80 down to 3.74 within one week and could possibly be on a faster track to the major leagues.
Not only is Wheeler pitching better, but, aside from Matt Harvey, the rest of the Mets' starting rotation has struggled lately, and it could use a boost from a notable prospect like Wheeler. It will be interesting to see if the Mets will pull the trigger and bring up Wheeler in the near future.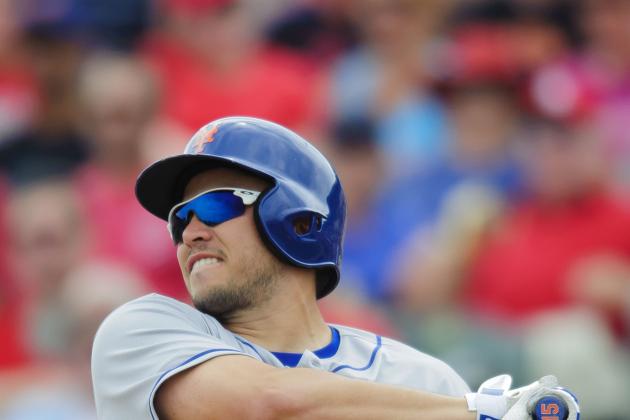 Steve Mitchell-USA TODAY Sports

Stats: 12 G, .250 BA, 1 HR, 8 RBI, 12 BB, .901 OPS
Stock: Even
Unfortunately for the Mets and Travis d'Arnaud, the young catcher suffered a recent foot injury, according to Adam Rubin of ESPN.
D'Arnaud had gotten off to a decent start this season, but the sample size is rather small to really judge how well he has been doing. D'Arnaud's eventual promotion to the Mets will most likely get delayed until later in the season, but hopefully he will be able to get past this injury and stay healthier in the future.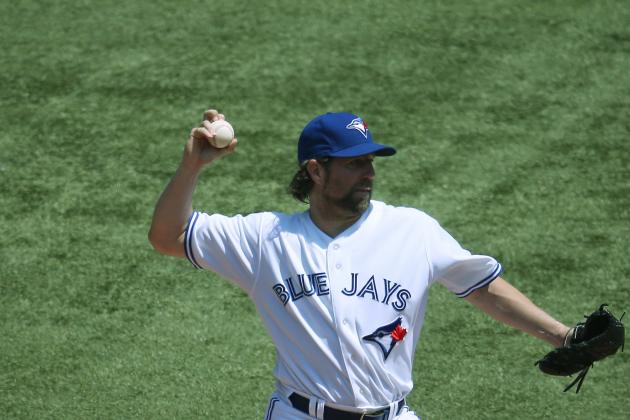 Tom Szczerbowski/Getty Images
Syndergaard was an important piece in the R.A. Dickey trade.
Stats: 7 GS, 38.0 IP, 35 H, 13 R, 11 ER, 13 BB, 38 K
Stock: Even
Noah Syndergaard's last start was very good. He threw seven innings and gave up just one earned run and four hits. He also had one walk and seven strikeouts as he continues to pitch well for the Single-A St. Lucie Mets.
Syndergaard continues to be on a good pace for a Double-A Binghamton promotion later this season.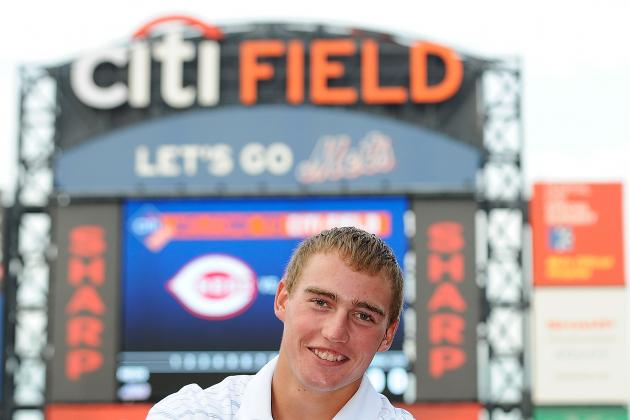 Patrick McDermott/Getty Images

Stats: 23 G, .322 BA, 1 HR, 11 RBI, 2 SB, 12 BB, .854 OPS
Stock: Even
Unfortunately, Brandon Nimmo is yet another Mets prospect who will be on the disabled list for some time. Nimmo has not played in a game since April 29 due to a hand contusion, but hopefully he will not be sidelined for too long.
Nimmo's season had gotten off to a very good start with a .322 average and a .421 OBP in his first 23 games.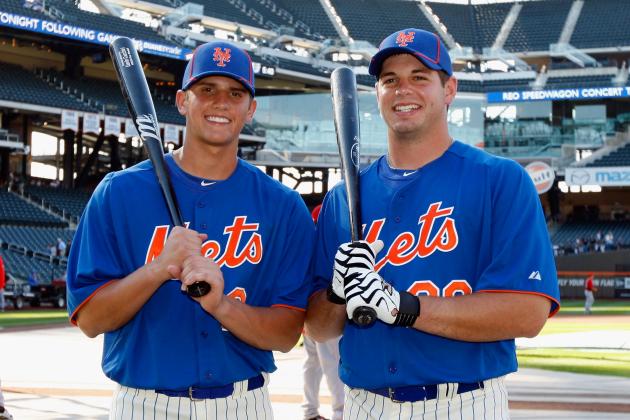 Mike Stobe/Getty Images

Stats: N/A
Stock: Even
Gavin Cecchini was the Mets' 2012 first-round draft pick, but the young shortstop has yet to play in a game because the Brooklyn Cyclones' season does not begin until June.
Please check back in the future.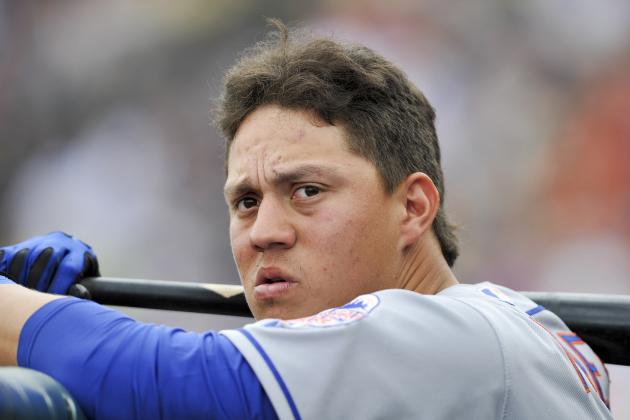 Jerome Miron-USA TODAY Sports

Stats: 35 G, .272 BA, 3 HR, 22 RBI, 11 BB, .764 OPS
Stock: Even
Wilmer Flores has continued to hit well this season. He finally showed some more power with two home runs in the past week as well. Flores' .322 OBP may sound low, but that is because he has not drawn a particularly large number of walks. An increase in walks later this season would be really good to see from Flores.
The major league opportunities for Flores just aren't there right now for him. With that being said, he could become valuable trade bait by July.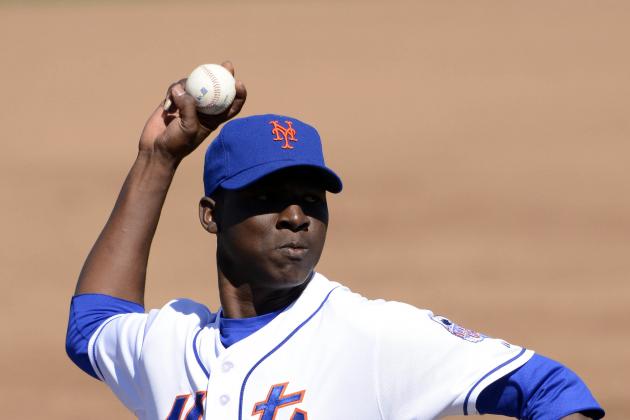 Brad Barr-USA TODAY Sports

Stats: 7 GS, 40.2 IP, 32 H, 19 R, 16 ER, 6 BB, 48 K
Stock: Even
Rafael Montero has had probably the best season so far of any Mets prospect. However, he struggled a bit in his most recent start by giving up three runs and taking the loss despite only allowing three hits and striking out eight.
One mediocre start should not have a huge effect on Montero's development. He is still having a great season and should continue to open more eyes as baseball scouts and fans begin to notice him more and more.
Montero just might be the Mets' secret weapon of the future, and once he gets to the major leagues, he could make the Mets' starting rotation that much better.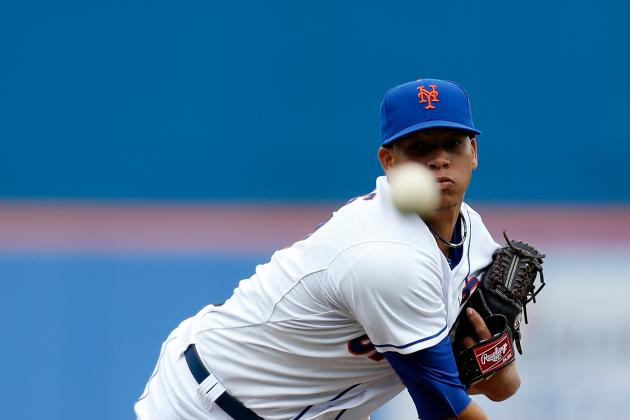 Chris Trotman/Getty Images

Stats: 5 GS, 26.2 IP, 19 H, 7 R, 7 ER, 6 BB, 21 K
Stock: Up

After a short stint on the disabled list, Hansel Robles is now healthier and had a good start in his most recent outing. Robles earned his third win and gave up one earned run and two hits with five strikeouts that game.
Like Montero, Robles is another one of the Mets' less notable pitching prospects, but his 3-1 record, 2.36 ERA and 0.938 WHIP have shown that he could have a bright future ahead of himself.
Robles isn't as far developed compared to some of the Mets' other pitching prospects, but with time, Robles could possibly become another great starter for the Mets in the future.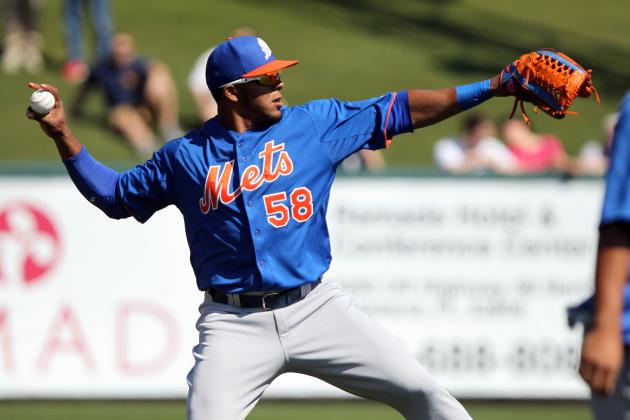 Kim Klement-USA TODAY Sports

Stats: 27 G, .272 BA, 4 HR, 18 RBI, 7 SB, 6 BB, .821 OPS
Stock: Even
One of the Mets' top outfield prospects, Cesar Puello has continued to hit well. He hit three home runs in the past week which shows that the speedster has power as well.
Puello's biggest offensive weakness, drawing walks, remains a concern. If Puello draws more walks, he will raise his OBP and have more opportunities to steal bases and score runs. That is what a team wants from their leadoff hitter, which is what Puello would be ideally.
Six walks in 102 plate appearances is not particularly good, and patience is something Puello really needs to develop in order to keep rising through the minor league system.
To Puello's credit though, his OPS has risen from .775 to .821 in the past week, which is a good sign for his chances of getting promoted to Triple-A Las Vegas later this season.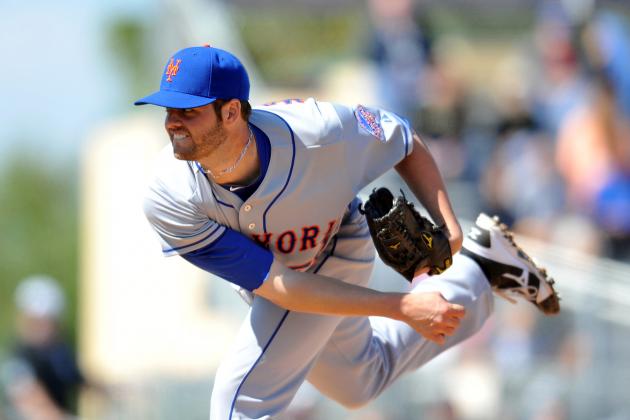 Steve Mitchell-USA TODAY Sports

Stats: 3 GS, 13.2 IP, 15 H, 7 R, 3 ER, 2 BB, 14 K
Stock: Even
Cory Mazzoni missed most of April with a stint on the disabled list due to a right elbow injury.
Mazzoni has since made two starts. He struggled in the first of the two by giving up five runs in just three innings pitched and taking the loss. In his most recent start though, Mazzoni gave up just one run in 5.2 innings pitched and had five strikeouts as well.
Mazzoni is now 1-1 with a 1.98 ERA and should continue his development if he stays healthy.