WWE Extreme Rules: The Not-So-Extreme Matches in the History of the PPV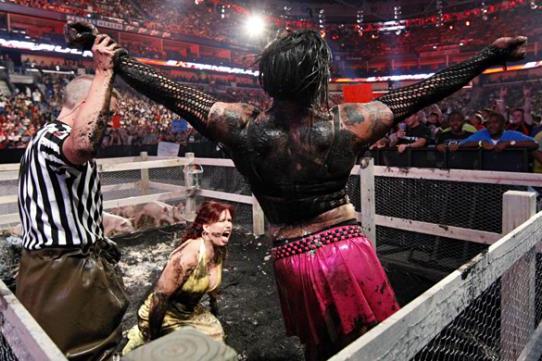 wwe.com
The WWE Universe pretty much knows the backstory of how Extreme Rules came about. Due to the revived craze of fans wanting to see ECW, Vince McMahon decided to acknowledge the flame that ECW hardcore fans kept ablaze.
The rich history of the small promotion spawned a pay-per-view called ECW One Night Stand. Due to the success of that PPV, WWE decided to keep the extreme concept and commence a series of pay-per-view events named Extreme Rules.
Although there have been some great matches included on the past cards, conversely, there have been some matches that just simply disgraced the entire concept of "extreme."
Here are some not-so-extreme matches that occurred throughout the history of the PPV.
Note: Yes, the Country Whipping match was horrible, but at least the concept was "extreme" qualified.
Begin Slideshow

»
In the first installment of the Extreme Rules series, WWE decided to add their own twist to what "extreme" looks like. Unfortunately, it was in the form of a handicap hog pen match, pitting Santina Marella against Vickie and Chavo Guerrero.
Although Jerry Lawler is the king of cheesy one-liners, he is certainly right about this match, but in a different context.
It stunk.
Everything about this match spat in the face of what ECW was all about. Moreover, to include it in an Extreme Rules-themed PPV made it an even bigger embarrassment.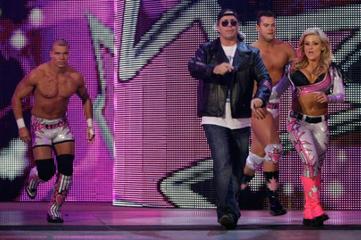 wwe.com
To give due credit, this match was not a horrible match. In fact, it propelled the Hart Dynasty into being a legitimate top babyface tag team for a number of months, as they won the tag team championship shortly after this match at Extreme Rules.
However, it does not take away from the match stipulation itself.
The match was a gauntlet match to determine which team would have a future tag team title match against ShowMiz.
Not so extreme.
This match could have easily had some kind of gimmick included, staying true to the purpose of the PPV. Instead, we were made to believe that a gauntlet fit the bill of extreme.
Now, the Lumberjack match is one of the oldest gimmick matches in wrestling history. A match that will never become extinct, it has created many memorable moments throughout its existence.
But is it extreme? Not so much.
However, Extreme Rules 2011 sure thought it was.
The match between then-tag team champions Kane and Big Show against The Corre was anything but Extreme. Maybe if it was billed as an Extreme Lumberjack Match with the lumberjacks holding weapons, it could've worked.
Unfortunately, we just got a normal, not-so-extreme match that defied the point of the PPV.
Did you forget this match? Well, I surely don't blame you.
There were so many things that just were not good about this match. First off, it was a relatively impromptu match between Brodus Clay and Dolph Ziggler. Second, Brodus Clay was on his big push at the time, and he won. Third—and most important—there was absolutely no stipulation in this match.
Yep—just a normal singles match. At Extreme Rules.
How extreme.
While I was not in opposition of the Brodus Clay push, using Dolph Ziggler as a pawn was not good booking whatsoever. Just look at how the tables have turned in the past year.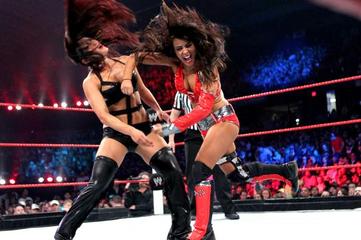 wwe.com
The second singles match of Extreme Rules 2012 was Nikki Bella defending her Divas Championship against a mystery opponent. While many expected the return of Kharma, instead we got a different return.
The under-anticipated return of Layla.
When she came out, the majority of the audience was disappointed, and the reaction was quite flat. What made it even worse was that she actually won the title at the PPV, with another lackluster reaction.
Seemingly, Layla has yet to recover from this unexciting return.
As far as the match, no gimmicks were involved. Just another singles match at an Extreme Rules PPV.
Undoubtedly, this was the best not-so-extreme match out of the bunch, pitting newly-crowed World Heavyweight Champion Sheamus against Daniel Bryan. The concept was a two out of three falls match.
Although it was a good match, two out of three falls is not extreme. A good stipulation? Yes, but Extreme Rules is not about good stipulations. It is about extreme rules.
Remember the Three Stages of Hell match between Steve Austin and Triple H at No Way Out 2001? That would have been a perfect substitution for this match.
Instead, we were forced to believe that two out of three falls is an "extreme" stipulation.
Not so much.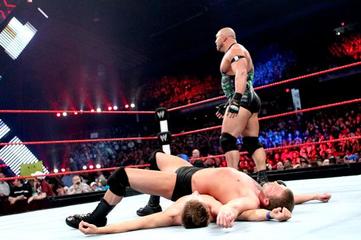 wwe.com
An extreme handicap match? Nope, just a handicap match. A handicap match worth watching? Nope, just Ryback vs. "Two Local Athletes."
What a waste of time.
This match had no reason whatsoever to be included in the pay-per-view. Seemingly, the WWE ran out of ideas to include within the 2012 Extreme Rules PPV, because only half of the matches were undisputed extreme-themed matches.
This one was surely not one of them.
What a difference a year makes for Ryback, though. Although his PPV record is a humbling 4-6, he still managed to finagle his way into a WWE Championship match at this year's Extreme Rules PPV.
Which one of these not-so-extreme matches was the worst in your opinion? Sound off, respectfully, below.
Tune in to the Pancakes and Powerslams wrestling talk show with your Extreme Rules predictions.
Here is last week's episode, where we discussed pro wrestling's greatest factions.
Listen to internet radio with Pancakes and Powerslams on BlogTalkRadio
Follow @cravewrestling.