Report Card for Los Angeles Kings' 1st-Round Playoff Victory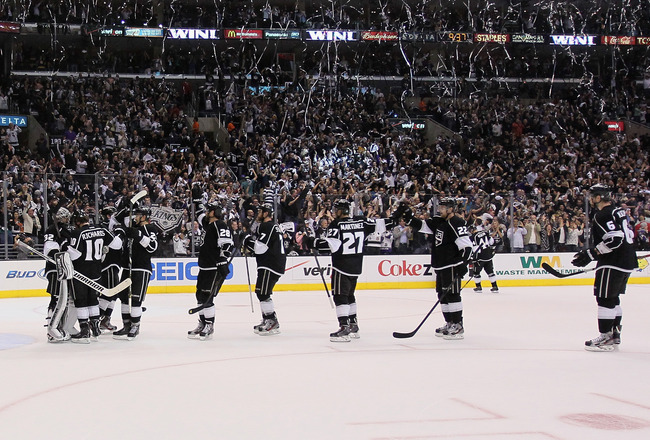 Jeff Gross/Getty Images
The Los Angeles Kings wrapped up a brutal and hard-fought series against the fourth-seeded St. Louis Blues Friday night to prevail in six games.
It wasn't easy, but the Kings rallied from two games down and won four straight to secure a berth in the second round for a second straight year.
While the series started slowly for the Kings—with more than their fair share of mistakes and shades of the old offensive struggles—the team slowly came into form and looked more and more like the championship team from last season.
There is still a lot of hockey to be played and the Kings will most certainly need to improve if they want to further extend their season.
In the meantime, here's a summary of how the Kings performed in their triumphant first-round series.
Offense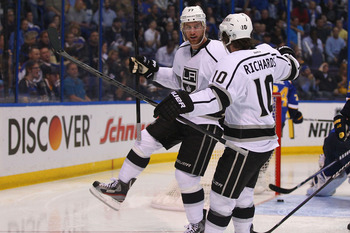 Dilip Vishwanat/Getty Images
It was a struggle from the start for the Kings offense, which had just three goals through the first three games of the series. Key players such as Anze Kopitar, Jeff Carter and Dustin Brown were being held off the scoresheet for the most part by a stingy Blues defense.
However, Game 4 rolled around and the Kings offense ignited.
Over the final three games of the series, the team scored nine goals and many of the team's key offensive figures—like Drew Doughty and Carter—came through.
It was a scary beginning to the playoffs, as many fans still likely recall the days of frequent 1-0 games under coach Terry Murray. After having a scoring outburst in Game 4, though, the Kings offense went from stagnant and ineffective to confident and smothering.
While Kopitar is still seemingly on the cold side, other forwards like Mike Richards, Justin Williams, Dustin Penner and Carter are heating up.
The slow start to the series was perhaps just a hiccup in confidence or adjusting to some strange line combos from coach Darryl Sutter. Also credit the St. Louis Blues, who were one of the best defensive teams in the league during the regular season.
All things considered, the team's offense came through when it mattered and that was an incredibly positive end to the series for assistant coach Davis Payne and crew.
Grade: B
Defense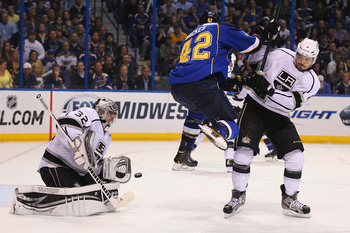 Dilip Vishwanat/Getty Images
While many fans were likely scared to start the series with the absences of Willie Mitchell, Matt Greene and Alec Martinez, the Kings again proved that defense is their bread and butter.
With a young group of defenders, the Kings averaged a staggering 1.67 goals against and 29.5 shots against per game through the series.
Key forwards for the Blues like Andy McDonald, David Perron and Chris Stewart were completely shut down. Stewart, who was the Blues' leading scorer during the regular season, was held to just one assist in the series.
Drew Doughty continues to evolve as one of the best all-around defensemen in the league, as he ate up nearly 30 minutes per night (28:49 TOI)—second only to Norris finalist Ryan Suter of the Minnesota Wild (31:37 TOI).
While a lot of fans were, and still are, skeptical of the play of young Jake Muzzin and Keaton Ellerby, the two did admirably considering their limited playoff experience.
St. Louis was keying on Muzzin almost every time he was on the ice, and while he finished the series with a minus-two rating, he had some heads-up plays, big hits and averaged around 15 minutes a night. It's a tough ask for a rookie defenseman to be ready for playoff-style hockey against one of the most physically punishing teams in the league, but Muzzin held his own for the most part.
Ellerby averaged 10 minutes a game and was subsequently replaced by Alec Martinez, who was incredibly solid in his appearances.
When the Kings offense wasn't clicking, the club fell back on its team defense to get the job done. It worked, particularly in a tightly contested 1-0 Game 3. Every game of the series was decided by one goal, and when a lockdown was in order, the defense came through.
Grade: A
Goaltending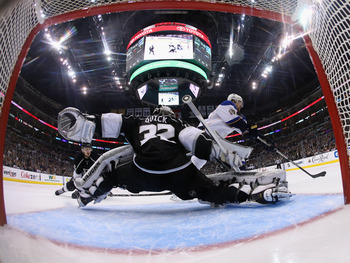 Jeff Gross/Getty Images
Jonathan Quick is not unfamiliar with poor goal support, and for the first three games, that was the case.
While his ghastly puck-handling mistake in overtime of Game 1 and the Game 2 softie allowed to Barret Jackman with under a minute to play in regulation were both bad goals, Quick had a monstrous series.
As coach Ken Hitchcock said in his post-series interview (per Kings Insider Dan Rosen), "I thought the best player of the series was their goalie."
"I just felt like we allowed a goalie to outwork us."
And that's what Quick can do when he is on his game. He doesn't simply make it difficult for a team, he makes it impossible. He held a 1.58 goals-against average and .944 save percentage in the first round to go with a shutout in a key Game 3.
Simply put, if Quick can perform like this throughout the entire playoffs, the analysis of L.A.'s last season certainly comes back into play: You might beat them one game, but you won't beat them four games out of seven.
Grade: A+
Special Teams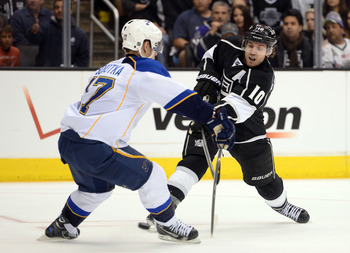 Harry How/Getty Images
Considering the Blues and the Kings were nearly mirror images of each other, it's not surprising that the penalty kill was a solid 15-of-17 in the series while the power play went 2-for-15.
All you can say in a situation where you know power-play goals are going to be at a premium is, get them when they matter. Of course, with only two power-play goals, it's hard for them to have any consequence on the series.
The first was in Game 2 and the lone tally for the Kings in a losing effort. The second was 54 seconds into the third period of Game 5 and ended up giving the Kings a 2-1 lead. So the power-play goals weren't exactly back-breakers or game-winners, but on the flip side, St. Louis had limited power-play as well.
In the greater scheme of things, it was a battle of similarities and neither team was able to get the upper hand on special teams. As long as you break even in that regard, it works. The Kings' penalty kill was outstanding, as was that of the Blues.
A better sense of the Kings' power play will come in later rounds when they face a less cohesive unit.
Grade: B
Coaching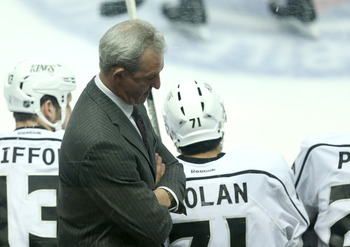 Stephen Dunn/Getty Images
To start, I personally wasn't a fan of the line combinations for Games 1 and 2. In case anyone is forgetting, head coach Darryl Sutter changed up the lines—units that had been playing together for most of the season—to look like this early in the series.
It was certainly a strange and questionable move considering the relative familiarity all the Kings' lines had with each other up to this point. Even if it was to counteract the heavy style that the Blues play, that's already putting yourself at the mercy of Ken Hitchcock and crew by changing your game to match theirs.
As soon as you do that, you get away from your game plan. It was no surprise the Kings looked well out of sync in the first two games.
Aside from that, though, Sutter made some key choices later on in the series by wisely playing seven defensemen at one time, scratching Jordan Nolan for Tyler Toffoli and playing Alec Martinez rather than Keaton Ellerby.
Just like the entire team during this series, it seems that Coach Sutter got off to a bit of a slow start but came on strong late. The motivation factor was there when the Kings needed big Game 4 and 5 victories.
Always a solid motivator and wise tactician, Sutter showed he was as sharp as ever over this series despite a stumble out the gate.
Grade: B+
Keep Reading

Los Angeles Kings: Like this team?