Ohio State Basketball: 5 Early Storylines from Buckeyes' 2014 Recruiting Trail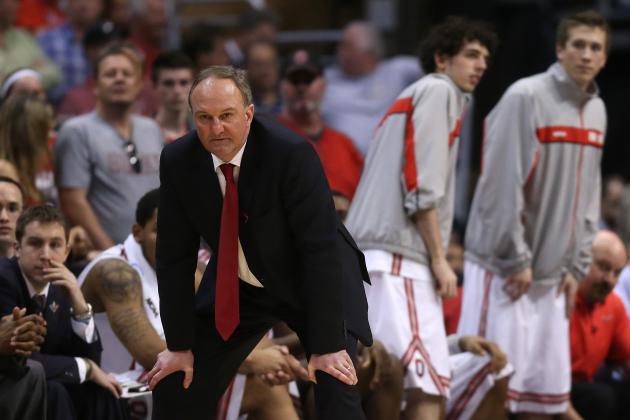 Jeff Gross/Getty Images

In today's what-have-you-done-for-me-lately age of college basketball, it has seemed like a lifetime since Ohio State brought in a top-notch recruiting class.
In reality it has been since 2011 that Thad Matta brought in a top-10 class. The 2012 and 2013 groups featured only three combined players, which means the 2014 class will be particularly important for the future in Columbus.
Read on to see five early storylines when it comes to the Buckeyes' recruiting efforts in trying to land the next scarlet-and-gray stars.
All recruiting rankings, scouting reports and lists of interested schools are courtesy of Scout.com.
Begin Slideshow

»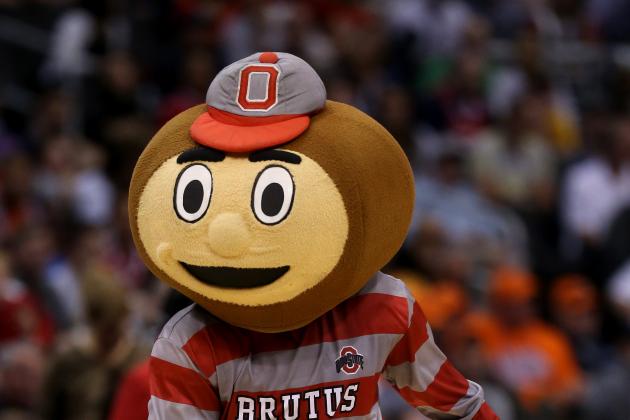 Jeff Gross/Getty Images

As mentioned, it has been a couple of years since Thad Matta brought a top-10-caliber class to Columbus. He built a reputation on his impressive recruiting efforts, and his 2014 group has a chance to stand out among the nation's elite and alter the future of the program.
There are a number of players on the current roster who will exhaust their eligibility within the next two seasons (Aaron Craft, Lenzelle Smith Jr., Sam Thompson, LaQuinton Ross, Amir Williams and Shannon Scott to name a few), and there isn't exactly a ton of depth waiting in the wings after the previous two recruiting cycles.
Matta is going to need quantity and quality in the 2014 group, and he is off to a promising start. Keita Bates-Diop and Jae'Sean Tate are athletic wings who should contend for starting spots right away, and Dave Bell is an underrated center who adds depth to the class.
Ohio State is also listed as a school of interest for six of the top 12 prospects in the country. Even if Matta could land just one of those players, the Buckeyes will be in a great position going forward.
The 2014 class is absolutely critical for continuing the program's recent momentum.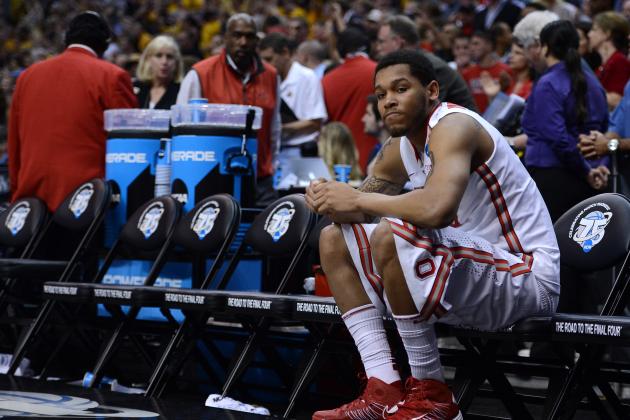 Harry How/Getty Images

Ohio State's primary weakness in the 2012-13 season was its interior depth and production. Evan Ravenel was a solid player who seemed to show up at the biggest moments, but he is no longer on the roster.
That means this season's interior game will fall on the shoulders of the former McDonald's All-American Amir Williams. Williams is bordering on bust status after a mere two seasons and truly needs a breakout year if he ever hopes to continue playing basketball after college.
For Thad Matta, that means the center position is particularly vulnerable looking forward. He needs the 2014 class to include multiple big men to build up the depth at the position and compete in the physical Big Ten.
Matta already has Dave Bell under wraps, but he is looking to add more firepower in the lane. Center Jahlil Okafor is the No. 1 prospect in the entire 2014 class, and the Buckeyes have been in on him for quite some time. However, the competition is rather steep, so Matta would be wise to look at other big men such as Cliff Alexander or Craig Victor.
Ohio State would certainly like some more depth and production down low after the past season.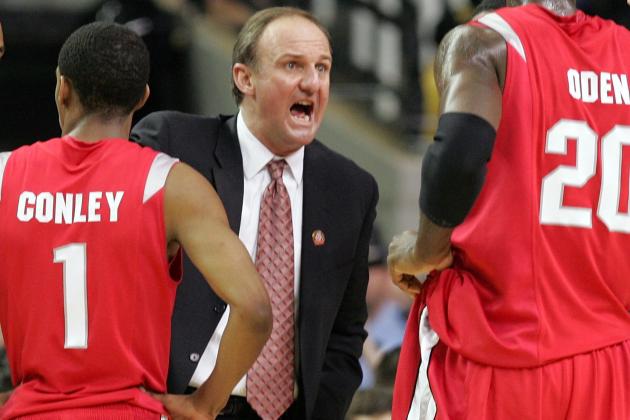 Andy Lyons/Getty Images

It wasn't long ago that Thad Matta landed a program-altering combination of recruits who had their minds made up that they were playing college basketball together. Greg Oden and Mike Conley Jr. took the Buckeyes to the national championship game that year, and there is another center and point guard in the 2014 class who could do the same.
Center Jahlil Okafor is the No. 1 player in the country for 2014, and point guard Tyus Jones is rated as the No. 2 prospect in the same class. Early reports suggested that the two want to play college basketball together, and schools like Michigan State, Kentucky, Duke and Ohio State that are recruiting both hope that is the case.
If Matta could convince Okafor and Jones to come to Columbus, a number of issues would immediately be taken care of. The Buckeyes would have the heir to the point guard spot that Aaron Craft will leave vacant after next season and the interior depth that is so necessary with this next recruiting cycle would be in place.
Considering the wing players that Matta already has joining the program in 2014, two legitimate potential superstars at center and point guard would give the Buckeyes the inside track to future Final Fours.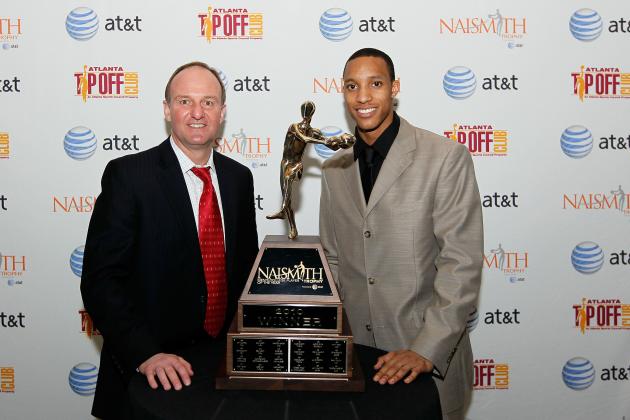 Kevin C. Cox/Getty Images

Locking down one's home state is often critical for a college basketball coach at a premier program, but Thad Matta has extended his recruiting reach to other areas in the Midwest.
Matta has done well in Indiana (Greg Oden and Deshaun Thomas come to mind), but he has established a legitimate Illinois pipeline in recent years. Players such as Evan Turner, Sam Thompson, Lenzelle Smith Jr. and the already committed Keita Bates-Diop all hail from Illinois, and Matta hopes to land some more before the ink dries on the 2014 class.
Jahlil Okafor, the crowned jewel of the 2014 prospects, and Cliff Alexander, another top-10 player Ohio State is recruiting, both hail from Chicago. L.J. Peak is a shooting guard the Buckeyes have shown interest in who also comes from the Windy City.
It will be intriguing to watch Matta attempt to further solidify this Illinois pipeline that has brought Ohio State so much talent in recent seasons. If he could land even one of those unsigned Chicago prospects to go along with Bates-Diop, the Buckeyes will be sitting pretty come national signing day.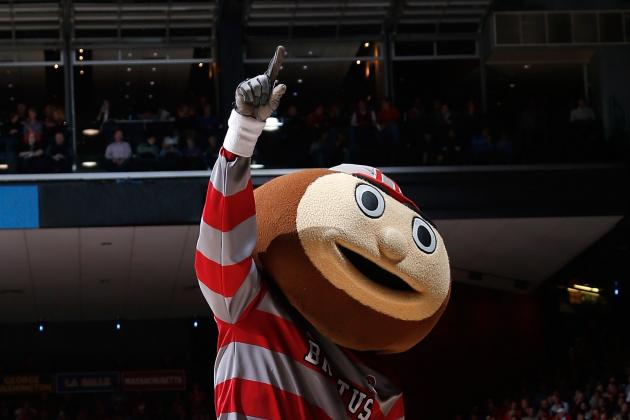 Joe Robbins/Getty Images

Frankly speaking, recruiting rankings hold a purpose but are not the be-all and end-all that many fans make them out to be. It is more important that the players a coach recruits develop over time and fit his system or the scholarship needs of the program, and top classes don't always pan out (just ask Kentucky how last year went).
That being said, it is still enjoyable for fans to follow along with recruiting rankings and use them as a bragging point. Furthermore, coaches can use them to help with future recruiting.
Ohio State was listed as the No. 1 school in a very early 2014 recruiting rankings published by 247sports a few months ago. That was before the Buckeyes landed the services of Dave Bell at the center position as well.
The Buckeyes are listed as a possible destination for many of the top remaining players in the country including the nation's top two, so ending the recruiting cycle as the top-ranked school is certainly a possibility. If nothing else, it will serve as an amusing goal fans can keep an eye on as the recruiting continues.