Stanley Cup Report Card for the Top 10 NHL Superstars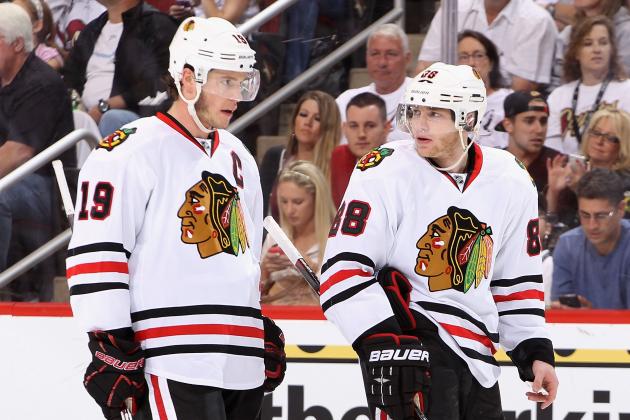 Christian Petersen/Getty Images

The first round of the 2013 NHL playoffs will conclude on Monday night with two Game 7 matchups on the schedule.
When the playoffs begin and the pressure on superstars increases a few notches, teams need their best players to lead the way and play at a high level. Role players are important, but no club is going to win a Stanley Cup without its top guys producing at both ends of the ice consistently.
A strong showing in the first round has helped to improve the postseason reputations of several top 10 superstars, while others have struggled to perform at the level expected from them.
Let's look at a playoff report card for these players.
Note: The top 10 players were based on my rankings of the top 50 NHL players. The players whose teams failed to qualify for the playoffs were replaced with guys from 10-20 on my rankings.
Begin Slideshow

»
Claus Andersen/Getty Images

Top defenseman and captain Zdeno Chara has played well for the Boston Bruins in their first-round playoff series versus the Toronto Maple Leafs, which will finish with a Game 7 at TD Garden on Monday night.
Without many forwards that have a high level of offensive skill, the Bruins rely on their blue line to provide scoring, and Chara is a big part of this production.
The Bruins captain has seven points (one goal, six assists) in six games against the Leafs, but the part of his offensive performance that Boston fans are talking about the most is his decision not to take a slap shot in the final minute of Game 6 with his team trailing by a single goal. Chara, who has the hardest slap shot in the league, had a clean look at the net but chose to pass the puck to Patrice Bergeron at the point instead.
While the former Norris Trophy winner has played well defensively for most of this series (second on team in hits and fourth in blocked shots, in addition to a plus/minus rating of plus-four) and has shut down Leafs star winger Phil Kessel in most of their matchups, he was on the ice for both Toronto goals in Boston's 2-1 Game 6 defeat.
For the Bruins to avoid another epic playoff collapse and advance to the second round, they need Chara to play better defensively by being more physical in his own zone while also being more aggressive in the attacking zone by putting more pucks on net.
Grade: B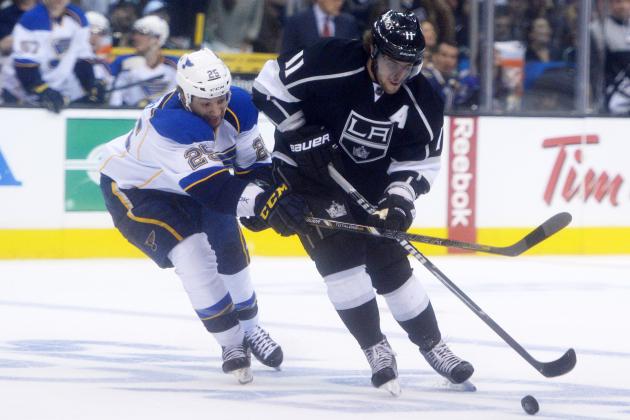 Kirby Lee-USA TODAY Sports

It took a few games for Anze Kopitar to make a strong impact in the Los Angeles Kings' first-round series with the St. Louis Blues, but the star center came up big when his team needed him most.
After tallying just one point in the first 11 periods of the series, Kopitar scored the tying goal in the third period of Game 4 to help Los Angeles avoid a 3-1 hole and tie the series 2-2 going back to St. Louis.
In Game 5, Kopitar assisted on Jeff Carter's go-ahead goal in the third period and then assisted Slava Voynov's overtime-winning goal that gave Los Angeles a 3-2 series lead. Both of these were primary assists.
From a defensive standpoint, Kopitar was excellent in the first round. His eight blocked shots were twice the amount of any other Kings forward, his eight takeaways led the team and he finished second among Kings centers with 43 faceoff wins.
One of the reasons why Blues forwards David Backes, Patrik Berglund and Chris Stewart did not produce offensively on a consistent basis was because of Kopitar's excellent defense and physical play.
Against a high-scoring San Jose Sharks team in the second round, Kopitar must give his team another brilliant defensive performance for the Kings to continue their Stanley Cup defense.
Grade: A-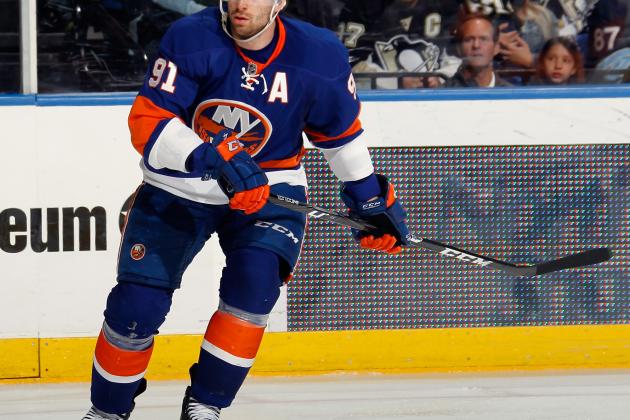 Bruce Bennett/Getty Images

After a disappointing performance in his first career NHL playoff game, John Tavares raised his level of play with points in four of his team's next five games against the top-seeded Pittsburgh Penguins. The Islanders ultimately lost the series in six games, but Tavares was one of the team's best players.
The young superstar scored three goals in the final four games of the series, including the first goal of the Islanders' 4-3 overtime loss in the series clincher on Saturday.
He did a great job of making adjustments from game to game to prevent the Penguins from roughing him up and limiting his time and space to excel as a playmaker. It was encouraging to see that Tavares wasn't going to be intimidated by a more experienced team that put its best defensive players on the ice against him as much as possible.
Tavares also improved his faceoff percentage from the regular season and played well defensively on a consistent basis. He gave the Islanders a quality two-way performance under immense pressure to play well in his first career playoff series as a Hart Trophy finalist.
This playoff failure will motivate Tavares to improve next season, and that's the exact attitude a team wants its best player to have following a hard-fought series. It's one reason why he's a great leader.
#Isles John Tavares on being even hungrier to win after first taste of playoffs: "I'll be thinking about it all summer..."

— Katie Strang (@KatieStrangESPN) May 12, 2013
Grade: B+
Paul Bereswill/Getty Images

Alexander Ovechkin tallied two points (one goal, one assist) in each of the first two games of the Washington Capitals' first-round series against the New York Rangers, which helped his team earn a 2-0 advantage.
Since then, the Capitals captain has been scoreless in the last four games with a minus-three rating. To no one's surprise, the Rangers have won three of those games, which has evened the series to force a deciding Game 7 on Monday in Washington.
Ovechkin led the NHL with 32 goals during the regular season and was named as a Hart Trophy finalist last week, but he's made almost no impact in this series at both ends of the ice. The Russian superstar has now gone five straight games without finding the back of the net, which is his worst scoring drought of the year. He didn't go more than four games without scoring during the regular season.
He also hasn't made much of an impact on the power play, which was a real strength of the Capitals during the regular season. Ovechkin led the NHL in points and goals on the power play this year, but he has tallied just two points with the man advantage in this series. As a team, Washington is 3-for-14 on the power play (21.4 percent), which is about five percentage points worse than its regular season success rate (26.8 percent)
Not only is Ovechkin failing to produce offensively, he's also not playing well defensively. His back-checking is inconsistent, his effort level in the Capitals' zone is not high and he's not blocking enough shots.
As one of the most talented players of his generation and someone who has achieved very little playoff success, Ovechkin will be under a ton of pressure in Game 7. Another early playoff exit with the Capitals would further damage his legacy.
Grade: D+
Paul Bereswill/Getty Images

The New York Rangers would be playing golf already if No. 1 goaltender Henrik Lundqvist didn't put them on his back in their first-round series against the Washington Capitals.
The reigning Vezina Trophy winner has been magnificent thus far with a 1.91 GAA and a .937 save percentage against the league's fourth-highest scoring team and most successful power play from the regular season.
Lundqvist has given his team a chance to win every game in this series with three or fewer goals against in each of the six matchups and a total of five allowed in the last three games. Lundqvist has also allowed just one third-period goal in this series, which proves how amazing he's played with game on the line.
With an immense amount of pressure on Lundqvist to stand on his head every game because of the Rangers' inability to score goals at even strength or on the power play, "King Henrik" has stepped up to the challenge and is the sole reason why New York has an opportunity to close out this series in Game 7.
Grade: A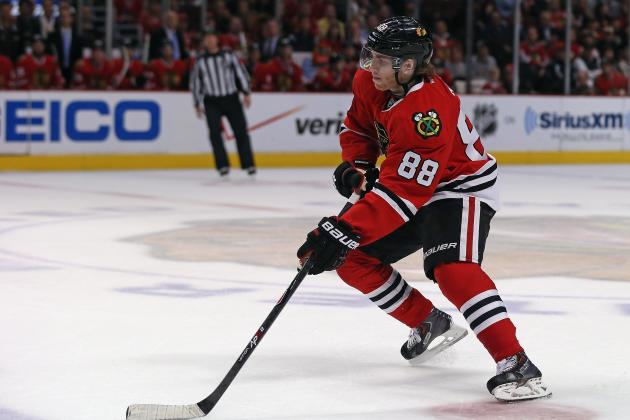 Jonathan Daniel/Getty Images

Patrick Kane has not scored in the playoffs yet, but the Chicago Blackhawks winger is still finding ways to positively impact his team.
He tallied five assists with a plus/minus rating of plus-three in his team's 4-1 first-round series triumph over the Minnesota Wild while also playing well defensively.
In addition to his four blocked shots, Kane leads all Blackhawks forwards with five takeaways, and his impressive back-checking and effort defensively in Chicago's zone created many turnovers that led to scoring opportunities at the other end of the ice.
Even though his defensive performance has been solid, the Blackhawks need Kane to start scoring goals because the Detroit Red Wings (Chicago's second-round opponent) have much better goaltending and a more talented blue line than the Wild. He averaged just 3.2 shots per game in the first round, which is too small of a number for a player of his importance.
Grade: B-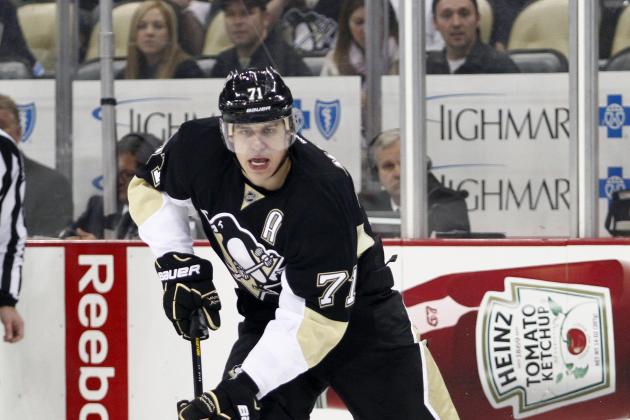 Justin K. Aller/Getty Images

Evgeni Malkin leads the Pittsburgh Penguins in playoff scoring with 11 points (two goals, nine assists), which includes multi-point games in five of the team's six matchups versus the New York Islanders in the first round.
The Russian superstar has dominated offensively, and as expected, he's excelling in a playmaking role with his brilliant passing skills, high hockey IQ and impressive vision. He's created a lot of scoring chances for linemates James Neal and Chris Kunitz, who combined for six points in the first round.
From a defensive standpoint, there is plenty of room for improvement in Malkin's game as the playoffs progress. He did a poor job shutting down Islanders superstar center John Tavares in the last five games of the first round, and a combination of awful defense and a bad turnover led to Tavares scoring a huge goal in the Islanders' Game 4 victory.
As a top-six forward who is often matched up against the opponents' most highly-skilled players, Malkin must do a better job defensively to help out a group of Penguins defensemen and a pair of goaltenders who struggled for much of the Islanders series. Even though he's scored 11 points, his plus/minus rating is zero, which means that Malkin was on the ice for many of New York's goals.
The high amount of goals and scoring chances that Malkin has created in the playoffs is an encouraging sign for the Penguins, but they need him to play better defensively against a smart, physical Ottawa Senators team in the second round.
Grade: B+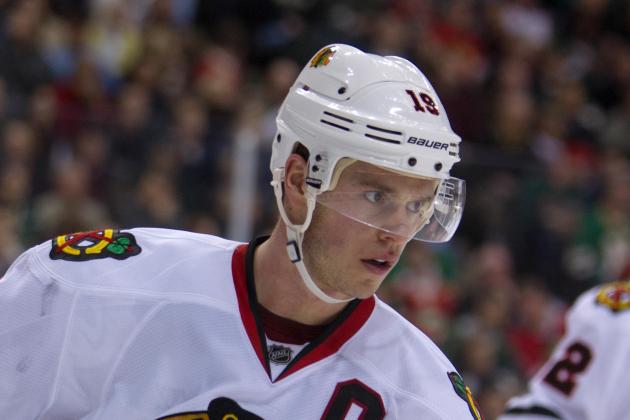 Brace Hemmelgarn-USA TODAY Sport

Jonathan Toews was a shutdown forward for the Chicago Blackhawks in their first-round series against the Minnesota Wild, but he was a major disappointment offensively.
The Blackhawks captain failed to score a goal in the five games versus Minnesota and didn't tally his first points (two assists) of the series until the Game 5 clincher last Thursday.
To beat the rival Detroit Red Wings in the second round, Chicago needs Toews to not only score goals, but also create more scoring opportunities for linemates Marian Hossa and rookie Brandon Saad.
Luckily for the Blackhawks, the second round is normally when Toews heats up and produces more offensively (16 points in 12 career Western Semifinals games), and Chicago needs this trend to continue against a physical Red Wings team with a goaltender in Jimmy Howard who was fantastic in his team's upset of the high-scoring Anaheim Ducks in seven games.
Defensively, Toews was outstanding in the first round. His assignment was to prevent the Wild's top line, which included elite forwards Zach Parise and Mikko Koivu, from dominating offensively. These two stars combined for one goal, zero assists and a minus-13 rating through five games, and without much scoring from these top-six forwards, the Wild had no chance of upsetting the Blackhawks.
Toews' excellent work on defense with physical play and constant pressure played a huge part in Parise and Koivu's lack of success in the attacking zone.
Even though he made a small impact offensively in the first round, there is no reason for Blackhawks fans to be concerned about Toews moving forward. He's an elite player with Stanley Cup-winning experience who will make the necessary adjustments to improve.
Grade: B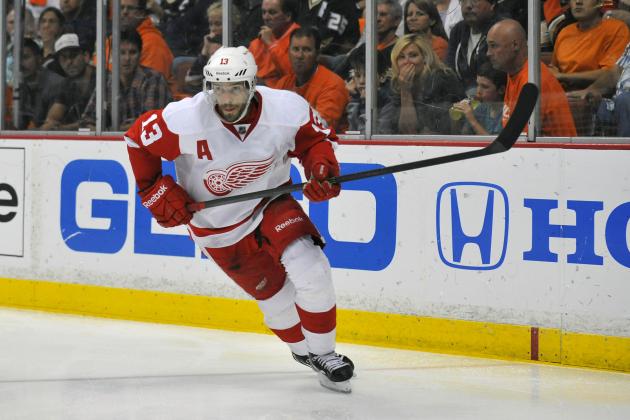 Gary A. Vasquez-USA TODAY Sports

Pavel Datsyuk deserves to be mentioned in every single "Who's the best player in the world?" conversation as the best two-way forward in the NHL, and he has been amazing in the playoffs thus far.
The Detroit Red Wings superstar played a major part in his team's first-round upset of the second-seeded Anaheim Ducks with seven points (two goals, five assists) and spectacular defense. His backhand goal in Detroit's Game 6 victory is one of the top three moments from the first round.
Datsyuk's strong defensive play was one of the main reasons why Ducks top-six forwards Saku Koivu, Teemu Selanne and Corey Perry combined for just two goals scored in seven games. He leads his team in takeaways (seven), faceoff percentage (55.8) and always applies pressure on the opposing teams' forwards with consistent back checking and great stick work.
In addition to his great performance in all three zones at even strength, Datsyuk also made a strong impact on special teams, with 1:02 of shorthanded and 3:17 of power-play time on ice per game.
As a veteran player with Stanley Cup-winning experience who excels all over the ice on a consistent basis, Datsyuk is the most valuable skater on the Red Wings. If he is able to frustrate the top forwards on the Chicago Blackhawks, such as Jonathan Toews, Patrick Kane and Marian Hossa in Round 2, Detroit will have a good chance to reach the Western Conference Finals for the first time since 2008-09.
Grade: A-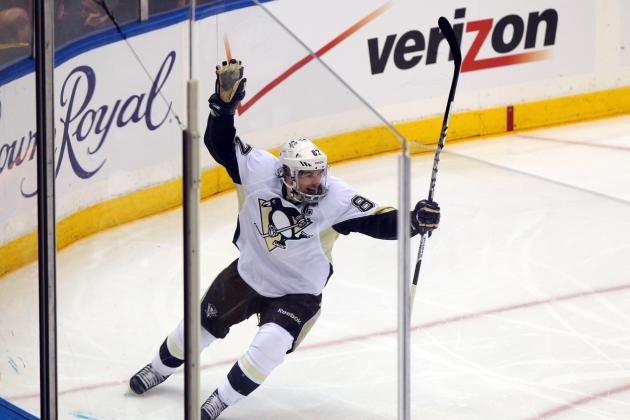 Brad Penner-USA TODAY Sports

After missing 12 regular season games and his team's first-round series opener against the New York Islanders, Sidney Crosby returned to the ice with a special helmet and played at the same superstar level we saw from him throughout the year.
The Pittsburgh Penguins captain tallied nine points (three goals, six assists) in five games, including the primary assist on Chris Kunitz's game-winning goal in overtime of Game 3. His incredible goal in Game 5 (video here) of the series is arguably the best play of the postseason thus far.
As a playmaker, Crosby created a ton of scoring chances from "Gretzky's office" behind the goal line and also caused problems for Islanders defensemen with his ability to drive hard to the net and score or create a rebound that teammates could pounce on.
His speed, playmaking, vision and scoring ability all appeared to be operating at full strength even though he missed a quarter of the regular season and had to adjust to a new helmet, which is an encouraging sign for the Penguins.
With a career scoring average of 1.35 points per game during the playoffs, it's not surprising that Crosby is once again giving the Penguins a high level of offensive production at the most important time of the year.
For Pittsburgh to reach the Eastern Conference Finals for the first time since its Stanley Cup run in 2008-09, Crosby's impressive scoring pace needs to continue against an Ottawa Senators team that has great goaltending and a better blue line than the Islanders.
Grade: A