Nebraska Football: Ranking the 5 Best Offensive Weapons for the Cornhuskers
Eric Francis/Getty Images
Sure, Nebraska football fans love defense. But offense really does sell tickets. And particularly given Nebraska's tilt towards offensive competence over the last few years (which is a polite way of saying that NU's defense has been kind of terrible), NU is likely to win more shootouts than defensive slugfests next season.
So Nebraska's offensive weapons look to be the primary tools in the arsenal as Bo Pelini prepares for the 2013 campaign. Let's take a look at five of the best offensive weapons, in order of how important their contributions will be to Nebraska's success next year, Pelini will have at his disposal next year.
No. 5: Mauro Bondi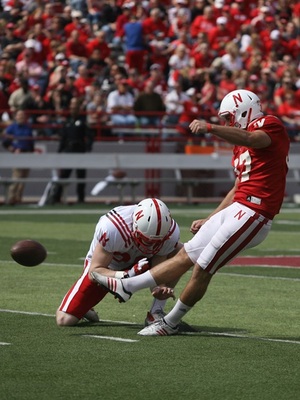 Image from 247Sports.com, originally located at http://bit.ly/12o76z8
Yes, the kicker makes the list. Quarterbacks, I-backs, wide receivers, even offensive linemen all get their time in the limelight as important part of the offensive attack.
But it is the placekicker, likely to be Mauro Bondi, that is most overlooked. Other than perhaps the quarterback, the placekicker is likely to have a crucial role to play every week in terms of points on the board.
Between Alex Henery and Brett Maher, Nebraska (otherwise known as "Kicker U") has been spoiled with weapons at placekicker. From dependability on extra points and short field goals to extending what "scoring position" means based on long-range kicks, Bondi looks set to take on the mantle and become Nebraska's next great leg.
No. 4: Jamal Turner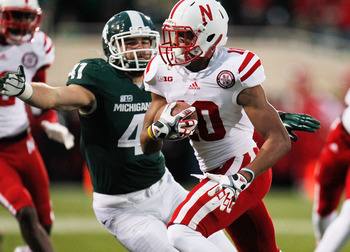 Gregory Shamus/Getty Images
When Jamal Turner arrived in Lincoln, fans thought he would be the Next Big Thing for Nebraska. And for the first half of his freshman season, Turner didn't disappoint, leading the team in receiving.
But then Turner disappeared. Whispers abounded about Turner's practice habits and unwillingness to dedicate himself to his craft. His freshman season ended with a whimper, and at the beginning of 2012, he was still struggling for playing time.
And then something clicked. Turner hauled in the game-winning touchdown pass against Michigan State. He started seeing more playing time. Now, going into 2013, Turner is talking about being a leader to the younger receivers and seeing more time utilizing his talents returning kicks as well as catching passes.
If you were looking for a breakout candidate for 2013, you could do far worse than putting your money on Turner.
No. 3: Ameer Abdullah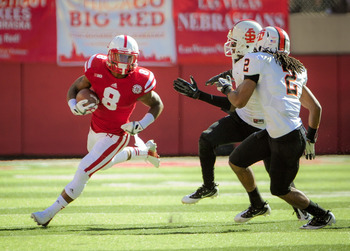 Eric Francis/Getty Images
Ameer Abdullah's elevation to a starter didn't go according to plan. 2012 was supposed to be the year Nebraska rode Rex Burkhead to glory, with Abdullah coming in as a backup and a change-of-pace back.
But with Burkhead's injury in the first game of the season, Abdullah was next man up for Nebraska. And he responded by rushing for 1,137 yards and eight touchdowns.
Now, with Burkhead's graduation, the starting job is Abdullah's for the taking. He will need to stay healthy, which he was not able to do this spring. He will need to cut down on the eight fumbles he had in 2012. And he will need to fend off challengers like Imani Cross and King Frazier, not to mention incoming freshmen Terrell Newby and Adam Taylor.
But it's Abdullah who looks to be dotting the "I" for Nebraska (even though NU will likely play very little actual I formation) in 2013.
No. 2: Kenny Bell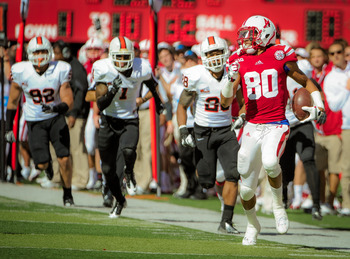 Eric Francis/Getty Images
In 2011, Jamal Turner's loss was Kenny Bell's gain. As Turner's star faded, Bell's rose, highlighted perhaps best by his spectacular touchdown run against Minnesota.
But with a combination of blazing speed, good hands, and strong downfield blocking, Bell has evolved into Nebraska's most dangerous threat at receiver.
Combine Taylor Martinez's improved throwing accuracy with a growing cast of dangerous receivers (not to mention the best catch phrase—"throw to the 'fro"—NU has seen in years), and Bell looks to become the second biggest offensive threat for Nebraska in 2013.
No. 1: Taylor Martinez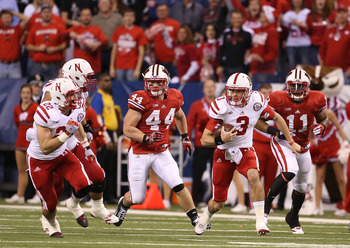 Leon Halip/Getty Images
Once again, it all comes back to T-Magic. At his best, Martinez truly is magic, creating plays like his touchdown against Wisconsin in the B1G title game.
And he has made progress in his throwing, too. Martinez went from a 56.3 percent completion rating in 2011 to a 62.0 percent completion rating in 2012 after spending a summer with quarterback guru Steve Calhoun. Martinez worked with Calhoun this summer, too, in the hopes that 2013 can see a similar jump in accuracy.
But for Martinez to truly be magic, he simply has to protect the ball better. He's led the nation in fumbles two years in a row (13 in 2011, 16 in 2012) and increased his interceptions from eight to 12 (although, in fairness, with an addition of 80 pass attempts in 2012). If Martinez doesn't bring those numbers down, it is difficult to see how Nebraska can get past the four-loss ceiling it has bumped into during the Pelini era.
But if he can protect the ball, then Nebraska fans could truly be in for something special in 2013.
If you'd like to contact Patrick to schedule an interview, provide feedback or get advice on which type of chocolate goes best with fresh fruit (spoiler alert: dark), send an e-mail to patrickrunge@gmail.com.
Or, you could always...Follow @patrickrunge.
Keep Reading

Nebraska Huskers Football: Like this team?