Why the New York Knicks Should Re-Sign Pablo Prigioni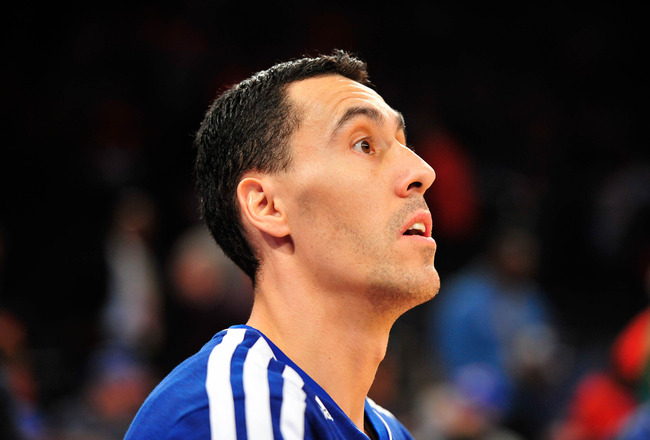 Joe Camporeale-USA TODAY Sports
The 35-year-old rookie named Pablo Prigioni has been one of the pleasant surprises for the New York Knicks this season.
Not only does he provide quality minutes as the third-string point guard for the team, but he has also found himself thrown into the starting lineup in every playoff game after starting just 18 games during the regular season (per Basketball Reference).
Prigioni is on a one-year deal, but the Knicks should definitely look to re-sign him next season. He has earned it.
Steady Point Guard Play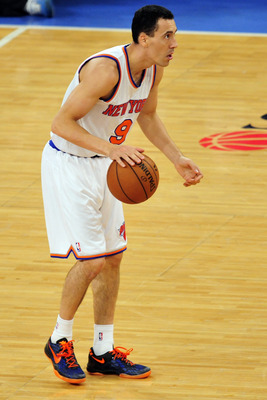 Joe Camporeale-USA TODAY Sports
Prigioni isn't flashy or extremely entertaining to watch, but his steady play at the point guard position has helped the Knicks all year long.
Per 36 minutes, Prigioni is averaging 7.8 points, 6.7 assists and 2.0 steals.
Although he's not someone who wants to score with every chance he has, he has contributed in every other aspect of the game with exceptional poise.
When he was on the floor during the regular season, he posted a plus-5.2 net rating for his club, along with an assist percentage of plus-6.8 for his team.
It's also surprising when you consider that he has only averaged 16.2 minutes per game during the regular season, but Mike Woodson trusts him enough to throw him into the starting mix during the playoffs. He has definitely been a huge part of the Knicks' success this year.
Solid Defender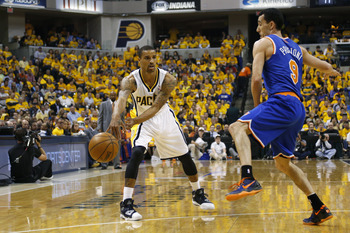 Joe Robbins/Getty Images
Prigioni is not one of the greatest perimeter defenders in the league, and part of it may be because of his age.
However, his lateral quickness is decent, and he uses his brain and solid work ethic to get by on the defensive end.
According to 82games.com, Prigioni is holding opposing point guards to a PER of 15.0 and opposing shooting guards to a PER of 12.3. The league average PER is 15.0 and, considering the point guard position is one of the most talented in the league today, that's not bad for a 35-year-old player getting his first taste of NBA basketball.
Low Risk for High Reward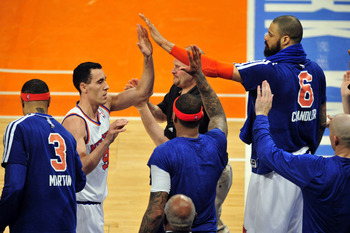 Joe Camporeale-USA TODAY Sports
Prigioni was signed by the Knicks last summer for a minimum contract of $473,000 (via the New York Post).
It's unlikely the Knicks could re-sign him on such a low offer for next season, and it's likely that other teams would want to pursue the services of Prigioni.
However, Prigioni stated that he has loved playing in New York (via ESPN), so he could possibly take a discount to stay with the team for the future.
Obviously, 35 years of age isn't young for the NBA, but Prigioni could still be a good contributor for the next few years, especially on a team that's built to win right now.
Keep Reading

New York Knicks: Like this team?