Texas Football: Ranking the 5 Best Offensive Weapons for the Longhorns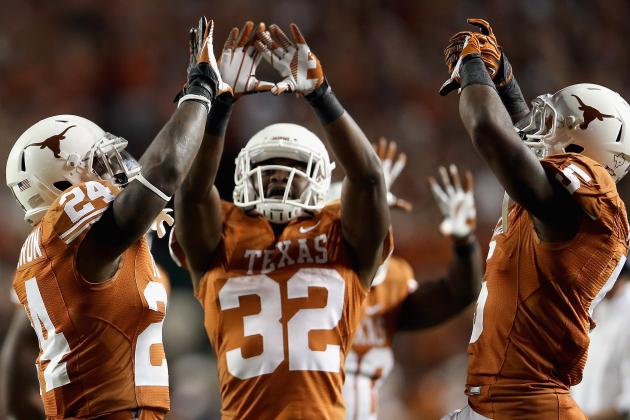 Ronald Martinez/Getty Images

As the summer months approach, teams across the country will be aiming to reinforce the foundation constructed this spring.
The Texas Longhorns installed a spread offense that could see them take off for a potential Big 12 title run, but several pieces will have to fall into place.
With an offensive arsenal very capable of loading up points, as seen during the 2012 season, the Longhorns return a vast majority of those weapons.
Running backs Johnathan Gray, Malcolm Brown and Joe Bergeron return as one of the most talented backfields in the country. The production has yet to meet those standards.
Mike Davis and Jaxon Shipley are the undisputed Nos. 1 and 2 at receiver and bring a great deal of experience and production, numbers that could increase with the offensive switch.
David Ash has flashed the ability to extend plays with his athleticism, but can he bring something special to the new offense?
Who else makes the cut for the top five offensive weapons?
Stats from mackbrown-texasfootball.com
Begin Slideshow

»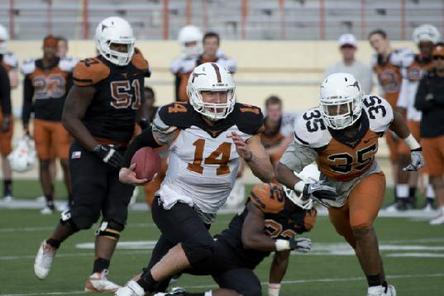 mackbrown-texasfootball.com
Honorable Mentions: RB Joe Bergeron, QB David Ash, WR Kendall Sanders
Bergeron can play his role perfectly. His powerful and violent running style complements the capabilities that Malcolm Brown and Johnathan Gray bring to the table, but there are doubts that he can be a feature kind of running back.
Ash is the ultimate catalyst to the offense, but others have simply outperformed him from an explosiveness standpoint. The junior quarterback could easily slide himself into the top five with a strong junior season, but the inconsistencies put him squarely behind the others.
Sanders is a dark-horse candidate for a breakout campaign. He likely will serve a suspension for some off-the-field issues during the spring, but his skill set is the kind that could bring another force and dimension to the Texas offense.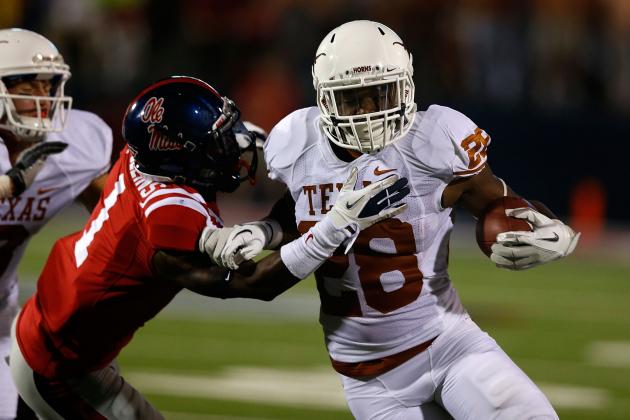 Scott Halleran/Getty Images

A fully healthy Brown may very well have posted the numbers that would have him primed for a huge 2013 season.
But with injury issues in both of his first two years in Austin, Brown can only go as far as his health can take him.
He is every bit as talented as Gray, another former 5-star recruit, but Brown will have to prove he is durable before he becomes that dominant offensive option.
Still, while there are many reasons to believe that Brown is a proven difference-maker, we have only seen it in spurts. His 4.6 yards per carry cannot be ignored, but his ability in the passing game could provide an even bigger impact.
2012: 8 G, 61 CAR, 324 YDs, 4 TDs, 31 long; 15 REC, 113 YDs, 1 TD, 23 long
2011: 10 G, 172 CAR, 742 YDs, 5 TDs, 27 long; 3 REC, 17 YDs, 0 TDs, 19 long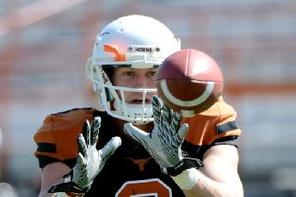 mackbrown-texasfootball.com
Shipley has battled injury issues just as Brown has, but Shipley can be a cornerstone of a spread offense that will be moving the ball all sorts of ways.
Shipley posted solid, improved numbers in his sophomore season, but can he turn into the pass-catching machine that his older brother developed into?
Mike Davis will look to stretch the field, giving Shipley plenty of room for his precision routes. In many ways, Ash's development in his intermediate game will dictate the kind of season that Shipley can have.
Is this the year that Shipley explodes?
2012: 13 G, 59 REC, 737 YDs, 6 TDs, 44 long
2011: 10 G, 44 REC, 607 YDs, 3 TDs, 78 long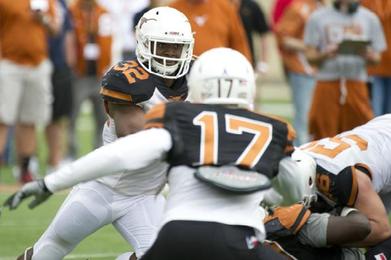 mackbrown-texasfootball.com
One of the biggest catalysts for the Texas offense in 2013 will be running back Gray, who performed well in needed touches for a semi-injury prone backfield.
As a freshman in 2012, Gray fell into the starter's role with Brown suffering an injury. Subsequently, Gray appeared to be everything that Texas could have hoped for, despite him never ripping off the long touchdown runs that would catapult him into more elite conversations.
Gray's influence on the offense is expected to expand this season, even with Brown retaining his carries as a talented back in his own right. Nevertheless, it is hard to ignore just how effective Gray became in his first season.
How much better can he get in his sophomore campaign?
2012: 13 G, 149 CAR, 701 YDs, 3 TDs, 49 long; 11 REC, 151 YDs, 1 TD, 34 long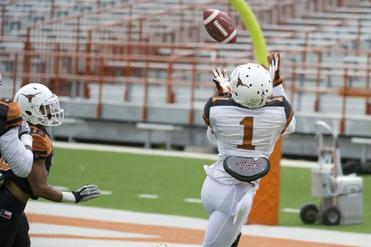 mackbrown-texasfootball.com
Mike Davis has been and will be the guy who stretches the field.
Davis' production has opened lanes for the running game and for Shipley underneath, and his expected progression will pin him as one of the top senior receivers in Division I.
The one-time LSU commit has seen marked progress in each of his first three seasons in Austin, posting 939 yards and seven touchdowns on 57 receptions in 2012. If the chemistry and timing with Ash continues to improve, those numbers could experience a nice bump in 2013.
2012: 13 G, 57 REC, 939 YDs, 7 TDs, 75 long
2011: 13 G, 45 REC, 609 YDs, 1 TD, 56 long
2010: 11 G, 47 REC, 478 YDs, 2 TDs, 45 long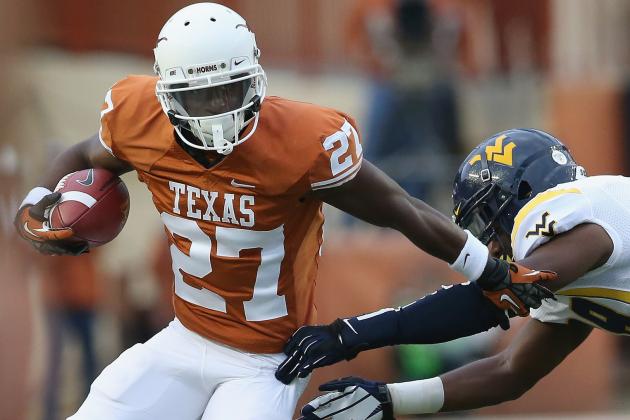 Ronald Martinez/Getty Images

Daje Johnson will be a huge X-factor in Texas' offense.
With a very similar role to D.J. Monroe's, Johnson actually proved to be more productive in his limited touches. Johnson averaged 7.5 yards per carry and 15.1 yards per reception.
Blessed with blazing speed as a home run threat virtually every touch, Johnson figures to be a huge determining factor in how explosive the Longhorns offense can be.
If Johnson begins demanding the extra attention from opposing defenses, it could lessen the load for the others to do some damage.
The Longhorns will scheme around speed, much like they did last season. Monroe and Marquise Goodwin became benefactors of those play calls. In their absence, Johnson could easily swallow a large number of those touches.
2012: 12 G, 27 CAR, 203 YDs, 1 TD, 84 long; 19 REC, 287 YDs, 1 TD, 70 long