The 6 Most Valuable Locker-Room Leaders in 2013 Stanley Cup Playoffs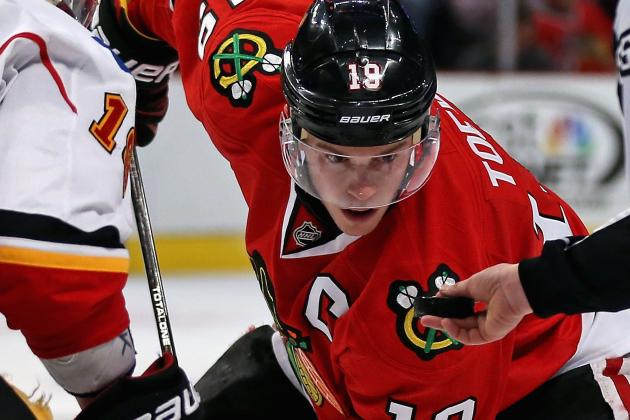 Jonathan Daniel/Getty Images

Some players in the NHL just have that special leadership trait. You'll hear scouts talk about young skaters having "intangibles" leading up to drafts. You'll hear coaches talk about the need for leaders to emerge in the locker room.
There's no statistical measure of leadership. It's something you witness and sense and feel. A radiance that pushes the players to be better and fans to cheer louder. It's unteachable and invaluable. Stanley Cup championships do not arrive on the doorsteps of teams that don't have a special player or two who can lead.
From Steve Yzerman's icy stare to Mario Lemieux's drive to play hockey while having a back so shot that he couldn't tie his own skates, the manifestations of tangible leadership are rare and special.
Begin Slideshow

»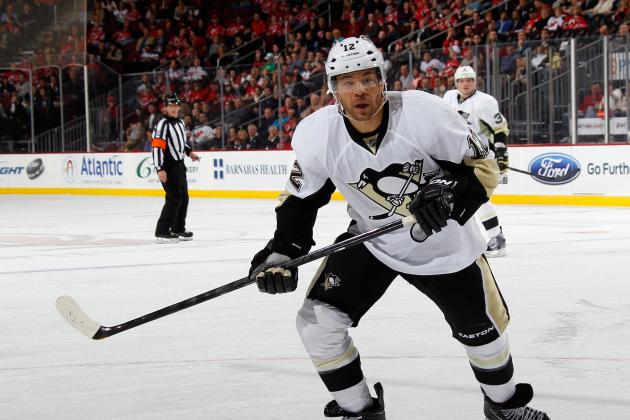 Bruce Bennett/Getty Images

Jarome Iginla was widely regarded as one of the best active captains in the NHL while he was playing for the Calgary Flames. Although he accepted a trade to the Pittsburgh Penguins to pursue a Stanley Cup, he is still among one of the strongest locker room guys in the league.
From the classy maneuver of removing his helmet before a fight to passing off pucks when there is an open net to hit for an easy goal, Iggy does it all.
He has an unteachable trait to make those around him better and inspires his teammates to elevate his game with his drive and sacrifice. While he doesn't wear a letter for the Pens, there's little doubt that Iginla is a strong presence in a locker room full of guys who have been through it all.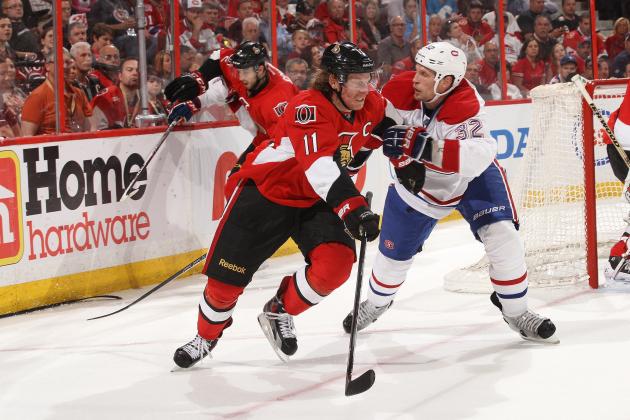 Jana Chytilova/Freestyle Photo/Getty Images

One of the best late-round steals in NHL history, Daniel Alfredsson was selected in the sixth round of the 1994 draft by a still-developing franchise in the Ottawa Senators. Alfie came on board only two years after the team's inaugural season, when they were still looking for a marketable star.
To the surprise of everyone, that star didn't come in the form of Alexandre Daigle. Instead, a late-rounder from Sweden seized the opportunity to become the face of the franchise and hasn't relinquished that status ever since his rookie season (where he posted 61 points in 82 games).
When you watch an Ottawa game, it's clear who the heart of the team is. While guys like Erik Karlsson are working their way to leadership status, Alfredsson is still the guy that the Senators look to for inspiration.
There's a certain push from the players around him when he's creating chances, and Scotiabank Place responds loudly when the 14-year captain scores a goal.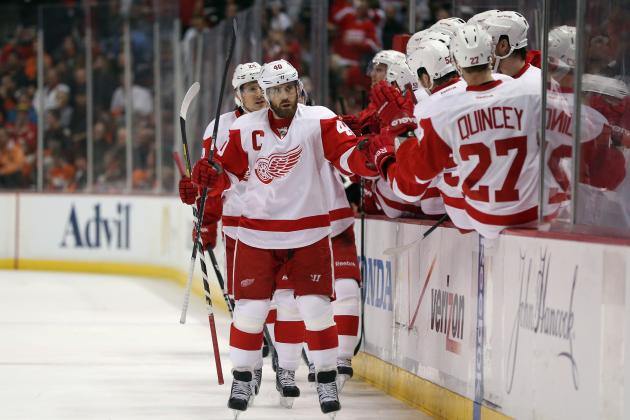 Jeff Gross/Getty Images

Henrik Zetterberg hasn't been the captain of the Detroit Red Wings for more than a season, but his small body of work embodies everything that a leader should be.
Need a clutch game-winning goal? Z is there. Or how about someone hauling butt to get back and break up an odd-man rush after appearing down and out on the play? Yeah, he can do that too. Need the last 30 seconds of a penalty killed off by just one guy? Well, we've seen that before.
When the Wings were on the verge of missing the playoffs for the first time in over two decades, it was Zetterberg who put the team on his back and carried them to the postseason. Instead of playing as the heavy favorites in the 2013 playoffs, Detroit is the clear underdog against the Anaheim Ducks.
The Wings have won all three of their games in overtime—showing a flair for the clutch that has been missing in some seasons gone by—and that begins with Zetterberg and his influence.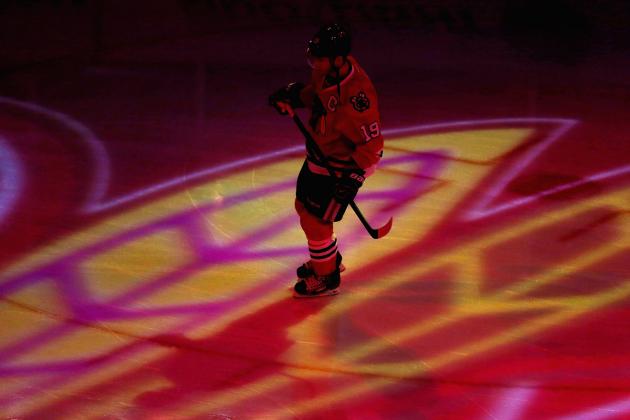 Jonathan Daniel/Getty Images

The Chicago Blackhawks have been led by Jonathan Toews since just his second year in the NHL. He was named captain in 2007 when he was just 20 years old, making him the fourth-youngest guy to wear the C ever.
It takes a special kind of player to captain a hungry, Original Six franchise in the first place. To come into the league, learn the ins and outs in one season and then become the leader of the locker room in just 365 days is special.
So is helping your team win the Stanley Cup as 22-year-old while capturing the Conn Smythe Trophy. He's also the youngest player to ever earn membership in the elite Triple Gold club.
All of this accomplished by the age of 25. Toews is a player who is just now entering his prime and will show NHL fans plenty of special performances by the time he hangs it up for good. He leads his 'Hawks by example and personifies excellence and execution—an outstanding example for all of Chicago's players both young and old.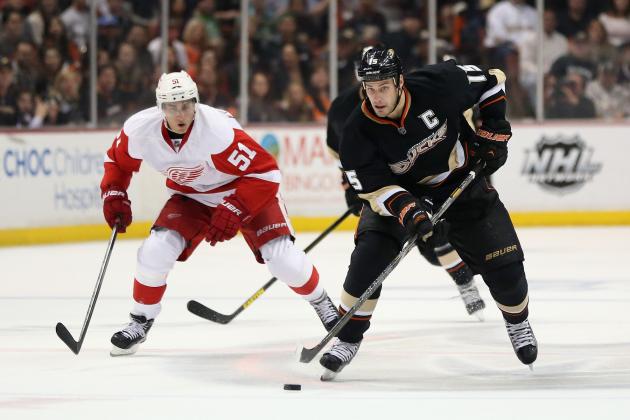 Jeff Gross/Getty Images

Ryan Getzlaf has evolved into one of the best all-around players in the NHL, providing sound penalty killing as well as clutch goals and big hits.
He's one of the most dynamic players in the game, able to combine soft hands and a bruising physical presence with the best of them. Getzlaf is absolutely no fun to play against, and he personifies everything that the Anaheim Ducks want out of their players.
If there's a hit, he takes it. If there's a winning goal to be had, he wants it. Few players combine the obnoxious nature of a pest with the outstanding hands of an All-Star. Opposing teams must hate it when he goes from yapping at them on the bench to burying goals on the ice.
Most importantly, he has another gear reserved especially for big games and the playoffs. He's already won a Stanley Cup, and no one would be shocked if he ended up with his name on the trophy more than once.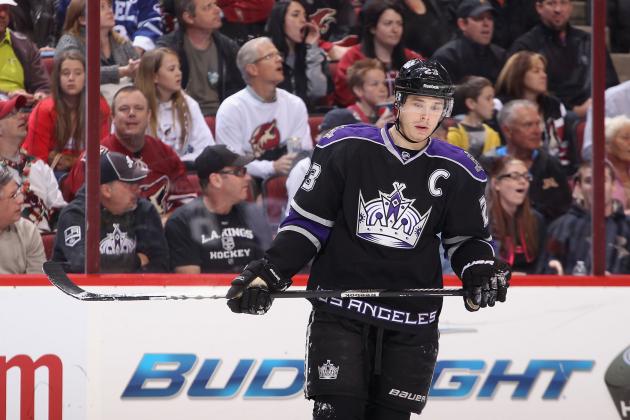 Christian Petersen/Getty Images

As I was going to publish this slideshow I couldn't kick the nagging feeling that I was making a mistake in leaving Dustin Brown off the list. I'd crossed out his name on my cheat sheet and replaced it with Ryan Getzlaf.
An hour later I couldn't stop thinking about Brown and all he brings to the ice every night.
I suppose in a way that's what a good leader does: performs by example and sticks in your mind. "Do it like this. Play like this and we'll win."
Brown hits hard, plays hard and leaves his blood, sweat and teeth out on the ice for his L.A. Kings. He was the head of the spear that cut through the 2012 playoff field like it was some kind of joke, smashing and bashing and scoring his way to a Cup ring.
Love him and his abrasive style or hate him for getting his elbows up on your favorite forward, there's no denying that Brown is one of the fiercest competitors in the NHL today. And his fingerprints are all over the Kings and the way they play the game.