Georgia Football: Ranking the Best Offensive Weapons for the Bulldogs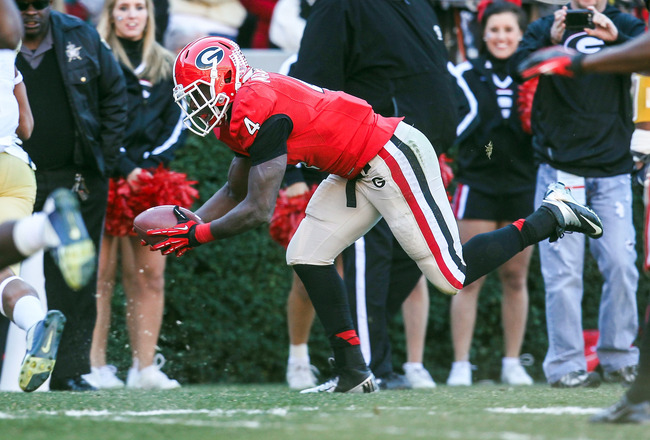 Daniel Shirey-USA TODAY Sports
If the Georgia Bulldogs do achieve their goals of winning an SEC and a national title, it will be because of their offense, specifically Aaron Murray.
But Murray has the advantage of having playmakers behind him, in front of him and beside him, which is a luxury most college quarterbacks do not have.
We all know what Todd Gurley, Keith Marshall, Malcolm Mitchell, Michael Bennett and Chris Conley can bring to the table. But who is the best playmaker for the Bulldogs?
Here's a look at the Bulldogs' best offensive weapons for the 2013 season.
No. 6: TE Arthur Lynch and TE Jay Rome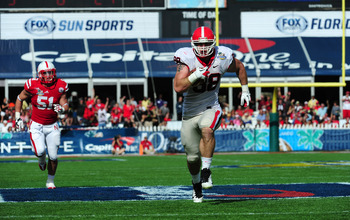 Scott Cunningham/Getty Images
Lynch will be the No. 1 tight end, but both players should see the same number of snaps.
Last year, Lynch racked up 431 receiving yards and three touchdowns, while Rome tallied 152 yards and two touchdowns.
Both players should help Murray convert key 3rd-and-short situations, and they will also be key members of the offensive line, as they will protect Murray as well as open holes for Marshall and Gurley.
No. 5: WR Chris Conley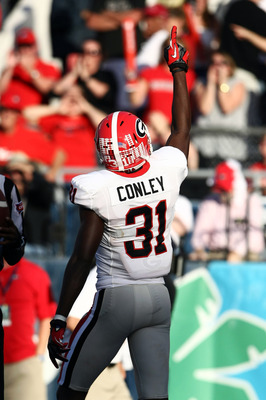 Douglas Jones-USA TODAY Sports
Conley came on strong late last season and is also coming off a productive spring practice.
The junior wide receiver only had 20 receptions for 342 yards, but six of those 20 receptions went for touchdowns, including two in the Capital One Bowl.
Conley has steadily improved his game from each season, and because of the depth and experience on offense, this could the year that he bursts onto the scene.
No. 4: WR Michael Bennett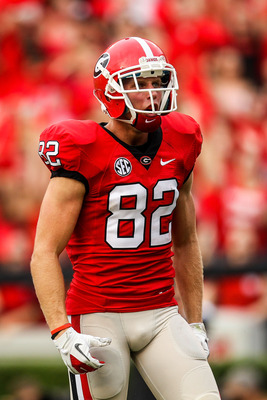 Daniel Shirey-USA TODAY Sports
Bennett played in only five games last year because he tore his ACL. But before the season-ending injury, the receiver was leading the Bulldogs with 342 yards and four touchdowns.
There are a handful of players on the roster who are more athletic and faster than Bennett, but when the Bulldogs need a big play, Bennett always delivers.
The junior receiver did participate in drills the final week of spring practice, so he should be good to go when the Bulldogs take on Clemson on August 31.
No. 3: WR Malcolm Mitchell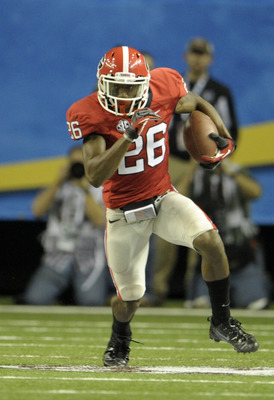 USA TODAY Sports
Starting alongside Bennett at receiver will be Mitchell, who will also be coming off an injury he suffered during spring practice.
Mitchell started the 2012 season as a cornerback, but once Sanders Commings and Bacarri Rambo returned from their suspensions, he spent the rest of his time at receiver.
The junior from Valdosta, Georgia finished the season second on the team in receptions (40), yards (572) and touchdowns (4). Mitchell also returned 16 kickoffs for an average of 22 yards per return.
For the last two seasons, Mitchell has been a deep threat on offense. His numbers should improve from last year, especially with him only concentrating on offense.
No. 2: RB Keith Marshall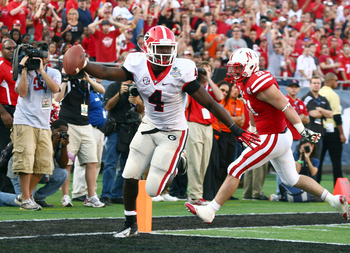 Douglas Jones-USA TODAY Sports
Marshall only started one game at running back last year and did not carry the ball more than 12 times in one game. But the sophomore was one of the better running backs in the SEC, as he ran for 759 yards on 117 carries and scored eight times.
Before the season began, many thought that Marshall would be the next big running back for the Bulldogs. While he did not break any records because he was playing along with another running back from his home state of North Carolina, Marshall still made an impact and was a huge reason why the Bulldogs were one of the better offenses in the country.
No. 1: RB Todd Gurley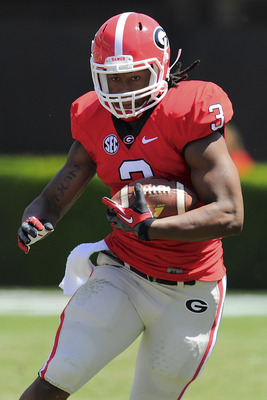 Dale Zanine-USA TODAY Sports
But the one player who made the most impact and became the team's most dangerous weapon was Gurley, who was arguably the conference's best running back last year.
Gurley led all SEC running backs with 1,415 yards and 17 touchdowns. He became the second true freshman in school history to rush for over 1,000 yards in a season.
Gurley's size and speed gave opposing defenses fits, and he's expected to do the same thing in 2013.
Not only can Gurley run, but he can also catch the ball out the backfield, as he caught 16 passes for 117 yards.
Oh, and let's not forget he can return kicks, as he returned seven kickoffs for an average of 34 yards per return. One of the returns went for a touchdown, which occurred in his UGA debut against Buffalo.
Keep Reading

Georgia Bulldogs Football: Like this team?