Notre Dame Football: The 5 Greatest Legends of All-Time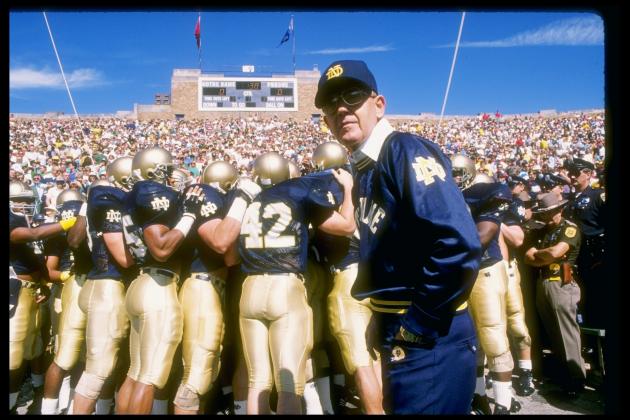 Jonathan Daniel/Getty Images

No sport is steeped in tradition more so than college football. Every team and its respective fanbase understand the importance of the plays, games and stories, some often embellished, that have helped lay the foundation for some of the sport's most decorated programs.
At Notre Dame, college football's most notable brand name, its lore dates back over a century. Over the past 100 years, those indelible moments have been passed down to young, wide-eyed fans by their fathers or grandfathers.
These legends aren't all specific games, moments or figures, but simply stories that can't be omitted when discussing the history of Notre Dame football.
Begin Slideshow

»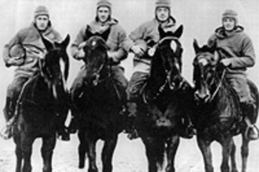 Courtesy: University of Notre Dame
In the formative years of college football as a national sport, no game meant more than Notre Dame and Army. The Fighting Irish's 1913 upset of the Cadets in which they unleashed a rarely seen passing attack put Notre Dame football on the map.
It was in 1924, however, when Notre Dame's "Four Horsemen" (Harry Stuhldreher, Elmer Layden, Jim Crowley and Don Miller) were born, coined by legendary sportswriter Grantland Rice.
"Outlined against a blue-gray October sky the Four Horsemen rode again," Rice described in the New York Herald Tribune of the quartet following Notre Dame's 13-7 win at the Polo Grounds in New York. The legendary picture shown here was taken the following week in South Bend.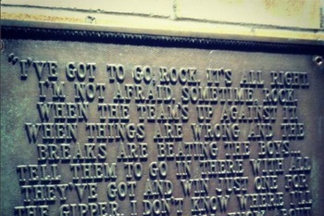 Courtesy: University of Notre Dame
Despite continuous debate over its accuracy, the "Win One for the Gipper" speech is widely considered to be the most famous motivational pep talk in the history of sports.
George Gipp, a halfback at Notre Dame under Knute Rockne, was stricken with pneumonia in 1920 at the young age of 25.
As the story goes, Gipp told Rockne while on his deathbed that when the Irish were behind in a game to tell them that they needed to "win one for the Gipper." In 1928, with the Irish facing unbeaten Army at Yankee Stadium, Rockne called on an old friend to help inspire the Irish.
Notre Dame defeated Army that day, 12-6. The speech would lead to the creation of the film, Knute Rockne, All-American, as Pat O'Brien (as Rockne) and future U.S. president Ronald Reagan (as Gipp) starred in the hit motion picture.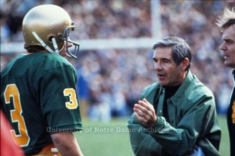 Courtesy: University of Notre Dame
The early years of Dan Devine's tenure at Notre Dame were a significant struggle after Devine replaced two-time national champion Ara Parseghian. Seven losses in only two-and-a-half seasons were considered to be only mediocre when compared to the likes of Rockne, Parseghian and Frank Leahy.
A 5-1 USC came to South Bend midway through the 1977 season. In desperate need of a win, Devine had a surprise for the Irish when they returned to the locker room following pregame warmups: green jerseys.
Devine's magic was just what the Irish needed, as they stormed to a 35-7 lead in a 49-19 victory over the rival Trojans. On New Year's Day at the Cotton Bowl, Devine would secure his place in Notre Dame history with an upset of Earl Campbell and No. 1 Texas. The next day, the Irish were crowned national champions.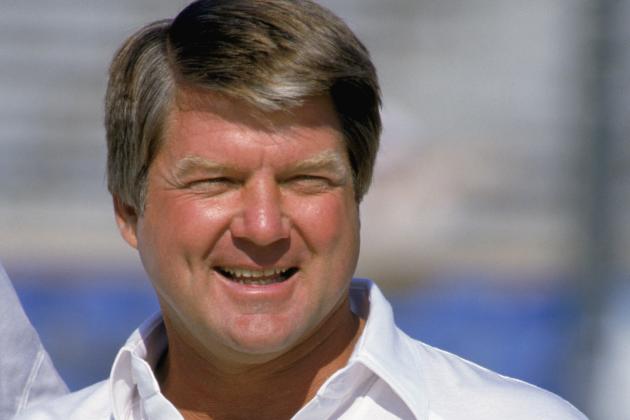 Jonathan Daniel/Getty Images

No. 1 Miami's 1988 visit to South Bend to meet fellow unbeaten and fourth-ranked Notre Dame was the highlight of a brief but heated annual series between the Hurricanes and Irish.
Miami hadn't lost a regular-season game in over three years, a stretch that included two appearances in the mythical national championship game. Twice in that stretch, the Hurricanes had pummeled the Irish, both times at the Orange Bowl.
A pregame fight prior to that 1988 game, the origin of which is still debated to this day between the participants, spawned the famous Holtz quote "Save Jimmy Johnson's ass for me" in his pregame speech. Notre Dame upset the Hurricanes, 31-30, that afternoon in a classic en route to its most recent national title.
Streeter Lecka/Getty Images

By no metric would Notre Dame's 12-1 2012 season be considered a disappointment. However, when measured against the great Notre Dame coaches, Brian Kelly's this season in South Bend comes up a bit short.
How is that? It's simple. Leahy, Parseghian, Devine and Holtz all won national titles in their third seasons in charge of the Irish, while Rockne's 1920 team went undefeated (Notre Dame does not claim a national title for this season).
Although Kelly fell one game short of matching four of the most successful coaches in Fighting Irish history, the 2012 season did prove one thing: that, barring Kelly jumping to the NFL, it might be a long time before Notre Dame again has a head coach in his third season.