For Tiger Woods, the word for the day was "steady." He didn't make a major move, but without his best game off the tee and through inclement weather, Woods stayed at 10-under. In a weather-abbreviated round, Woods produced an even-par 56 through 14 holes.
He and rival Sergio Garcia decided not to finish the 15th hole once the horn sounded. They will resume play on Sunday morning. The "rivalry" had another page added to it today as Garcia blamed the Tiger effect for a bad shot, per Steve DiMeglio of USA Today.
Tiger Woods and Sergio Garcia have been paired together in 12 TOUR events. Tiger has won 8 of those events. More: pgat.us/6012XsrG

— PGA TOUR (@PGATOUR) May 11, 2013
Woods, Garcia and Henrik Stenson are each two shots behind David Lingmerth. The 25-year-old Swede finished 17 holes before the weather halted his play. But he was a very solid four-under for the day.
Even Woods can't be spectacular every day. Unless you're completely in a zone for four days, golfers need steady performances like this to win tournaments that feature elite players.
Click here to see the full leaderboard at PGATour.com.
Tiger Woods about to tee off at THE PLAYERS. Over his last 14 PGA TOUR rounds, 13 of them have been below par (Combined -47).

— ESPN Stats & Info (@ESPNStatsInfo) May 11, 2013
Here is a look at Tiger's day.
Hole
Yards
Par
1
392
4
2
532
5
3
177
3
4
384
4
5
466
4
6
393
4
7
442
4
8
219
3
9
583
5
Out
3588
36
(E)
4
4
4
4
4
4
4
3
5
36
Hole
Yards
Par
10
424
4
11
535
5
12
358
4
13
181
3
14
467
4
15
449
4
16
507
5
17
137
3
18
447
4
In
3505
36
Total
Yds: 7093
Par: 72
4
5
4
3
4
Hole-by-Hole Recap
First Hole: Par 4, 392 yards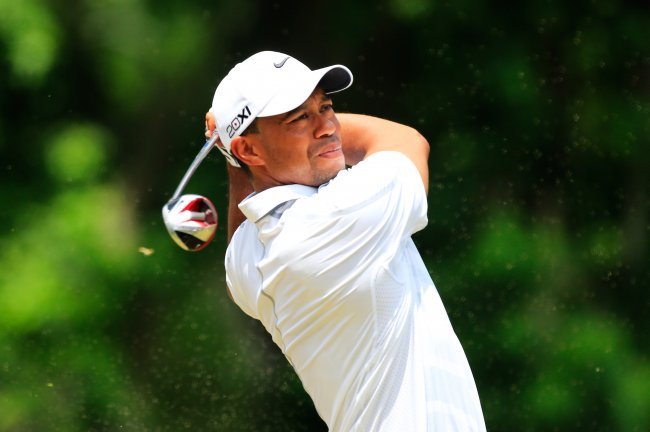 Sam Greenwood/Getty Images
Tiger has parred the first hole on all three days. You'll likely hear no complaints from Woods or notice any major frustration if he stays even here. This is very much a "hold your ground" hole, and Tiger has done that.
Overall: -10
Second Hole: Par 5, 532 yards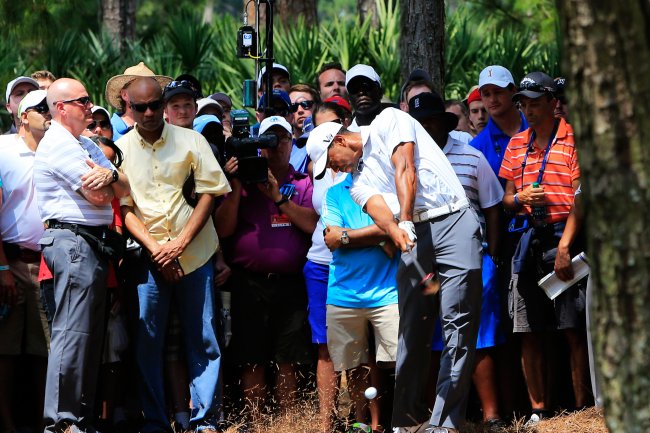 Sam Greenwood/Getty Images
This tee shot left Tiger in the trees. His second shot found the top portion of the bunker, but somehow, he was able to come away with a birdie on the hole.
The man is a magician at times. The putt he made on this hole was anything but a gimme, but he made it look relatively easy.
We have a new leader at @theplayerschamp: Tiger Woods (-11). He birdied the par-5 2nd, while Sergio (-10) made bogey.

— PGA TOUR (@PGATOUR) May 11, 2013
Overall: -11
Third Hole: Par 3, 177 yards
The short holes aren't usually Tiger's forte. He's been better this year, as he is five-under on par threes after finishing 2012 at five-over. He reverted to last year's form a bit on Saturday.
He had to settle for a rare two-putt and give a stroke back.
Tiger's solo lead was brief. He has a power lip-out at No. 3 and makes bogey to drop to -10. Now shares the lead with Sergio and Stenson.

— PGA TOUR (@PGATOUR) May 11, 2013
4-way tie at the top of #THEPLAYERS leaderboard:Maggert, -10/17Stenson, -10/5Garcia, -10/4Woods, -10/4Leishman, -9/8Mahan, -9/7

— PGA TOUR (@PGATOUR) May 11, 2013
Overall: -10
Fourth Hole: Par 4, 384 yards
Sam Greenwood/Getty Images
After his tee shot went a little to the left and found the rough, Tiger got a little break with his lie. He was allowed to reposition slightly, as a drain would have disturbed his footing.
He wasn't really able to take advantage of the break, though. His second shot went long and found the vaunted Bermuda grass.
After an amazing third shot that nearly dropped in the cup, Woods sunk a nice putt to get up and down and save par. At this point he remained tied with Stenson, Garcia and Jeff Maggert at 10-under.
Overall: -10
Fifth Hole: Par 4, 466 yards
Tiger placed his tee shot on the fifth hole nicely, as it just missed the bunker. That set him up for a birdie attempt on the second-longest par four on the course.
He parred this hole through the first two days and had to settle for the same result on Saturday to stay at 10-under.
Tiger was remaining steady, but Stenson had surpassed him after dropping to 11-under.
Birdie try comes up short; par stays at -10, 1 behind Stenson. Skies getting darker as "inclement weather approaching" flashes on scoreboard

— GC Tiger Tracker (@GCTigerTracker) May 11, 2013
Overall: -10
Sixth Hole: Par 4, 393 yards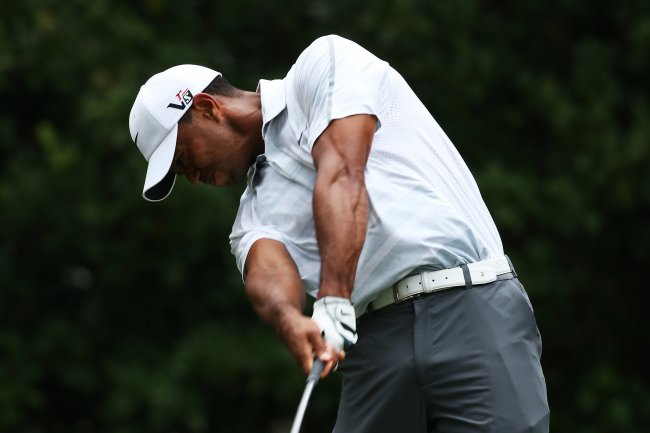 Richard Heathcote/Getty Images
After a decent tee shot, Woods' second shot came up short of the green. The pitch shot just off the green was way too short. The replay on the NBC broadcast clearly showed Woods caught the grass about an inch or so ahead of the ball.
That set up a difficult par putt, but Tiger is simply putting like a maniac. He saved himself again by sinking the attempt to remain at 10-under.
The competitors who were watching Tiger on Saturday had to be hoping he wouldn't find himself in other facets of the game.
Overall: -10
Weather Delay
Mother Nature decided to put the players on pause for well over an hour. Tiger may have needed it; his accuracy off the tee and on second shots wasn't spectacular.
Horn has blown at @theplayerschamp, indicating a stoppage of play. Here's the view from 7. #THEPLAYERS >> twitter.com/PGATOUR/status…

— PGA TOUR (@PGATOUR) May 11, 2013
Seventh Hole: Par 4, 442 yards
Tiger maintained par on the first hole after the delay. He missed a 30-foot putt that would have given him a birdie, but par wasn't a bad way to follow the forced break.
Golf etiquette would normally dictate that Garcia wait for Woods to arrive before beginning play, but obviously the Spaniard didn't get that memo. He missed his putt, in any case.
In the words of Rasheed Wallace: "Ball don't lie."
Garcia accused Tiger of causing a distraction that forced him to hit a bad shot on the second hole.
Sergio Garcia blames Tiger Woods for bad shot at @theplayerschamp - cbsprt.co/13OihS6

— Eye on Golf (@EyeOnGolf) May 11, 2013
Really, Sergio?
Perhaps his hasty play was payback.
Overall: -10
Eighth Hole: Par 3, 219 yards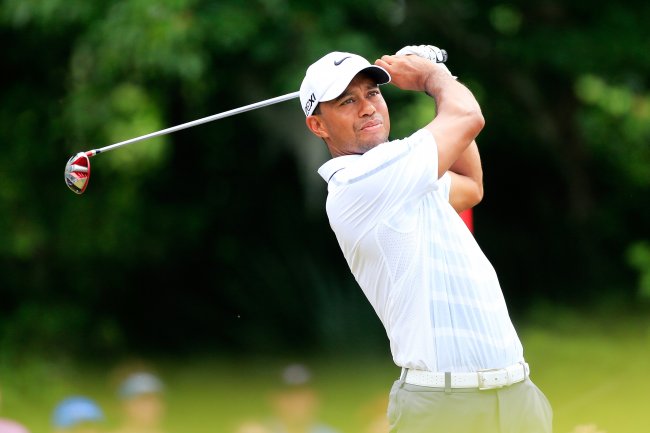 Sam Greenwood/Getty Images
After a very solid tee shot, Tiger left a birdie putt just short. This could have been a great moment for Woods on the front nine, but he couldn't take advantage.
Being the perfectionist that he is, he'll likely be kicking himself for this one on Saturday night.
Overall: -10
Ninth Hole: Par 5, 583 yards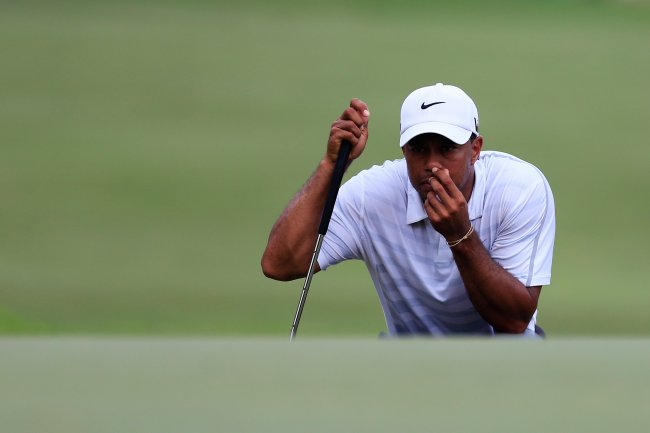 Sam Greenwood/Getty Images
Golf is a cruel sport. After grabbing a birdie on the ninth hole on Thursday and Friday, Tiger was in great position to make it three in a row.
Instead, he left it about two millimeters short of dropping in the cup. The par fives have been Woods' playground this week, but he had to settle for par here.
Overall: -10
10th Hole: Par 4, 424 yards
Woods began the back nine in the same form he'd played the entire day. On Thursday and Friday, he appeared to be attacking the course; on Saturday, he just appeared to be surviving.
The 10th hole was another example of that. He maintained par to stay at 10-under, still just one stroke off the leaders.
Overall: -10
11th Hole: Par 5, 535 yards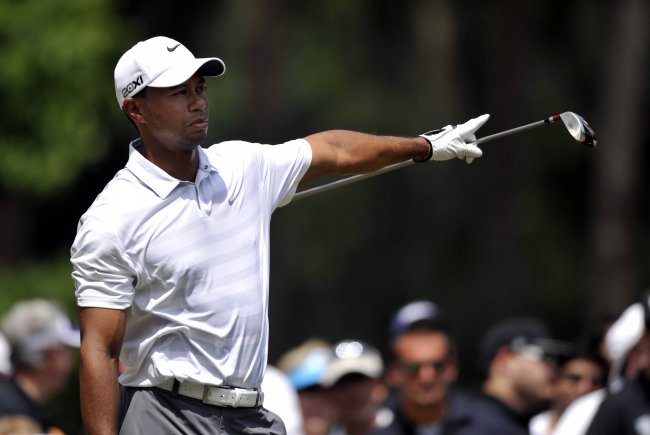 Brad Barr-USA TODAY Sports
A decent tee shot from Tiger gave him a shot at a birdie. It has to stick in his craw every time he walks away from a par five with anything less.
At this point, it seemed as though finishing in the neighborhood of 10-under would be a win for Woods on Saturday.
Overall: -10
12th Hole: Par 4, 358 yards
With the wind whipping ferociously and more inclement weather threatening, Woods had a good shot at a birdie, but it again missed just left.
It set up an easy par for him to stay at 10-under.
Overall: -10
13th Hole: Par 3, 181 yards
The shot on the 13th hole went left, but Woods again recovered nicely. He was able to get within five feet to nail a chance to preserve his par.
The putter continues to be Woods' best friend.
Overall: -10
14th Hole: Par 4, 467 yards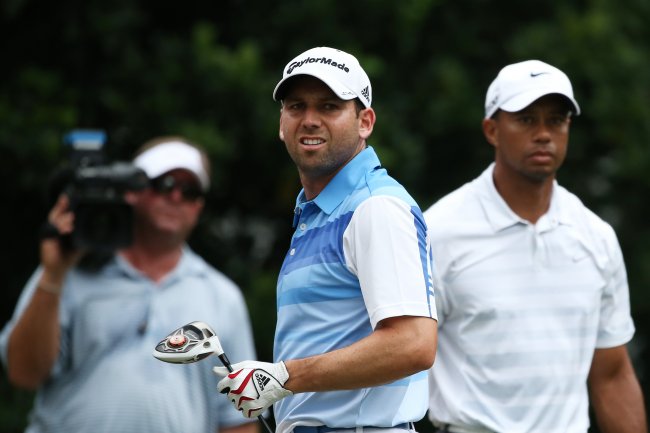 Richard Heathcote/Getty Images
Who will finish higher on the leaderboard?
On the very tough 14th hole, Woods again stayed steady with another par. He played this hole well, but his nemesis Garcia grabbed a birdie to join Stenson at 11-under par.
Woods didn't hit a bad shot on this hole, but the level of difficulty here is noteworthy. He bogeyed the hole on Friday, so even though he dropped a stroke, this was clearly an improvement.
Overall: -10
15th Hole: Par 4, 449 yards
The horn sounded for the second time during the 15th hole. Woods elected not to finish the hole, as was his option.
Tiger post-round: "I'm half asleep. I'm really hungry and I want dinner. We're gonna go watch the Knicks game."

— Will Gray (@WillGrayGC) May 11, 2013
Overall: -10
Post-Play Drama
Once play ended, Woods and Garcia took a few verbal shots at each other. I think they may agree to meet after school at the tree by the fire hydrant.
Tiger on Sergio incident; "Not real surprising he's complaining about something"

— Ryan Lavner (@RyanLavnerGC) May 12, 2013
Sergio, upon hearing Tiger's comments: "it's fine. At least I'm true to myself."

— Ryan Lavner (@RyanLavnerGC) May 12, 2013
Outlook for Sunday
Tiger will play 21-plus holes of golf on Sunday to finish out. After a day in which he didn't have his best game, he has to feel good sitting only two shots behind the leader.
If the weather is anywhere close to what it was on Thursday and Friday, Woods has a chance to distance himself from the field.
If not, he should still be in the middle of a nip-and-tuck battle on an exciting final day. Stay tuned.
Follow me for Sports Did You Knows, News and Spirited Opinions