UNC Basketball: 5 Early Storylines from Tar Heels' 2014 Recruiting Trail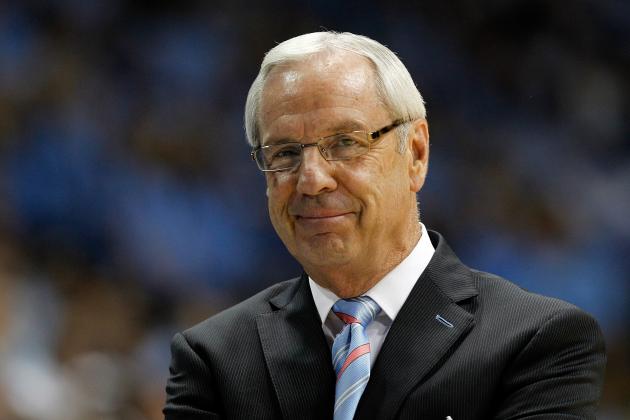 Streeter Lecka/Getty Images

With all the hype over what program will land Andrew Wiggins, North Carolina's 2014 class has been flying under the radar for the last few months. But with a Wiggins decision looming around the corner, we're going to go ahead and spark up the 2014 talk.
The recruiting trail is a long one, and we are merely just a few steps into the process. But Roy Williams did get a good jump on the competition, landing two Top 15 recruits in Justin Jackson and Joel Berry.
There is still a lot of needs, though, and we'll discuss some of those in the following slides. We'll also touch on some of the latest rumblings from prospects Ol' Roy is hoping to land.
All player rankings come from the 2014 ESPN 60.
Begin Slideshow

»
Roy Williams is off to a good start with his 2014 recruiting. He has already snagged two early verbal commitments from No. 12 Joel Berry and No. 14 Justin Jackson. Only two other Top 15 prospects have been taken off the board to this point.
Berry and Jackson add depth and great versatility to the point guard and small forward positions. But there is still plenty of work left to be done.
North Carolina has offers on the table for No. 1 Jahlil Okafor, No. 9 Rashad Vaughn, No. 10 Justise Winslow, No. 13 Theo Pinson, No. 19 Devin Booker and No. 24 D'Angelo Russell. That's a pretty stout group, but according to Inside Carolina, Roy Williams and company have their eyes on another recruit.
Assistant coach Steve Robinson has been on the Nike EYBL trail, keeping tabs on No. 17 Jalen Lindsey. The 6'7", 180-pound small forward out of Franklin, Tenn. had previously narrowed his list to nine programs.
However, it sounds like he's leaving space for his childhood dream:
I remember in eighth grade I said UNC was my dream school. I still love UNC and I grew up loving it. I have a lot of respect for those guys. I'm not saying it's going to make a huge difference, but there's definitely something there. I really like UNC. I know Coach Williams is a great coach and a great guy.
That sounds a lot like the things we heard from Berry before UNC handed out an offer. And it didn't take long for Berry to snatch it and run. Perhaps we'll see the same from Lindsey.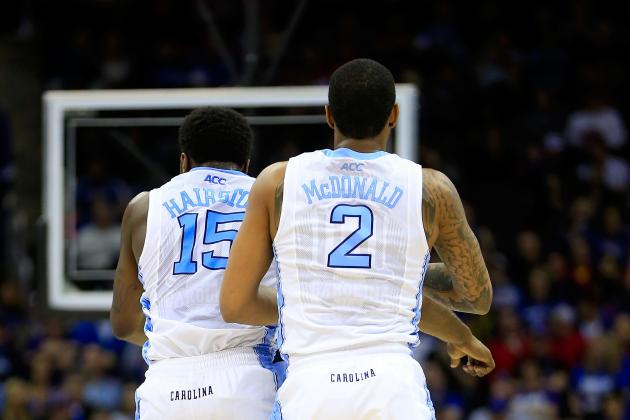 Jamie Squire/Getty Images

Leslie McDonald will be a senior in 2013-14, and P.J. Hairston has passed up the NBA for two straight seasons. I wouldn't bet on him hanging in Chapel Hill for his senior season.
Since Coach Williams passed on the shooting guards with his 2013 class, the position is quickly becoming a great concern for UNC. In fact, with the departure of Reggie Bullock, the Tar Heels are already stretched thin for the coming season.
For now, Rashad Vaughn, D'Angelo Russell and Devin Booker are the only shooting guards on Carolina's offer sheet.
If the Tar Heels can't land any of these guys, it's going to be a makeshift affair in Chapel Hill in 2014.
They will be stacked at point guard with Marcus Paige, Nate Britt and Joel Berry. One of them could play the 2 in a dual-point set. That would be great for the transition game, but it could be a problem in the half court.
None of them top 6'1".
Perhaps J.P. Tokoto's perimeter game will be developed by then, and he can see more time at the 2 than the 3. Justin Jackson also has all the tools to make the easy shift to shooting guard.
But somewhere in the mix, there must be at least one true shooting guard. And if Coach Williams fails to snag one with this class, it could get really ugly in 2014.
Though Joel Berry is currently ranked the No. 3 point guard of the 2014 class, I still believe he is the best all-around floor general in the lot. The downside is the Tar Heels may have missed out on top prospect Jahlil Okafor with his commitment.
Package deal chatter has become commonplace in recruiting, and the latest involves Jahlil Okafor and top-ranked point guard Tyus Jones. The two have been very outspoken over the last year about their desire to play together.
"We're most definitely excited to do it," Jones said in a TwinCities.com report last July. "We're very serious about doing it and think it's going to happen."
Nothing has changed since then, and NBCSports.com recently reported the two are "99.9 percent" sure they will end up together. If that is true, the Tar Heels have lost out on the only center on their 2014 offer list.
In 2014-15, Desmond Hubert will be a senior; Joel James will be a junior, and Kennedy Meeks will be a sophomore. That means there will still be depth and talent on the roster at the 5-spot, but Okafor is in a class all his own.
At 6'10", 270 pounds, he has the size of a center, but he also has the athleticism and ball skills of power forward. There is good reason for this kid being No. 1 overall in the 2014 ESPN 60. He would have been a great addition to the Tar Heels' roster—especially when there are question marks over the current centers in Chapel Hill.
However, as often as we hear about package deals, not many of them come to fruition—no matter how "sure" they are. Until Okafor signs those papers, Roy Williams should continue his pursuit.
With D'Angelo Russell's expansive skill set, he would be the perfect fit to play opposite Joel Berry for years to come in Chapel Hill. And the 2013 Nike EYBL is offering a taste of that scintillating platter.
Russell and Berry have been playing together for Each 1 Teach 1 this season, leading the squad to a 9-4 record for the top spot in Division D.
The two started off a little slow, struggling to shoot above 40 percent from the field. But things have turned around in Dallas, where they found their shots and helped push the team to a 3-0 record this session.
Russell shot 50 percent from the floor and averaged 15.3 points, five rebounds, 2.7 assists, 0.3 blocks and 0.3 steals. Berry was also able to knock down an even 50 percent of his shots while averaging 14.3 points, 3.7 rebounds, 6 assists, 0.3 blocks and 0.7 steals.
The combo is really starting to mesh, and it would be nice to have some chemistry coming into Chapel Hill. But don't expect Berry to pull a Kennedy Meeks and recruit Russell harder than Roy Williams himself.
In an interview with Yahoo! Sports, Berry said the two "joke about it," but that's about as far as it goes.
As they say, though, actions speak louder than words. And perhaps Russell seeing what the duo is capable of will be enough to push him to Chapel Hill.
Stats were tallied from game-by-game box scores at NikeEYB.com.
For Tar Heel fans lucky enough to live in the Triangle—or those diehards willing to make the travel—you will get a good look at both commits in December.
Justin Jackson will make the long hike from Texas with his HomeSchool Christian Youth Association squad to compete with Joel Berry and Lake Highland Prep at the HighSchoolOT.com Holiday Invitational Tournament in Raleigh.
Both teams were able to capture state championships this past season.
"It's going to be a great moment to play in front of future Carolina fans and rivals fans too," Berry told Inside Carolina. "It gives them a chance to see what they have coming and I'm ready to play in it. I'm excited."
"It's going to be fun," Jackson added. "I'm excited just to see the support from our fans, and then to play for the first time in front of fans from the other schools."
I'm sure the Tar Heel faithful are equally excited to see these guys up close, instead of reading scouting reports and watching highlight videos. And maybe by the time this tournament rolls around, there will be another commit to watch.
Stay tuned. It's going to be a busy offseason for the Tar Heels, and they're already off to a promising start.