Miesha Tate vs. Liz Carmouche Head-to-Toe Breakdown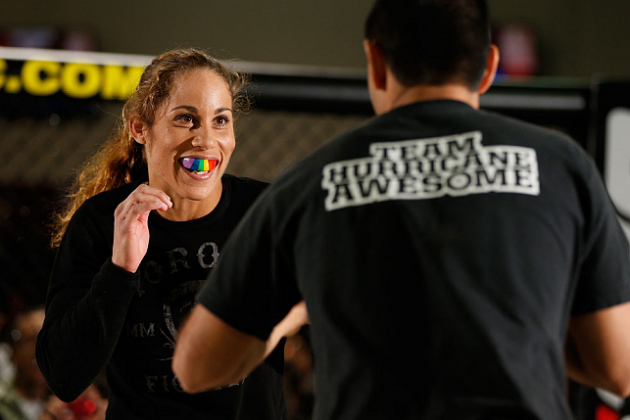 Photo by Josh Hedges/Zuffa LLC/Zuffa LLC via Getty Images
Miesha Tate and Liz Carmouche will meet at UFC on FOX 8 in Seattle on July 27.
Tate, currently ranked No. 3 in the official UFC rankings, is coming off a TKO loss to Cat Zingano in a No. 1 contender's bout at The Ultimate Fighter finale. She wastes no time in jumping right back into a big fight.
Carmouche has not been in action since losing to champion Ronda Rousey at UFC 157. The fifth-ranked fighter was just another first-round armbar victim.
Both women have stepped inside the cage against Rousey, and both want another crack at the gold. This top five fight will put them one step closer to achieving that goal.
Let's break down the battle between two of the top bantamweights in the world.
Begin Slideshow

»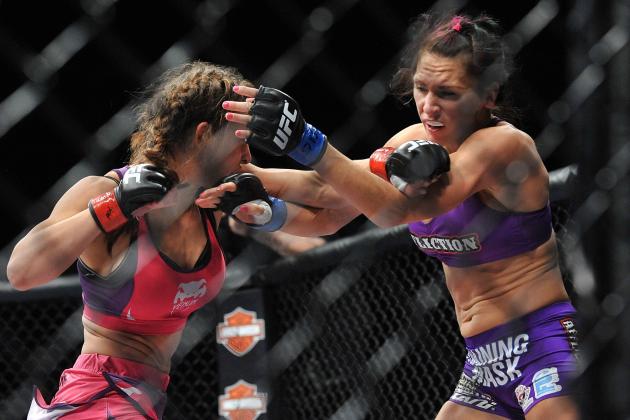 Gary A. Vasquez-USA TODAY Sports

Neither of these women are known for their striking. They are primarily grapplers, and good ones at that. However, they are diligently working on rounding out their game.
Out of the two, Tate has shown more ability to strike. She had a good first round against Zingano on the feet. Tate caught Zingano flush with big punches early, but the success would not be sustained over the course of the entire fight.
However, it is not a runaway for Tate in this category. Carmouche has good power in her hands, and will have a slight reach advantage when they meet.
Carmouche is more likely to finish with strikes if she connects, but Tate is more technically proficient at this stage in their careers. That gives her a slight edge on the feet.
Edge: Tate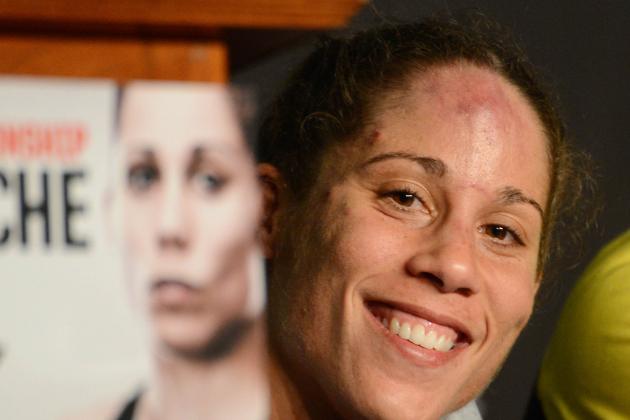 Jayne Kamin-Oncea-USA TODAY Sports

This is the category where both women find most of their success. Taking the fight to the mat.
Tate is a former Washington state high school champion, but women's wrestling is not exactly a high-level sport at this juncture. It is an impressive note on her resume and that's all. It does not mean she holds a big advantage over most.
Carmouche may not have a state championship under her belt, but her training (both in the U.S. Marines and in MMA) has made her capable of taking most down in the division.
I will give Carmouche the edge in the wrestling category, and the reason is her brute strength.
Her strength advantage over Tate will give her a better shot at taking the fight down, and at staying on her feet. If she gets her hands on Tate, then the former Strikeforce champion will probably end up on her back with Carmouche raining down strikes.
Edge: Carmouche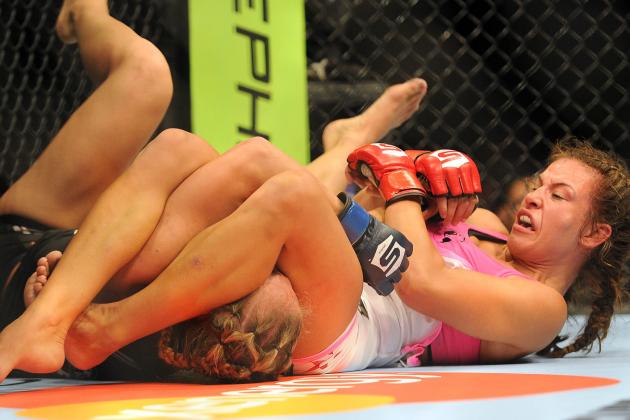 Jayne Kamin-Oncea-USA TODAY Sports

This may be the only crystal-clear category to give either woman.
Carmouche has two submission wins to her credit, but she prefers to drop vicious ground and pound on her opponents. She tries to get the referee to pull her off her opponent.
Tate is a slick submission artist.
Not only does she have six submissions on her record, but she has taken out some credible grapplers with her game. She won the Strikeforce gold with an arm-triangle over Marloes Coenen. Coenen, while known for her stand-up, is a good grappler in her own right.
If Tate has to work from bottom, it will be difficult to catch Carmouche, but she has the tools to get it done. Her jiu-jitsu game has saved her before, and it may be called upon for this fight, too.
Edge: Tate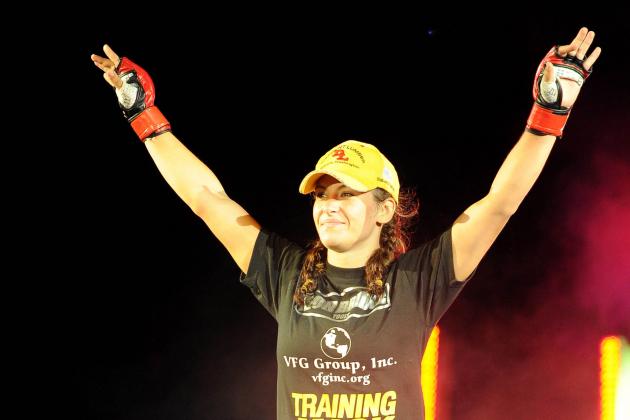 Jayne Kamin-Oncea-USA TODAY Sports

Carmouche's X-Factor: Establishing the Jab
It is noted that neither woman are accomplished and feared strikers, but Tate has no fear and will come forward. Carmouche needs to establish her jab. It will keep Tate on the outside and unable to come in with strikes.
If her jabs land clean, they will do damage. She carries that kind of power.
Carmouche does not have a distinct reach advantage, but you take every advantage you can get in MMA. She should pump the jab to create the distance to render Tate's striking ineffective.
Tate's X-Factor: Not to be Over-Aggressive
Tate is one of the most exciting fighters in the world right now. One reason is her aggressive nature. She seemingly has little cares to give, and comes forward consistently.
Against Carmouche, she will need to be careful about becoming too aggressive.
When a fighter gets over-aggressive, especially against a good wrestler, it makes them easier to be taken down. That is what Tate wants to avoid in this fight. She does not want to be on her back with the Girl-Rilla on top.
Tate can keep a high pace without becoming too aggressive.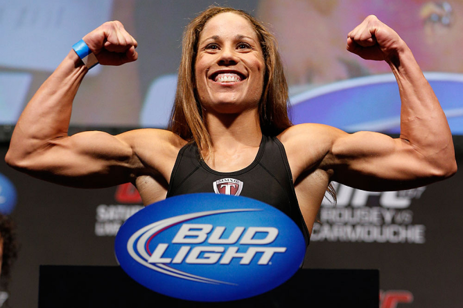 Photo by Josh Hedges/Zuffa LLC/Zuffa LLC via Getty Images
Thus far, in only three fights, the UFC women have finished every bout. Do not look for that trend to continue in this fight.
The way this fight stacks up, it will be a 15-minute battle between two of the top women in the sport. It will be who can outscore their opponent on the scorecards. The finish will not come easy.
I like Carmouche to make her first step back in her chase for another crack at the UFC Bantamweight Championship.
Tate comes forward without fear, and that will be her downfall. She will put herself in a position to be taken down by Carmouche and have to fight from her back.
Carmouche will not give Tate room to catch her in a submission, and she will start to pummel her with ground and pound.
Prediction: Carmouche defeats Tate by unanimous decision