UFC: An Event-by-Event Look at Who's on the Chopping Block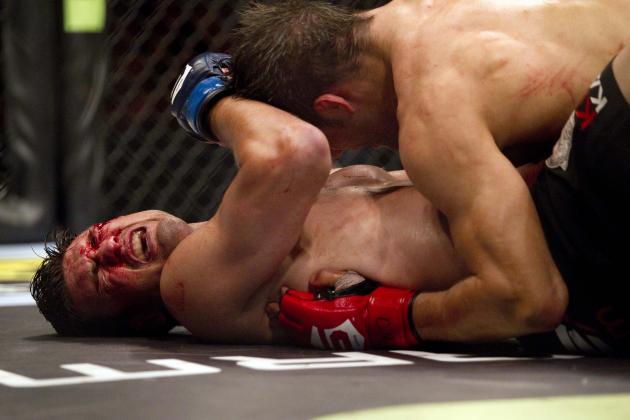 Greg Bartram-USA TODAY Sports

It's no secret that the UFC is the home to the top fighters in the world. However, it's not a place that is a lasting home if you cannot win fights.
The UFC has began drastically cutting fighters on their roster ever since the inclusion of the Strikeforce roster and its new women's division. Competitors have been cut left and right if their performances aren't up to par or if they cannot stay out of the loss column.
Let's take a look at the current schedule of fights and see which fighters are likely on the chopping block should they lose their next bout.
Begin Slideshow

»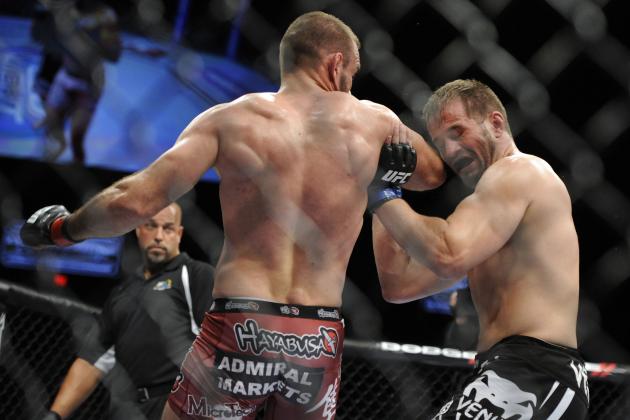 Rafael Suanes-USA TODAY Sports

On the chopping block: Lucas Martins, Jeremy Larsen, Azamat Gashimov, Fabio Maldonado, Roger Hollett, Paulo Thiago, John Cholish
There is no doubt in my mind that the next UFC event, held in Brazil, will provide us multiple cuts from the undercard.
Lucas Martins and Jeremy Larsen meet in a battle of 0-1 fighters. Martins was trounced in his short-notice debut against Edson Barboza, while Larsen questionably gets a second fight with the company after losing his Ultimate Fighter Finale bout to Joe Proctor in under two minutes. The loser will leave town here, unless there is a draw, in which both would be cut in that case.
Although the flyweight division is incredibly light, another loss for Azamat Gashimov would likely get him the axe. The Russian debuted and was quickly defeated by Ivan Menjivar in the bantamweight division, but now drops to 125 to meet Brazilian slugger John Lineker.
A light heavyweight will also likely get cut, as Canadian Roger Hollett fights the always tough and entertaining Brazilian Fabio Maldonado. Hollett dropped his debut with the company in lackluster fashion against Matt Hamill, while Maldonado finds himself employed because he is tough and entertaining. Since winning his UFC debut, Maldonado has dropped three straight to Kyle Kingsbury, Igor Pokrajac and Glover Teixeira.
Paulo Thiago's long UFC career may come to an end, but he finds himself with a lesser known, late-notice replacement in the form of Michel Prazeres. Thiago has struggled to find consistency and has struggled as of late, so a loss, especially to a newcomer and late addition, would get him the can for sure.
Lastly, John Cholish is in dire need of a win when he takes on Brazilian mammoth Gleison Tibau. Cholish won impressively in his UFC debut against Mitch Clarke, but lost his latest outing against Danny Castillo.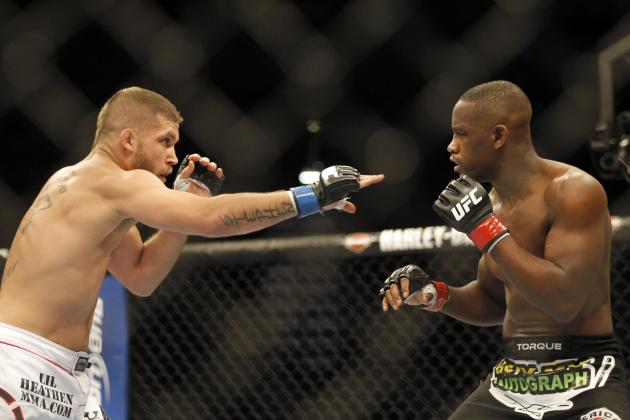 Joe Nicholson-USA TODAY Sports

On the chopping block: Jeremy Stephens, Stephen Thompson, KJ Noons
There are not as many names that are in danger of losing their jobs at UFC 160, but that may be because the card is so loaded and star studded.
Making the drop to the featherweight division, Jeremy Stephens finds himself on the chopping block after three straight losses at lightweight. That being said, Stephens has lost to top 155ers Anthony Pettis, Donald Cerrone and Yves Edwards, but should he drop his bout to the debuting Estevan Payan, he may be looking for a job in the aftermath.
Stephen Thompson is known for his illustrious debut when he kicked Dan Stittgen's head into orbit, but his follow-up effort against Matt Brown now overshadows the promise he gained in his debut. If the talented kickboxer fails to down Nah-Shon Burrell, especially on short notice, he also will be on the outside of the company looking in.
Lastly, fan favorite and former contender KJ Noons is in a must-win situation when he takes on the aforementioned Cerrone. Noons enters the UFC on the heels of a 1-4 record in his last five outings. His name cannot even save him should he fall to the "Cowboy."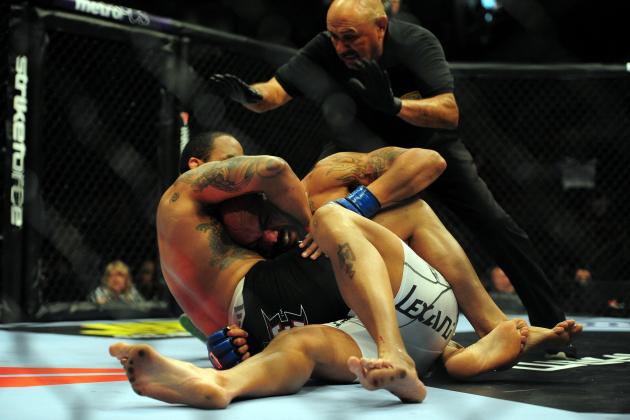 Kyle Terada-USA TODAY Sports

On the chopping block: Anthony Smith, Caio Magalhaes, Karlos Vemola, Rodrigo Damm, Mizuto Hirota, Daniel Sarafian, Thiago Silva, Rafael Cavalcante
Another trip to Brazil means another big round of potential cuts when UFC on Fuel: Nogueira vs. Werdum rolls around.
Anthony Smith makes his UFC debut coming off a loss in Strikeforce to Roger Gracie. The exciting fighter now meets Brazilian grappling ace and fellow newcomer Antonio Braga Neto in what could be Smith's only UFC appearance, should he fail to win.
Middleweight counterparts Caio Magalhaes and Karlos Vemola could be in a "win or go home" situation when they meet in the cage. Magalhaes dropped his debut in lackluster fashion to Buddy Roberts, while Vemola has shuffled between wins and losses in three different weight divisions (2-3 overall in the UFC).
Another loser-leaves-town match will likely occur at 145, when Japanese brawler Mizuto Hirota fights Brazil's own Rodrigo Damm. Damm won his UFC debut, but fell to Antonio Carvalho in his follow-up effort, while Hirota lost his Strikeforce and UFC debuts to Pat Healy and Rani Yahya, respectively.
Newfound Brazilian star Daniel Sarafian may find himself fizzled should he fail to leave his home country victorious. He takes on newcomer Eddie Mendez in a fight which he will try to erase the memory of dropping his debut against CB Dollaway.
Finally, two top Brazilian light heavyweights are likely fighting for their jobs, as past drug-test offenders Thiago Silva and Rafael Cavalcante battle. Cavalcante is 1-1 in his last three fights, as one fight resulted in a no contest for failing a drug test. Silva is 0-2 with two no contests, as he has failed two tests himself for marijuana metabolites and a falsified urine sample.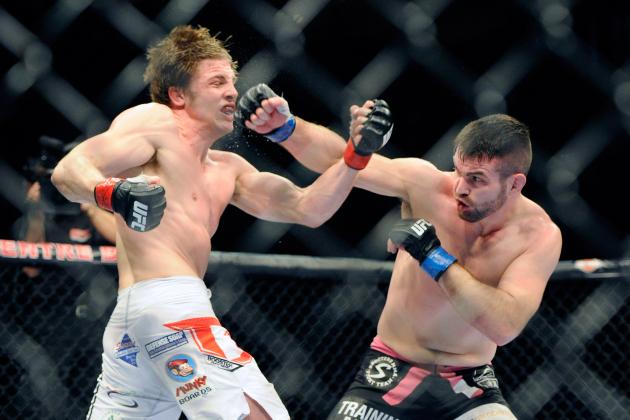 Eric Bolte-USA TODAY Sports

On the chopping block: Edwin Figueroa, Mitch Clarke, John Maguire, Yves Jabouin, Dustin Pague, Igor Pokrajac
The undercard of UFC 161 will see multiple men in multiple divisions with their jobs in jeopardy.
Bantamweight Edwin Figueroa may be saved by the fact he is always in entertaining fights, but his 2-2 record does cause some concern. Should he fall to Roland Delorme, there is a high possibility the regional circuit becomes his new home.
Lightweight counterparts John Maguire and Mitch Clarke find themselves in a must-win fight against one another. Clarke is 0-2 in his UFC career, while Maguire finds himself on a two-fight skid after winning his first two UFC bouts.
Dustin Pague should be in fear of his job when he takes on flashy, entertaining striker Yves Jabouin. Why Pague is still in the UFC is unknown to most, as he is 1-3 and has been mediocre at best in those fights (losses to John Albert, Ken Stone and Chico Camus).
The final man who should be in fear for his job is Igor Pokrajac. Though he is just 0-1 (1 NC) in his last two bouts, he was tapped out against Vinny Magalhaes and dominated by Joey Beltran, even though he failed a drug test. A win would give Pokrajac more comfort than worry.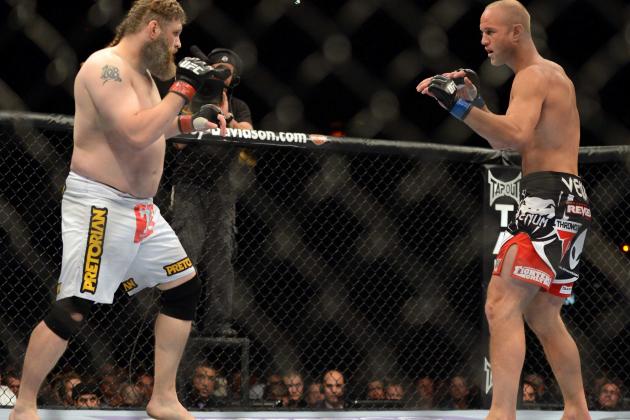 Ron Chenoy-USA TODAY Sports

On the chopping block: David Mitchell, Dave Herman, Shane del Rosario, Brian Melancon, Chris Leben, Andrew Craig
UFC 162 may have some high-profile cuts when that event is all said and done.
David Mitchell has a tough test at the event when he takes on the criminally underrated Mike Pierce. Mitchell won his last bout but lost his first two fights, so a loss (would make his record 1-3) could send him packing.
A heavyweight bout between Dave Herman and Shane del Rosario will likely leave the division with one less big man. Herman has been finished in three straight fights against Stefan Struve, Roy Nelson and Antonio Rodrigo Nogueira; del Rosario has been knocked out in his only two UFC bouts against Stipe Miocic and Pat Barry.
Brian Melancon is making his UFC debut after moving in from Strikeforce but lacks the resume and margin of error for a loss. He takes on prospect and recent winning-streak owner Seth Baczynski in an effort to keep his employment with the promotion.
Finally, a bout between Andrew Craig and longtime UFC vet Chris Leben could result in a cut. Craig started off 2-0 in his UFC endeavor before dropping his last fight (both wins were comebacks). Leben is 1-3 in his last four fights and failed another drug test (his second) in the aftermath of his loss to Mark Munoz.
Even his exciting style and fanbase can't save him here.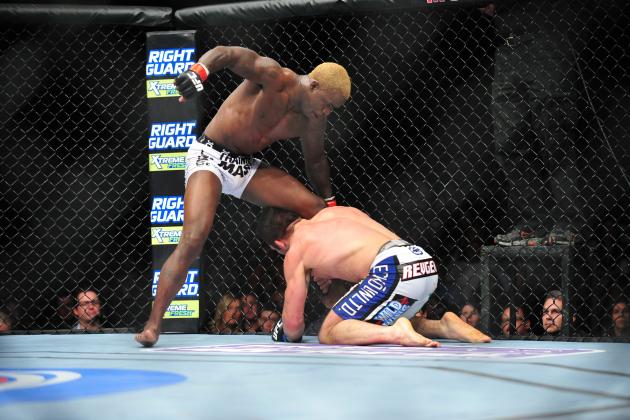 Gary A. Vasquez-USA TODAY Sports

On the chopping block: John Albert, Yaotzin Meza, Aaron Riley, Justin Salas, Spencer Fisher, Trevor Smith, Melvin Guillard, Mac Danzig
There are heavy implications for cuts when UFC on Fox: Johnson vs. Moraga rolls around, especially for a couple of longtime veterans.
Bantamweights John Albert and Yaotzin Meza are fighting for their jobs against one another. Meza lost a short-notice debut against contender Chad Mendes, while Albert is on a three-fight winning streak despite all of them being exciting and competitive (yes, even though they were all first-round submissions).
Lightweights Aaron Riley and Justin Salas similarly compete for their jobs against each another in the cage. Salas is 1-1, losing quickly in his last bout to Tim Means, while Riley has fought just once since 2010 and owns a loss in that time.
Spencer Fisher came out of retirement and will take a fight against fellow longtime veteran Yves Edwards. Previous to coming out of retirement, Fisher had lost three in a row and five of his last six bouts.
Trevor Smith is debuting after time in Strikeforce, but his in a must-win fight when he meets Ed Herman. Smith was 0-2 in Strikeforce, meaning he has no margin for error in this bout.
Lastly, longtime UFC employees Mac Danzig and Melvin Guillard find themselves close to the bandsaw. Danzig's UFC career has defined inconsistency, as he hasn't won two fights in a row since 2008 and is coming off a loss. Guillard is 1-4 in his last five and has looked subpar in all of those bouts.