Kentucky Basketball: 5 Reasons Fans Should Expect an SEC Title in 2014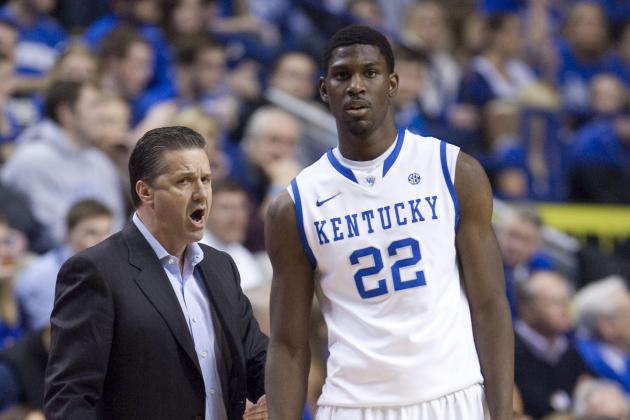 Mark Zerof-USA TODAY Sports

Kentucky basketball is used to winning SEC titles, both regular-season and conference tournament ones. In fact, it's more of a surprise to SEC fans when any team besides Kentucky wins a conference title.
The Wildcats have won a record 28 conference tournaments as well as 47 regular-season titles. But, after a down year in 2012-13, Big Blue Nation is ready to add to those numbers. Will it be easy for Kentucky to do that?
No. Florida is expected to be a top-10 team this year.
Will Kentucky be the favorites?
Yes. It wouldn't surprise anyone to see the Wildcats win their second national title under John Calipari.
The first step toward that ninth NCAA title, though, is to win a 29th SEC tournament or a 48th regular-season crown.
But, why not silence all the critics and win all three?
Begin Slideshow

»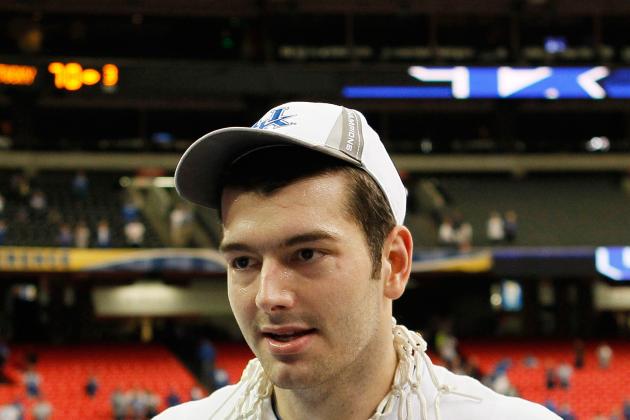 Kevin C. Cox/Getty Images

History says Kentucky will win the SEC tournament every 1.9 years and a regular season every 1.7 years.
Bettors in Las Vegas, be aware.
It's that time after the Wildcats slipped all the way back to finishing second in the Southeastern Conference regular season last year. History proves it's time for Kentucky to stake claim for the regular-season title in the SEC in 2013-14.
It's been since 2011 since the Wildcats hoisted the conference title. After losing in the finals in 2012 and in the quarterfinals in 2013, the Wildcats are primed to continue the history trend of winning every three years.
The longest drought Kentucky has had is six years between regular-season titles (if you count the 1988 vacated title) and five years between conference tournament titles.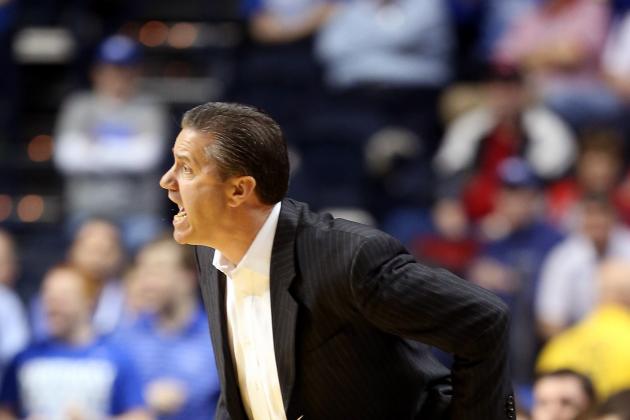 Andy Lyons/Getty Images

Here comes what probably will be the most scrutinized statement in this article.
John Calipari is just as good of a coach as he is a recruiter.
His teams don't win just because of talent. They win because Calipari knows his teams and makes the correct in-game adjustments to benefit his team.
Calipari also makes sure to keep his opponent on their toes by switching defenses, whether it's a full-court trap, half-court man-to-man or a zone defense, Calipari isn't afraid to alternate his defensive matchup.
The most important thing Calipari does, though, is coach his teams for March. He takes the early-season games as teaching lessons in order to grow so his team is clicking on all cylinders come March. While it didn't result in a national title, arguably the best coaching job Calipari did was during the 2010-11 season.
The team lost games it shouldn't have, but as the season went on, the mistakes decreased, and by the time March came, the team rolled to an SEC championship and a trip to the Final Four.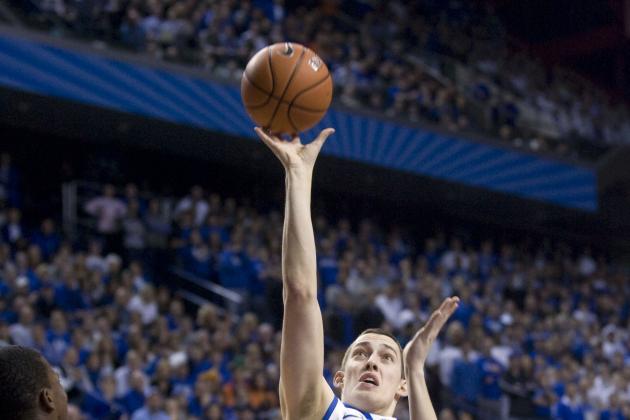 Mark Zerof-USA TODAY Sports

Calipari-coached teams tend to have a short bench with a set rotation. The deepest team Calipari has had during his time in Kentucky was the first year in Lexington when he could play a nine-man rotation and no one would bat an eye.
That is until this year when the roster is comprised of eight McDonald's All-Americans, as well as veterans Jarrod Polson and Jon Hood. Also joining the incoming class of six McDonald's All-Americans is Dominique Hawkins and Derek Willis.
With the deep rotation, expect Kentucky to play a more up-tempo style of play that will not only test the endurance of its opponents but could also lead to more fouls as well. That lends itself to a deeper rotation to keep the order fresh.
With Kentucky's out-of-conference schedule coupled with an 18-game SEC schedule, the deep rotation will keep the players fresh and also come into play if an injury pops up similar to Nerlens Noel last year.
It will also come to play in the SEC tournament when a team has to win at least three games in three days to become the champion.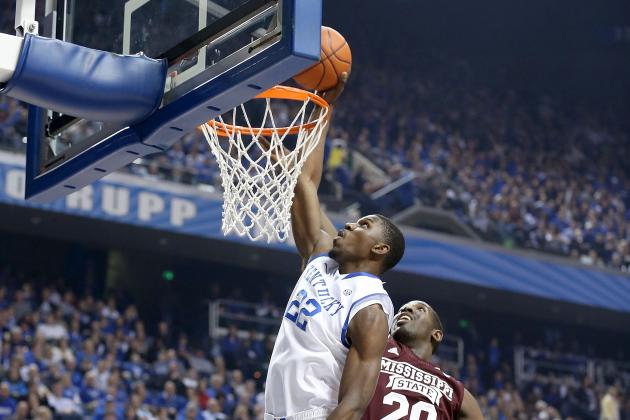 Andy Lyons/Getty Images

Calipari has the luck of picking and choosing what type of lineup he wants on the floor at any given time. The other plus is most of those players can play multiple positions.
Kentucky has six players that can play in the paint for instance in Kyle Wiltjer, Willie Cauley-Stein, Alex Poythress, Julius Randle, Marcus Lee and Dakari Johnson. Calipari can mix-and-match these players, playing three at any time due to the ability of Randle, Wiltjer and Poythress versatility to play on the wing as well.
Coupled with the post players the three guards in Andrew Harrison, Aaron Harrison and James Young are all capable to guarding multiple positions. While Andrew Harrison will be the point guard for Kentucky, he has the size and strength to guard wing players if need be.
There are very few others teams, if any, in the country, let alone the SEC that have the ability to mix and match its lineup like Kentucky can.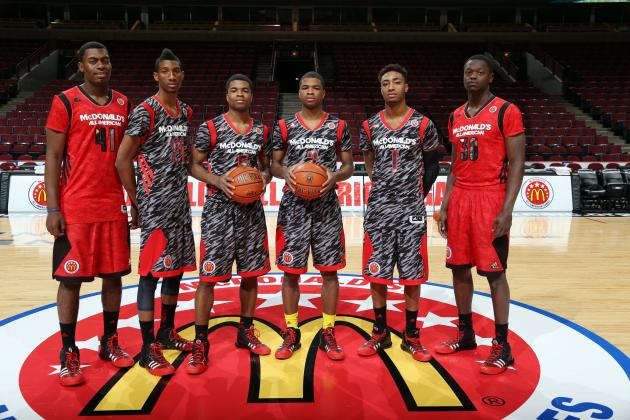 Brian Spurlock-USA TODAY Sports

There's just flat out too much talent on this Kentucky team to not win the SEC.
Sure, people will bring up last year's fiasco, arguing you can't defend talent of incoming players. But, the fact of the matter is, it's not just the six incoming freshmen this year and you can defend the high praise for players who have yet to set foot in a college gym.
Much like two years ago when Terrence Jones, Doron Lamb and Darius Miller came back to school, this team will have veteran leadership who has seen the highs and lows of playing basketball at Kentucky. Kyle Wiltjer, Alex Poythress and Willie Cauley-Stein are able to talk about the problems of last year and have the veteran presence to make sure it doesn't happen again.
While there has been an argument that you can't win a championship with a young team, all you need to do is look at the last two years to see the success. Kentucky won the championship with four freshmen playing significant minutes, while Michigan blew a halftime lead this past season playing five freshmen in its rotation.
If Kentucky doesn't win one of the SEC titles this year, it will be a major shock.