Weirdest Fan-Made WWE Superstar Tribute Videos on YouTube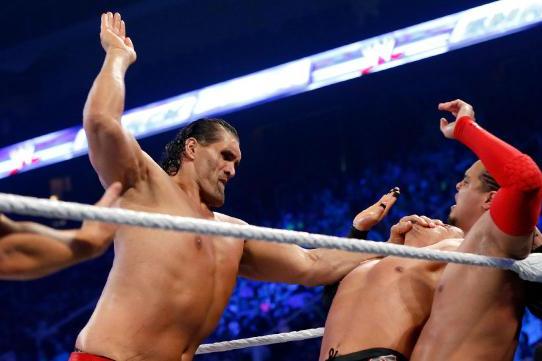 Photo from WWE.com
On YouTube, even the most obscure, talentless or underappreciated WWE performers get their due.
Look up Owen Hart or Eddie Guerrero tributes and you'll find an overstock of options to view. What about WWE's less beloved stars? Don't they deserve to be immortalized via highlights and rock music as well?
Clowns, slobs, giants and an interviewer all get their own video homage.
The following WWE tribute videos were composed by fans who didn't care what wrestlers everybody else likes. They have their own unique set of favorites—either that or they know how to wield sarcasm as a weapon of amusement.
Begin Slideshow

»
From 1993-1994, Bastion Booger did his best to gross out WWE audiences. He's often pointed out as an example of a horrendous gimmick, one that didn't showcase the wrestler's skills. At least one person, though, appreciated what Booger did during his WWE run.
Crank up your computer. It's time to blast Creed while watching Booger in action.
There is a lot of footage of a Survivor Series match that included a ton of clowns.
User andreaasp apparently made this video before TheRealMrFunny reposted it. Booger (real name: Mike Shaw) passed away in 2010 and this would come off as a touching tribute were the subject not wearing that hideous gray outfit and made to look so ridiculous.
The WWE Universe has an incredibly varied range of favorites, but few folks can claim that The Great Khali inspired them to put together a tribute video.
This hilarious video uses clips of wrestlers like Brock Lesnar and Kurt Angle to make it seem like praise is being heaped upon Khali. The percentage of non-sarcastic Khali tribute videos isn't great.
Watch all of Khali's "greatest" moments including him kissing Mae Young, standing around looking intimidating and dancing with Mark Henry and Ezekiel Jackson.
The New World Order had an enormous amount of members, but what would it have been like had they added Doink the Clown? He'd have to change his make-up to black and white to start with.
Imagine an alternate reality where the third man was Doink. That's the kind of disturbing thoughts this video leaves one thinking.
The juxtaposition of one of the most ridiculed gimmicks in WWE history with one of the coolest groups in wrestling history makes for chuckle-worthy entertainment.
Before Glenn Jacobs hit it big with the Kane gimmick, he went through a variety of ring names and personas that mostly flopped. This video is a tribute to Jacobs' transformation from laughing stock to legend.
Check out clips and photos of Jacobs as Doomsday, Bruiser Mastino, Isaac Yankem D.D.S. and even the Christmas Creature. As bad as making Jacobs a sadistic dentist was, it is genius compared to dressing him in that red and green holiday-themed mess he wore for Smoky Mountain Wrestling.
Try your best to suffer through the annoying dentist-themed music of the first half of the video. Try to spot a young Zeb Colter. Try to imagine what Jacobs' career would have been like had he been forced to stick with one of his less successful gimmicks.
It's not often that you see clips of Josh Mathews as a wrestler. It's even less often that someone takes the trouble to put together a tribute video for him.
The WWE interviewer and announcer attempted to make it in the ring, even competing on Tough Enough, but even if he didn't make it, there's at least one fan willing to celebrate him. This video pairs clips of Mathews' work with Breaking Benjamin's "I Will Not Bow."
User robinhood34's description of the video is extremely telling. He or she writes, "This vid is for Josh Mathews srry its short couldnt find clips."
The Bastion Booger guy probably had an easier time finding clips.
When you think of the WWE Hall of Fame and someone at the same level of legendary status as Harley Race, Undertaker and Andre the Giant, you think Heidenreich, right?
Splicing Hall of Fame narration with Heidenreich's name is one of the funnier bits of wrestling sarcasm floating around. According to this tribute, Chris Jericho claims that Heidenreich raised the bar for everyone else and The Miz says that he's his favorite Superstar of all time.
Watch as he reads poetry and has an uncomfortable moment with Michael Cole. One of the most unlikely subjects for a tribute video gets one of the funniest.