New York Knicks: Best- and Worst-Case Scenarios in 2013 Offseason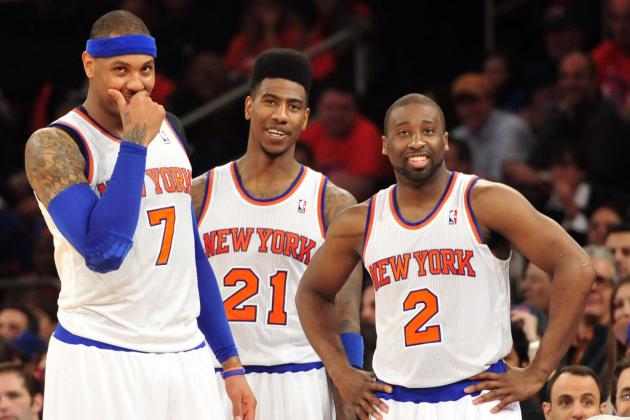 Joe Camporeale-USA TODAY Sports
If J.R. Smith bolts in free agency, can these three rack up enough buckets to compensate?
Of course, the best-case scenario for the New York Knicks in the offseason would be adjusting to life as NBA champions. But aside from that pinnacle, how will they need to prepare themselves for the 2013-14 season?
Next year, the Knicks are on the hook to the tune of $58 million for Carmelo Anthony, Amar'e Stoudemire and Tyson Chandler. That's a lot of donuts. And it probably also means they can't afford to retain Sixth Man of the Year J.R. Smith.
However, the rest of the payroll has a few shrewd investments on it. Iman Shumpert is a steal at $1.7 million and Raymond Felton is an equally great bargain at $3.6 million next year. Meanwhile, Steve Novak has largely failed to live up to his four-year, $16-million contract.
Kenyon Martin would likely be a piece that they would bring back and they could shift the $916,099 in non-guaranteed money they'll save on little-used guard James White. They also hold qualifying offers for Chris Copeland and Pablo Prigioni.
And for a welcome change, the Knicks actually have a first-round draft pick. While it will come late in the first round, there are still players of quality at that stage. Last year, productive rookies Jae Crowder and Draymond Green went early in the second round.
So within this framework, here are the best- and worst-case scenarios for the coming offseason.
Contract information courtesy of Hoopsworld.com.
Begin Slideshow

»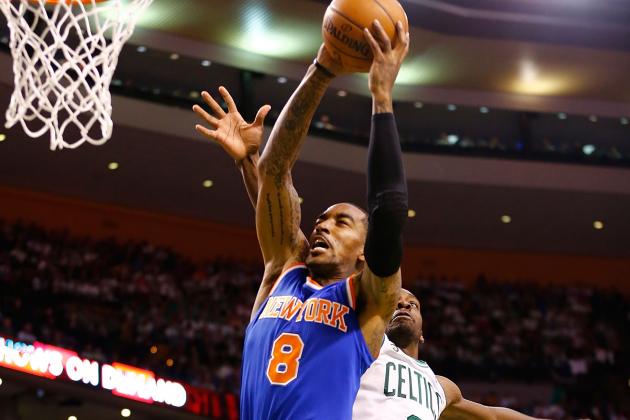 Jared Wickerham/Getty Images

According to Marc Berman of the New York Post, J.R. Smith stated in April that not only does he want to remain with the New York Knicks, he wants to remain there forever. "I'm born in New Jersey, born and raised. I would love to retire a Knick."
That would be nice, but the real question is, can the Knicks afford him? After winning the Sixth Man of the Year award, he's sure to be a prime target in free agency. And it makes sense for Smith to look for a payday.
As his father told Marc Berman, "He's already taken a lot less the last two years to play here."
Moke Hamilton of SheridanHoops.com quotes a source as saying it is "very, very likely" Smith will opt out of his contract for next season and look to cash in on free agency.
The Knicks hold Smith's Early Bird Rights, meaning they could offer their Sixth Man around $5.5 million a year for four years even though they're over the cap apron (Hamilton explains the thorny details in his article). But a team with more cap space could—and very well might—offer him much more than that.
There's no question that the Knicks got Smith at an incredible bargain this year ($2.8 million), but jettisoning their mercurial sixth man might not be the worst thing in the world.
The only problem is that replacing him on a budget could be nearly impossible.
Jarrett Jack, J.J. Redick, Kyle Korver, Marco Belinelli, Devin Harris and Matt Barnes are all free agents this offseason. None of them can completely replace J.R. Smith's virtuosity, but each of them can score in bunches and play a valuable role in the starting lineup or off the bench.
The price tag is the only question, and that will largely be dictated by the market.
Of course, if Smith walks to a payday in free agency, the Knicks would always have the option of shifting Iman Shumpert back to the 2. Shump has regained his defensive intensity and offensive burst after returning from knee surgery, and at 6'5", he's a little undersized to be playing at the 3.
Shumpert's offensive ceiling is nowhere near Smith's, but his production is still more than respectable and his defense will keep him on the court.
Raymond Felton gives them good versatility at either the point or shooting guard, but general manager Glen Grunwald should look to give the Knicks more depth than their present three-guard starting lineup.
As well as Pablo Prigioni has played, New York would be unlikely to roll with him as its starting point guard. Jason Kidd has played efficiently and with savvy, but he has also been shut out over six straight playoff games.
So if the Knicks either forgo or can't afford to target a shooting guard in free agency, they can comfortably enter next season with Felton and Shumpert as their starting backcourt.
But that will put a tremendous amount of pressure on them to beef up their frontcourt, which has struggled with depth all season.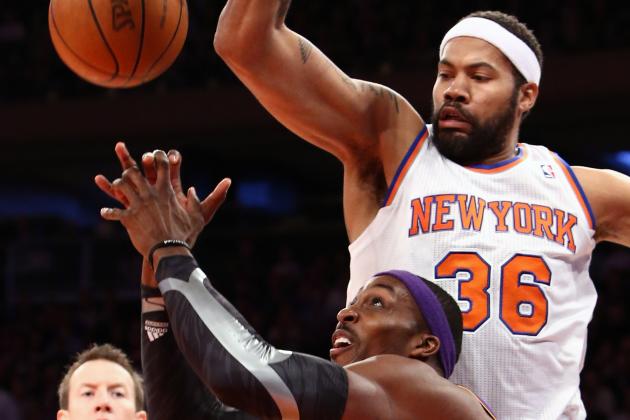 USA TODAY Sports
Ball don't lie! Oh, and cut the check!
The Knicks became the butt of many jokes by bringing Rasheed Wallace out of retirement and rostering ancient players Marcus Camby and Kurt Thomas.
But Sheed helped spur them on a sensational 17-5 run to open the season, and Thomas proved a very useful player at times. In fact, in Thomas' last game of the year, he turned in a tremendous effort against the Utah Jazz to halt a four-game losing streak. The Knicks won their next 12 games after Thomas helped end the schneid.
Kenyon Martin was instrumental in that 13-game winning streak as well. With Tyson Chandler ailing, K-Mart powered New York to the No. 2 seed in the East just as they were desperate for depth up front.
And even if Martin returns to back up Chandler, the Knicks must target more help at power forward.
Carmelo Anthony won the scoring title playing at the 4 nearly the entire season, but because of the lack of depth, Anthony's versatility is muted.
J.J. Hickson, Paul Millsap and David West are just pipe dreams, but Al-Farouq Aminu, Earl Clark and Andray Blatche will all be free agents as well. Any one of those players would represent a substantial upgrade from the razor-thin depth up front.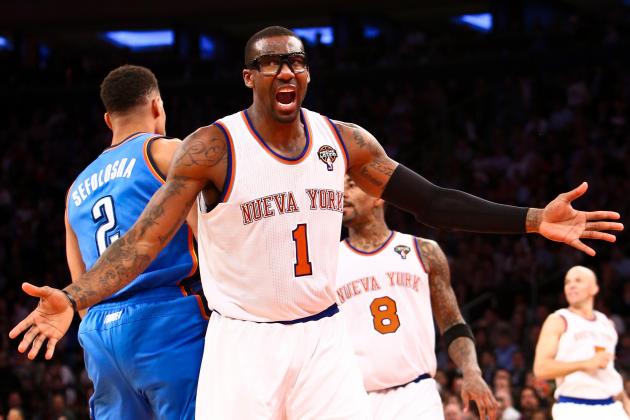 USA TODAY Sports
'Why can't I stay healthy?'
Amar'e Stoudemire looked very good for stretches of the season, but his body betrayed him yet again.
He may have returned to duty too soon following his first knee debridement procedure and Mike Woodson admitted as much (per Jared Zwerling of ESPNNewYork.com):
I thought maybe we might have pushed a little too much early on, so we've got to be really cautious this time around—just to make sure that we're doing the right things with him.
STAT played in just 29 games after returning in January, though he still put up some nice stats (game averages of 14.2 points on 57.7 percent shooting and five boards, including 2.1 on the offensive glass in 23.5 minutes).
Now, the same questions remain about his defense and whether he can mesh with Melo, but those are more like good problems. The biggest worry without a doubt is his durability.
Stoudemire is owed $45 million over the next two seasons, all of it uninsured, so it's in the Knicks' best interest to keep him fresh and manage his minutes very carefully. That makes targeting more depth at the 4 and the 5 a top priority.
The 30-year-old had microfracture surgery in October 2005 and athletes who've underwent those typically have an expiration date. New York is hoping that he holds out a little longer.
Too bad they already amnestied Chauncey Billups.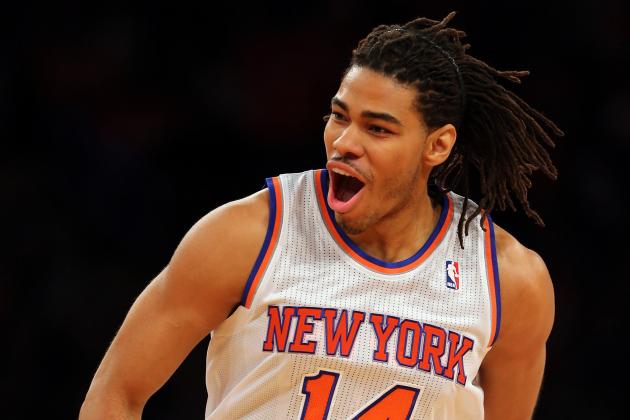 Elsa/Getty Images

Chris Copeland posted very solid numbers in his first NBA season when rated per 36 minutes (per basketball-reference.com): 20.3 points on 47.9 percent shooting from the field, 42.1 percent from downtown, 75.9 percent on 3.5 free throws and five rebounds per game.
On Dec. 17 against the Houston Rockets, he racked up 29 points on 11-of-19 shooting. And in the final two games on the schedule, he totaled 65 points. In fact, he achieved double-digit scoring in seven consecutive games to close the regular season
Cope actually finished with the 11th-highest player efficiency rating (per ESPN) among small forwards, one spot higher than Most Improved Player Paul George.
In regular-season games that Carmelo Anthony or J.R. Smith missed, Copeland proved to be a very serviceable second scorer.
But Mike Woodson held Cope out at times due to his suspect defense, especially his tenuous grasp of schemes and switches.
According to 82games.com, Copeland allowed opposing small forwards to accrue a PER of 17.2, which is higher than his own rating and comparable to the production of a player like Josh Smith. Yikes.
Copeland will have an entire offseason to work on defense, which usually just amounts to effort and acuity. If he can get his D up to snuff, he will get many more chances to prove what he can do on offense and serve as a "seventh man," if you will.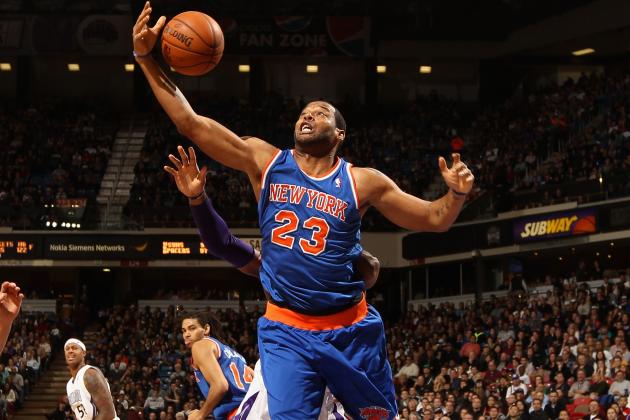 Ezra Shaw/Getty Images

Marcus Camby has been a great player over his career, but he was not healthy enough this season to make much of a contribution to the Knicks.
The 39-year-old appeared in 24 games for New York, averaging 1.8 points on 32 percent shooting, 3.3 boards and 0.6 blocks in 10.4 minutes. Per 36 minutes (via basketball-reference.com), Camby averaged a tidy 11.5 rebounds, but that was actually the lowest mark of his career since an injury-plagued campaign with the Knicks in 2001-02.
Worse still, Camby's contract guarantees him $4.4 million next season. Somehow, he is the fourth-highest-paid player on the team, directly behind the Big Three.
Ideally, the Knicks would give Camby a nice send-off with a video tribute and save some money either through a team-friendly buyout of his contract or an outright retirement and cancellation of his contract (see salary cap guru Larry Coon speak to this issue in a Q & A on HOOPSWORLD).
They could sign him as an Executive Assistant Coach in charge of rebounding and blocked shots. In 2012-13, New York finished 25th in team rebounds per game and dead last in blocks (3.6 per game).
If the Knicks succeed in shifting some of their veteran savvy from the end of the bench to the coaching staff, it will open up room for them to get younger and deeper across the roster.