Arsenal: Where Some of the Gunners' Top Players Need to Improve This Summer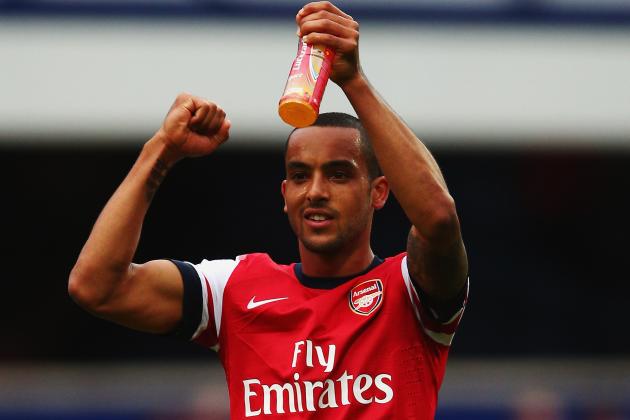 Clive Rose/Getty Images

Despite Arsenal's sterling run of form since their defeat to Tottenham in February, few would deny that there is ample room for improvement during the summer.
And that progress cannot come simply through the transfer window; the many excellent players who are already on the club's payroll need to step up and contribute more if they truly wish to unseat Manchester United as Premier League champions next season.
While it is often overlooked during the media's semiannual rounds of Arsenal bashing, the club does have a substantial amount of good international players who are capable of excelling at the highest level. They have just not been able to coalesce to the degree that has been achieved at a couple other clubs.
So let's look at how each of Arsenal's best players can improve ahead of the 2013-14 Premier League season.
Begin Slideshow

»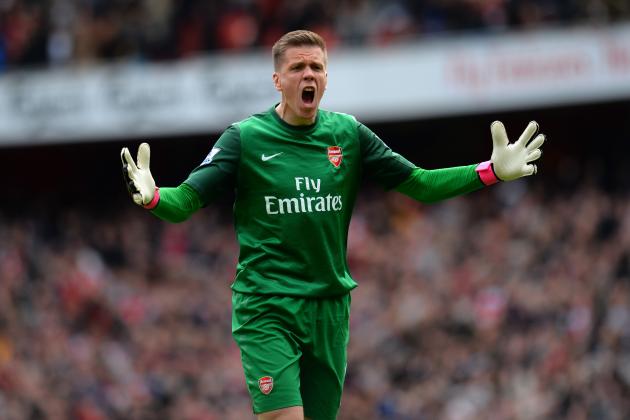 Shaun Botterill/Getty Images

There is no doubt that Wojciech Szczesny is an immensely talented goalkeeper who has the potential to be Arsenal's No. 1 for years to come. Anyone who has watched his development knows that.
But, for one reason or another, he has lacked the sort of reassuring consistency and constant focus between the posts that truly great 'keepers possess.
Perhaps the lack of of competition this season fomented a stagnancy and malaise in Szczesny's game, but he has not yet realized his full potential.
And that's fine; he's only 23 years old and bounced back well from being benched in favor of Lukasz Fabianski. The true test, however, will be how well he reacts when Arsenal bring in another experienced goalkeeper this summer, as they almost surely will.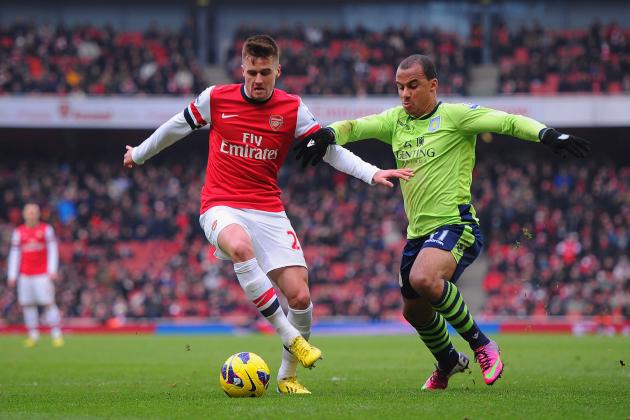 Michael Regan/Getty Images

Like Szczesny, Jenkinson is one of Arsenal's most promising young players. He has the potential to be a regular starter for the next several years and could even assume the starting role next season if Bacary Sagna departs in the summer.
There is a lot to like in Jenkinson's game: the unending energy that he has to race up and down the pitch, his almost Beckham-esque ability to whip good crosses from even the least advantageous positions, and, on a basic level, his love of Arsenal.
However, like many young players, he lacks a certain amount of judgment and positional awareness.
Take his sending-off during the Aston Villa game, for example. Jenkinson needlessly received a red card and made it very difficult for Arsenal to take three vital points from what should have been an easy game after hacking down a Villa player in a nonthreatening area.
That's the sort of rashness and impetuousness that is often present in young players' games. Once he cuts out those mistakes, he will become a regular.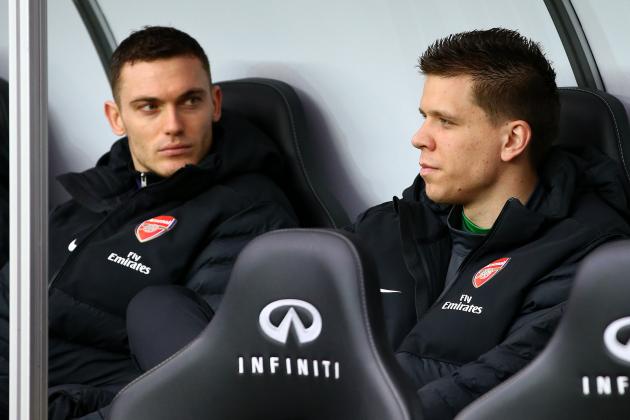 Jan Kruger/Getty Images

Arsene Wenger has frozen his captain, Thomas Vermaelen, out of the starting lineup for weeks simply because the alternative, Laurent Koscielny, has performed better.
Koscielny is simply a defensively superior, right-footed version of Vermaelen. And what does the Frenchman have that the skipper does not?
Discipline.
Koscielny is not afraid to race around his area of the pitch to make a vital tackle, but he does not sacrifice his primary role as a defensive player to support the attack. Though assured with the ball at his feet, he stays back and reads the game.
Vermaelen does not, bombing forward at inopportune moments and leaving Per Mertesacker and the few others who remain in defense stranded when the other team counterattacks. Until he can cut this massive flaw out of his game, Vermaelen will continue to ride the bench.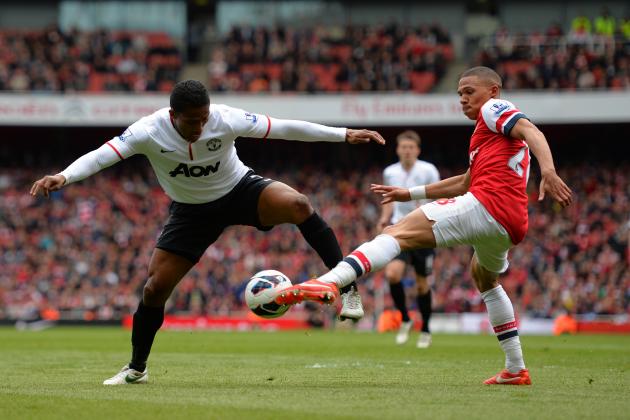 Shaun Botterill/Getty Images

Kieran Gibbs has been excellent at left-back this season—when he is on the pitch.
That is, and always has been, the problem with him. Much like Ashley Cole and Gael Clichy during their first years as Arsenal's left-back, fitness issues have hampered an extremely promising career.
Those problems helped force Arsene Wenger's hand during the January transfer window, and now Gunners fans can breathe a sigh of relief knowing that the defensively sturdy Nacho Monreal is backing up Gibbs instead of the disastrous Andre Santos.
While these two are good enough to constantly rotate (it's nice for once, isn't it?), Gibbs should have the opportunity to play for something approaching a full Premier League season and show what he can really do, rather than spending six or eight abortive weeks on the sideline.
To some degree, it'll take luck. But Gibbs' fitness next season is a subplot worth monitoring.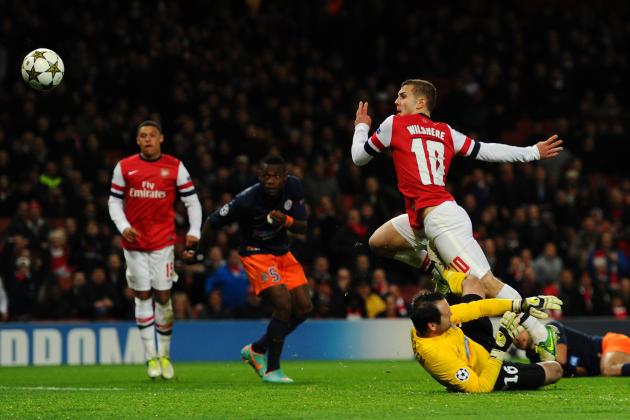 Mike Hewitt/Getty Images

For a player who came through Arsenal's youth system as an attacking midfielder, and has played there several times this year, it is remarkable how few goals Jack Wilshere has scored this season.
He has appeared in 23 Premier League games this season and scored exactly zero goals. Tomas Rosicky has scored two in just eight appearances (both against West Brom), and the Gunners' starting center-backs, Laurent Koscielny and Per Mertesacker, combine for four league goals.
Add in other competitions, and Wilshere has just two goals on the season.
Wilshere is a player who seems to be so dynamic that he has it all. But this appears to be his one major flaw.
If he can just add some more quality strikes to his dribbling and passing game—and we know he is capable of that—Wilshere will take a major step toward becoming one of the best midfielders in the world.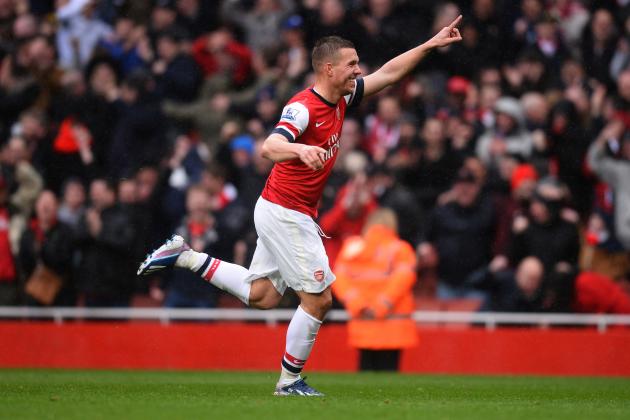 Mike Hewitt/Getty Images

Much has been made of Lukas Podolski's inability to complete a full match for Arsenal during his debut campaign. When a 28-year-old with over 100 international caps cannot seem to make it through 90 minutes more than a few times in a season, questions will understandably be raised.
Recently, rumors have been floating around that Podolski's ankle has been bothering him all season, resulting in the unexplained absences and protracted appearances of which so much was made in the media.
Goal.com's Wayne Veysey reported that Podolski is set to undergo ankle surgery this summer. If any procedure is needed, let it be done as soon as possible.
He is too good a player for Arsenal to not wring the most out of. One of the highest-paid men at the club, the directness and width he provides the Gunners' attack is invaluable, as is his thunderbolt of a left foot.
If Podolski can start next season fresh and healthy, there will be a marked difference in Arsenal's attack.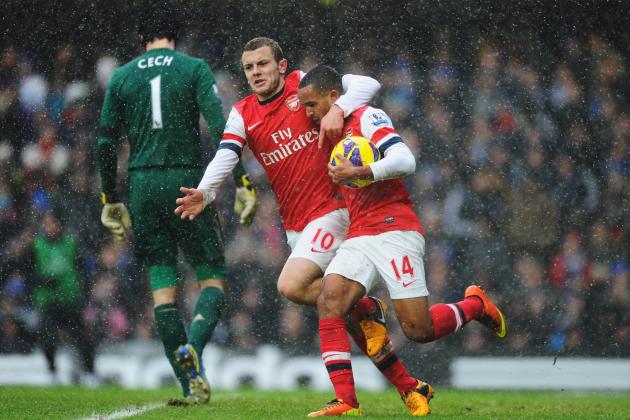 Laurence Griffiths/Getty Images

Squawka.com provides a nifty graph for each Premier League player that charts their form from the beginning of the season to the end. After about the middle of January, Walcott's figures take a dramatic plunge.
But at least he's been consistent. From August until the start of 2013, his form oscillated violently between stellar and subpar.
The latter might be an understatement. Arsene Wenger did bench Walcott at the start of the season amid protracted contract negotiations between player and club, but it is rather remarkable to see a player's spike from a negative to well above average almost every week.
Interestingly, though, the level of his performances dipped at a steady rate after putting pen to paper on a new contract in January. The tiny bump at the end of the graph reflects his performance against Manchester United, which was actually quite mediocre apart from the goal.
The two events are not necessarily correlated, but it is logical to question whether Walcott should be the highest-paid player at Arsenal Football Club (via The Times) while displaying such remarkable inconsistency.
It's certainly something he needs to improve upon next season.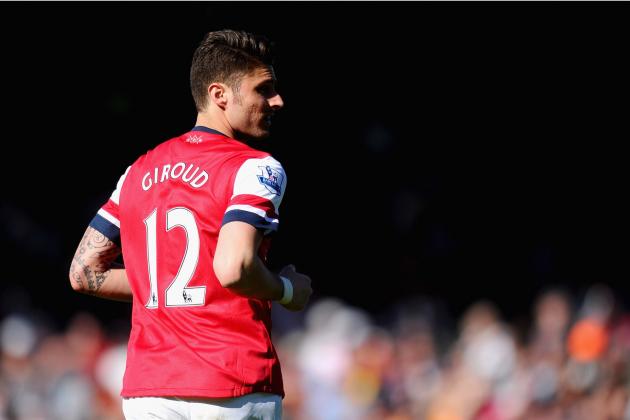 Mike Hewitt/Getty Images

Giroud was a bit too assertive in his last appearance for Arsenal, foolishly lunging in on a West Brom player and getting a three-match suspension.
But that does not change the fact that he often fails to impose himself upon games when the opponents are world-class or when the going gets tough. It's been one of the biggest and most justified criticisms of Giroud in his debut season.
He has not hit the back of the net against a single team that is currently above Arsenal in the Premier League table. Goals against Tottenham, Bayern Munich and Schalke 04 are the only goals he has netted against opposition that is roughly as good or better than Arsenal.
It is not uncommon for Giroud to get lost in the shuffle during big games, unproductively holding the ball up and moving languidly. This is more the exception than the rule, but someone as big and talented as Giroud should have a sizable impact on most games he plays.
Instead, Arsenal's only striker has been limited to simply "above average." Certainly he can do better in his second season.