Everton FC: Pros and Cons of 5 Possible Replacements for David Moyes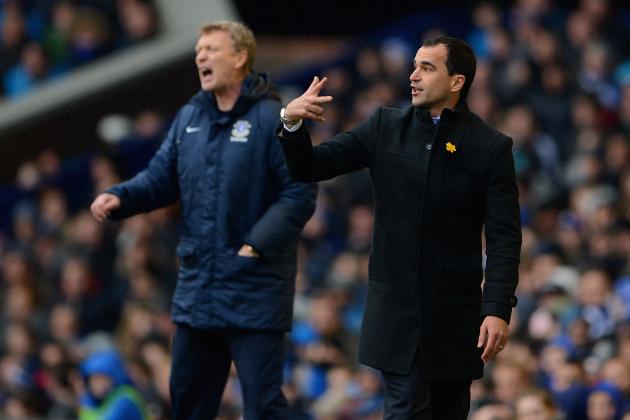 Michael Regan/Getty Images

The breaking news over the past few days has done nothing but deflate the vast majority of Evertonians.
David Moyes, manager of the Toffees for the past 11 years, has confirmed he will leave the club at the end of the season to join Manchester United as Sir Alex Ferguson's successor (via BBC Sport).
With a rising debt, ageing squad and sparse transfer budget, there's no denying Everton's next appointment will find it tough to replicate Moyes' consistent production and keep the Toffees in and around the top six.
So how do the current names in the frame to succeed Moyes match up on paper?
Begin Slideshow

»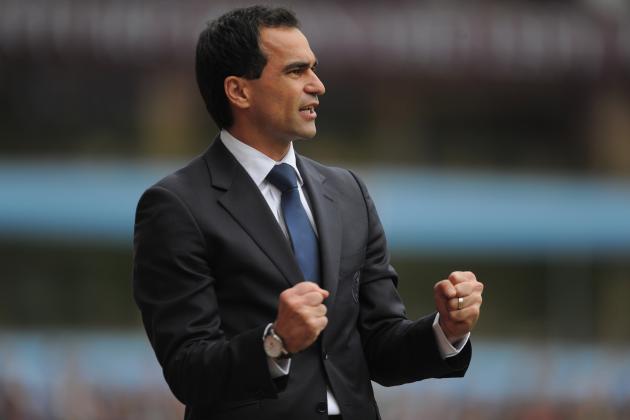 Michael Regan/Getty Images

The current favourite for the position is Wigan's Roberto Martinez.
The Spaniard is fairly popular among football fans, particularly for his inventive approach and willingness to introduce a wide array of tactics.
He generally encourages his side to play attractive football and the fact he has experience working with a meagre budget and manipulating the transfer market also works in his favour.
Against him is the fact that his reputation seems a little exaggerated. At the end of the day, his side have still been dragged into a relegation fight in each of his four seasons, recording just 38 Premier League wins and never finishing higher than 15th in the table. Their defence has continually appeared a severely disorganised unit during that time.
Many laud his ability to punch above his club's financial weight, yet that also seems slightly over-hyped. Wigan currently carry the 17th-highest Premier League wage bill but sit 18th, while Moyes continually drags Everton in and around the top six with the 11th-highest wage bill (via FinancialFairPlay.co.uk).
Satisfaction Rating: 3/5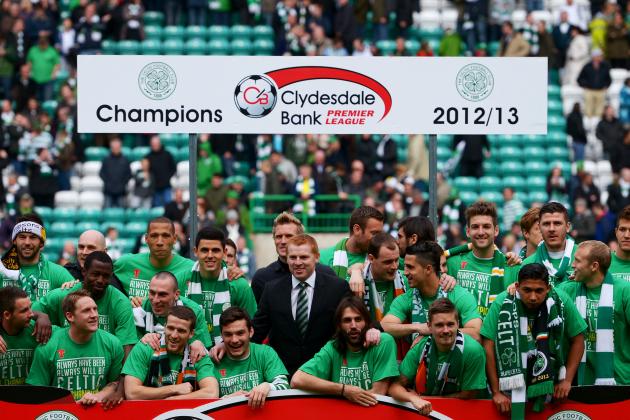 Jeff J Mitchell/Getty Images

Another heavily backed candidate is Celtic's Neil Lennon.
What boosts his cause is his clear success in the SPL, where he's been used to winning with a typically dominant side that have just secured a second title in two years. He's another man with experience of using an excellent scouting network, having landed several bargains over the years.
Lennon also led his unfancied outfit to the last 16 of the Champions League this season, recording memorable wins against Barcelona and Spartak Moscow. He instiled his squad with confidence and belief, enforced effective tactics and his ability to see his underdogs prevail may prove popular at Everton.
Of course, against him is the fact that there is a severe lack of competition in the Scottish League. It stands a millions miles away from the everyday stresses and strains of the Premier League, which Lennon hasn't seen since his playing days.
He is also quite a controversial, confrontational character that, from a distance, appears pretty excessive and greatly contrasts Moyes' general persona.
Satisfaction Rating: 2/5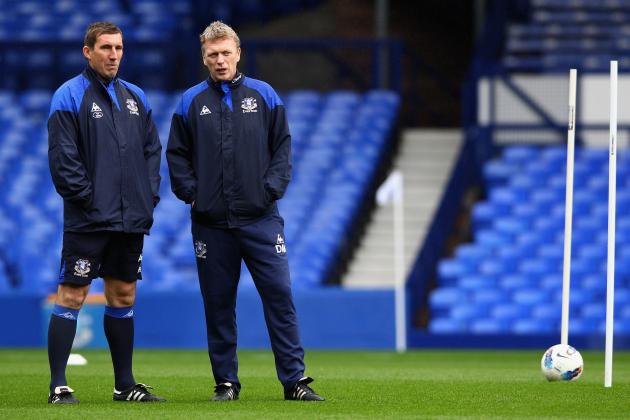 Clive Brunskill/Getty Images

There is certainly an argument for keeping the continuity at the club and using one of David Moyes' assistants, who will have watched his style for much of the past 11 years.
David Weir, Alan Stubbs and Steve Round are all potential options for this, as well as Phil Neville, perhaps. When a manager has been in place for such a long time, so many methods and routines will have been in place for years, and having a new name come in and disrupt it all could quickly derail the Toffees.
The main issue is that there isn't a standout candidate. Each of that quartet of names would be new to management and it would seem a considerable leap to be put in charge of Everton.
Steve Round gives the impression of a natural coach and No. 2, but not so much a leader. While Stubbs, Weir and Neville may possess more of the leadership skills, it would still be seen as a huge gamble to go for such an inexperienced option.
Satisfaction Rating: 2/5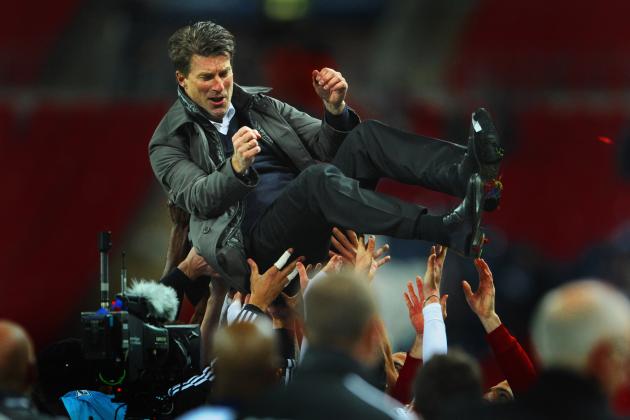 Michael Regan/Getty Images

A particularly fashionable choice that may appease a majority of fans would be Swansea's Michael Laudrup.
The Danish manager has kept his Welsh outfit punching considerably above their weight this season, winning while playing with an impressive, fluent and attractive style.
He has valuable continental experience and what may make some Evertonians desire him more is his League Cup success this season, with fans desperate to end their own trophy drought.
Swansea's dip in form since their League Cup success is certainly a worry, as is the fact Laudrup is still a relative novice to the Premier League.
Plenty of managers have experienced short-term success before fading away in prominence—just ask Phil Brown and Owen Coyle.
Satisfaction Rating: 4/5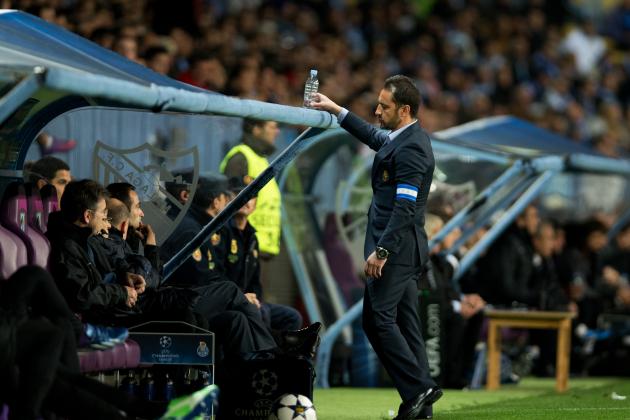 Jasper Juinen/Getty Images

A lesser-known option to seriously consider is Porto's Vitor Pereira, who is currently featuring quite heavily in the betting.
He would arrive with Champions League experience and domestic success in Portugal, and if he could follow in the path of other successful Porto managers—such as Jose Mourinho and Andre Villas Boas—he would be an instant hit on Merseyside.
Pereira also has experience of working with some high-calibre individuals and has been used to winning and continually demanding the best from his squad. Impressively, Porto are still unbeaten this season in 28 league games.
What counts against him is the fact moving to England may take some considerable time to adjust to, as would the general style and approach needed in the Premier League.
Introducing a man from another culture, not yet used to the English league, would certainly be a slight gamble for a club so familiar with the methods of David Moyes.
Satisfaction Rating: 4/5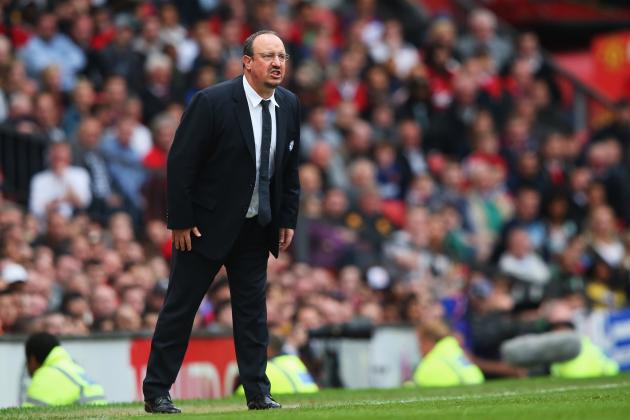 Alex Livesey/Getty Images

Of course, this is a wide-open race with a potentially unlimited number of candidates. With the summer break looming, there's also no urgent time frame for the appointment to be instant, meaning this story could run and run.
Here's a look at some other options to monitor over the coming days, some being far less desirable than others:
- Mark Hughes
- Martin O'Neill
- Rafael Benitez
- Steve McLaren
- Slaven Bilic
- Roberto Di Matteo
Who do you want to see in charge of the Toffees next season?