3 Adjustments Washington Capitals Must Make to Beat New York Rangers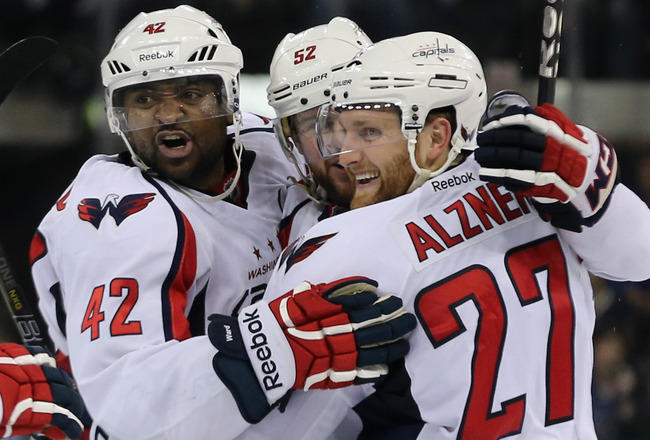 Bruce Bennett/Getty Images
The Washington Capitals dropped Game 3 and Game 4 of their first-round NHL playoffs matchup to the New York Rangers at Madison Square Garden. Their Eastern Conference Quarterfinal series is now tied at two games apiece, heading back to Washington, D.C. for Game 5 on Friday, May 10.
Are the Capitals doomed? Or do they still have a shot to advance?
Here are three adjustments the Washington Capitals must make to beat the New York Rangers.
Note All statistics updated through May 9 courtesy of NHL.com unless noted otherwise.
3. Ovechkin Must Adapt to Rangers Defense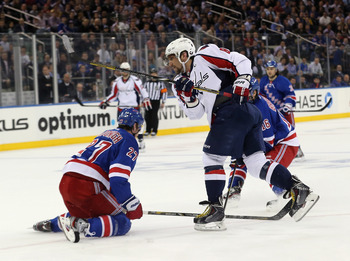 Bruce Bennett/Getty Images
After scoring in Game 1 and assisting on the only goal of Game 2, Alex Ovechkin was held without a point in both Game 3 and Game 4.
New York Rangers defenseman John Moore shed some light on how the Rangers were able to shut Ovie down (via Dan Rosen of NHL.com)
Ovechkin got the puck in his own zone and was kind of winding it up, but [McDonagh] was right in his face. He's using his skating to stay in his face and be physical with him. That's really critical with those players. You can subconsciously give them time and space by respecting them a little too much, but if you look at the way [McDonagh and Dan Girardi are] playing them, they're right in their face, good stick, bodying up on them every chance they get. I've definitely noticed that.
Ovechkin is well aware of how the Rangers intend to play him, as he told Stephen Whyno of the Washington Times:
I don't think they changed how they play. Of course they put [captain Ryan] Callahan against our line and we all know what he gonna do. He try and make physical contact on you. Girardi and McDonagh, they just stay back and try to block the shots. If we have our chance to shoot the puck, we have to shoot it. Don't wait one second — or more — because if I'm gonna be in front of the net with JoJo, we still have to shoot.
Talk is cheap, Alex.
2. Let the Kid Provide Some Energy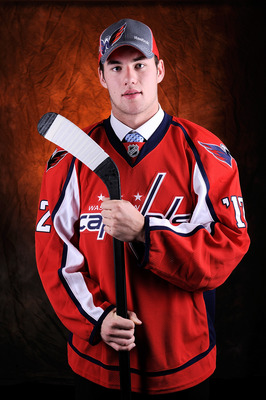 Jamie Sabau/Getty Images
After two lackluster performances, the Capitals need a spark. An injury to Martin Erat gives the team a chance to find one.
To deal with the loss of right wing Erat, the Capitals recalled Joey Crabb and Tom Wilson from the AHL's Hershey Bears.
Yes, that Tom Wilson. The same one who was rated seventh best among the Capitals' Top 10 Prospects by Hockey Prospectus.
Here is a more detailed description of Tom Wilson and his recent exploits (Washington Capitals):
Wilson, 19, made his professional debut with Hershey in Game 3 of the AHL Eastern Conference quarterfinal vs. Providence and recorded one goal and six penalty minutes in three playoff games with the Bears...The Toronto native, who was drafted in the first round (16th overall) by the Capitals in the 2012 NHL Draft in Pittsburgh, recorded 58 points (23 goals, 35 assists) and 104 penalty minutes in 48 regular season games with Plymouth this season. He ranked fifth on Plymouth in points, tied for sixth in goals and second in penalty minutes despite missing 20 games. The 6'4", 210-pound forward was...voted as the 'Best Body Checker' in the OHL's 2012 Western Conference Coaches Poll and was a runner up for the 'Hardest Worker' category.
True, Wilson has only played three games as a professional hockey player. But the Capitals should give him a sweater and allow Tom Wilson to make his NHL debut in the Stanley Cup playoffs, in front of the electric Verizon Center crowd.
The adrenaline and excitement coursing through the body of an energetic and physical hockey player may just rub off on the other Washington Capitals.
1. Start Michael Neuvirth in Goal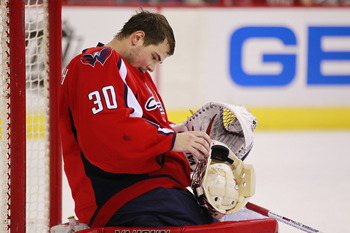 Geoff Burke-USA TODAY Sports
On April 9, Washington Capitals head coach Adam Oates talked to Katie Carrera of the Washington Post about what he felt was a vital component of success in the postseason.
Oates said "I think that going forward—hopefully we get in a good playoff run—you're going to need both goalies. You will."
Now is the time for Oates to put that theory into practice.
Braden Holtby has started all four games in goal for the Capitals so far this postseason. After surrendering only one goal in Game 1 and Game 2 combined, Holtby allowed four goals each in Game 3 and Game 4.
Now, the Caps lost Game 3 and Game 4 by an identical score of 4-3, so Holtby kept the team in both games.
But starting Michal Neuvirth in goal does not have to be seen as the demotion of Braden Holtby. First of all, it is merely Oates sticking to his word. But the move may spark the other Capitals players while also throwing the Rangers off-balance after growing accustomed to Holtby.
Whatever the reason, Adam Oates needs to make the change in net—before it's too late.
Keep Reading

Washington Capitals: Like this team?