Grading Each Philadelphia Phillies Regular Up to This Point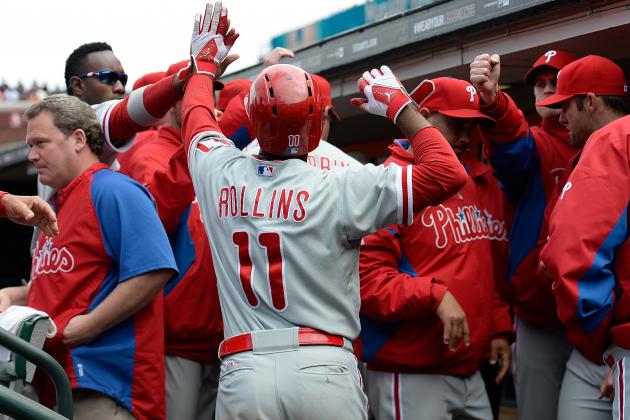 Thearon W. Henderson/Getty Images
The Philadelphia Phillies are in desperate need of a change in momentum.
The Philadelphia Phillies are coming off a series in San Francisco which saw the resilient Philadelphia squad win two of three games and nearly steal the third game to complete the sweep.
This team is in desperate need of a hot stretch, and maybe this is the beginning.
Or maybe, this team is toying with fans; hence a series split with Miami at home followed by a series win in San Francisco against the defending world champs.
This is inconsistency at its finest.
That inconsistency is modeled perfectly by some of the regular day players while others continue to produce at a steady rate.
Let's take a look at each Phillies' regular and quantitatively assess his play with a letter grade.
*All statistics from MLB.com.
Begin Slideshow

»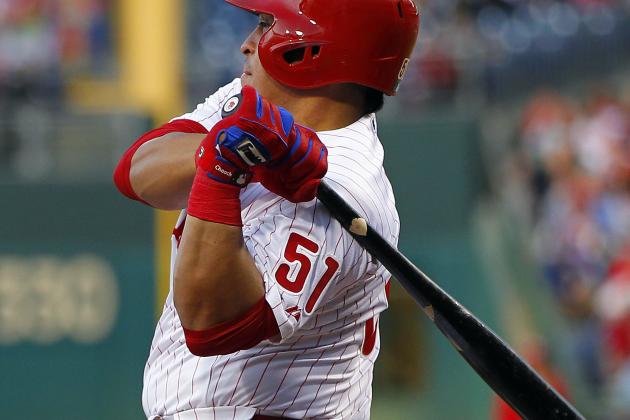 Rich Schultz/Getty Images

After officially being activated on April 28 from his 25-game suspension, Carlos Ruiz has appeared in eight games.
Those eight games have not been ideal for the type of start Ruiz was looking to get off to.
Perhaps, he is still shaking off the rust, and the sample size is too small, but after last season, expectations and standards are extremely high for the catcher.
Ruiz is only 4-for-29 this season with a double and no runs batted in.
The Phillies can rely on Ruiz for defensive excellence and his invaluable intangible asset of successfully managing pitchers, although he will have his work cut out with new faces.
It is a matter of time before "Chooch" heats up, but so far, his young campaign has been disappointing.
Grade: D+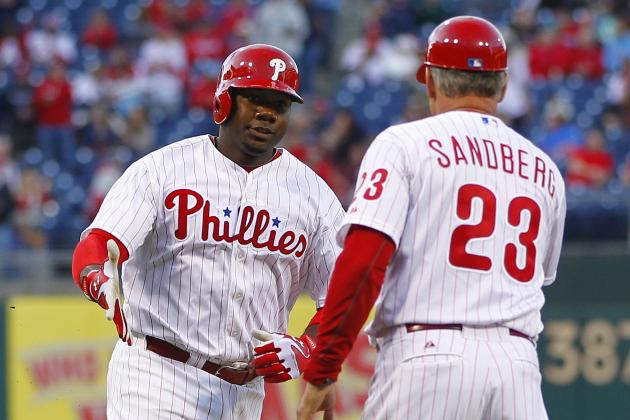 Rich Schultz/Getty Images

Don't look now, but Ryan Howard may be heading for a power surge.
In May, Howard has three home runs to go along with four RBI. While these numbers don't pop out, it is important to note that Howard has already tied his home run total from April, giving him six on the year.
It isn't like Howard hasn't been making contact, though, as the left-handed slugger (maybe former "slugger" is more appropriate) is batting at a .280 clip.
His at-bats usually end in three ways: sharp liner to the right side resulting in an out because of the shift, a liner that makes it over the shift—and sometimes in the seats—or a strikeout.
The strikeouts continue to haunt Howard, who already has 10 in May, giving him 34 on the season.
A hot streak from Howard could propel a similar streak for the entire squad.
Grade: B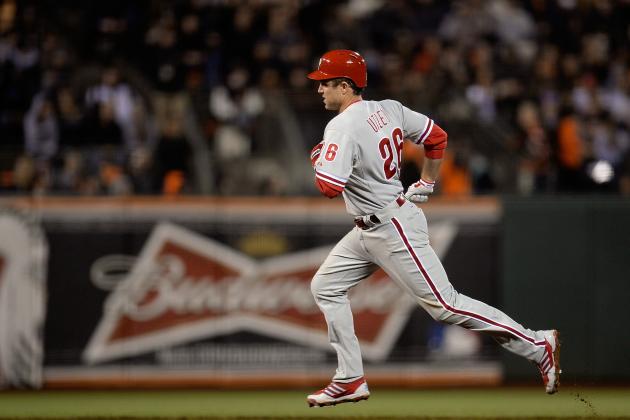 Thearon W. Henderson/Getty Images

After hitting .296 in April, Chase Utley is at a .207 clip, so far, in May, setting his average at a comfortable .276 on the year.
However, Utley's production continues to lead the team with seven home runs and 24 RBI.
Utley was a major question mark coming into the season, but has shown flashes of the Chase Utley of old. He is active on the basepaths, advancing from first to third on singles several times, when appropriate, and he has stolen four bases.
His heart and desire to play the game the right way can never be questioned.
Unfortunately, that passion and enthusiasm doesn't always win you ball games.
The Phillies will need Utley to get back to April-form if they want to gain some ground on the National League East leaders.
Grade: B+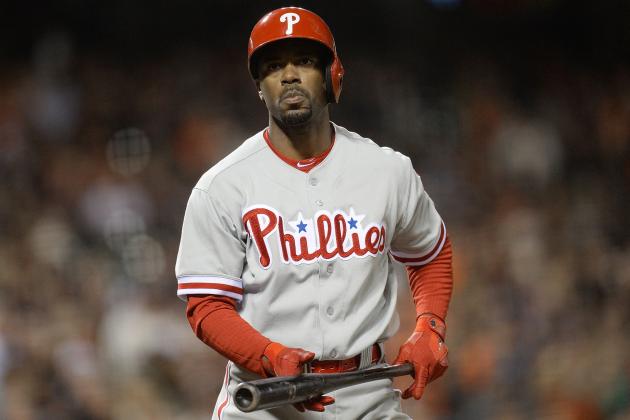 Thearon W. Henderson/Getty Images

Jimmy Rollins had his first multi-hit game, since April 27, on Wednesday afternoon.
It is never a good sign when it takes 10 games to separate a hitter from his last game with more than one base hit. Not surprisingly, this discouraging stat is reflected in Rollins' batting average, which sits at a very poor .242.
Rollins seems to have lost his excitement to step on the diamond every day. He isn't active on the basepaths and has only three stolen bases while being caught twice already.
Unfortunately, over the span of just a few years, Rollins has gone from a feared switch-hitter to a relatively easy out.
Patience is the virtue for the shortstop.
A little more discipline at the plate and activity on the basepaths could liven up this relatively dull baseball club. And who knows, it could be a sleeping giant.
Grade: C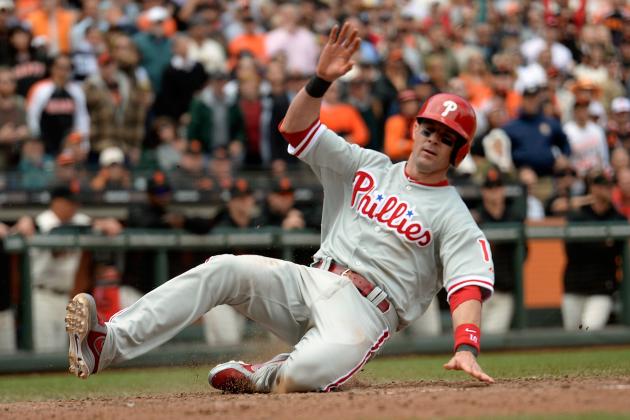 Thearon W. Henderson/Getty Images

Can this guy rake or what?
Michael Young has immensely exceeded expectations for the Phillies, proving to be their main source of consistency at the plate.
Young is batting a hefty .322 on the year, good for tops on the team by a wide margin, as the next closest is Howard, maintaining a .280 clip.
If there is a downfall for Young, it has been his lack of extra base hits. It's not a major downfall, though, because he is the only player reaching base consistently, so it's hard to nitpick at this apparent fault.
He has only six doubles, a triple and one home run to his name this season.
Although Howard is heating up, Phillies fans know he can dip back down below freezing any time. This presents a problem because everyone else on the roster besides Young and Utley are not hitting.
It would be a pleasant sight to have Young start driving the ball for extra bases, but it is impossible to argue with the way he approaches the batter's box.
That batting average doesn't hurt either.
Grade: A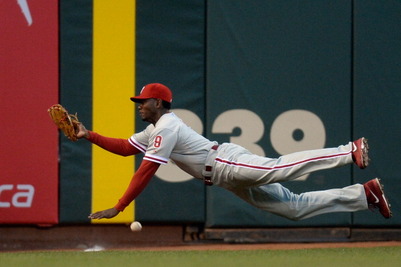 Thearon W. Henderson/Getty Images

For every highly touted prospect, there comes a time of reckoning accompanied by judgement.
Either he has potential to be a star or there is just no room for improvement and what you see is what you get.
Unfortunately, Domonic Brown fits into the latter category of these prospects.
Brown is batting .235 on the year with six home runs and 15 RBI. He just can't seem to find any type of rhythm at the plate, causing him to pull off the ball at times.
He is 1-for-18 in his last five games and shows no signs of hope, other than some smashed line drive homers that come entirely too few and far between.
His defense hasn't been all that stellar either, but that is for another day.
Brown has been a major letdown this season, especially coming off the scorching spring he had put together.
Grade: D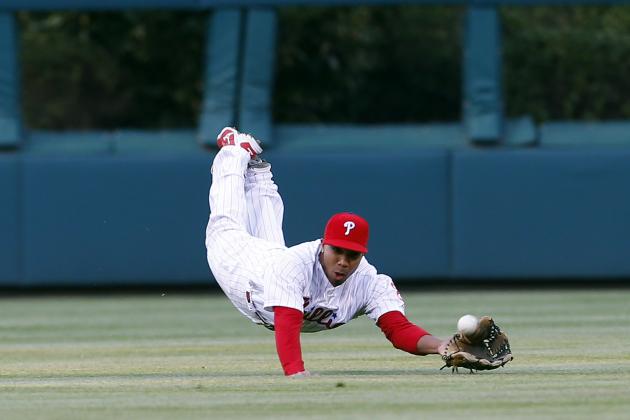 Rich Schultz/Getty Images

One may wonder why Ben Revere, one of the fastest players in the MLB, has only six stolen bases in 30 games.
It's a rather simple answer, really. He's not getting on base. Period. The end.
Revere's on-base percentage sits at .281 while his average rests at .234. Revere was supposed to be the new catalyst for this offense and has done nothing to live up to that billing.
But all hope may not be lost just yet.
The center fielder has seven hits in seven games played, so far, in May, a possible sign that he is another candidate to break out of a slump.
Revere's sometimes shaky and uncomfortable-looking defense in center field has been overshadowed by some highlight-reel plays, but the Phillies can't survive that trade-off if it means giving up more runs than not.
Revere stands as, perhaps, the biggest disappointment, thus far, in the 2013 campaign.
Grade: D-
Jason Miller/Getty Images

When Delmon Young hit a home run in his first at-bat with the Phillies this season after returning from injury, perhaps some fans saw a savior in the making.
He went on to hit safely one more time in that game.
Since then, Young has only mustered one hit in the following seven games—so much for that savior.
He has seven strikeouts in eight games, and while it is a small sample size, he hasn't brought anything to the table for the Phillies offensively—another new player brought in, another rough start.
Grade: D-