Syracuse Basketball: 5 Reasons Fans Should Expect an ACC Title in 2014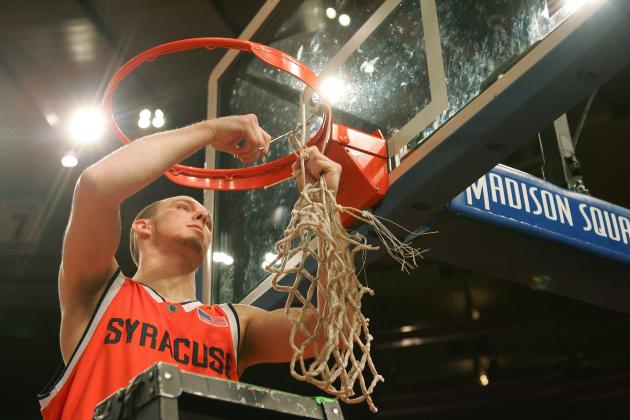 Jim McIsaac/Getty Images
How long for Orange to win one in the ACC?
Syracuse fans are used to winning. A down Big East season had been a fifth-place finish. I'm not saying Orange fans are spoiled, let's just say...fine, they're spoiled.
Will the winning stop because Syracuse begins play in the ACC in 2013-14?
No.
The Orange have been on an unprecedented run of success ever since winning the NCAA championship in 2003. Recruiting has never been better, and there is absolutely no reason to think that will change next season.
As a matter of fact, there are five reasons for fans to expect an ACC title in 2014.
See what I did there?
Begin Slideshow

»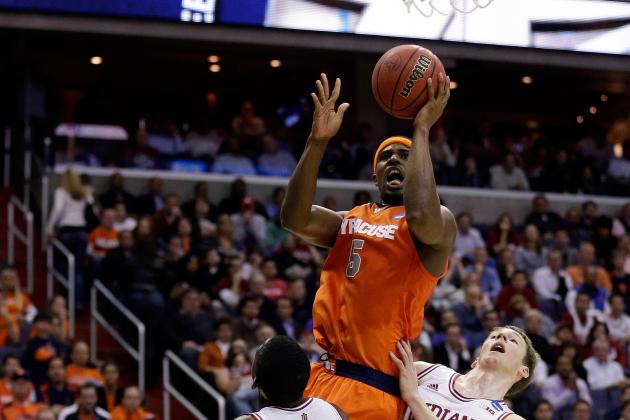 Rob Carr/Getty Images
C.J. Fair
I'm not that bright. And even I know that good players win. Syracuse has a lot of good players.
Backcourt:
Tyler Ennis arrives as one of the most sought-after point guards in the class of 2013. Don't be fooled by him not being named to the McDonald's All-American team. That could prove to be great for Syracuse, as the chip on his shoulder will serve him well. He scored 53 points the night he found out he wasn't named to the team.
Mike Gbinije spent 2012-13 practicing against one of the best backcourts in the country in Michael Carter-Williams and Brandon Triche. Now Syracuse fans get to see him in game action. He had an outstanding senior season in high school, winning a state title and being named first-team All-State in Virginia. Gbinije averaged 25 points, 10 rebounds and five assists per game that year.
Frontcourt:
C.J. Fair will not only be a candidate for first-team All-ACC honors but for the ACC Player of the Year Award as well.
Both Rakeem Christmas and DaJuan Coleman are former McDonald's All-Americans who are ready to step up and take advantage of their phenomenal size, athleticism and skills. Coleman won three straight New York state championships, averaging 25 points and 15 points per game his senior year when he was named New York's Mr. Basketball.
Jerami Grant exceeded expectations in his freshman year. He is an explosive athlete that will prove to be yet another unheralded recruit to become a star under Jim Boeheim.
Like Tyler Ennis, Tyler Roberson comes to Syracuse as one of the best players in the class of 2013. The opportunity to practice against the experienced and deep Syracuse forwards will serve him well.
Andy Lyons/Getty Images

College basketball is a coaching game. I know all about the guy at Duke. Syracuse fans should expect to win in the ACC because the team has always won under Jim Boeheim.
An NCAA championship. Five Big East tournament championships. Nine Big East regular-season championship. And for good measure, two Olympic gold medals.
Jim Boeheim has been at this a long time. A very long time. You would imagine there's nothing he hasn't seen.
Not true.
He hasn't ever been a member of the ACC. That's a new and exciting challenge. New and exciting challenges are good.
Boeheim is a competitor who's gone through a lot the past few years. Bernie Fine. Fab Melo and James Southerland being suspended. And talk about violations.
We all know the end is coming soon. There will in fact be a day that James Arthur Boeheim is not on the Syracuse bench. That day isn't today, tomorrow, next week, next month or next year. But it's coming.
I am sure that Jim Boeheim is as excited about the 2013-14 season as he has been for any season in recent memory.
That will go a long way.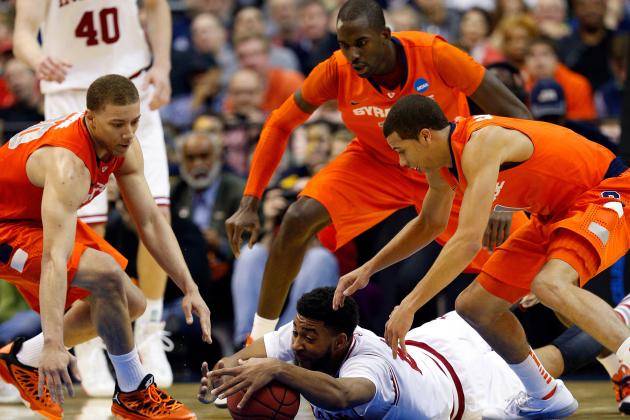 Rob Carr/Getty Images

You and I know what the 2-3 zone does. Everyone in the ACC knows also. That has little to do with facing it and succeeding.
Jim Boeheim may not have invented the 2-3, but he certainly is the resident master of it. The Syracuse 2-3 zone is not like most 2-3 zones.
Everyone talks about the long, athletic players that set the Syracuse zone apart from others. How the Orange recruit a certain player to play in their zone. C.J. Fair, Rakeem Christmas, Jerami Grant and newcomers Tyler Roberson and Ron Patterson certainly epitomize that type of player.
But the success of the Orange zone is about more than just the measurements of the players. It's about their aggression. Most zones are packed inside and force you to shoot from the outside.
Not the Orange zone
Boeheim has his players attack the outside shooters and virtually dare them to throw the ball inside. Once they do, the wing and inside players collapse quickly.
It's not just the length of the players that disrupts offenses, it's also their aggressiveness and how hard they work at switching, sliding and closing the gaps and passing lanes.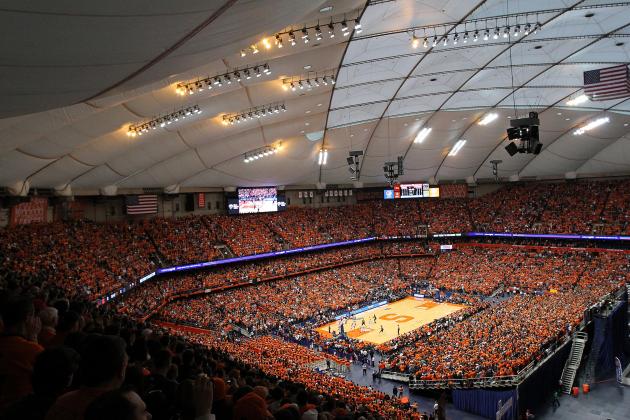 Nate Shron/Getty Images

Just like dealing with the Orange zone, it's one thing to say the Carrier Dome and its crowd won't bother you, and it's quite another for you not to be bothered.
Syracuse averaged 23,618 fans per game in 2012-13, good for second in the country. The picture above is of the NCAA record on-campus crowd of 35,012 for Georgetown this past February 23.
The ACC teams with the highest average attendance last season were North Carolina with 20,159 and North Carolina State with 13,560.
It will be tough for players who haven't been in the Dome to play in the Dome.
And not for nothing, but coming to Syracuse in January and February won't exactly be a "day at the beach" for kids flying in from Chapel Hill, Raleigh, Durham and Winston-Salem, N.C.
Or Tallahassee and Miami, Fla.
Or Clemson, S.C. or College Park, Md..
Or Atlanta and both Charlottesville and Blacksburg, Va.
Yeah, good luck with that.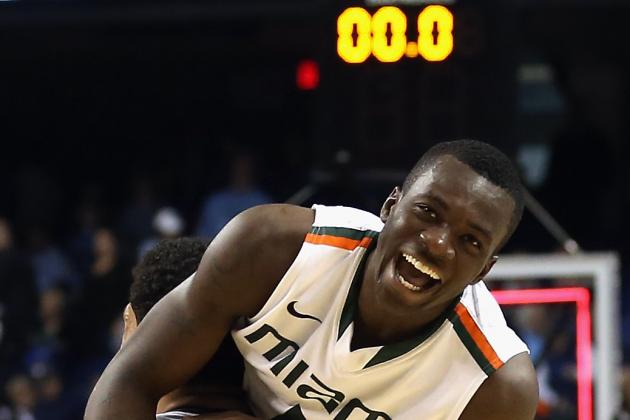 Streeter Lecka/Getty Images
The ACC Champion Miami Hurricanes
Miami and Duke dominated the ACC last season. The Hurricanes and Blue Devils will look very different next season.
Miami:
The ACC regular-season and tournament champs were a senior-laden team last year. Gone are Durand Scott, Kenny Kadji and Reggie Johnson. Outstanding point guard Shane Larkin decided to enter the NBA draft.
Duke:
The Blue Devils lose three outstanding seniors in Mason Plumlee, Seth Curry and Ryan Kelly. Duke does welcome one of the country's outstanding recruiting classes, highlighted by Jabari Parker. But the losses will be very tough to overcome.
Follow me on Twitter @sprtsramblngman