WWE Tag Team Titles: Contenders and Potential Roads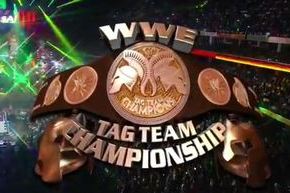 For the past few months, The WWE Tag Team Championships have sat snugly around the waists of The Big Red Machine and The American Dragon. Still, in recent weeks we've seen the WWE Tag Team Champions more vulnerable than ever before. Losses to a series of opponents following WrestleMania have had the people questioning how much longer Team Hell No can keep the bronze belts. As of now, it's difficult to remember the last time a member of this team has picked up a victory, and I think at Extreme Rules the fire that brought this team together may be extinguished by The Shield.
That said, I do think it fun to think the WWE could have more than one plan in place. I mentioned that The Shield look like prime candidates to win the WWE Tag Team Titles. Still, there are more people in contention than one might think, more roads WWE can travel with their Tag Titles. So, why not take a look at a few of these roads shall we?
Begin Slideshow

»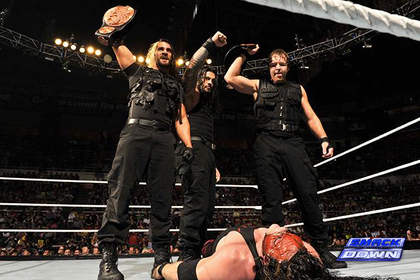 Image courtesy of facebook.com
The Strategic Homeland Intervention Enforcement and Logistics Division has been on a roll since they steamrolled their way into the WWE and their history with Hell No extends all the way back to TLC: Tables, Ladders and Chairs 2012, when Roman Reigns Jackknifed Daniel Bryan through a table to pick up the first of many wins for the group. Since then, the two teams have had little to do with each other up until recently.
In another six-man bout, featuring The Undertaker, Daniel Bryan was pinned once again, this time by Dean Ambrose off a Small Package. Kane fell victim to Head Games (my name for the Headlock Driver Dean has used to put opponents away the past couple of weeks), marking another victory for The Shield against their rivals.
One has to wonder just how long WWE can ignore the repeated victories The Shield has scored over the tag team champions, and compared it to the other teams in the division. Honestly, the entire tag team division has essentially been buried to the point where one of the more promising teams can't even beat the champs when one is blindfolded and the other has his arm tied behind his back. I think that says it all at this point.
The Hell No experiment has run it's course, and I have to think people are burned out by the team of Daniel Bryan and Kane. Dropping the titles to The Shield could go a long way to helping push all three men in the future.
This also adds the question of "Who could beat The Shield for the tag titles?" With that said, we do have Tyson Kidd rehabbing an injury at this moment, so perhaps in a few months when he's back, Airstrike could pull off an upset over The Shield for the titles. Another team that comes to mind is the shaky partnership of Sheamus and Randy Orton. Though the two have failed on different occasions to beat The Shield, perhaps two-on-two The "Celtic Vipers," as I've heard them called, could find better luck.
I mentioned before that there were several people who've beaten the tag champs in the past few weeks. Another person besides Dean Ambrose to do that has been The Anomaly, Ryback. Ryback has seemingly had his own issues with both The Shield and Hell No, but it's The Tag Team Champions who've been the focus of his rage lately. (Spoiler Start,) Having knocked off Daniel Bryan first, and then Kane on this weeks taping, Ryback looks to be on a roll as he heads into his Last Man Standing match with John Cena at Extreme Rules. (Spoiler End)
That said, something that's not done very often could help Ryback down the line. People have rightly called that Ryback has lost far too many big matches in his short career and it appears likely he'll lose at Extreme Rules. So perhaps a good way for him to quickly rebound would be, the very next night on RAW, in a display to prove his dominance, Ryback challenges both members of Team Hell No for the WWE Tag Team Titles in a 2-on-1 Handicap match. Perhaps after some shenanigans involving The Shield (and maybe a little failed help in the form of Cena to set up another Six-Man match at Payback,) Ryback walks away with not one, but two belts.
The next few weeks can see him beat the likes of 3MB, Team CoBro, some jobber teams, The Usos, Primo/Epico, etc before being called out by Team Hell No for their rematch at Payback. Of course, just to mix things up, we could see The Shield step in to assist Ryback. It may seem odd, I know, but think about this. Ryback has a twisted mentality and in some sense, I could see Ryback respecting The Shield for making an impact the way they did and accepting their assistance to even things up, as John Cena steps up to help Team Hell No.
This sets up the main-event for Payback. Team Hell No and John Cena vs. Ryback and The Shield.
As an added bonus, we can go with one or two stipulations.
One could be, if Ryback or anyone pins John Cena, they will get the WWE Championship. If anyone pins Ryback, he'll lose his titles to the person that pinned him.
An alternate stipulation could be simply for the tag teams in this match, in a losing team disbands match. If Roman pins Daniel Bryan that's the end of Hell No, and if Kane pins Dean, The Shield dies.
This would be a great way to end Team Hell No without anyone turning heel if it's not needed or, if WWE really thinks it's time, to end The Shield (though I doubt that would be the case.)
A lot of people may not be up for the idea, but hear me out. It's been lost in the shuffle with everything going on lately, but the team of Brodus Clay and Sweet-T (which I refer to as Planet Funk, alongside The Funkadactyls) has been pretty impressive. They've knocked off Team Rhode Scholars on more than one occasion, beaten 3MB, as well as former WWE Tag Team Champions, Epico and Primo before. Honestly, you'd think by now Planet Funk would have at least been mentioned as Title contenders (considering we barely see any other teams aside from Hell No and The Shield.), but instead we get nothing.
Like I said, I know a lot of people may not dig the idea, but there's a bigger picture here than just getting the titles off of Hell No and onto Sweet-T and Clay. It may be hard to know from looking, but there was once a time when Clay was considered by many people to be the next big monster WWE had on it's hands. Honestly, that's where I think we'll see Clay in a few years myself. He moves well, he can get it done in the ring and he's not a bad talker. His gimmick is the thing people have a problem with, and this could actually facilitate that change.
Brodus is getting the chance to work with a well-traveled veteran of the game in Tensai. Sweet-T has all the experience to pass on to a guy like Brodus, and with more time in the ring—which would come from having those tag titles around their waist—we'd get to see a lot more of that and it would allow Clay to become more well-rounded, I feel. After a set amount of time, WWE can build up another team to take the titles off of Planet Funk. This could lead to a real heel turn/gimmick change for Clay, which would help him out a lot while letting Sweet-T do something a little different, perhaps?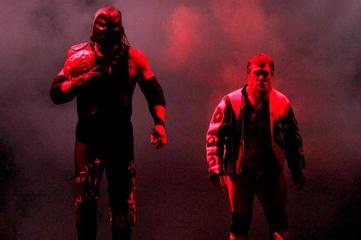 Photo courtesy of wwe.com
The WWE has been criticized often for not paying attention to long-term goals. They've also been criticized for over-reliance on certain stars and a lack of planning for the unthinkable, such as injuries and requests for time off. That said, the WWE finds itself in a good position for the WWE Tag Team Titles. There's a few ways they can go about it, some more likely than others, but the important thing is that maybe WWE has more than one trick up their sleeve for the Tag Team straps.
Thanks for reading, and have a nice day.